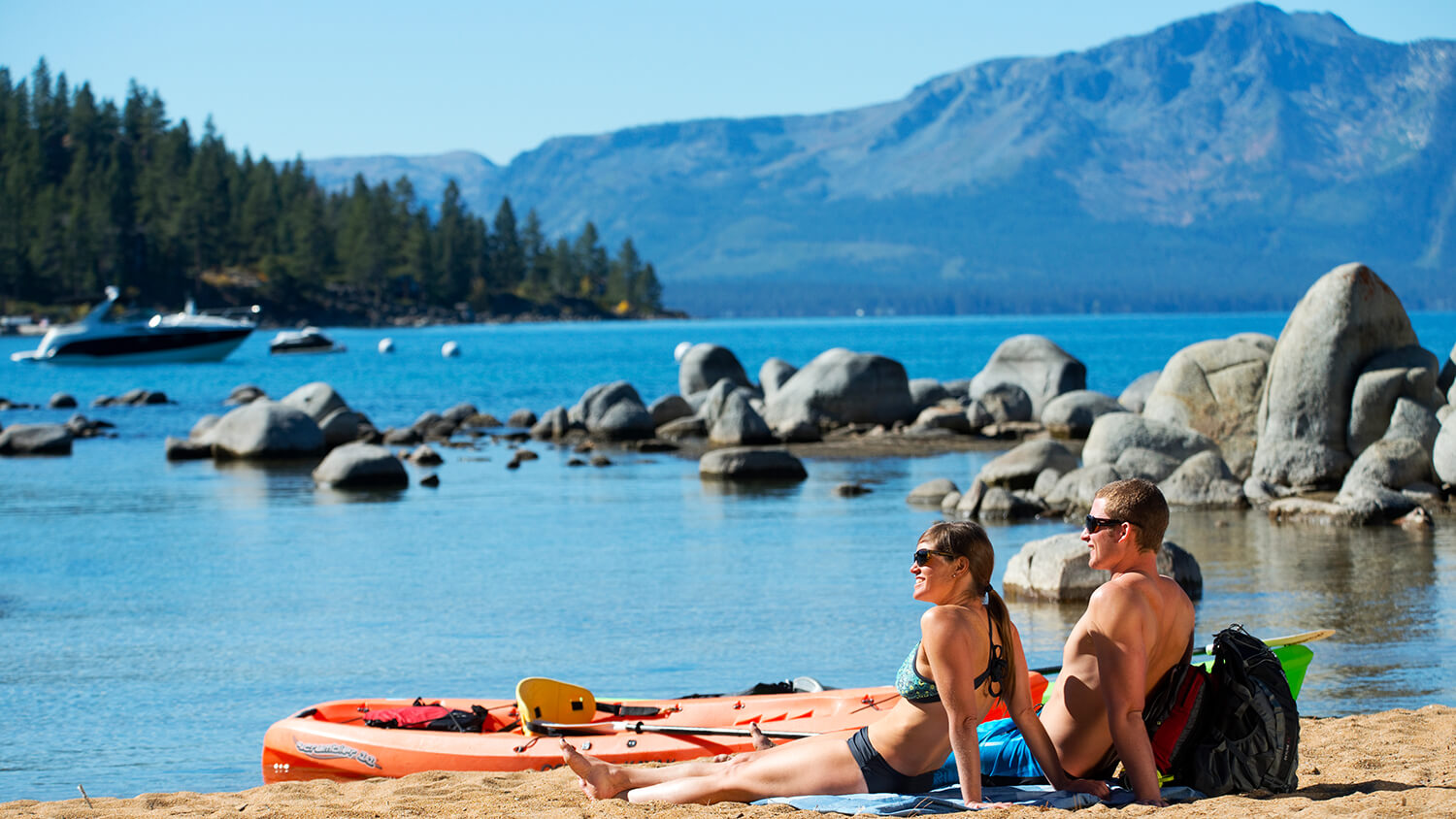 Round Hill Pines Beach Resort & Marina
Ready to experience Lake Tahoe like a local? There's no better sandy beach to stretch out on than Round Hill Pines Beach Resort & Marina. Situated along Zephyr Cove along the Nevada side of Lake Tahoe and minutes from South Lake Tahoe's casino hotels, Round Hill Pines promises easy day use access for visitors and locals alike, private boat, yacht and watercraft rentals, a boat marina and pier, and three different restaurants serving everything from tacos and pizza, to frozen cocktails, and much more.
Part of the Zephyr Cove experience, Round Hill Pines offers one of the best beaches in Lake Tahoe. Offering a classic Lake Tahoe Lodge experience, settle into the Zephyr Cove Campgrounds, or take advantage of Round Hill Pines day use passes for ½ mile of sandy beaches with a large deck area, beach volleyball, and a boat marina offering cruises along the Tahoe Serenity private yacht charters, and all kinds of rentals including boats, kayaks, pedal boats, stand up paddleboards, lounge chairs and umbrellas, and more. For more specific information on the array of rentals and pricing, click here. 
Best yet, Round Hill Pines offers some of Lake Tahoe's best lakeside food and drink options at the Beach Bums Bar & Grill. Grab a spot on the patio deck beneath an awning that provides excellent shade, or order food to be delivered directly to you and your group on the beach. Dig into favorites like the flatbread pizza, quesadilla, fresh, made-to-order salads, burgers, pizza, tacos, and much more. Grab a quick snack at the Snack Shack, or order a frozen cocktail from the Rum Bar on the Beach, like the Pain Killer—Round Hill Pines' original frozen Alpine Caribbean drink, made with pineapple, coconut, and a variety of rums, topped with fresh nutmeg.
For more information on hosting large group parties and weddings, click here.
Hours:
Round Hill Pines Beach is open seasonally from May through September from 8:00 AM until sunset. For your own personal safety and the safety of others, please park in the designated paid parking areas located throughout the resort (and not outside, or along the stone wall near the entrance).
Admission:
Daily admission to Round Hill Pines Beach Resort is $15. Single season parking passes are $145. For more information on planning your trip to Round Hill Pines Beach Resort & Marina, get in touch with the property directly at (775) 588-3055.
This Location: