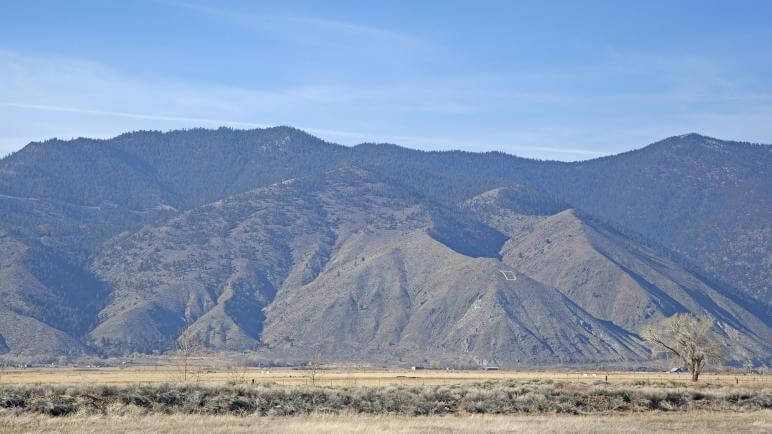 Herons, and Eagles, and Owls, Oh My!
It's safe to say I'm not a birder…I'm just not. I can barely identify a robin, and that's on a good day. I do however, have an oddly enormous soft spot for animals. If it's cute and fuzzy, or a baby—yeah, anything baby — I'm a swooning tub of goo. So before I get distracted with Googling pictures of baby donkeys or kittens, I digress. I'd gotten wind of a fantastically raw wildlife experience by some friends in the Carson Valley…something about gigantic birds of prey and ranch animals. Spellbound at the thought of seeing a new wildlife experience, I was all in and headed to this northern Nevada community on a gorgeous Wednesday morning.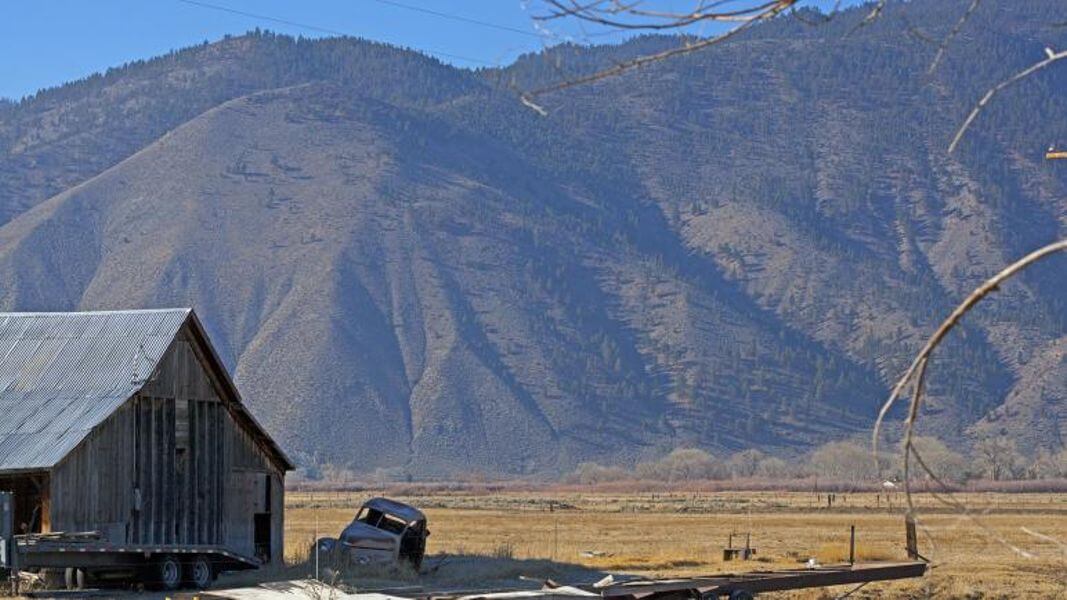 This trek was one I'd done before, many times at that, but as I traveled south on U.S. 395 to Carson Valley, I couldnt help but notice notice an insane amount of hawks, eagles, or falcons [I wasn't kidding when I said I didn't know the difference] posted up on any semi-decent pole or fence of sorts. After counting at least a dozen, I noticed a few posts seemingly left for them by area ranchers, but why? And why are there such a preponderance of birds of prey in this valley, but not as many in Carson City, only a few miles north?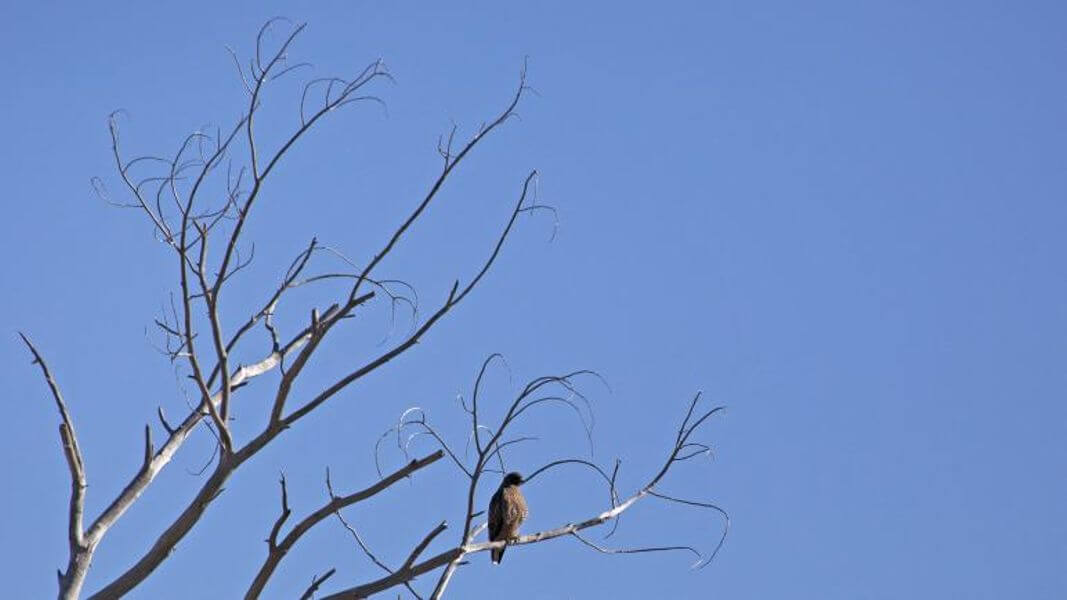 I was psyched to hopefully see [and absorb] some new species of birds and wildlife in the area…that was before I met wildlife extraordinaire Jim Woods. Holy smokes guys, the man knows his stuff. As my personal wildlife expert guide for the afternoon, I thought I'd hit the ornithological lottery. Then I met John Humphrey, master wildlife photographer…expert level moment-capturer for sure. What I thought would just be a little lecture about different species turned into the holy grail of bird watching…talk about a flipping game changer.
I told them to spill their knowledge, and Jim definitely didn't hold back, identifying any wildlife within range as cooly as I can recite the alphabet. Reminding him he had to talk to me like I was a first grader, he toned it down and gave me some pretty fascinating, absorbable insight on the area. Following a migratory path that eventually leads to Saskatchewan or British Columbia, tons of eagles make their way though the Carson Valley and pretty much call this most southern part of their route home for a bit. And, as a ranching mecca with one cattle operation after another, they love it here because of one gory detail. During the spring months the cows are calving and they're after one thing: that juicy after birth out on the open range.
Yow. Jim explained that such birds as eagles and hawks are looking for an easy target, so it makes sense. And yep, some ranchers DO put up posts specifically for these gargantuan birds to coerce them to do what they do best. I thought I'd have an abnormal sensitivity to seeing birds picking apart other animals. Au contraire, every part of this was natural and rugged and so, so fascinating.
Jim had fact bombed me juuuuuust the right amount, and now I was super jacked up to get out there and spot some of these creatures. Since you cant really control where birds are going to set up shop, you've gotta do the next best thing and make friends with every single rancher…which is exactly what Jim and John have done. Stop number one was the Byington Ranch, a homestead that's held on since the 1880s. We're talking O-L-D. While some people get a charge off bypassing VIP lines or getting backstage access, I was elated to get specialty entry to such an epically cool sliver of Nevada's history by touring the Byington Ranch.
The Byington boys, Russell and Matt greeted us saying, "Yep, I saw a few of 'em in the barn over there this morning." So immersed in this amazing operation, I had forgotten that we were on a wildlife scavenger and were here to track down some enchanting Barn Owls, a birdy I'd never had the pleasure of seeing in the wild.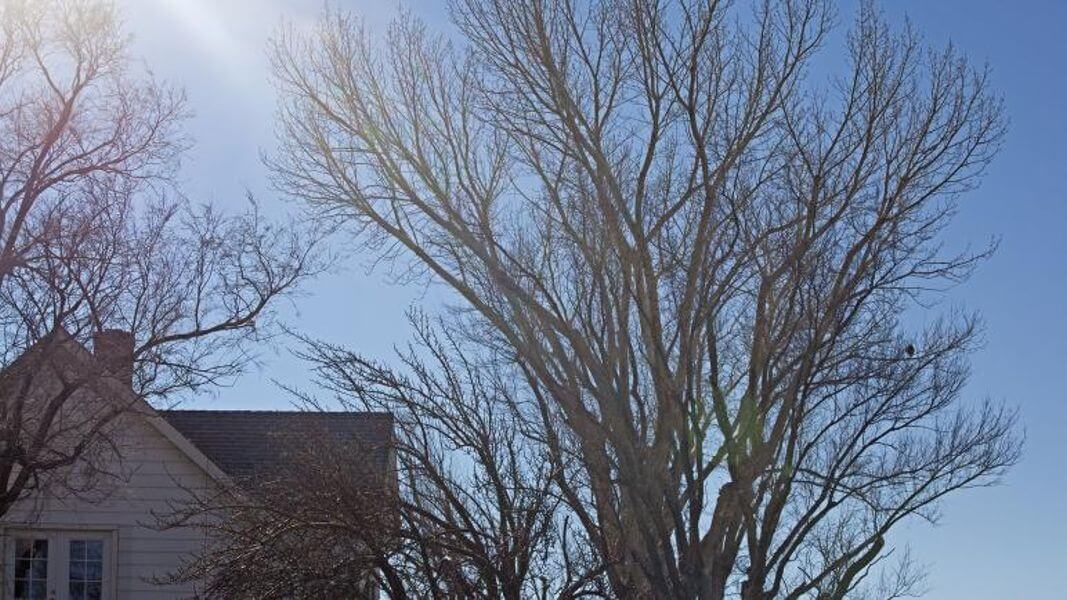 Jim knew everything about every creature from here to Timbuktu, but now it was John's time to shine. He knew how to perfectly capture these moments on film —I just hoped I was ready. So, just like Navy Seals seeking out a target, we slapped on our largest lenses, quietly unhinged the creaky metal gates and did our best Pink Panther over to the barn. And There. She. Was. I wated to so badly to live in the moment and drink in every ounce of her stunning beauty, but quickly remembered how I also wanted to capture it with my camera. I lifted my lens to fire away and managed to get one shot before she startled and took off. Soaring high above the ranch, she did one enormous circle before coming back for a landing.
So let me just recount this for you photographer aficionados:
We've got a mega-cool bird as the subject.
Hooty took off, flying over a historic ranch as the backdrop.
She landed back where she started.
I wanted to get all the shots!!! Take off, flight, landing, resting. Again, the true challenge in all this was to actually take the photo…it was almost like seeing a mythical creature that you owed some unexplained respect. Totally magical.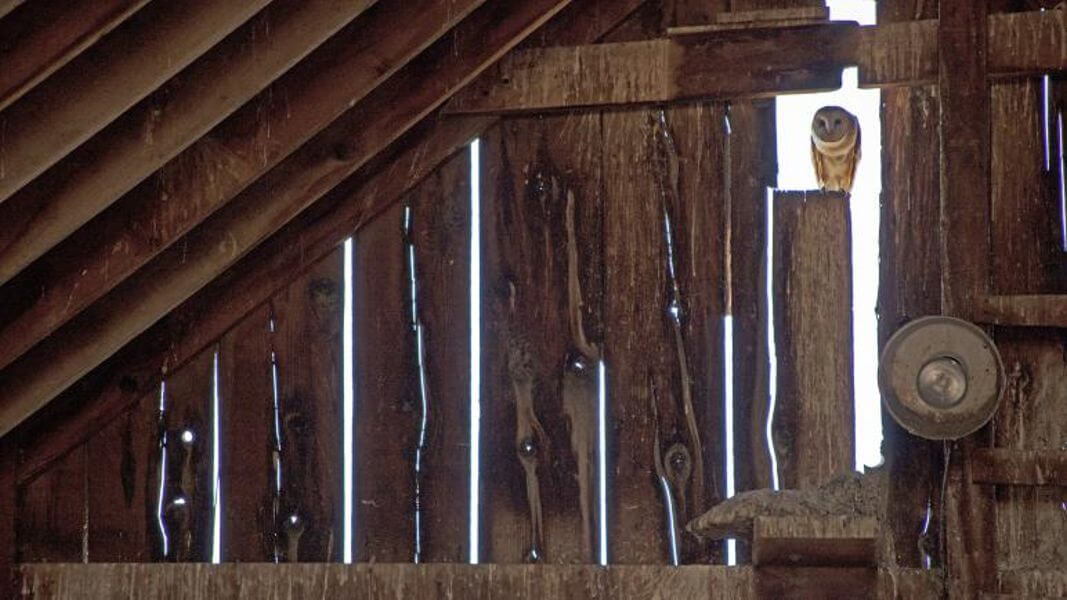 We did the same covert op in another barn on the Byington Ranch, spotting yet another barn owl. Jim and John knew exactly where to take me, switch hitting with interesting facts and photography techniques.
And just like they knew the barn owl sweet spot, they knew the bald eagle honey hole. We crept into the Nature Conservancy's River Fork Ranch in Genoa and spotted a breeding pair of baldy's with ease.
Jim set up his scope so we could really hone in on these iconic beings…seemingly enjoying the hell outta this fine little Wednesday morning. These two had completely white heads, something that Jim pointed out takes at least five years.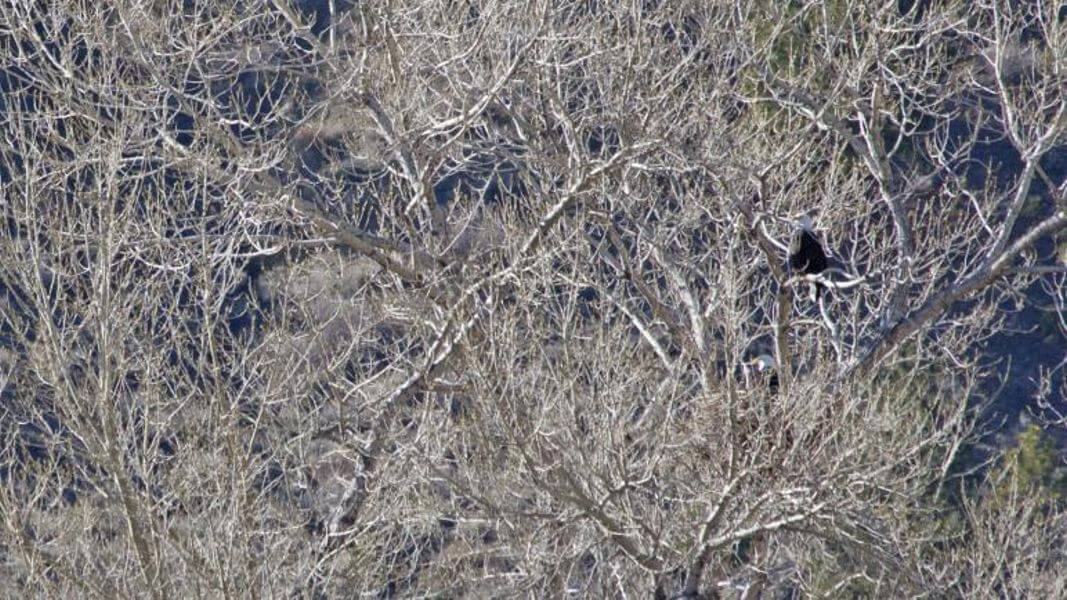 Next we were on a lake north of Genoa, a place Jim referred to as a bird jackpot mother lode. And he was right. We eyed the following, I kid you not: great blue heron, tundra swan, green-winged teal, American widgeon, ring-necked ducks, red-tailed hawk, coots and of course, Canada geese. As if that wasn't enough to get your binoculars fogged up, we got a glimpse of the second eagle of the day: a magnificent golden soaring overhead. Holy birds of prey, Batman.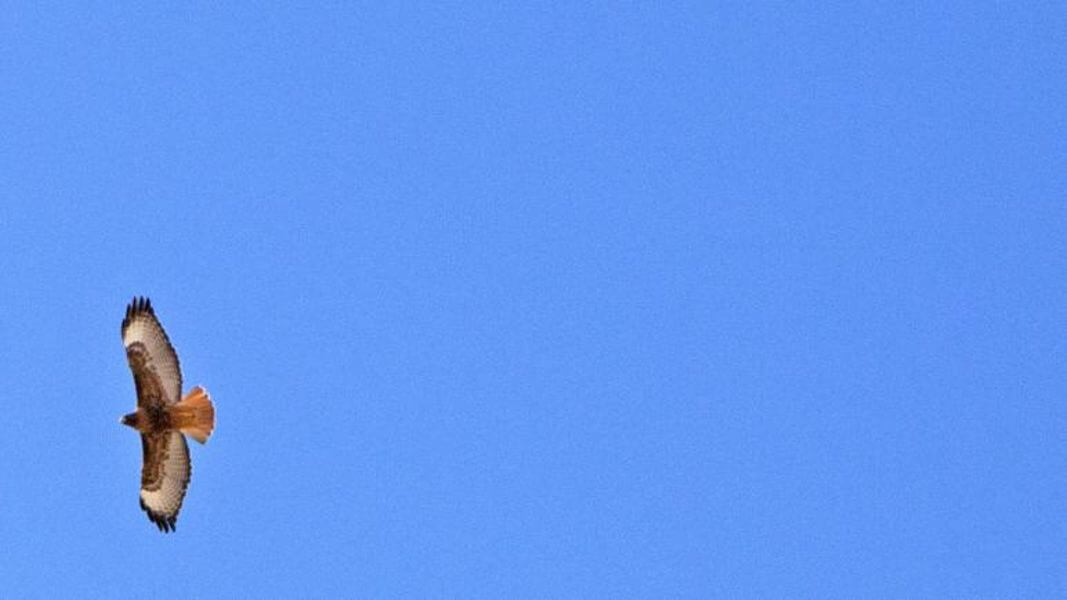 We were headed to our final stop, but not without a side mission: scouting out some great horned owls. I thought maybe Jim and John had spent one too many days out in the field considering there weren't any birds in sight. But at second glance, there he was: a big, fat great horned owl, quietly surveying the situation. Jim explained that these handsome devils are a perfect example of monomorphism: when a particular species shows no real differences in size and color between male and female. Who'da thunk?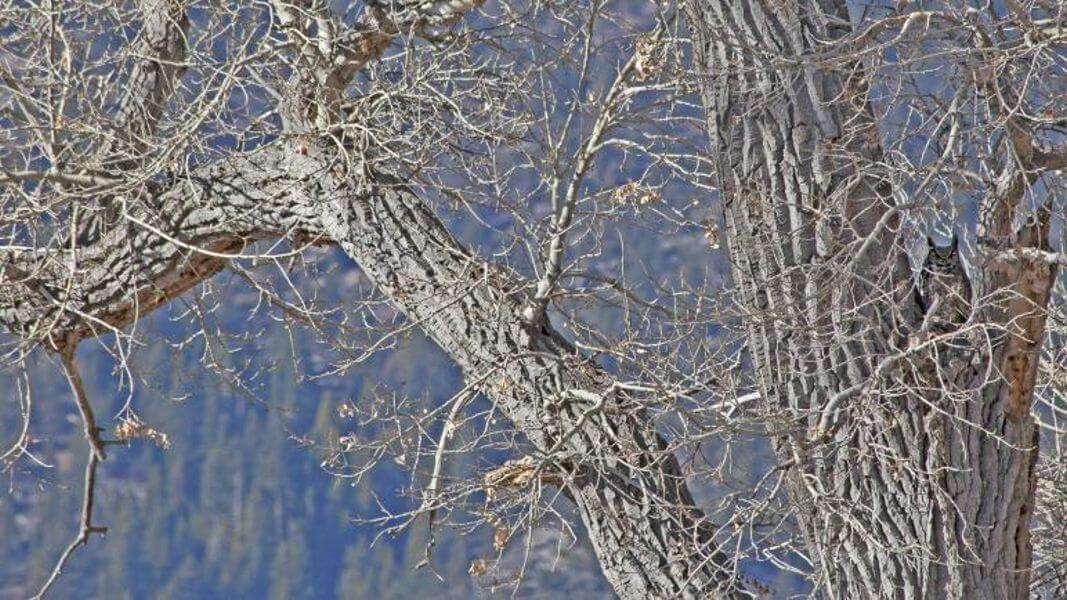 Back on track to our final stop, we crept up the gravel road to the Herbig Ranch, another brain-bendingly old operation. Aside from all the illustrious ranching equipment, there were a few surprises: glimmering vintage cars and an irresistibly cute watchdog. Finally, I could get my hands on some of the "wildlife!"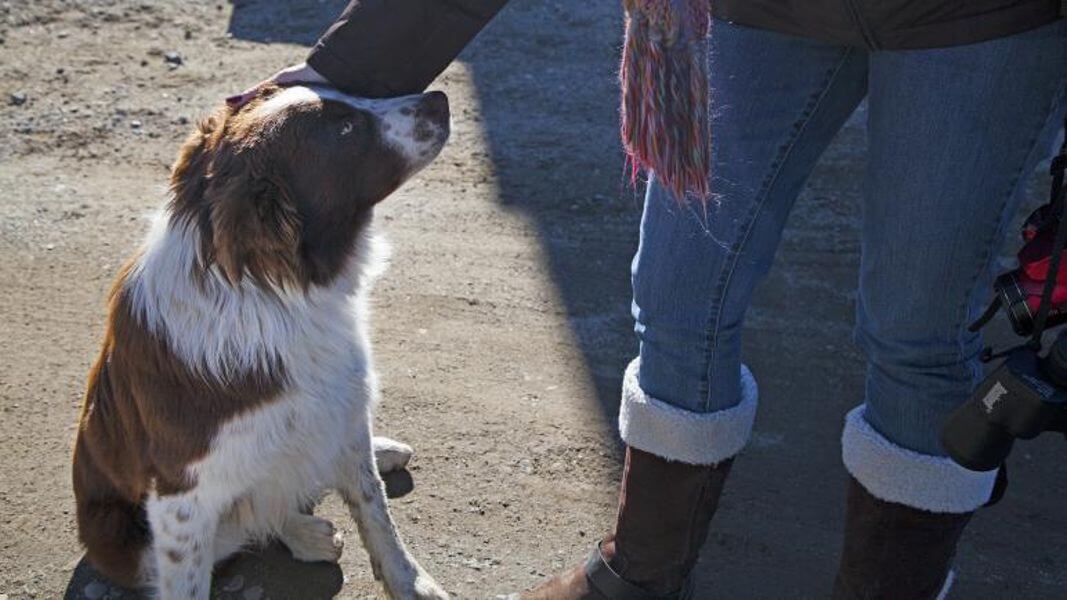 It wasn't long before we were sneaking through the first Herbig barn, scouting out another great horned owl. I was able to grab some shots of this guy with ease —Jim and John had schooled me into a birder in no time! Snapping away, it was so rewarding to grab some cool shots, but it was here that the genuine beauty of these barns hit me like a freight train. I had been so preoccupied with the amazing wildlife, I had overlooked the artistry of the buildings themselves. Contrasting the blazingly blue skies, the architecture of these outbuildings had me in total awe. The geometry in these mortise-and-tenon barns was nothing short of hypnotic, something downright poetic.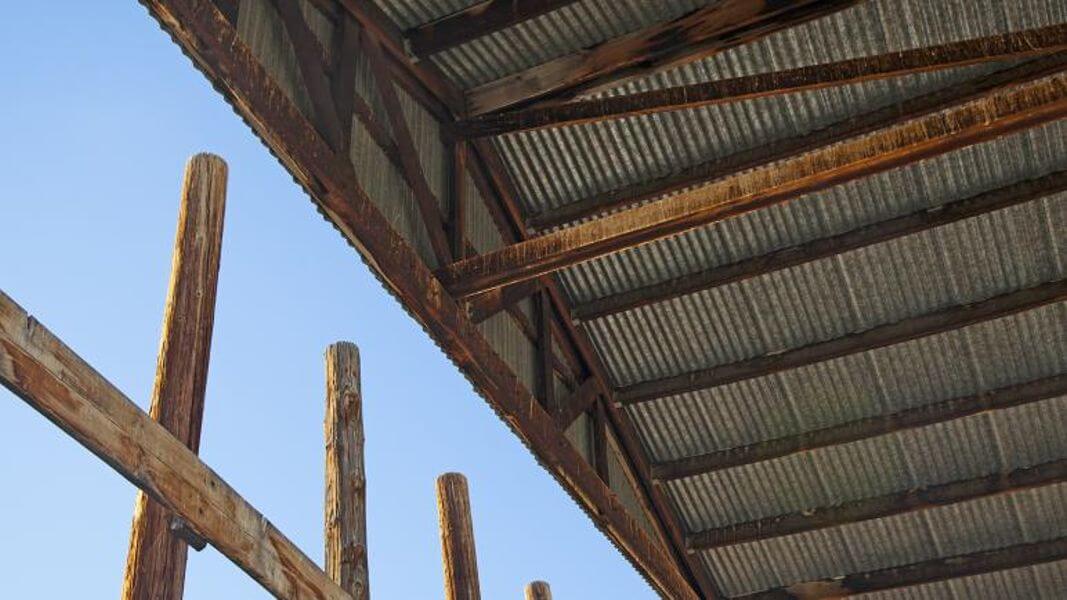 We crept through another wickedly cool barn to lock down our final sighting of the afternoon, something that immediately became my favorite of the excursion. On the top rafter of this stunningly weathered barn were two cutie barn owl babies nuzzling each other. OMG. If the innumerable bird sightings didn't have you smitten beyond belief, this would certainly do the trick.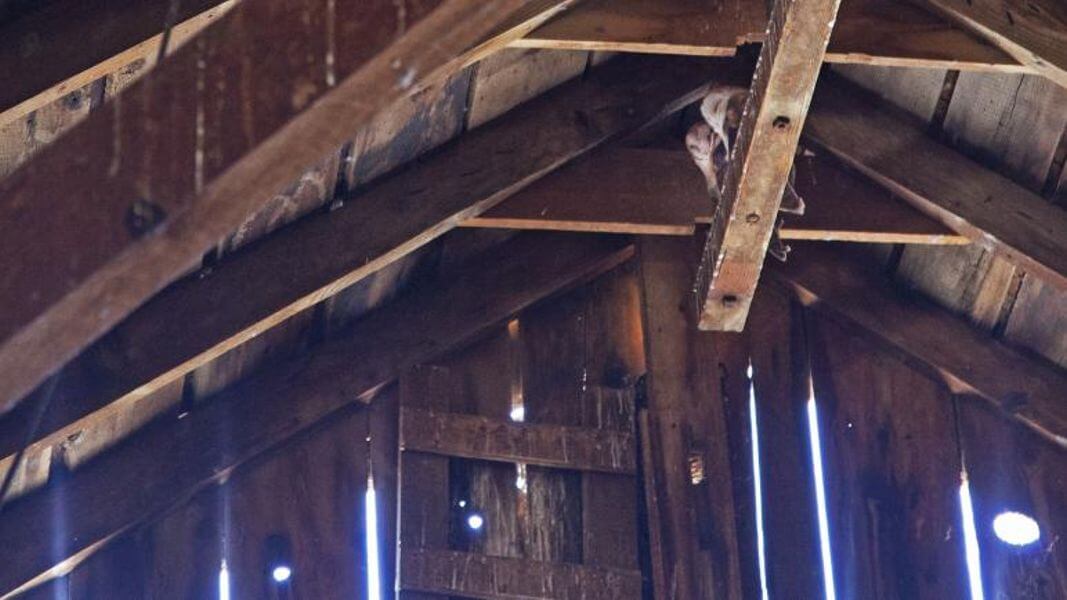 With a truly unforgettable excursion under my belt, the thing that surprised me the very most was what a tremendous cache of wildlife, culture and open landscapes that Carson Valley so naturally dished up. The best part about it, was that you didn't just get to see it, you could be apart of it, immersed in the land and elements, and truly live in it for a day. So, when checking out this little utopia, are you going to make some friends? Probably. And see some kick ass wildlife experiences? Absolutely. Just make sure to look around you while it's all going down. With tremendous beauty and history as pure as it gets, the day will be far from forgettable I promise. And if that doesn't make you want to shake your tail feather on down to Carson Valley, I just don't know what would. #NVWildlife
Get Inspired
Related Stories