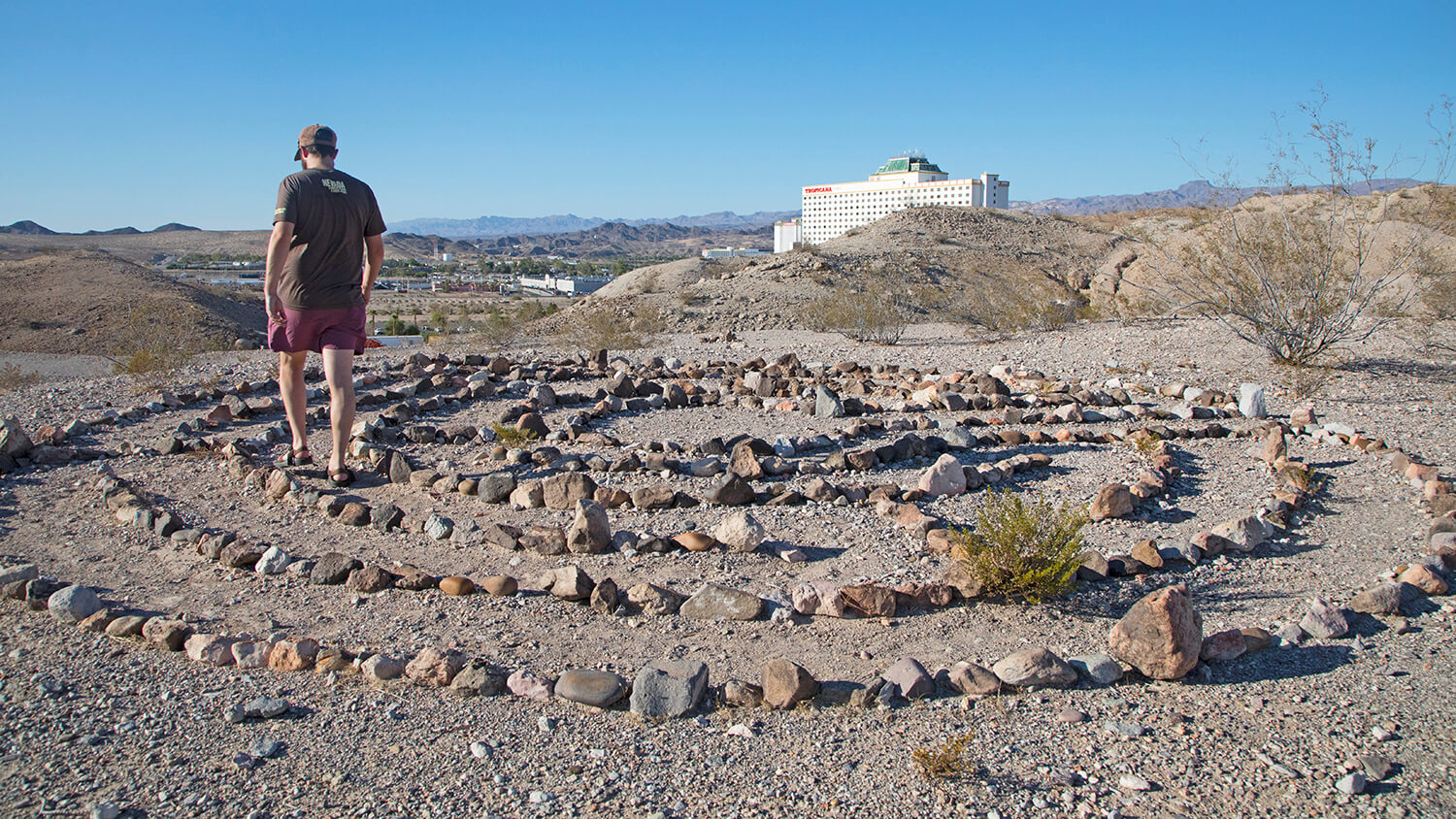 Experiencing the award-winning casinos that line the Laughlin Strip assuredly makes for an unforgettable experience. But, another reason Laughlin is such a memorable destination is the abundance of incredible outdoor recreation found here, in the heart of spectacular Mojave Desert, which can be accessed in as little as a mile off the Strip. What better way to compliment a thrilling casino nightlife experience than a restorative walk in nature by way of a series of masterfully created labyrinths? When it comes to the Laughlin Labyrinths, you can experience a bit of both worlds in all the right ways.
Created in 2011 as the ultimate way of grabbing onto some relaxation, the Laughlin Labyrinths were created by founder Wes Dufek. Throughout history, these compelling mazes have proven to help those to navigate them with reduced blood pressure and breathing rates, minimize chronic pain and insomnia, and as a whole, allows the participant to find their center and find a sense of unique calmness. So, in 2011, Wes began carefully selecting rocks to see through his plan, with the intention of creating a series of labyrinths of all shapes and sizes, that each carry a different intent to those who utilize them.
This is undoubtedly one of Laughlin's best kept secrets – after all, the Labyrinth's are essentially hidden in plain sight, making finding them all the more fun. Perched behind the Laughlin Strip, Wes' vision didn't start and end with only one labyrinth. He went on to build eight labyrinths of all shapes and sizes, ranging from 24 feet to over 60 feet in diameter. Wes referenced 11 circuit charts to build each with a specific intent, like Echo, where the participant can hear their own echo as they make their way through it, emphasizing the importance of listening to your own voice while you're walking it. Visitors can also expect to find Triangle, which is designed to emphasize prosperity for those who walk it, as well as Destiny, where those navigating this pattern will come out more focused on their own future.
No matter which of the eight you decide to experience on your own, everyone will walk away with an undoubted sense of calmness to compliment their southern Nevada escape to Laughlin. #WalkableRockArt
KNOW BEFORE YOU GO
As you might imagine, building these eight labyrinths took some serious work and planning. Wes is a local and maintains a watchful eye on his creation, so when visiting, please remember to leave this unique destination as you found it. As tough as it is to resist it, please do not add, subtract, or create your own mini-mazes. Fight the urge to spell out your names in rocks – save that for the Playa or Sand Mountain!
Admission to this funky little sweet spot is free, though you may want to consider making a donation that will help with the preservation of and establishment of new Labyrinths. To learn more about how to support Wes and this project, click here.
GETTING THERE
From the Laughlin Visitors Center, head south on South Casino Drive toward Laughlin Civic Drive. Turn right at the first cross street onto Laughlin Civic Drive. Turn left onto Thomas Edison Drive, following for about 1 mile. This is where you'll have to park safely on the shoulder and walk through the brush to find the Labyrinths. Some are up on the ridge, and some are down closer to the road on a flat plain.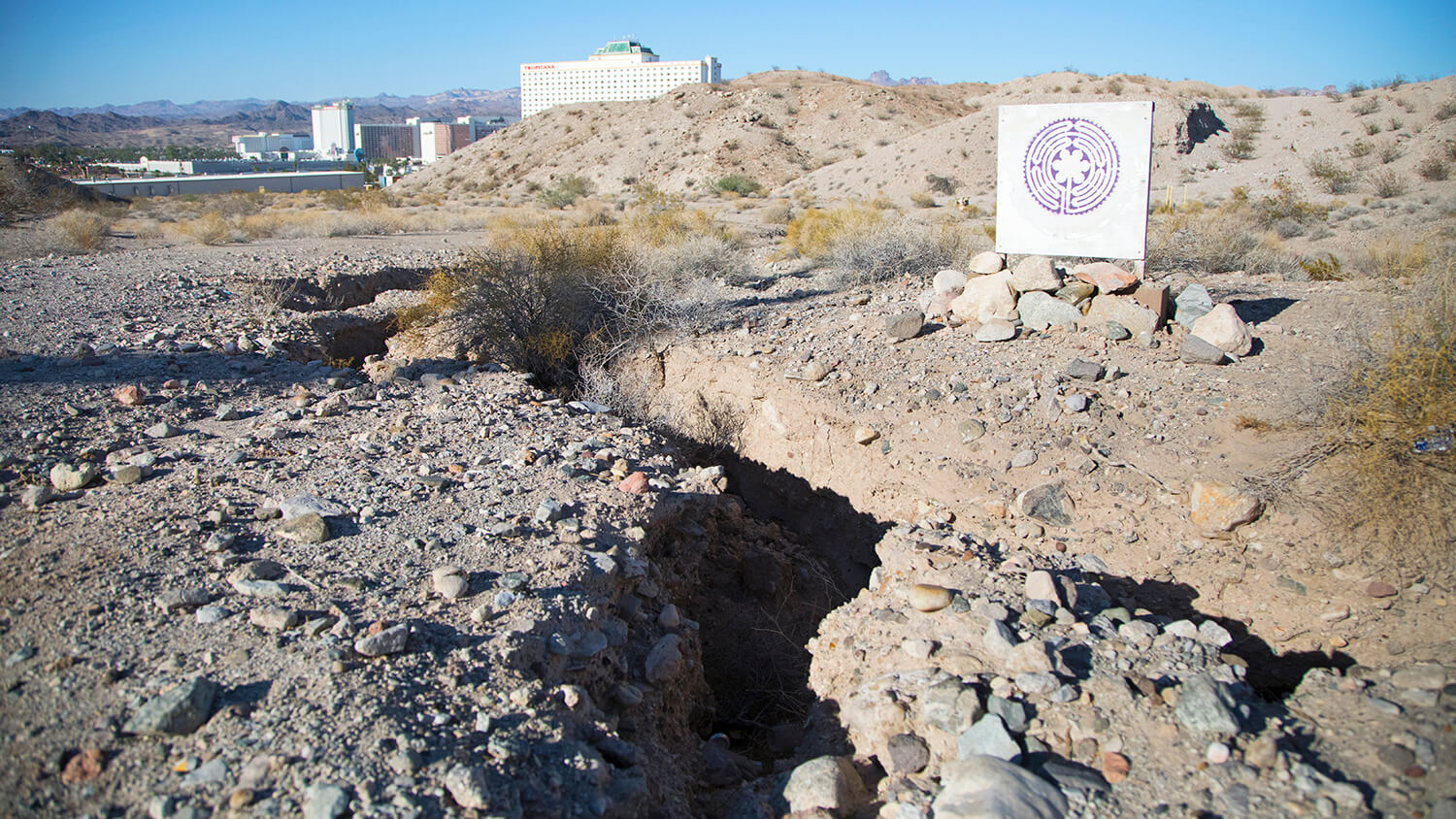 Travel Nevada PRO TIP: Keep an eye out for this symbol, which means you've arrived and are in the right neck of the woods!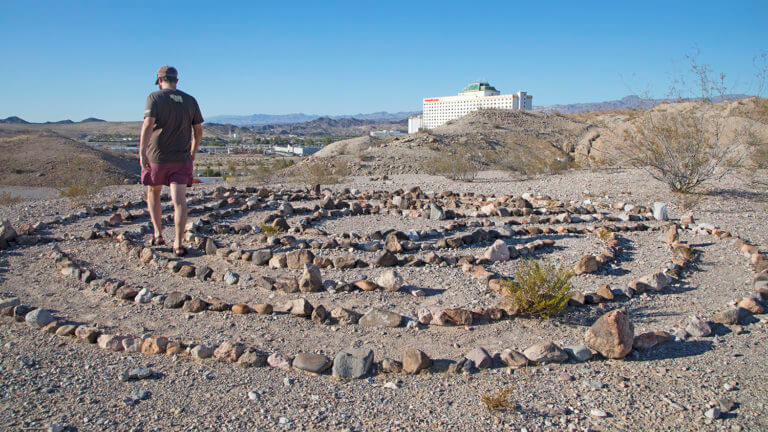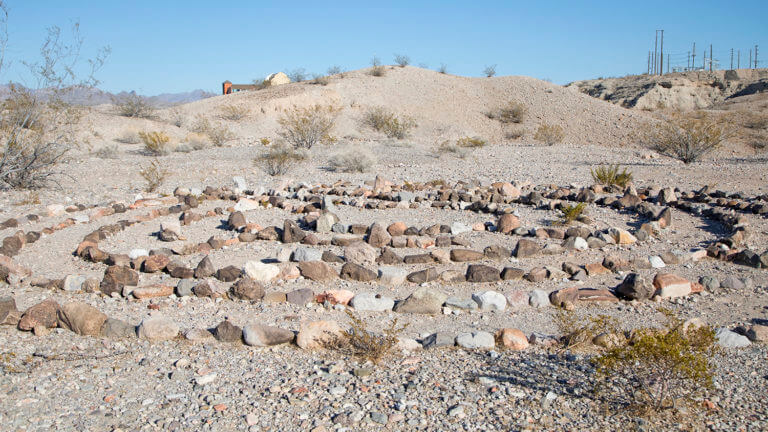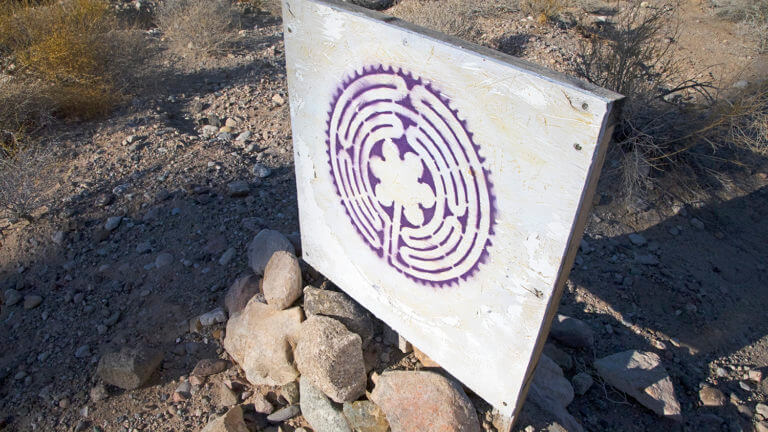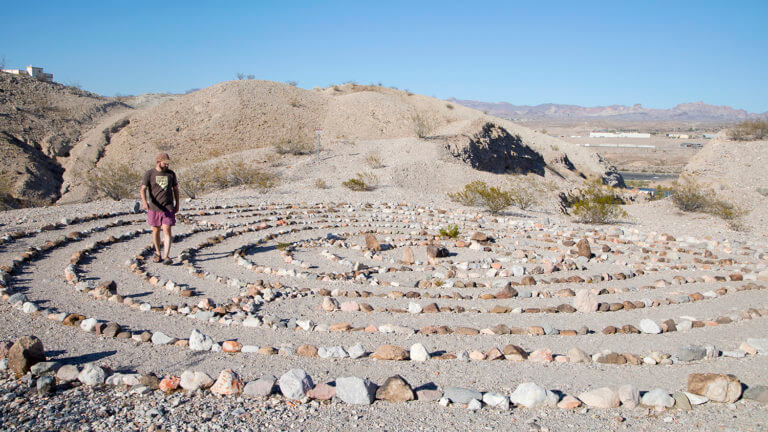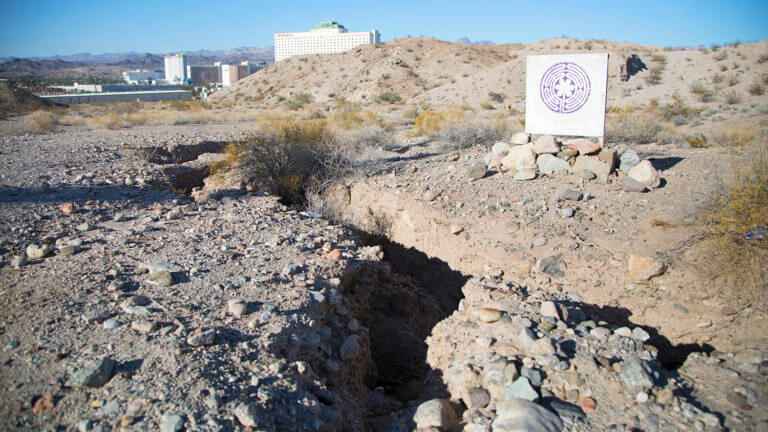 This Location: