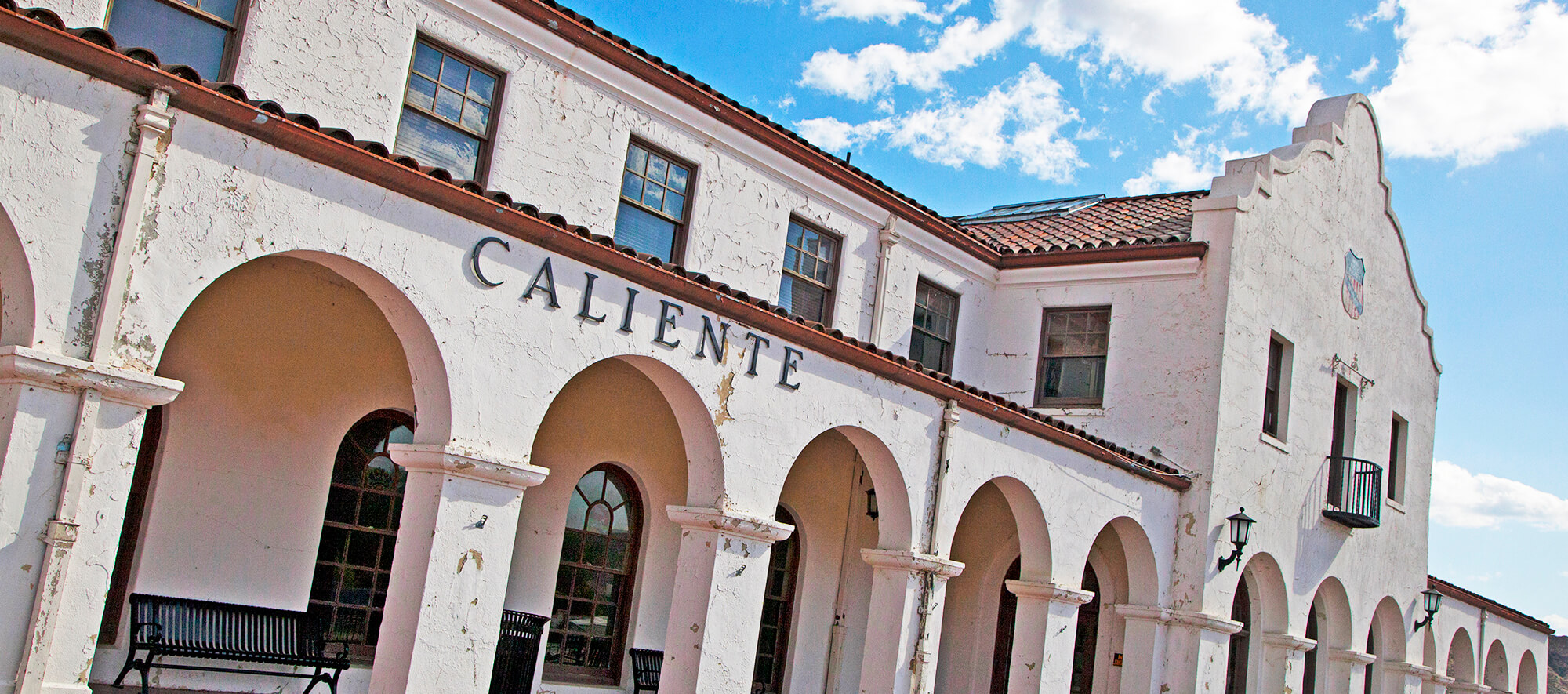 Caliente
When visiting the southern Nevada town of Caliente, check out a variety of different attractions like the Union Pacific Train Depot, an original row of historic railroad cottages, incredible mountain biking trails, and amazingly close proximity to five state parks.
Originally founded in 1901 on William and Charles Culverwell's Ranch, the city of Caliente was originally named Calientes, due the prevalence of hot springs in the area. However, within that same year a post office was erected and workers decided to do away with the "s". Then, in 1905 the Union Pacific Railroad was completed and soon thereafter a grandiose train depot was built in true Spanish-style architecture.
Today, the Union Pacific Train Depot is the crown jewel of Caliente's main street. This mission revival structure was originally designed by renowned Los Angeles architectures, John and Donald Parkinson. While the original structure burned in 1921, the building that stands today once included a restaurant and fifty-room hotel. Upon initial construction, Caliente was thought to be the next big resort town in the West. Alongside the depot is a gigantic railroad switching yard, which also runs adjacent to the main drag. It is currently being used as the Caliente civic center and is the city's local government office and a museum.
In addition to the magnificent train depot, visitors will find an original row of historic railroad cottages complete with beautiful rose gardens lining the street. This is appropriate, as Caliente is also referred to as the 'City of Roses,' based on their natural ability to grow wildly in this region of Nevada.
With a population sitting just over 1,100, Caliente is a well-kept and inviting southern Nevada city, offering a wide range of services to visitors. There are many lodging options, including The Midway Motel, and a bevy of delicious dining options at places like the Side Track Restaurant. Furthermore, Caliente has its own RV Park and Golf Course and is situation extremely close to several Nevada State parks, which includes Beaver Dam, Cathedral Gorge, Spring Valley, Echo Canyon and Kershaw-Ryan.
An excellent way to experience the town of Caliente is by picking up a Lincoln County Driving and Walking Tour visitors guide, available at the regional state park office outside Cathedral Gorge State Park. The walking tour through Caliente features many interesting highlights, including The Union Pacific Railroad Station, The Train Service Store, The Culverwell Store House, The John Miller Buildings, The Caliente Business District, The J.C. Crawford Stone House, The Richards Railroad Hotel, The "Underhill" Stone Residence and General Merchandise, The Liston Home, and The Caliente Stone School.
Add this to your upcoming tour of Nevada and see what this beautiful southeastern Nevada city has to offer!