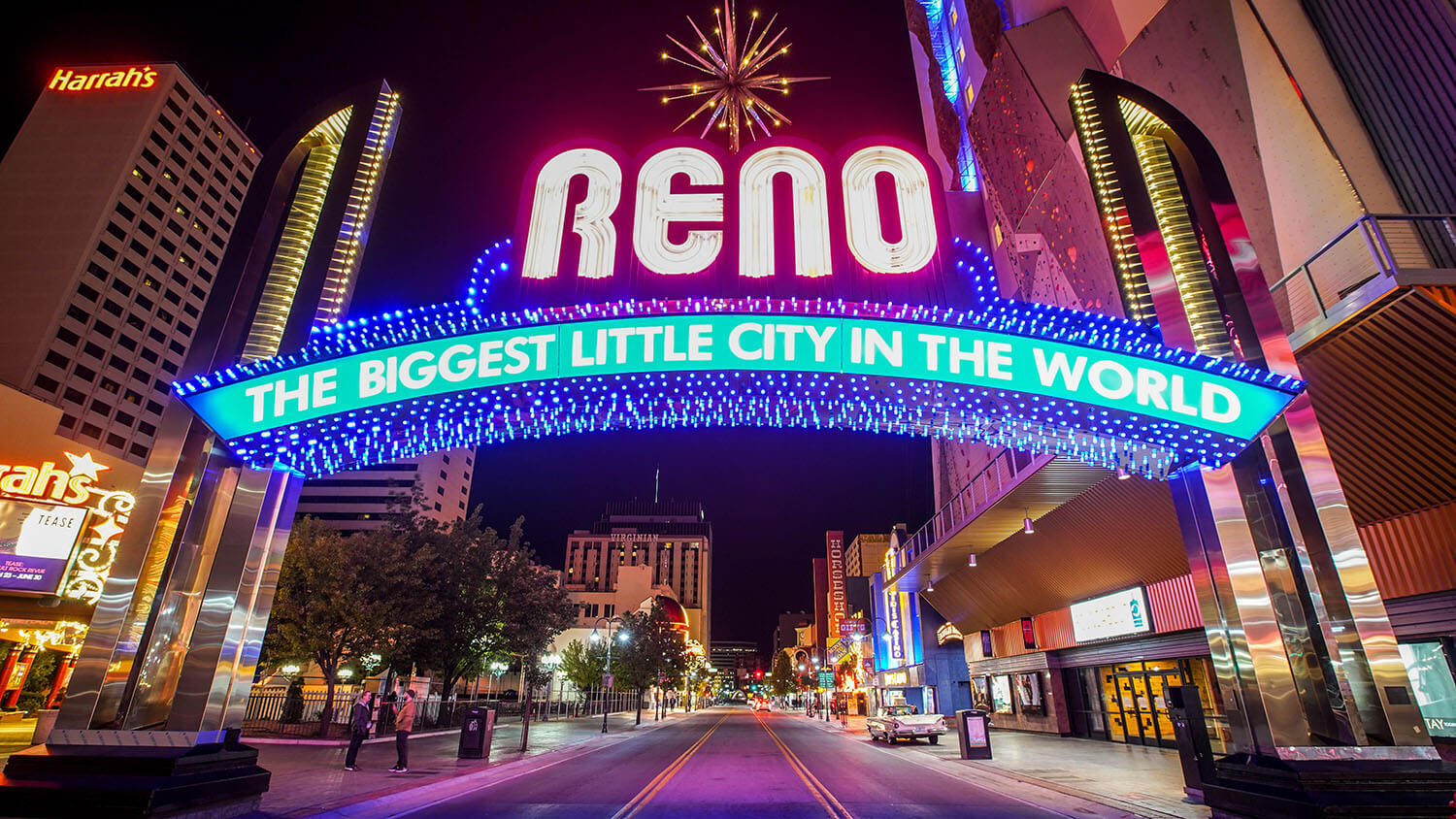 Reno, with an impressive Riverwalk District, downtown whitewater kayak park, unmatched lineup of annual events and the gateway to unlimited outdoor activity, Reno has come a long way from its mid-1800s early days. Originally a small community known as Lakes Crossing that sprung to life to serve westward travelers, the town enjoyed growth from railroad extensions, legalized gambling, liberal divorce laws and, eventually economic diversification beyond the wild world of gaming. That means that today, Reno has a lot going on for locals and travelers alike.
Downtown Reno, formerly filled with casinos and tourist shops, enjoyed a renaissance of sorts over the past few years. The casinos are still there, but so are chic condominiums and apartments that come with stylish downtown living. Markets, coffeehouses, lounges, savory restaurants, a movie theater, breweries and various shops line what's known as the Truckee River Arts District, culminating with the heart of this urban experience—The Riverwalk District. There's also the Truckee River Whitewater Park at Wingfield Park, host of the annual Reno River Festival, the nation's leading whitewater event. Just a few blocks east is the new Freight House District, an entertainment complex at the Aces Ballpark with bars and restaurants. To experience Reno's newest, most up-and-coming part of town, head just a few blocks south of the downtown area to experience the MidTown district. Full of quirky, locally owned shops and distinctive restaurants, this is one part of town you'll definitely want to experience. Also downtown, visit the Nevada Museum of Art and the National Automobile Museum.
Just west of downtown Reno is Verdi and is home to Cabela's, one of the world's foremost outfitters and an ideal spot to gear up before hitting the great outdoors. Within an hour's drive of town, there are an astounding 18 ski resorts, the picturesque state capital, thousands of mountain biking and hiking trails, numerous golf resorts, scenic Pyramid Lake, and the truly unmatched Lake Tahoe.
Did we mention Reno's amazing events lineup? There are food, art and jazz festivals, outdoor expos, fun runs, marathons, and bicycle races. Hot August Nights, Artown and Street Vibrations, just for starters. The events list is long and varied, and there really is something for everyone in Reno. The fact is, The Biggest Little City in the World really has grown up, and there is no better place to have a little fun.