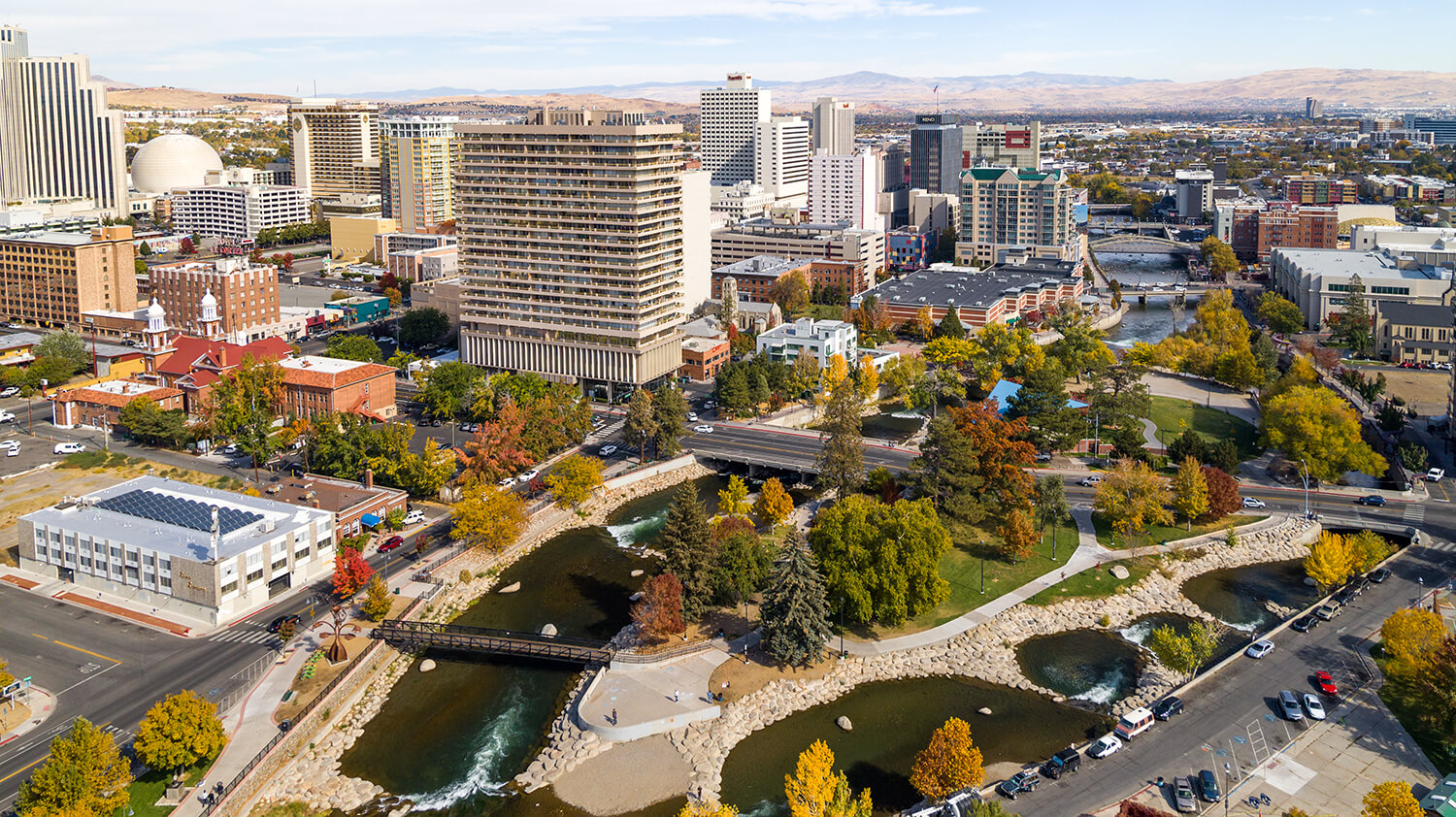 Serving up endless photo ops; year-round recreational opportunities; an unbeatable venue for some of the Biggest Little City's top events; a sparkling medley of shops, bistros and cafés; arts and  entertainment; and more, along the scenic Truckee River, the Downtown Reno Riverwalk is a must-experience for anyone visiting Reno. Easily walkable and easy on the eyes, the Riverwalk runs from the western edge of Reno's Idlewild Park east into Downtown's picturesque Wingfield Park, a place cool enough to warrant its own miniature island.
The Downtown Reno Riverwalk began in 1990 as a means of celebrating downtown Reno Nevada's scenic downtown river corridor, and today this lively district is the go-to place for a healthy dose of Reno's arts, culture, and heritage any day of the year. Shopping, some of Reno's best restaurants and bars, shows and concerts, and other great pastimes all draw visitors to the Riverwalk District.
Experience the Truckee River
It's a haven for those looking for a little retail therapy, thanks to no less than three dozen shops, boutiques, galleries, specialty retailers, bars and bistros. You'll also find dining options, ranging from cozy coffee houses to French cuisine to riverside grills and more. If an evening of drinks sounds good to you, take your pick of the Riverwalk's saloons, lounges, wine bars, and even a hookah bar. No matter how dressed up or down you want to get, you'll find the perfect spot to unwind.
Travel Nevada Pro Tip
The Downtown Reno Riverwalk really is made with pedestrians in mind. Note that there are certain sections west of downtown Reno where those on bicycles must temporarily exit the riverwalk and continue on the adjacent street.
And then there are the entertainment options. From eclectic theatre spots (looking at you, Bruka Theater) to the kayaker-beckoning Truckee River Whitewater Park to the riverside paths and parks, you won't run out of things to do. In fact, part of the Riverwalk's popularity is the many events you can enjoy here, including open mic and acoustic nights and art-themed wine walks, held on the third Saturday of every month, where you can purchase a wine glass to sample wine while you shop. If you're more into hops, the Sierra Tap House bar on First St. serves up Sierra Nevada Brewing Co. beers alongside local options in a decidedly European sidewalk setting that's perfect for people-watching. Also found along the trail is the National Automobile Museum, a multiplex movie theater and plenty of other arts and culture attractions, especially during Artown, which occurs all month long each July.
Hours:
The Downtown Reno Riverwalk is open 24 hours a day and does not close except in very rare emergency weather conditions when the river crests.
Admission:
There is no cost to walk around and enjoy the Downtown Reno Riverwalk. Individual businesses along the walk set their own prices for food, drinks, events, and other entertainment. For more information about planning your trip to Reno, get in touch with Visit Reno-Tahoe directly at (775) 825-9255.
This Location: