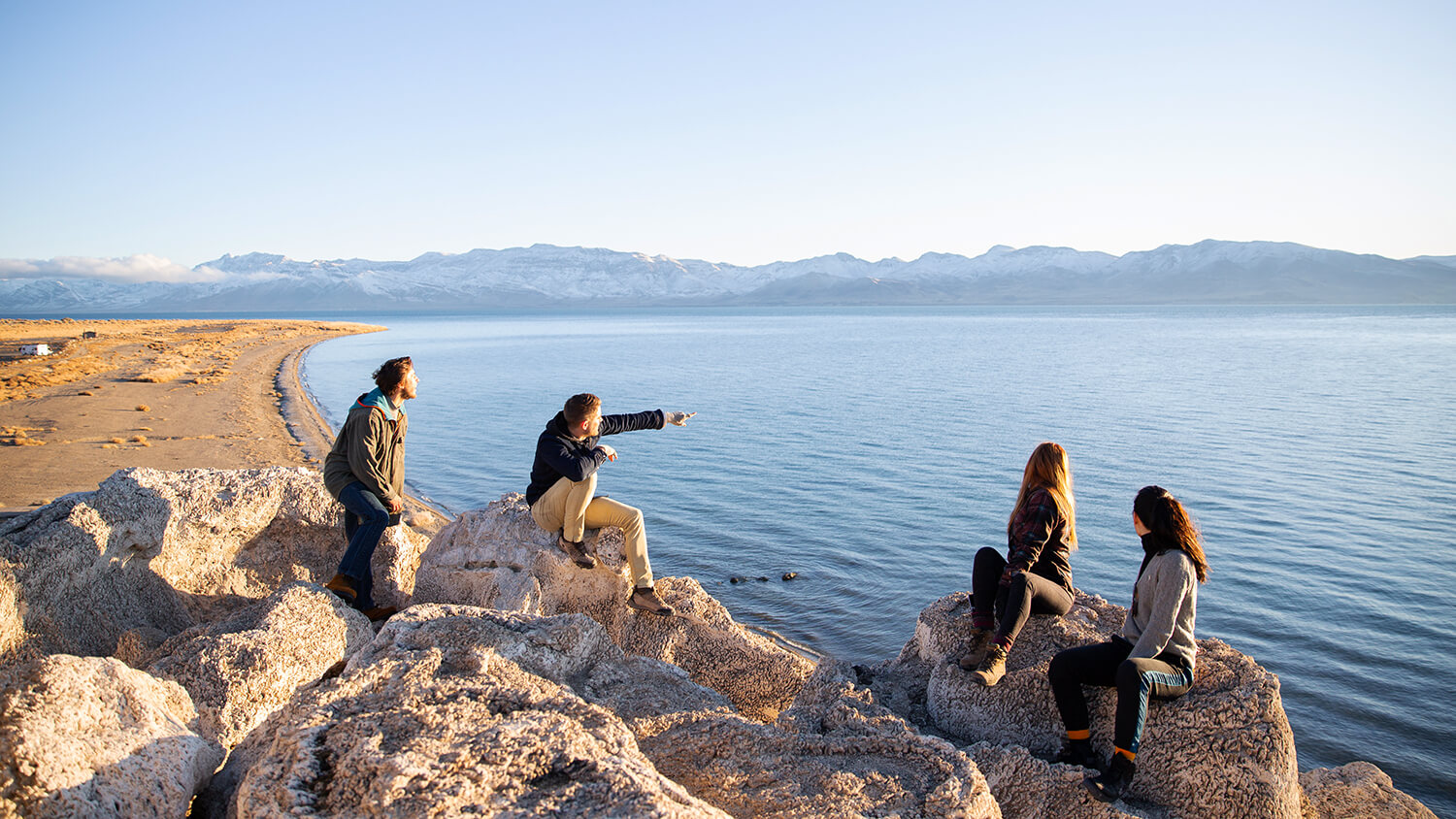 A glimmering, high-desert jewel, Pyramid Lake is a sacred remnant of prehistoric Lake Lahontan, and has been part of the Nevada story for thousands of years. Home to the Pyramid Lake Paiute Tribe, this high-desert lake was named by explorer John C. Fremont for the pyramid-shaped limestone formation jutting out of the water along the eastern shoreline. Certain plants and animals can only be found here, like the cui–ui sucker fish. Pyramid Lake is also home to Anaho Island National Wildlife Refuge, which, in addition to being a protected habitat for thousands of migrating birds is also the largest breeding ground of the American White Pelican. Situated about 45 minutes northwest of Reno, the lake offers plenty of surprises to first-time visitors, returning veterans, and everyone in between.
Pyramid Lake Paiute Tribe History
Pyramid Lake is one of the last remaining remnants of the ancient Lake Lahontan and is located entirely within the Paiute Indian Reservation. Today, the lake measures roughly 15 miles long by 11 miles wide, with a maximum depth of 350 feet and a shoreline slightly larger than nearby Lake Tahoe. The road skirting Pyramid Lake was one of the first National Scenic Byways to be designated in the nation and was the first scenic byway that lies entirely within an Indian reservation. Known as one of North America's most picturesque desert lakes, recreation abounds with year-round fishing and boating access, drawing anglers from all over the West.
Pyramid Lake is owned and managed entirely by the Pyramid Lake Paiute Tribe. The tribe comprises roughly 2,800 tribal members, all of whom are direct descendants of the Northern Paiute people, who have occupied the vast areas of the Great Basin for thousands of years. Discover more about this ancient lake and the people who've called the area home for millennia, as well as about the plants, animals, and folklore dually important to the ecosystem and the Paiute people, at the Pyramid Lake Paiute Tribe Museum & Visitors Center in Nixon.
Pyramid Lake Fishing
Catching a salmon-sized Lahontan cutthroat trout is exciting any time. However, when you know the record-holding catch weighed in at 41 pounds, it's no wonder fishermen from all over the country flock to Pyramid Lake to try their luck. Float tubes, boats, and fly casting from shoreline are all fair game at Pyramid Lake, but hooking into one of its gargantuan Lahontan cutthroats sometimes requires famously unorthodox methods. Many hardcore anglers opt to stand on submerged ladders so they can get far enough away from shore to cast into the lakebed's deep drop-off, or hire a professional guide who can help wrangle one of these beasts. While you may not be lucky enough to reel in a 40-pounder, knowing that 20-pound catches are normal in these storied waters hardly feels like settling.
Fishing season for Lahontan cutthroat trout begins October 1 and ends June 30th. Fishing season for Sacramento perch is open year-round, and fishermen are allowed to catch and keep 10 per day. Fishing is permitted from one hour before sunrise to one hour after sunset. Fishing with bait is strictly prohibited. For more rules and regs, visit pyramidlake.us.
Travel Nevada Pro Tip
Pyramid Lake fisheries are managed by the Pyramid Paiute Tribe—not the State of Nevada. That means that standard NDOW licenses don't cut it here. Be sure to get yourself legal with a proper fishing permit before casting a line into any bodies of water here. All fishing and camping permits play a crucial role in the economy of the Pyramid Paiute Tribe Reservation. To get your hands on any and all types of permits, visit the Pyramid Lake Paiute Tribe Visitors Center & Museum in Nixon, Crosbys Lodge in Sutcliffe, or purchase one online
here
.
Pyramid Lake Weather & Climate
Like the rest of Nevada, Pyramid Lake is a land of extremes with often unpredictable weather cycles. When exploring this rugged terrain, live by the Dirt Road Code and travel prepared with a spare tire, paper map, and a trusted travel buddy. While the scenic byway is paved, many roads to recreation hotspots are not, especially those north of Sutcliffe. If you do plan to travel further north into the stunning Smoke Creek Desert, be sure to let someone know where you're headed and when you plan to return.
Pyramid Lake weather varies widely throughout the year, with the warmest month averaging in August and the coldest in January. In the colder months, typically November through April, temperatures fluctuate between highs of 54 to 68 degrees Fahrenheit. Temperatures start to heat up around May and into June, and range between highs of 76 to 91 degrees Fahrenheit during the warmer months, which are between May and October. No matter what type of recreation calls you to Pyramid Lake, be sure to bring plenty of layers, sunscreen, chapstick, and more water and snacks than you think you'll need.
Getting to Pyramid Lake
There are a couple of different ways to reach Pyramid Lake from Reno and Sparks. From downtown Sparks, follow the Burner Byway north along State Route 445 (Pyramid Highway) 31 miles to Sutcliffe. Or jump on Interstate 80 and follow 30 miles to the Wadsworth exit, and follow State Route 447 for 16 miles to the southern tip of the lake near Nixon.
Admission:
No admission is required to visit Pyramid Lake. However, if you plan to camp, fish, or use any kind of watercraft, permits are required and can be purchased in Sutcliffe, Nixon or online. For more information on planning your trip to Pyramid Lake, get in touch with the Pyramid Lake Paiute Tribe directly at the Visitors Center and Museum in Nixon, at (775) 574-1088.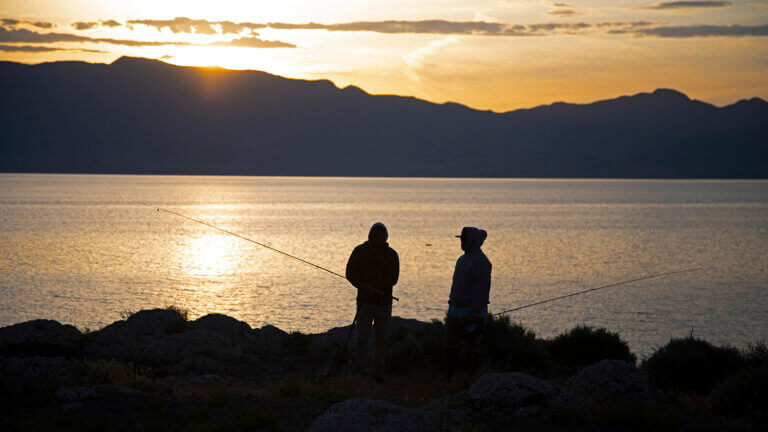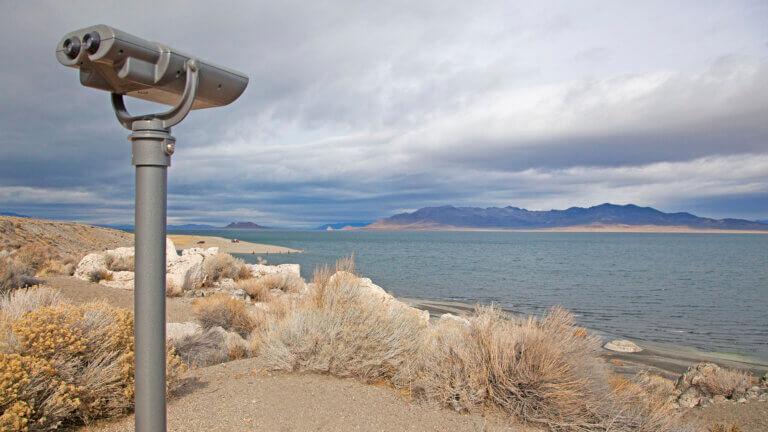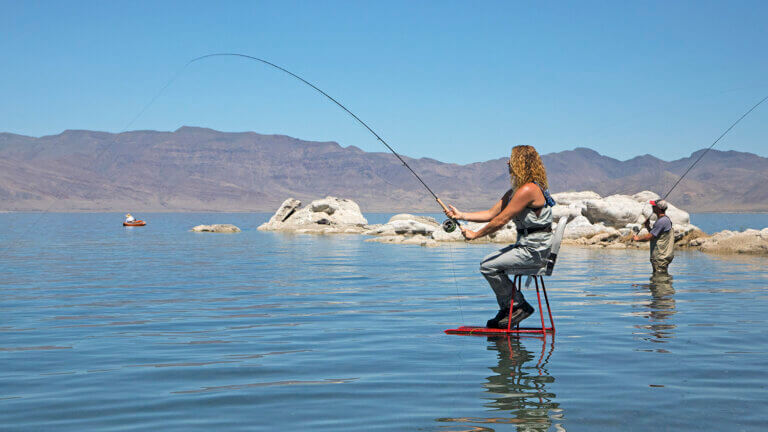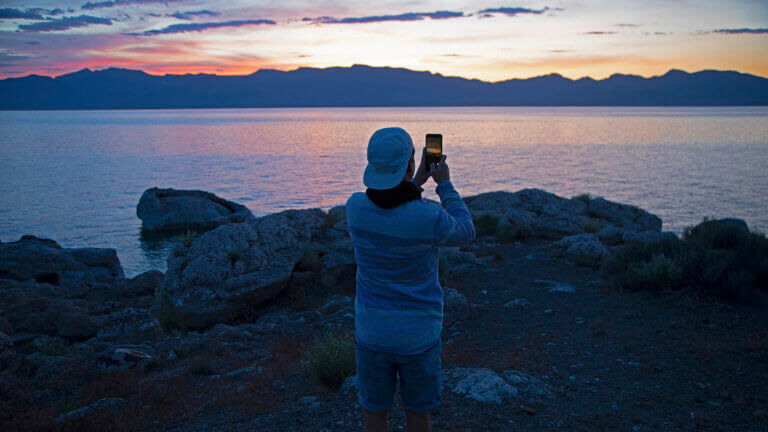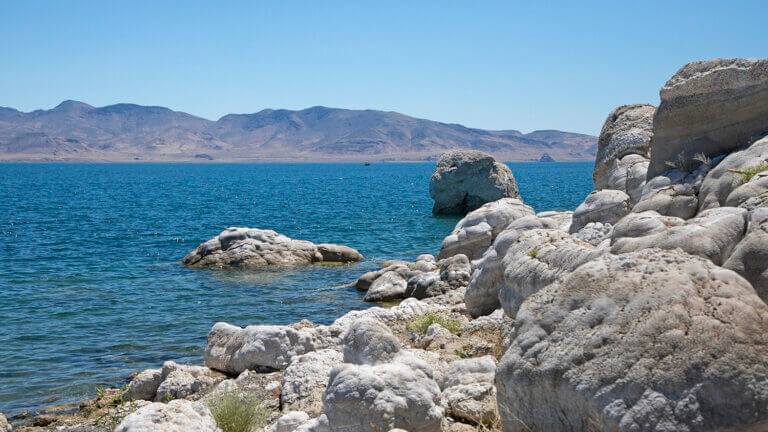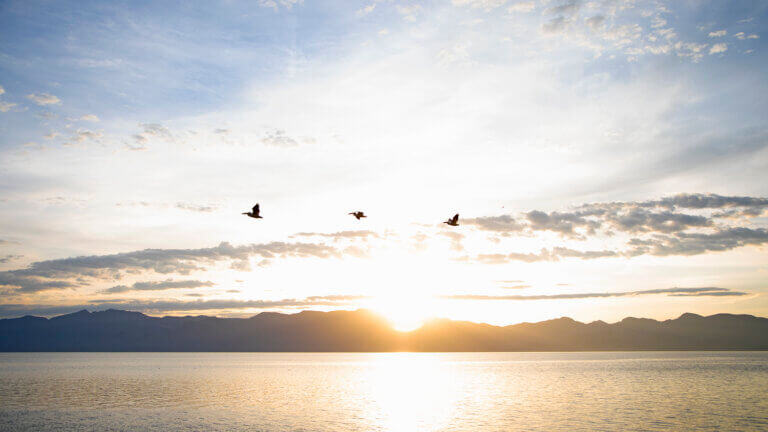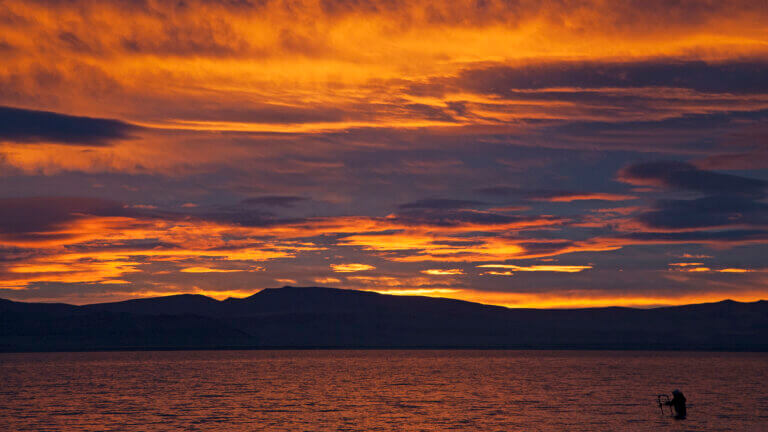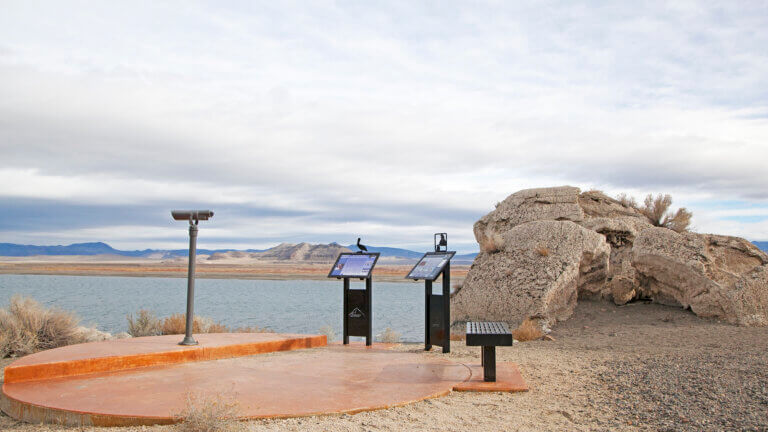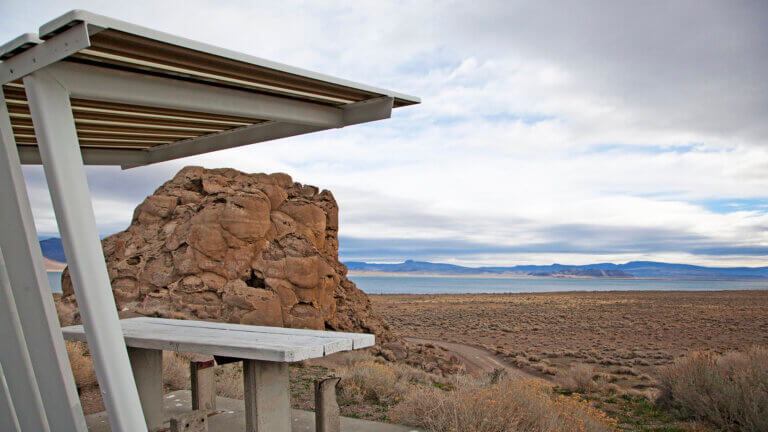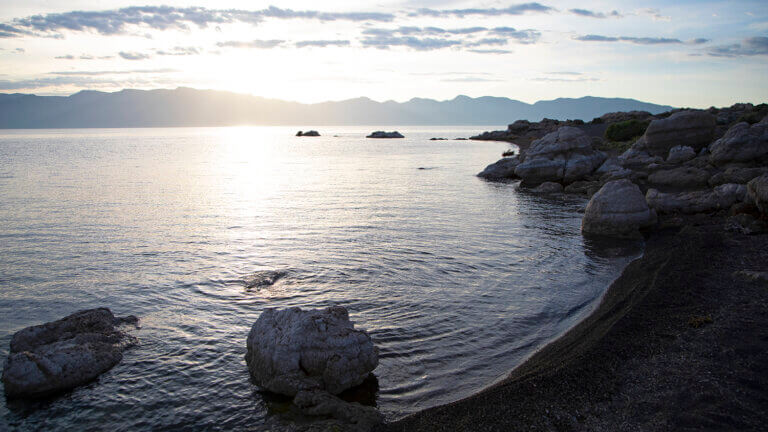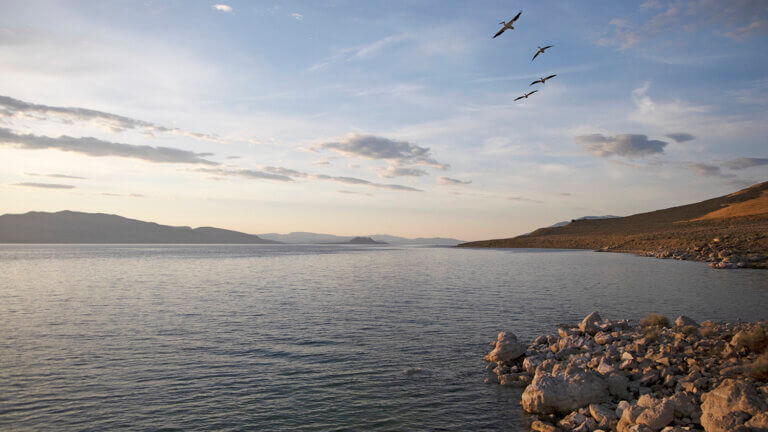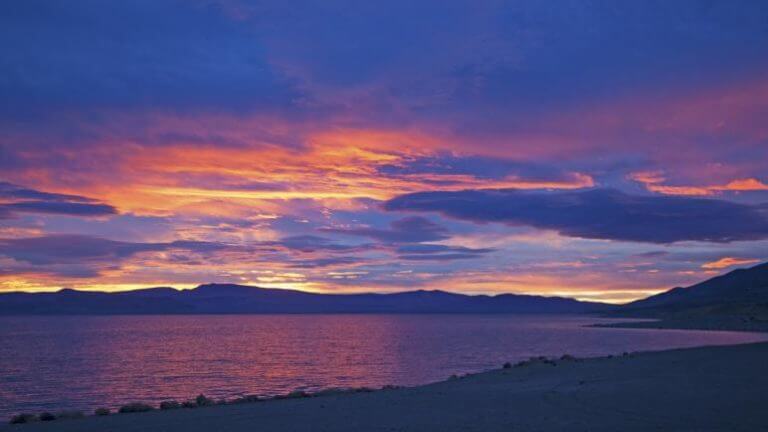 This Location: