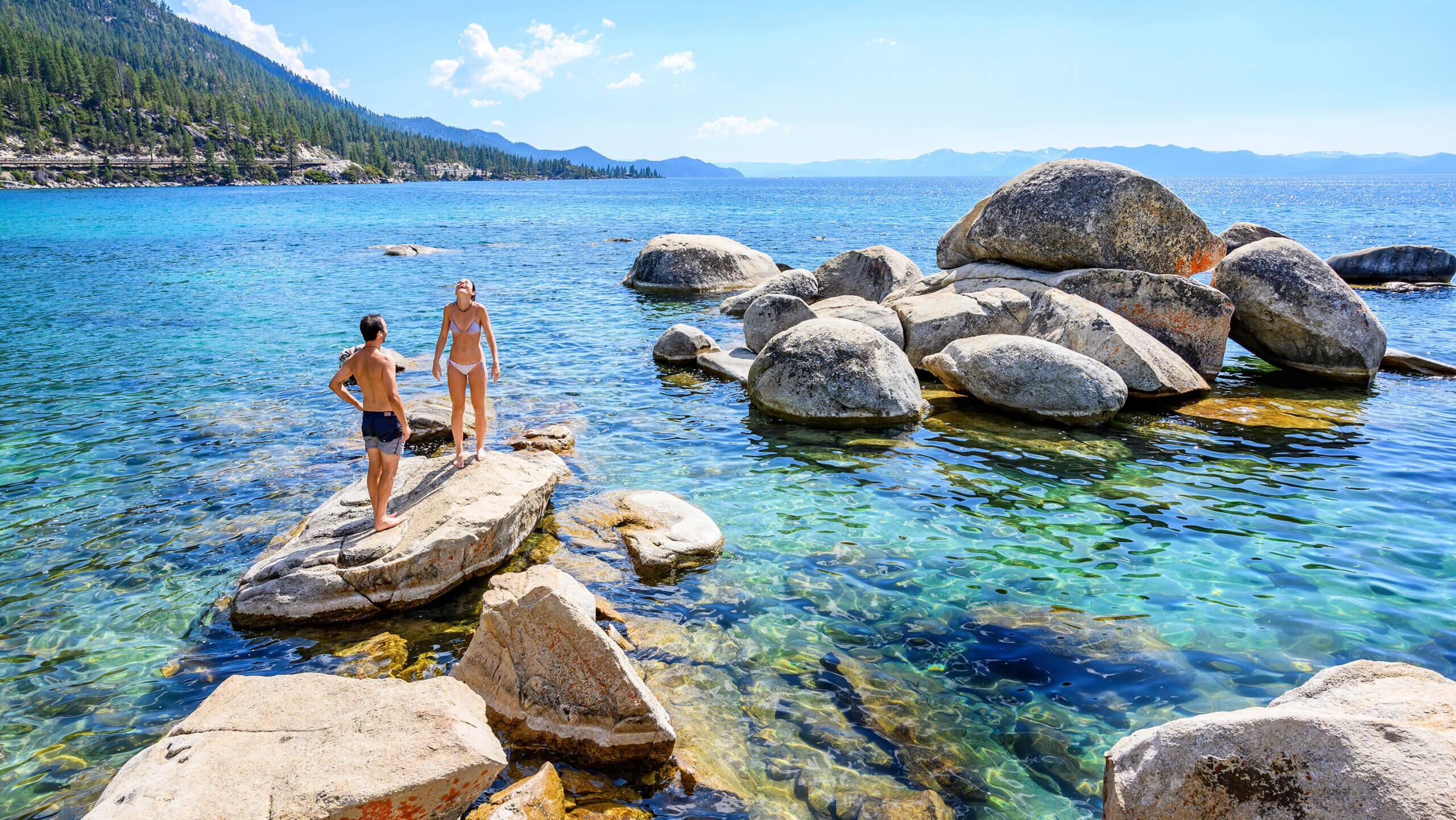 Once you lay your eyes on the sparkling blue hue of Lake Tahoe, you'll understand why it's called "The Jewel of the Sierra." Lake Tahoe is North America's largest alpine lake at 22 miles long and 12 miles wide, as well as its deepest, with an average depth of 1,645 feet. It's also ancient, having formed more than two million years ago.
This freshwater treasure offers year-round entertainment, activities, and accommodations. In the warmer months, visitors enjoy a water-sports playground surrounded by epic hiking and unforgettable camping. Once Lake Tahoe weather gets snowy, the area transforms into a winter wonderland, replete with skiing, snowboarding, snowshoeing, and many other wintertime sports and activities.
Where Is Lake Tahoe?
Located in the Sierra Nevada, Lake Tahoe is one of the biggest lakes in North America and is also one of the highest, situated at more than one mile above sea level. The massive body of water and surrounding Tahoe Basin straddles the Nevada-California border, touching five counties, with a single outflow into the Truckee River. The circumference of Lake Tahoe is 72 miles, which makes for an incredible scenic drive, which is best experienced along the Lake Tahoe Loop road trip. If you'd rather do it on foot, the famed Tahoe Rim Trail circles the entirety of the lake along 165 miles of trails for hikers of all skill levels. The two north and south shores of Lake Tahoe boast distinctly different personalities, vibes, and tempos.
North Lake Tahoe
Only 45 minutes from downtown Reno, things are a little more laid back up in Incline Village and Crystal Bay on Tahoe's north shore. On pace for those who want to take in the area's natural beauty, enjoy rustic accommodations, and escape the hustle and bustle of daily life, North Lake Tahoe has it all. Breathtaking hiking and biking trails, numerous beaches, and countless locales for both nordic and downhill skiing are just some of the draws of the north side of the lake.
North Lake Tahoe is home to one of the largest and most stunning public sandy beaches in all of Lake Tahoe at Sand Harbor State Park. Open year round, enjoy live theater as it was intended at the alfresco stage that graces Sand Harbor during the summertime, or stroll a crowdless beach during the winter months. Up overhead, hike or mountain bike the famous Lake Tahoe Flume Trail, a bucket-lister outdoor adventure-seekers from all over the world. If you're looking for something just as scenic without the commitment, be sure to check out the paved, multi-use East Shore Trail that hugs the waterline from North Lake Tahoe's Tunnel Creek Cafe to Sand Harbor three miles to the south.
North Lake Tahoe hotels offer a wide range of amenities and activities. Hyatt Regency Lake Tahoe Resort in Incline Village offers elevated old-school charm, as well as access to its own private beach and pier. While you're here, be sure to get on a tour of the Thunderbird Lodge to get a glimpse into Legendary Nevadan George Whittel's eccentric billionaire lifestyle, too.
Travel Nevada Pro Tip
Keep Tahoe Blue
visitors and locals should prioritize
by practicing Leave No Trace methods whenever possible to make sure Lake Tahoe's crystal-clear waters stay that way for the long haul.
South Lake Tahoe
The livelier side of the lake, the south shore of the lake is where lake life and mountain living come together. South Lake Tahoe offers endless recreation in all seasons. In the spring and summer, Zephyr Cove is where you can lounge beachside, parasail, rent various watercraft, or take a dinner cruise on a paddle-wheel boat. Take in sprawling lake views from Emerald Bay State Park, where you can see Vikingsholm Castle or dive below the waters to see the historic artifacts that reside down there. On land, explore gorgeous hiking trails, indulge in high-end shopping at Heavenly Village, enjoy a perfect meal, golf or stay at the waterfront Edgewood Tahoe Resort, or hit the tables at one of the hotel-casinos like Harrah's, Harveys, and Bally's Lake Tahoe Casino Resort (formerly MontBleu).
As the weather cools, massive, state-straddling Heavenly Mountain Resort boasts epic snowfall and is a haven for skiers and snowboarders, as well as families who take the Heavenly Gondola up to a wintertime playland. For those who simply want to enjoy the wintry scene from flat ground, Heavenly Village offers numerous activities and amenities, from ice skating and mini golf to live theater and a full service spa.
Visiting Lake Tahoe
When planning your trip to Lake Tahoe, be sure to read up on what areas you plan to visit, then see what possible fees or permits apply (especially for outdoor activities). For Go Tahoe North click here, and for Visit Lake Tahoe click here.
This Location: