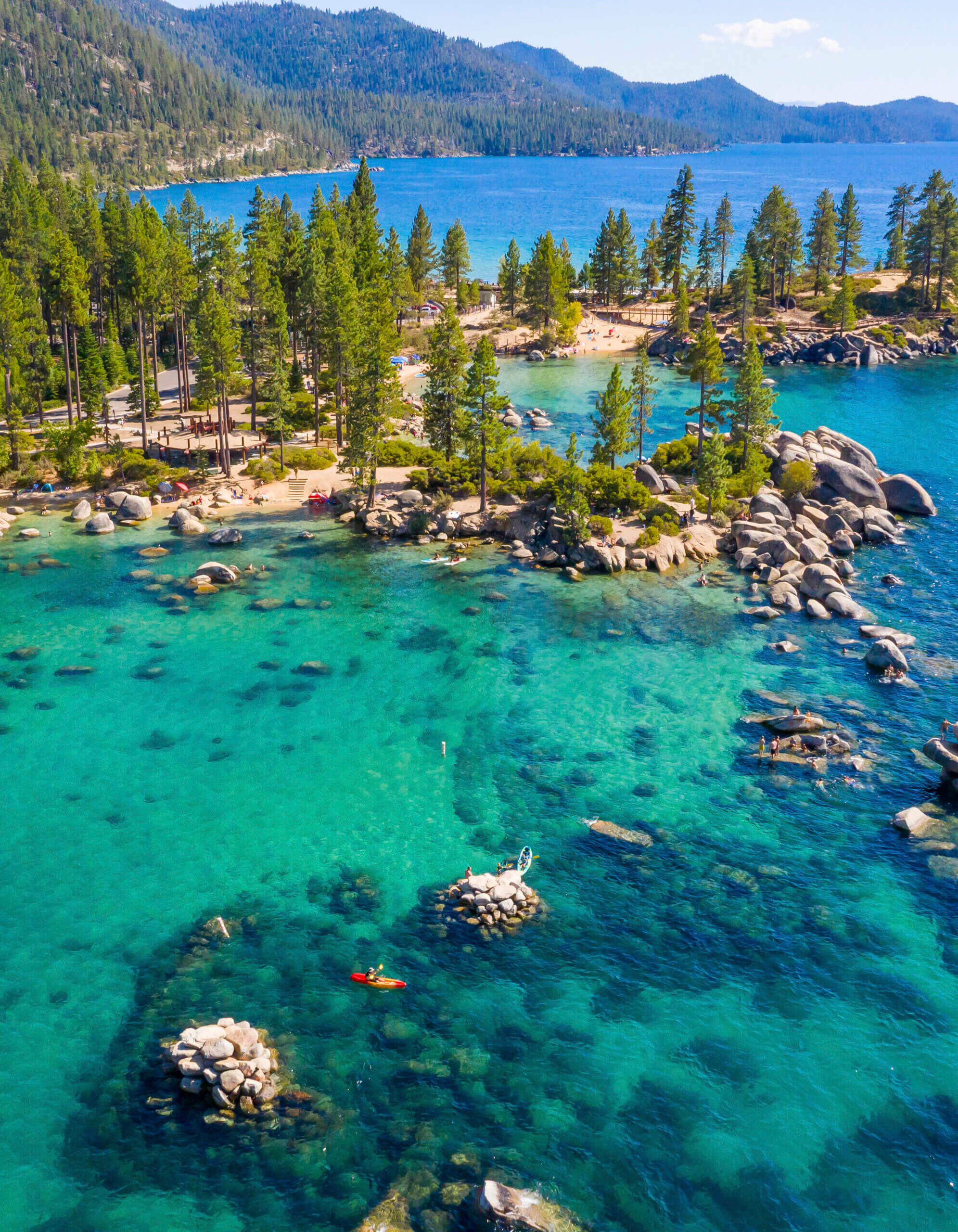 North Lake Tahoe
With 11 towns and resorts on the northern side of stunning Big Blue, visitors can stay as active as they want.
The Northshore of Lake Tahoe
They say that life at North Lake Tahoe moves a little slower, and while that's delightfully true in the best way, it doesn't mean there's any shortage of things to keep you busy. With 11 towns and resorts on the northern side of stunning Big Blue, visitors can stay as active as they want.
Winter in Lake Tahoe
Take winter for example…with no fewer than 12 jaw-dropping alpine ski resorts anchoring the north shore, skiers and snowboarders have their choice of leisurely sweeping beginner runs or triple black diamonds at places like Mt. Rose, Alpine Meadows, Squaw Valley USA, Northstar-at-Tahoe and Diamond Peak. As a whole, the north shore ski resorts make up the country's largest concentration of ski resorts and are begging to be enjoyed during the winter months.
Lake Tahoe Summers
In the summer, the choices are equally as limitless. From stellar mountain biking runs in the Spooner Backcountry, to miles on end of pristine beaches, you're going to want to get in on this action. As the largest alpine lake in the United States, Tahoe's insanely clear water is continually ranked as one of the bodies of water in the world that you must swim in before you die. With over 70 feet of clarity, you'll feel like you've teleported to the Caribbean, with a kaleidoscopic range of aquamarine hues that will have you in a tizzy. To take a dip in this gem, check out Sand Harbor or Lake Tahoe State Parks. The perfect intro for a first-timer to Tahoe, visitors can enjoy hiking, lounging on the beach, and can even catch a live performance during the summer months when the Lake Tahoe Shakespeare Festival is on deck. If you want to work for it a little bit, enjoy a short hike into one of the east shore's many secluded beaches like Chimney or Hidden Beach for an unforgettable afternoon.
Lake Tahoe History
If its history you're after, North Lake certainly doesn't miss the mark there either. Not far from Incline Village was the former site of the Ponderosa Ranch [oh, Bonanza,] and a little further down the road is the opulent Thunderbird Lodge, one of the most famous residential estates on the shores of Lake Tahoe. Owned by famous developer George Whittel, tours can be arranged if planned ahead. In the other direction from Incline Village is the famed Cal-Neva. This popular state-straddling icon was a famed accommodation, as well as one of the most famous speakeasies in the American West during the Prohibition era.
Things to Do in North Lake Tahoe
Whether or not you shred some of northern Nevada's incredible ski runs, kick back for an unforgettable day on the beach, check out some fascinating history, or grab a cocktail fireside to enjoy a face-melting, you're sure to be on Tahoe Time by the time you leave. Regardless of the season, visitors will find exhilarating recreation and inspiring events. The beauty of it is, the pace of it all is up to you.