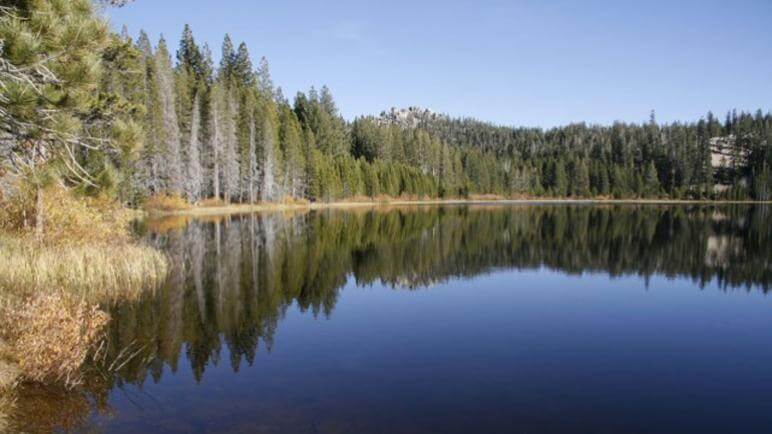 Spooner Lake—Lake Tahoe Nevada State Park
Effective July 19, 2021, Spooner Lake's main entrance, parking areas, and frontcountry will be closed to public access due to construction, with plans to re-open before the end of the calendar year. Spooner backcountry trails will not be affected and will remain open, though park visitors are advised there is no trailhead access, parking, or facilities currently available at Spooner Lake.
Spooner Lake
Spooner Lake is a man-made reservoir located just north of the intersection of Highway 50 and Highway 28 near Spooner Summit. This pass is along the Carson Range of the Sierra Nevada leading to Carson City from Lake Tahoe, located in Lake Tahoe Nevada State Park.
Travel Nevada Pro-Tip: To get here from Carson City, head south on U.S. 395 to U.S. 50 west. Head north on State Route 28 to the Spooner Lake parking area.
Spooner Lake Recreation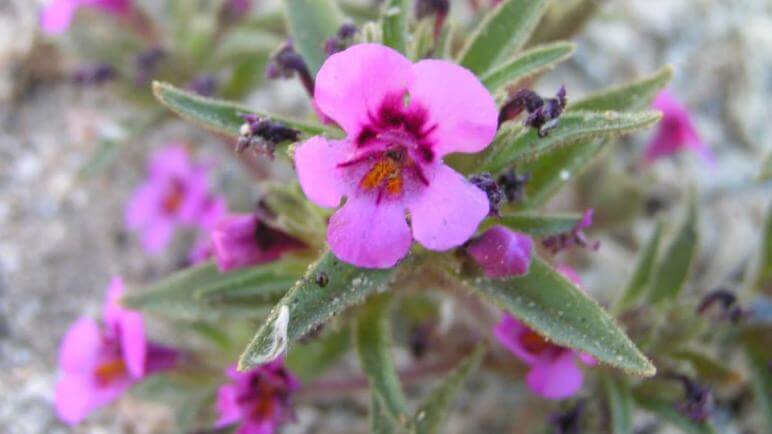 Spooner Lake offers tons of recreation in every season, such as hiking, skiing, equestrian trails, mountain biking trails, and spots for camping. Spooner also rents two cabins in the backcountry woods, too. The Spooner Lake Cabin sleeps four people comfortably and Wildcat Cabin sleeps two. Both cabins have basic amenities such as composting toilets, beds, cooking stoves and wood-burning stoves for heat.
Spooner Lake is the start of a 5-mile hiking trail to Marlette Lake via North Canyon and the Tahoe Rim Trail. Not only does this beautiful area offer awesome views of the lake (both!) and its many species of waterfowl, evergreens, wildflowers, and aspen groves, but in the fall and winter, this loop trail provides blazon fall foliage and backcountry bliss.
The loop trail around just Spooner Lake is about a 2.1-mile round-trip with a starting elevation of about 7,150 feet.
Spooner Lake Fishing is Tough to Beat
In 1973, the Nevada Department of Wildlife began stocking Spooner Lake with trout. Some of the trout species included the native Lahontan cutthroat trout and other hybrids like the rainbow, brown, bowcutt, brook and tiger trout.
At Spooner Lake, the limit is five and bait is allowed. The Marlette Lake season runs July 15 through September 30 and is catch-and-release only. Only artificial lures and single barbless hooks in this catch-and-release lake are allowed. Dedicated anglers can hike from Marlette Lake to nearby Hobart Reservoir during the season that runs May 1 through September 30. The limit at Hobart Reservoir is also five and only one can be larger than 14 inches. Hobart Reservoir can also be accessed via a 5-mile trail in northwestern Carson City.
Travel Nevada PRO TIP: You're going to need a Nevada fishing license. Go here to get one.
Skiing at Spooner Lake is Pretty Great, Too
The Lake Tahoe Basin offers some of the country's best downhill and cross-country resorts—there's nothing better than being close to chairlifts and cozy lodges. But for those that crave the backcountry and a quiet space away from crowds, Spooner Lake is the place to be.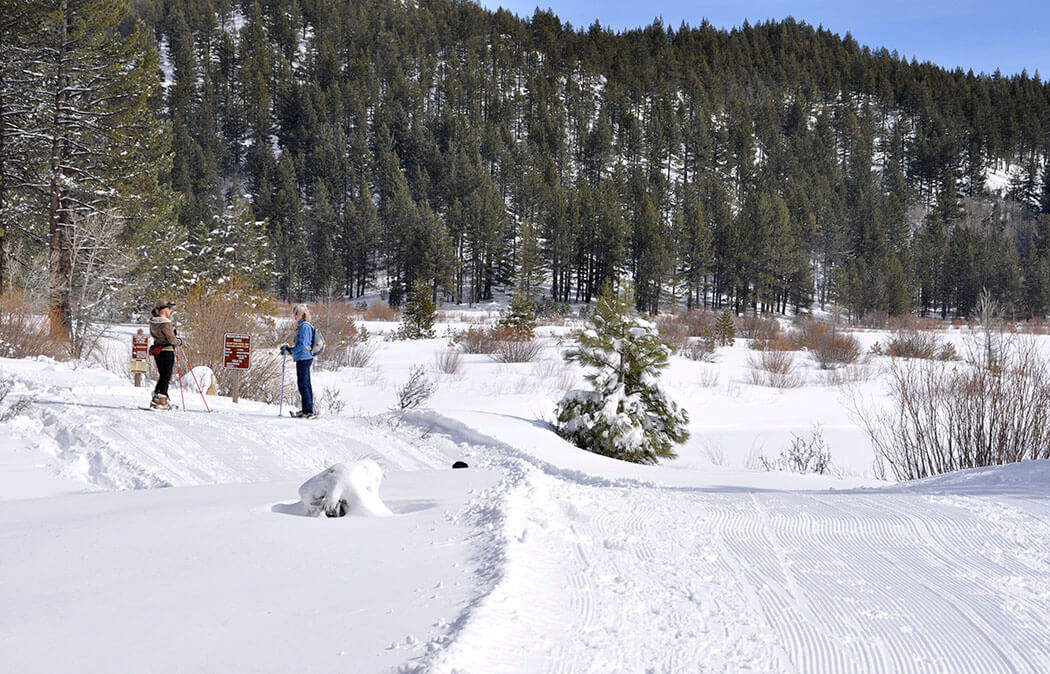 Spooner Lake in Lake Tahoe Nevada State Park offers a system of cross-country ski trails that wind through dense forests, open meadows and along the banks of Spooner Lake. This scenic, Spooner Lake Trail is perfect for both families and experienced skiers. Groomed trails are located on the south side of Spooner Lake in Spooner Meadow and up North Canyon to Marlette Lake, snow permitting. A huge thanks to Nevada Nordic for managing this community ski trail. All-access to cross-country ski trails are open to the public and free of charge, but there is an entrance fee into the park of $10 per vehicle.
Travel Nevada PRO TIP: To get here from Reno, take U.S. 395 south to U.S. 50. Go west to State Route 28 for 30 miles.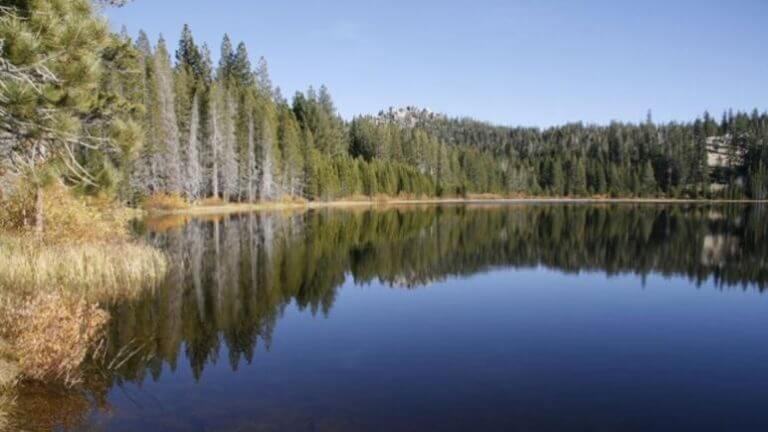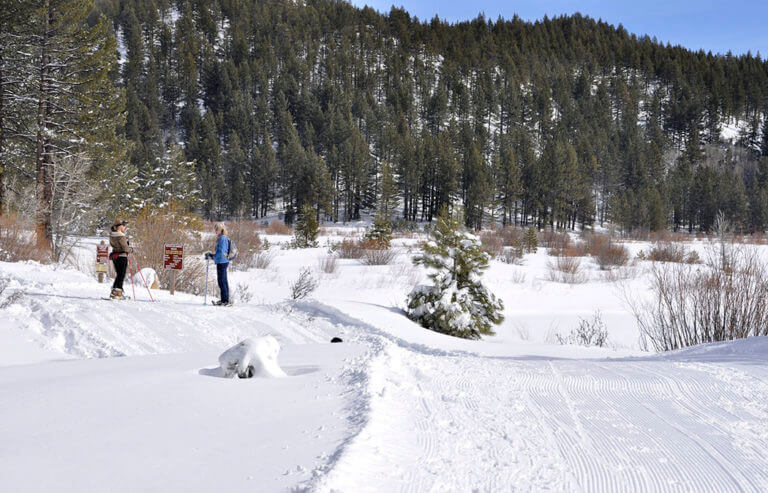 This Location: