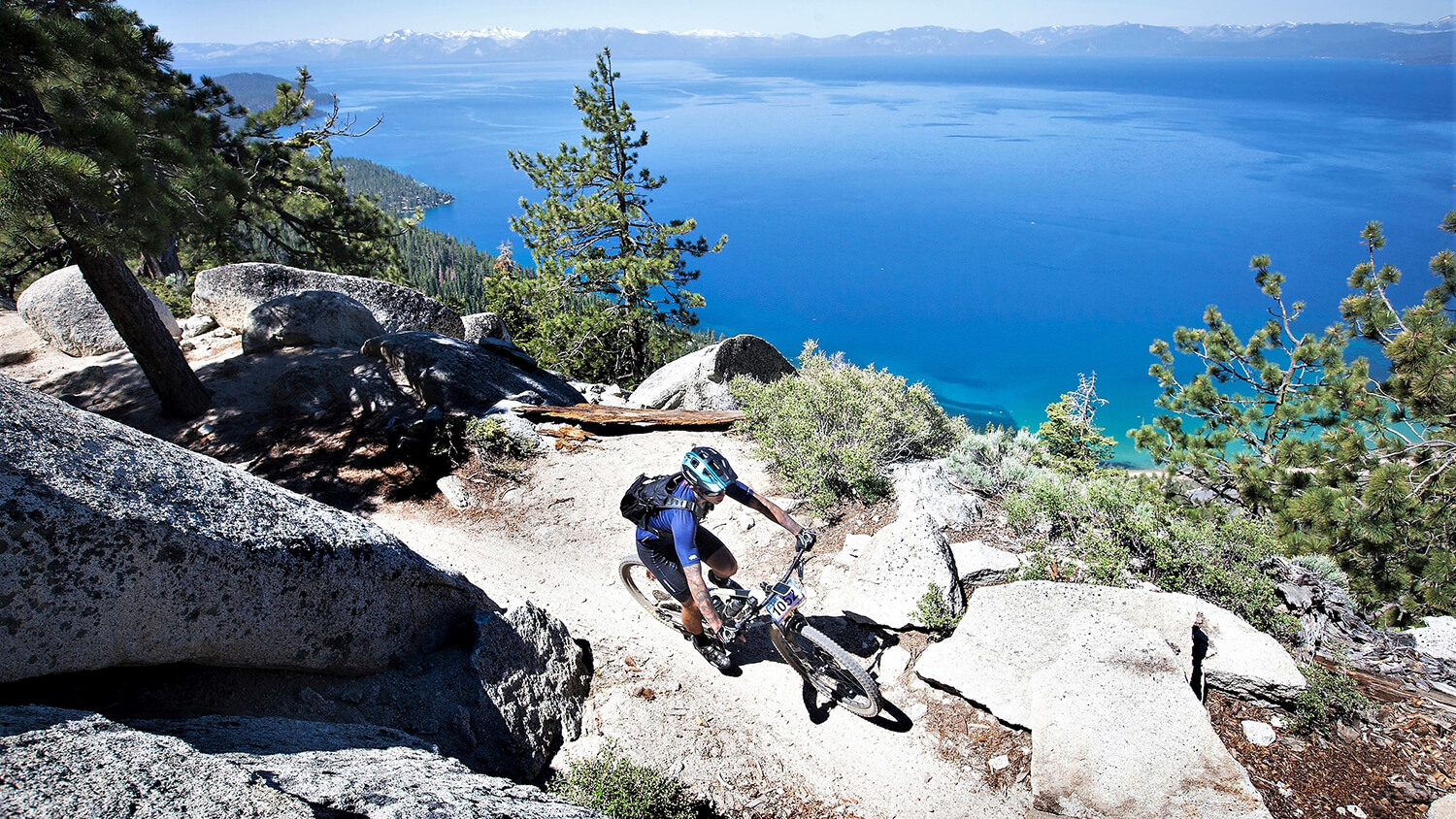 Touted as one of the most spectacular trails in the Lake Tahoe area and the world, visitors from near and far access the Lake Tahoe Flume Trail for unbeatable mountain biking and hiking opportunities. Situated in North Lake Tahoe nearest Incline Village, the Lake Tahoe Flume trail is carved into a steep granite spire overlooking Lake Tahoe, that follows the same path where wooden square-box flumes once delivered water to Virginia City in the late 1800s. Today, the trail typically becomes snow free and rideable around Memorial Day, and has several access points with different schedules based on how you choose to use the trail—mountain biking or hiking.
MOUNTAIN BIKING 
One portion of the Lake Tahoe Flume Trail begins at Spooner Lake State Park—part of the Lake Tahoe Nevada State Parks system. The first section is a 1,100 climb that tops out at Marlette Lake at 8,157'. Keep a sharp eye on the trail—on one side are boulders the size of Volkswagens, and on the other side is a 1,600' bumpy drop to Sand Harbor. A moderately difficult 14 mile ride with more than 1,000' of climbing in the first four miles and 4.5 miles of singletrack, it's safe to say the Marlette Flume Trail traverses many steep sections and is a good trail for intermediate to advanced riders. The Flume trail is rideable every day, just note that the Tahoe Rim Trail portion from Mt. Rose Meadows down to the Flume is only open to mountain bikes on even days of the week (based on date.)
HIKING
Though the Flume Trail is definitely ranked as one of the best trails to ride in the world, the views of Big Blue are just as spectacular when hiking or trail running. The Lake Tahoe Flume Trail is more than 20 miles round trip, which is still a doable hike or run, but the particularly scenic hiking spots along the trail can be accessed from Marlette Lake in the Spooner Backcountry. A tame, 4.4 mile descent from Lake Marlette to Tunnel Creek Road makes for one of the best vantage points of the Lake Tahoe area.
FLUME TRAIL BIKES
Interested in hitting the Lake Tahoe Flume Trail and don't have a bike? Contact Incline Village-based rental company Flume Trail Bikes, a great resource for bike rentals, shuttles to trailheads, and seasonal trail info. Use the booking buttons on the rental page to reserve a bike, or dial Flume Trail Bikes directly at (775) 298-2501.
For more information on accessing the Lake Tahoe Flume Trail, and planning your trip to North Lake Tahoe, contact the Incline Village Visitors Center at (775) 832-1606.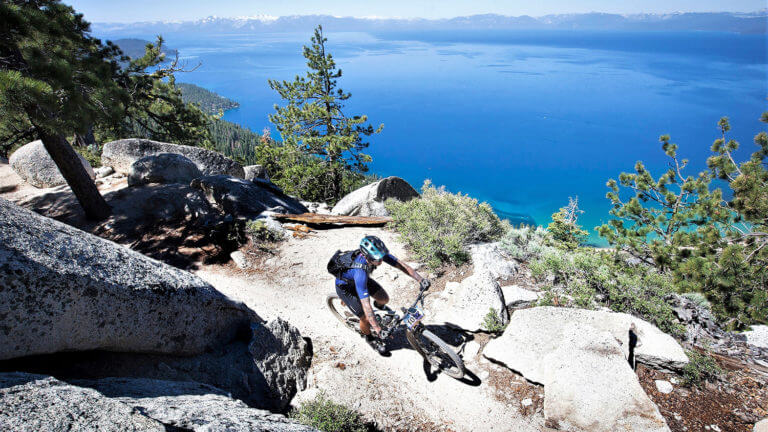 This Location: