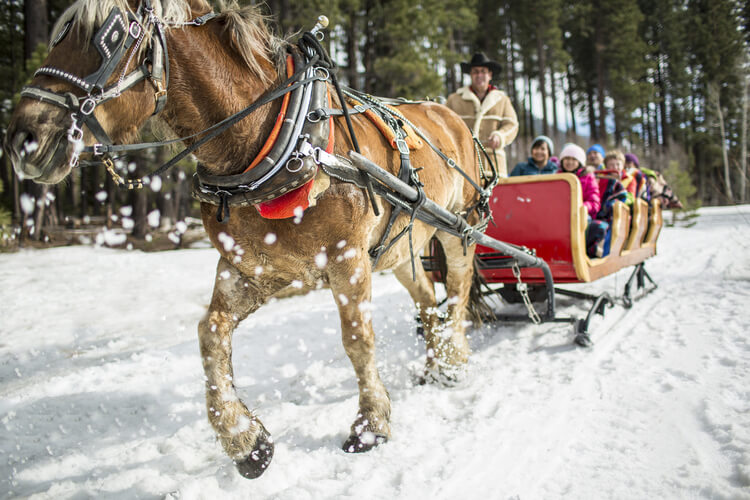 What better way to enjoy Lake Tahoe's storybook scenery than by horse-drawn carriage or sleigh ride? With tours in both South Lake Tahoe and Incline Village, the Borges family offers unmatched outings for couples and families alike. Whether you opt for beach views in the summer or snowy forests in the winter, Tahoe Sleigh Ride delivers memory-making magic powered by beautiful blonde Belgian draft horses.
Tahoe Sleigh Ride History
Originally known as Borges Sleigh and Carriage Rides, Tahoe Sleigh Ride began all the way back in 1965 when Sam Borges entered his son, David, in the South Lake Tahoe Dodge dealership's raffle for a Shetland pony. To their excitement, David was the lucky recipient of this extraordinary prize—and so it began. After toting kids around the neighborhood for fun, the Borges family launched a full-blown business in 1967 after Sam presented his horse-drawn sleigh ride business to Brooks Park, who ran cattle in a particularly scenic meadow in South Lake Tahoe. Sam and Brooks hashed out a deal and Borges Sleigh and Carriage Rides sprang to life.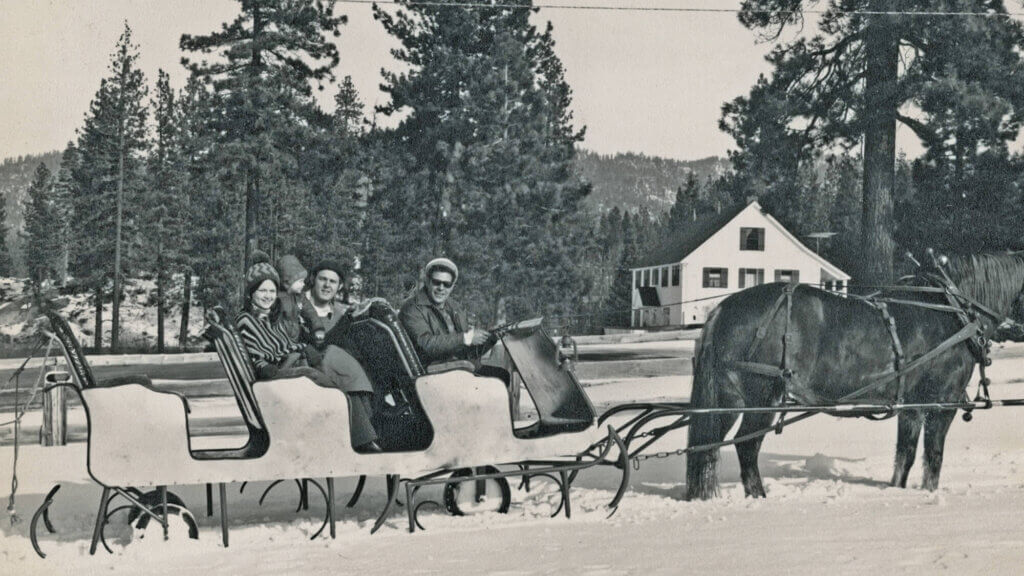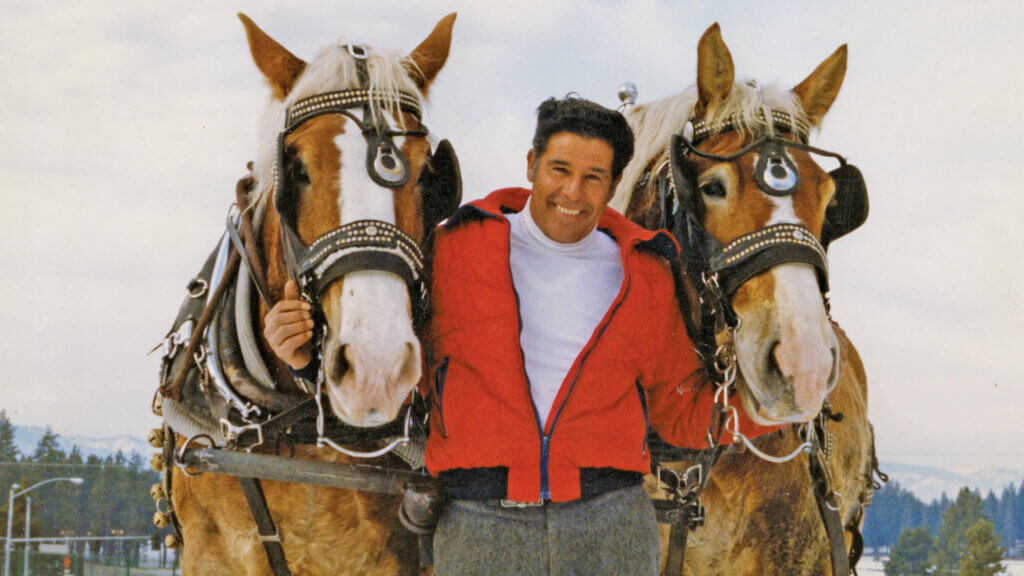 Sam ran the operation for years before his son, Dwight, literally took the reins. Today, Dwight and his wife Dianna affectionately care for an incredible team of blonde Belgian draft horses and pride themselves on exceptional customer service.
Sand Harbor Sleigh Rides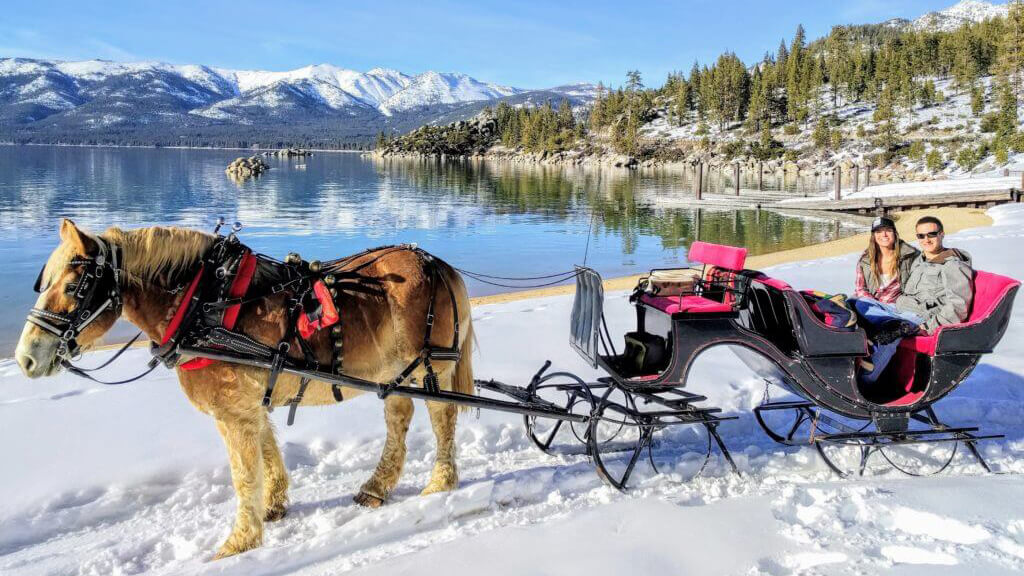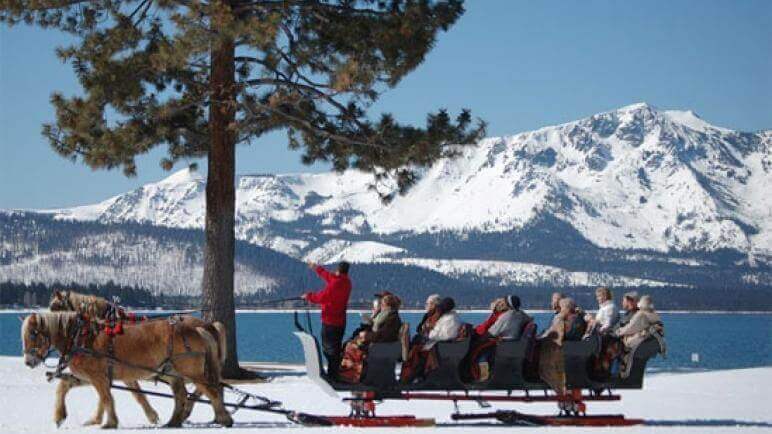 Bring the Christmas carol to life and go dashing through the snow in a more-than-one-horse open sleigh! From November through March, Tahoe Sleigh Ride takes revelers from the beauty of Sand Harbor into the towering pines surrounding Lake Tahoe. After a peaceful and enchanting narrated ride through the snowy forest, you'll stop at Grandma's Cottage for treats and hot chocolate. You'll also have opportunities to snap postcard-esque photos and pet the horses. Tahoe Sleigh Ride's winter tours depart from the Sand Harbor State Park Visitor Center in Incline Village.
South Lake Tahoe Sleigh Rides
A favorite for visitors and locals alike, the Lake Tahoe city tour offers the best of both worlds. From May through September, riders hop aboard near Harrah's Lake Tahoe Hotel & Casino in South Lake Tahoe. On your way to the stunning shores of Lake Tahoe, you'll see points of geographic interest and hear bits of Tahoe history. Fans of the horses might even stop to offer them carrots!
Hours:
Tahoe Sleigh Ride offers the winter tour at Sand Harbor from 10:00 AM to 3:00 PM November through March. The city tour near Harrah's Lake Tahoe runs 12:00 PM to 6:00 PM May through September. For the most up-to-date information, tour offerings, and location details, visit Tahoe Sleigh Ride's website or call (775) 588-2953.
Admission:
Tahoe Sleigh Ride tours are $50 per person and $20 for children ages 2-10. Military, first responders, seniors (age 65+), and students (ages 11-24) are $45 per person.