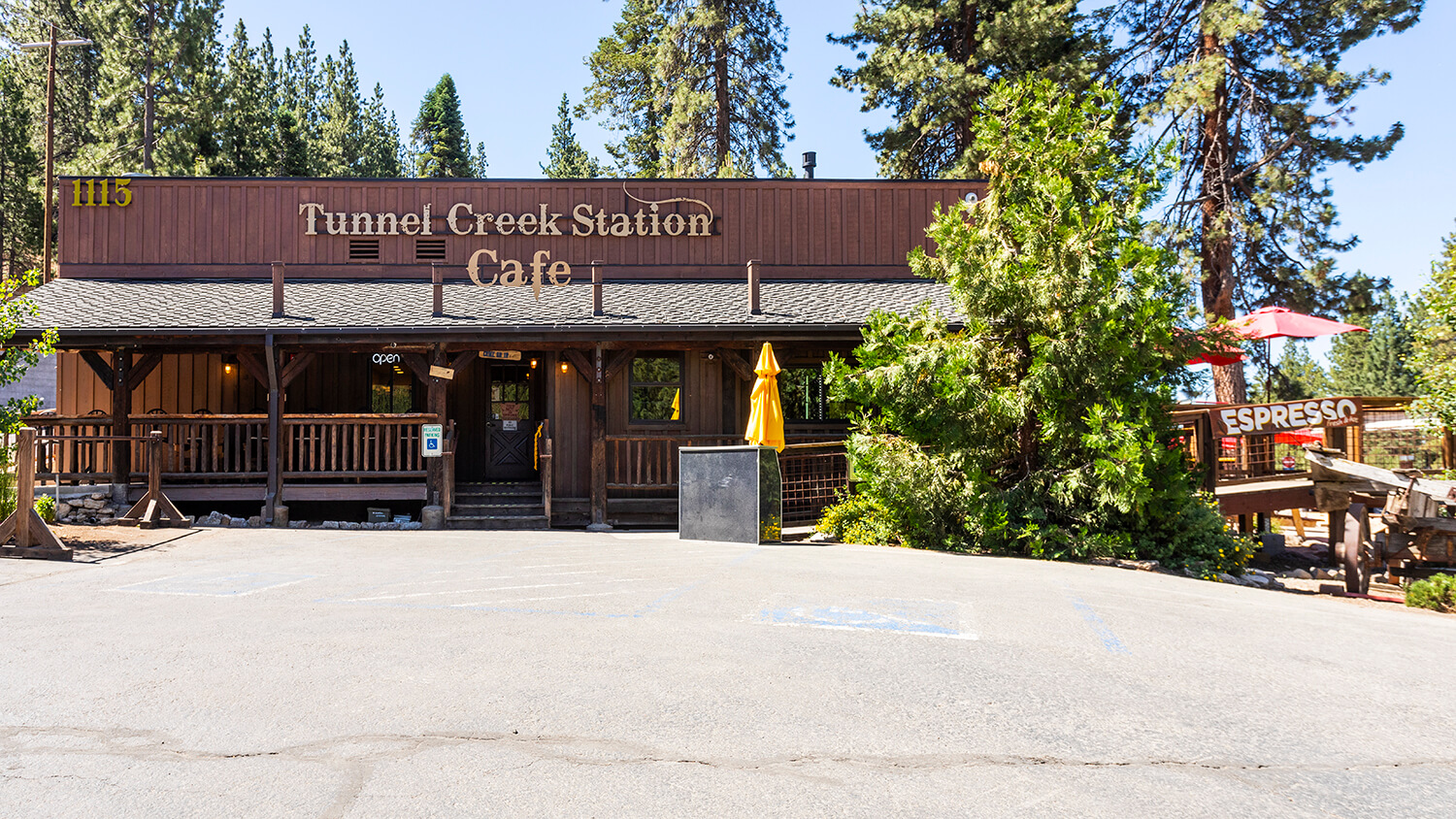 Looking for the perfect place to fuel up before hitting the world-renowned Flume Trail? Make sure the Tunnel Creek Café in North Lake Tahoe is part of your agenda. This one-stop-shop brims with a cozy, comfy atmosphere, offering a wide selection of coffees and espresso drinks along with delicious breakfast menu items like savory french toast, breakfast burritos, protein bowls, and beyond.
If your ride carries you into the afternoon, end your day at Lake Tahoe with a frosty beer on tap, too. With an impressive lineup of local brews, a hearty lunch menu with options like fresh BLTs, hummus wraps, salads, hand-crafted sandwiches, and more, there's no better place to fuel up before or unwind after your ride.
Tunnel Creek Café has a variety of seating options, including charming outdoor terraces and decks to enjoy the mountain air in close proximity to Lake Tahoe Nevada State Parks, like the nearby beaches of Sand Harbor. Tunnel Creek also offers dine-in, online ordering, and to-go food. Visitors can also order from their convenient walk-up window outside if they'd like.
Tunnel Creek Bike Rental
Not only does Tunnel Creek Café offer delicious menu items, but the café also conveniently sits adjacent to Flume Trail Bikes. Get bicycle repair supplies, cycling gear, and professional, friendly advice on hiking and biking paths in the area, right next door.
After getting your bicycle or mountain bike rental, consider taking their shuttle service to various trailheads in the area, like the Tunnel Creek Trail and portions of the Tahoe Rim Trail, or stick nearby on the Tahoe East Shore Trail or Lake Tahoe Flume Trail trailhead.
Hours:
Tunnel Creek Cafe is open seven days a week from 8 AM until 4 PM. Breakfast menu items are served from opening until 1 PM, and lunch menu items are served from 12 PM until close. Tunnel Creek Cafe is located at 1115 Tunnel Creek Road, in Incline Village, NV, at the start of the Tahoe East Shore Path and the Flume Trail Backcountry Trailhead. Tunnel Creek Cafe offers dine-in service as well as walk-up window orders and to-go orders. Online orders can be placed on the Tunnel Cafe website, and gift cards for the restaurants can also be purchased in person or online, Tunnel Cafe gift card page. Get in touch with the Tunnel Creek Cafe at (775) 298-2502 for more information.