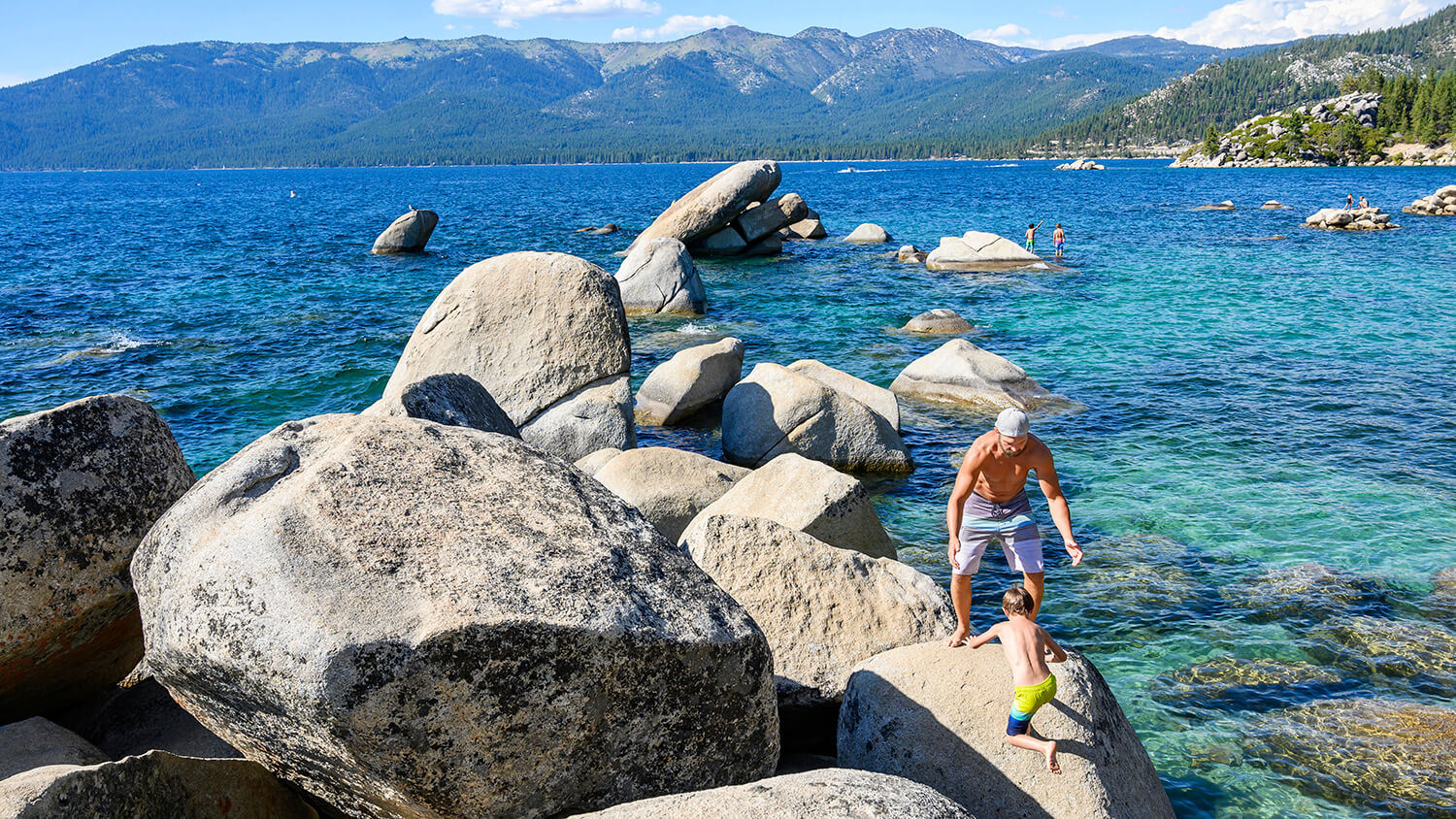 Lake Tahoe Nevada State Parks
As the largest alpine lake in North America, Lake Tahoe is stunningly scenic, not only due to its sheer size, but also for its iconic clarity and deep blue hues. Stretching along the eastern shoreline from North Lake Tahoe all the way down to South Lake Tahoe, Lake Tahoe Nevada State Parks is made of four units, including Sand Harbor State Park, Spooner Lake & Marlette Backcountry, Cave Rock, and Van Sickle Bi-State Park, each offering up a different—and easily accessible—way to experience one of the largest, most beautiful lakes in the world.
Sand Harbor
While there are dozens of public-access beaches on the Nevada side of Lake Tahoe, Sand Harbor is easily a show-stopper, with gently sloping sandy beaches, crystal-clear water, and striking granite rock formations that promise unforgettable swimming, kayaking, stand up paddle boarding, and even scuba diving experiences. This incredibly beautiful stretch of Lake Tahoe's eastern shoreline was privately owned by the eccentric millionaire George Whittell, Jr.—helping prevent the rampant development seen on the California side. After his death all of it, including three of the Lake Tahoe Nevada State Park properties, was donated to Nevada State Parks. The Sand Harbor Visitor Center and Gift shop offers self-guided tours, with informative displays that step through Tahoe's logging industry, ecology, and other fascinating aspects of the region's history.
In addition to posting up on the enormous sandy beach Sand Harbor is so well known for, visitors can reserve a group picnic area and ramada that can accommodate up to 200 people. The on-site boat launch includes two wave-protected double ramps, while a number of short hiking trails carry visitors to breathtaking vista points. If you're into cycling, be sure to hop on the long-awaited section of nature trail that connects Incline Village to Sand Harbor. Dubbed "America's Most Beautiful Bikeway," the recently opened East Shore Trail provides non-motorized access to public beaches, coves, and trails along the picturesque Nevada shoreline. In the summer months, the Lake Tahoe Shakespeare Festival is headquartered at Sand Harbor, offering numerous live theater performances with Lake Tahoe as its unbeatable backdrop. During the winter, Borges Sleigh and Carriage Rides, lets you literally go dashing through the snow on a one-horse open sleigh.
Spooner Lake and Backcountry
If you're looking to do some camping in Lake Tahoe, put Spooner Lake on your radar. Almost hidden in plain sight, this amazing backcountry area is a haven for recreation, with more than 12,000 acres of forested mountain terrain. High above the Lake Tahoe shoreline, views of Lake Tahoe abound on more than 50 miles of trails for hiking, legendary mountain biking, and even horseback riding. The world-famous, 4.4-mile, cliff-clinging Marlette Flume Trail can be accessed from the park, along with a section of the 165-mile Tahoe Rim Trail.
Whether you're hiking or mountain biking in, you can't go wrong with the amazing camping and fishing opportunities at Spooner and Marlette Lakes. The park has three primitive campgrounds at Marlette Peak, Hobart, and North Canyon, as well as coveted backcountry cabin rentals. The Spooner Lake Cabin (available April 1 to November 15) is located just north of Spooner Lake and sleeps four comfortably. Meanwhile, the five-mile trail from Spooner to Marlette Lake via North Canyon Road leads to the Wildcat Cabin. Both cabins have basic amenities, like composting toilets, beds, cook stoves, and wood burning stoves.
Cave Rock
Further south along the Lake Tahoe Nevada shoreline is Cave Rock—a place of spiritual importance to American Indian tribes in the region. Over the years, the actual "Cave Rock" has had several distinct but overlapping highway routes that went over, around, and through. Today, the road punches right through Cave Rock, dropping visitors down to three shoreline picnic areas—each equipped with tables and barbeque pits—and a boat launch. This tucked away cove is also a popular spot for fishing, hiking, and swimming.
Hours:
For more information on admission to each individual state park, get in touch with Nevada State Parks directly at (775) 687-2770.
Admission:
For more information on admission to each individual state park, get in touch with Nevada State Parks directly at (775) 687-2770.
This Location: