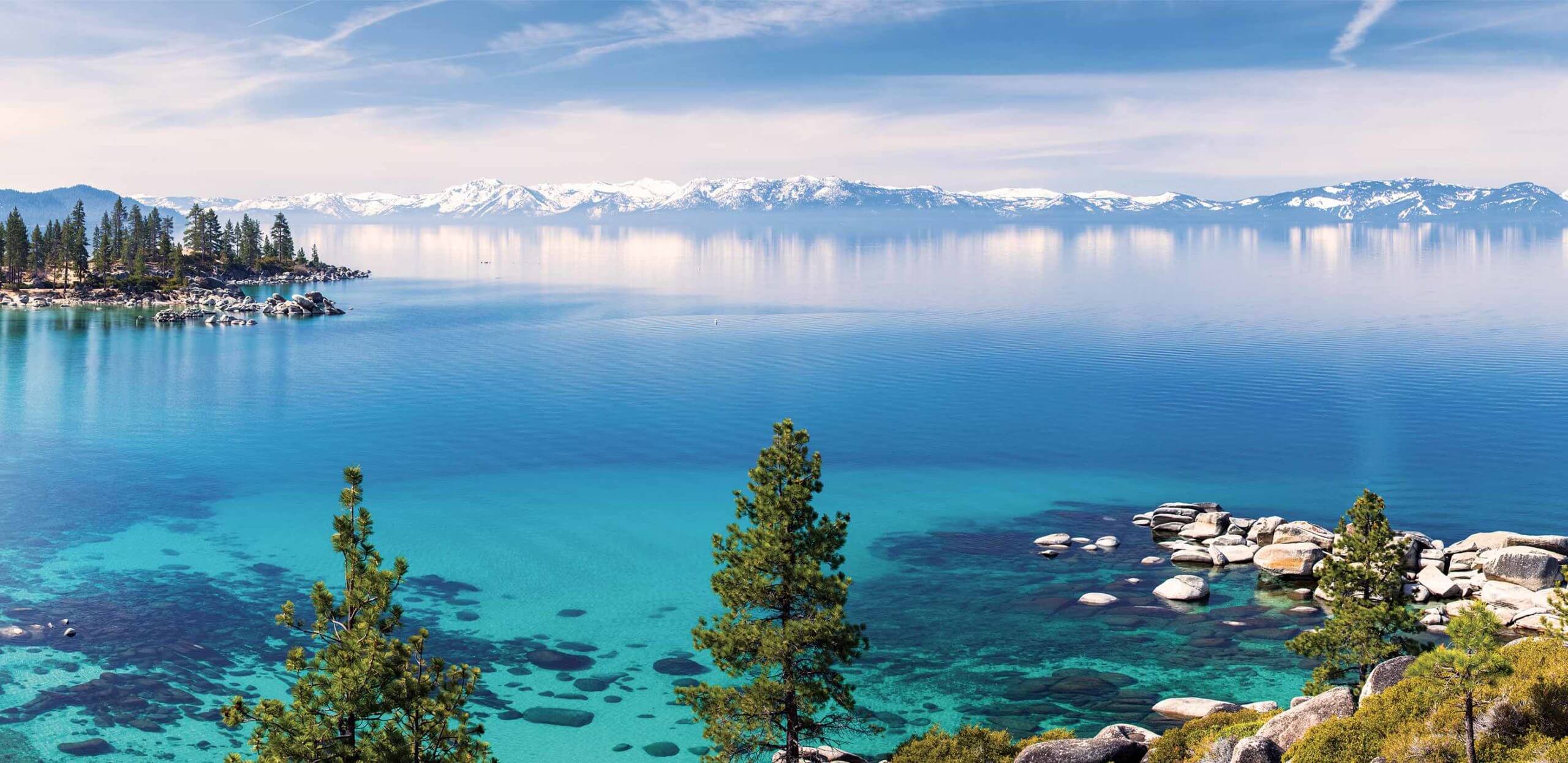 Reno to Lake Tahoe and so much more.
Drive a loop that's anything but predictable and always magical.
They call Lake Tahoe the "Jewel of the Sierra Nevada." And once you've seen it, you get it. Vast, crystal-clear, and encircled by towering peaks, Lake Tahoe is a summertime paradise, a winter wonderland, and a year-round haven for unforgettable mountain memories. But as you'll discover on the Lake Tahoe Loop… Tahoe ain't the only gem hidden around here!
Come scale the tallest outdoor rock climbing wall in the world, paddleboard on one of the clearest (and coldest!) bodies of water in North America, knock one back at the oldest saloon in Nevada, and walk the original wooden boardwalks in Virginia City where famed writer Mark Twain got his start (and his pen name).
It's all possible on the Lake Tahoe Loop, a road trip that begins and ends in hip-and-happening Reno, with stops around world-famous Lake Tahoe, idyllic Carson Valley, the capital town of Carson City, and wildly Western, historic Virginia City.
While most Lake Tahoe Loopers will cruise from Reno to Tahoe (via NV-431 / Mount Rose Highway) and continue in a (sort of) counterclockwise fashion, it's also easy to pop up the hill from Carson City to Lake Tahoe, or even to reverse the whole thing, saving Lake Tahoe to Reno for last—all great options that make this popular road trip easy to personalize and ideal for weekenders.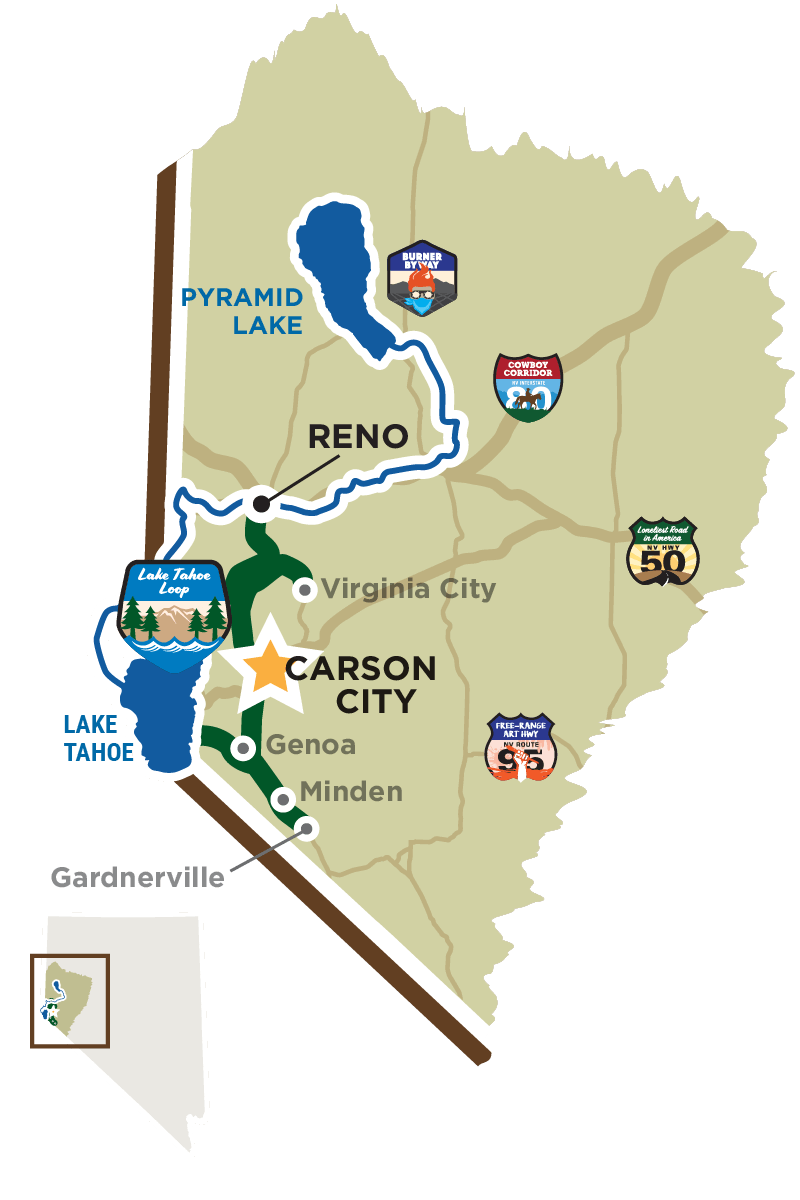 Want to see more? Get in the #LakeTahoeLoop
Welcome to Reno
The Biggest Little City in the World has come a long way from its Wild Western origins. And seemingly just as far—with its public art obsession, bohemian shops, dynamic music scene, all-the-time events lineup, and local-centric foodie scene—from its days as a "just" a premier casino town.
Downtown Reno
Don't get us wrong. Downtown Reno's top-notch casino-resorts still serve up the world-class entertainment, grand buffets, spa pamperings, and 24-hour gaming that put this town on the map (long before Vegas, we might add). It's just that, today, they spring up from a sea of coffeehouses, savory cafes, taprooms, and local shops spread across several walkable neighborhoods, each with its own exciting flavor.
Founded in 1868, Reno first drew visitors as a gambling destination. Nevada legalized the activity in 1931, paving the way for what we know as gaming today. Keep an eye out for downtown's historic alleyways, like Douglas and Lincoln Alley, which were the original (and only) casino entrances.
When you find the Reno Arch (you will), be sure to look up. See those handholds? That's the tallest rock climbing wall on Earth, the outdoor arm of BaseCamp, which is the climbing and bouldering center accessed on the second floor of the casually luxurious Whitney Peak Hotel, pioneers in the move towards smoke-free, gaming-free properties.
Cruise around the city and you'll find hundreds of pieces of public art from fantastical murals to retired Burning Man sculptures, and other creative pieces while strolling along the Reno Riverwalk, or at the plaza outside of the Nevada Museum of Art.
Reno Riverwalk District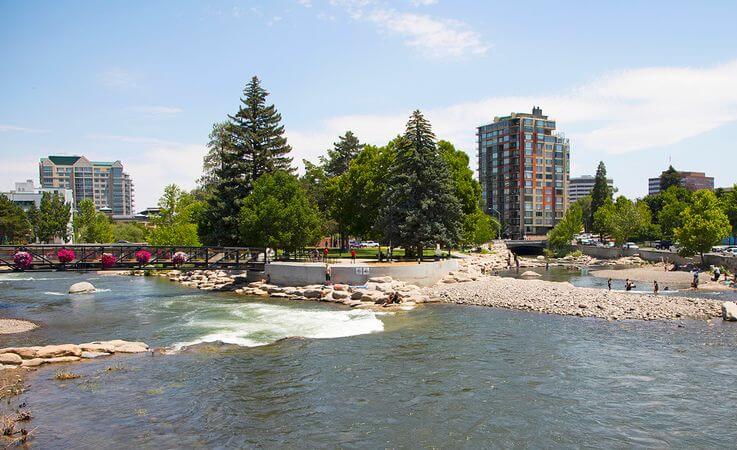 The Reno Riverwalk, located along the picturesque Truckee River, is a charming confluence for diners, shoppers, joggers, swimmers and kayakers exploring in the Truckee River Whitewater Park, as well as full of party-goers of music-packed, street-closing events, like Artown, Sculpture Fest, and the Great Eldorado BBQ, Blues & Brews Fest. Surrounding blocks reveal parks, local theaters, the chic boutiques housed in The Basement of the newly reopened old U.S. Post Office building, the cafes and trendy taverns of California Street, a lively bar scene around Greater Nevada Field, the hands-on art and maker spaces down Dickerson Road, and cultural institutions like the National Automobile Museum and the Nevada Museum of Art.
MidTown Reno
And then there's MidTown. Here, in Reno's hippest district, the pulse of this town's revivalist spirit beats good and loud. Full of quirky stores, score-filled vintage shops, swanky bistros and cocktail havens, but also plenty of rockin' music venues, beer halls, tattoo parlors, and ever-changing murals that adorn nearly every brick… this formerly—shall we say—"grittier," mid-century district feels fresh and alive, yet also carefully intent on preserving just enough spunky edge to hold onto its street cred.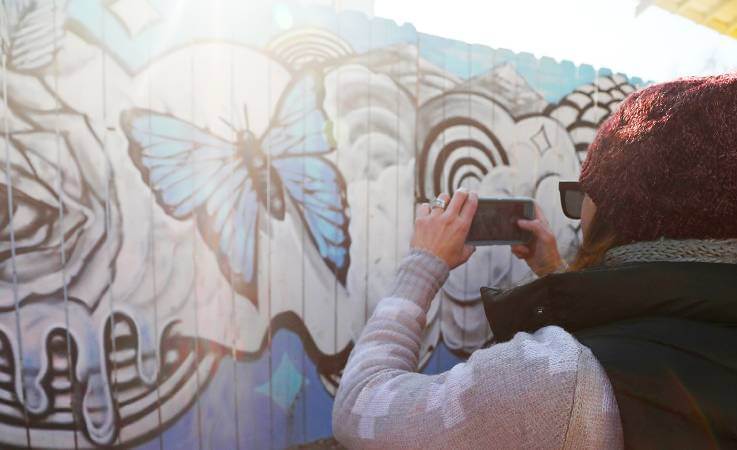 Take a Pitcher, It'll Last Longer
Reno's food-and-drink scene is a melting pot of flavors, from Basque and Thai to Latin. When it comes to classic "American" cuisine, there's no shortage of the trendier elevated, fresh, local, side of the spectrum (try river-facing Campo, Stone House, or MidTown's Homegrown Gastropub for proof), but Reno is still happy to indulge on good ol' greasy spoon goodness (get your Diners, Drive-Ins & Dives on at the Gold 'N' Silver Inn, then elbow up to the counter or upcycled blackjack table at small-but-mighty Beefy's).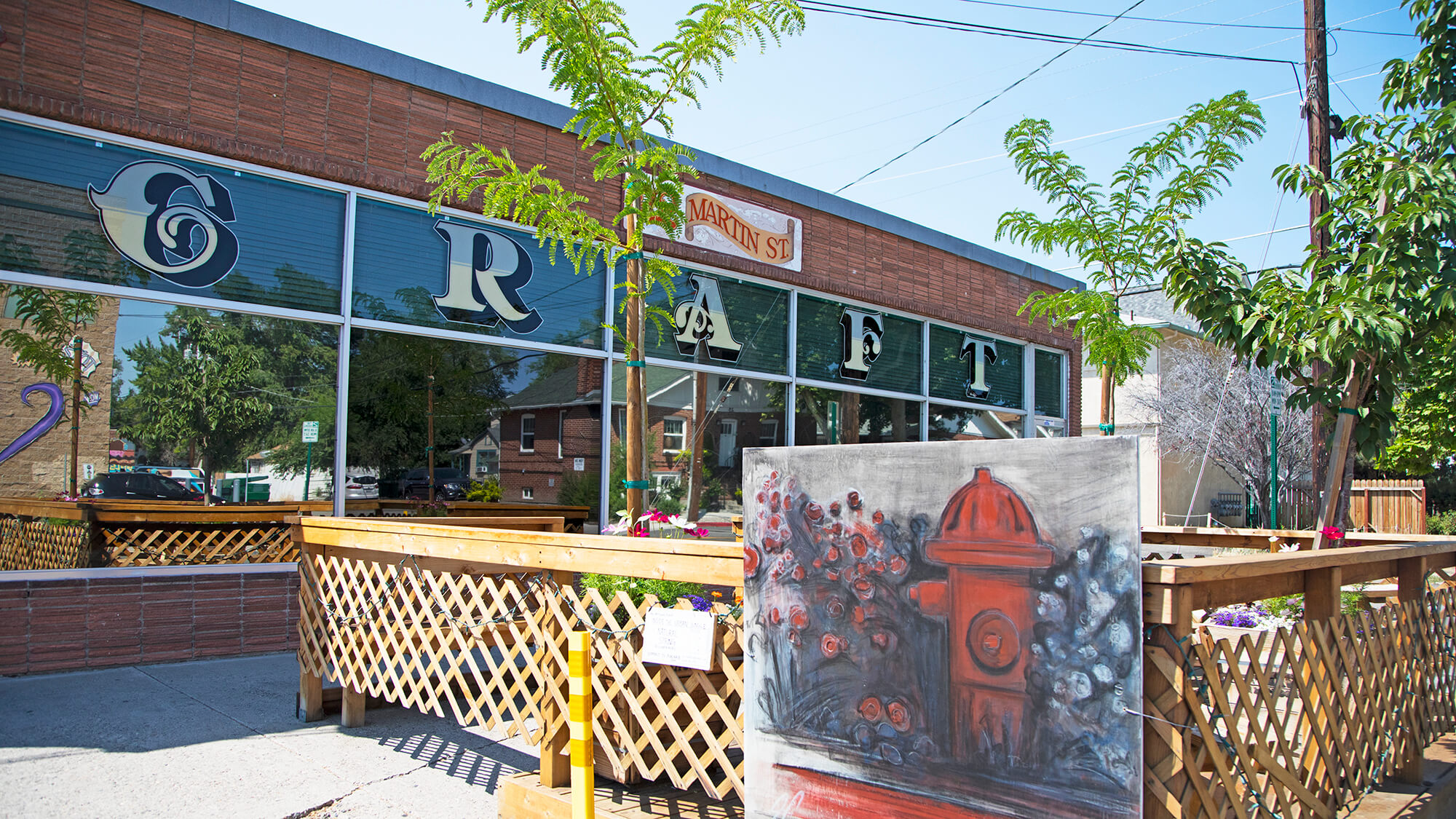 Dozens of local breweries have bubbled up to keep the population's pint glasses frothy—with Lead Dog Brewing Company, Brasserie Saint James, and the unapologetically hop-centric Revision Brewing Company leading the charge—while several distilleries work to keep Reno's spirits up.
But you don't always need to go to the source–tap houses and mixologist cocktail bars have transformed Reno's taste buds with 40-handle Piñon Bottle Co., Ole Bridge Pub, Rum Sugar Lime, Chapel Tavern, and Death & Taxes routinely topping the heap. Care to see a wine list? Head to Thali Lounge (inside the West Street Market), Whispering Vine MidTown, and MidTown Wine Bar. Meanwhile, O.G. MidTown mainstays Craft Wine and Beer have you covered on all fronts.
Be sure to check out Visit Reno-Tahoe's Restaurant Finder to find answers to just about anything you're craving.
Reno to Lake Tahoe
Lake Tahoe, which sits in the Sierra Nevada and straddles the Nevada-California border, provides a stunning backdrop for hiking, biking, and other recreational activities, including skiing and snowshoeing in winter. As the largest alpine lake in North America, Lake Tahoe is popular for stand-up paddleboarding, kayaking, and beach-bumming. If you're ready, embrace the challenge of taking a refreshing "polar plunge"… It's brisk enough in the middle of summer; if you're a real daredevil, join the brave few who do it in winter (wetsuits don't count).
Show us your "Nevada Side"
Lake Tahoe's #NevadaSide is where you'll find the communities of Incline Village and Crystal Bay in the north and Stateline in the south.
Tahoe North
The rustic hamlet of Incline Village relishes its quieter, old Tahoe charm with fine bistros, luxurious lodging, two beautiful golf courses—the Championship and Mountain—fireside cocktails at the beachfront Lone Eagle Grille, and the unsurpassed lake views of family-sized Diamond Peak Ski Resort. Crystal Bay lives up to its mission as Tahoe's north-shore border town with gaming, great concerts at the Crystal Bay Club, wild theme parties at the Tahoe Biltmore, and lodging at a few classic properties.
Lake Tahoe Nevada State Park
Actually made up of several units, there is no better way to experience Tahoe's range of scenery.
Sand Harbor, possibly Tahoe's most striking sandy beach, delights sunbathers, boaters, stand-up paddleboarders, wintertime sleigh riders, and even theatre-goers at its annual summertime Shakespeare Fest each July through August.
A nice visitor center helps roadtrippers dive into the history of the area, like Tahoe's former timber production days and stories of local eccentrics, like George Whittell Jr. of the Thunderbird Lodge. Other amenities include short yet spectacular walking paths, a boat launch, and stand-up paddleboard rentals.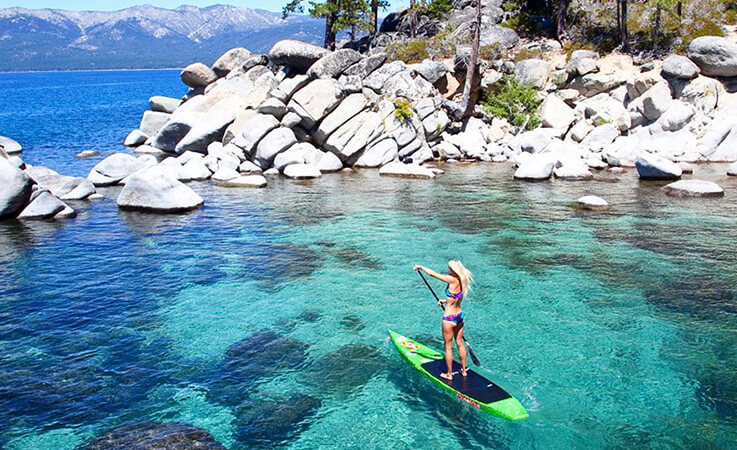 Spooner Lake and the Marlette-Hobart Backcountry offer off-grid bliss for anglers, hikers, and mountain bikers, including unbeatable views from the legendary, cliff-hugging Flume Trail (one of the International Mountain Biking Association's worldwide musts). The Highway 28 Corridor is dotted with secluded, secretive beaches accessed exclusively by hike-in trail or water. The Cave Rock day use area includes a boat launch and sandy beach, as well as its namesake, a place of great spiritual importance to Nevada's Washoe Indians.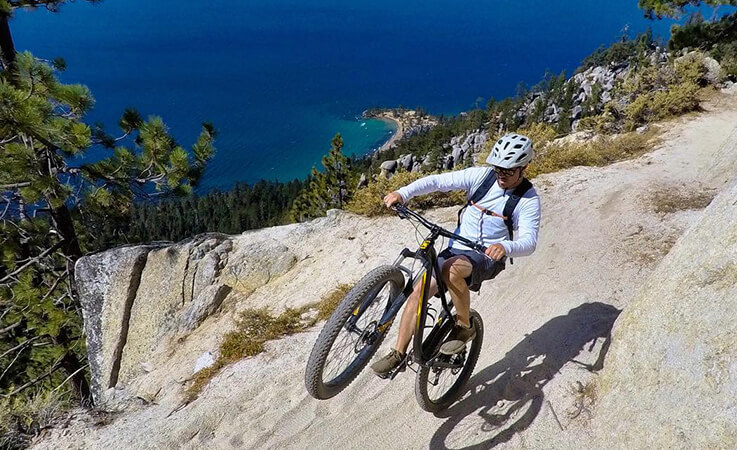 Tahoe South
On and off the water (or slopes), this is where the action is. Literally butting right up to the border between Nevada and California, Stateline is home to four major resorts—Harrah's Tahoe, Harveys, Montbleu, and the Hard Rock Lake Tahoe—offering gaming, nightlife, and fine dining in a beautiful alpine lake setting.
Just across the border is Heavenly Village's plethora of classic resort-town shopping and dining, as well as the Heavenly Gondola—your direct line to world-famous Heavenly Mountain Ski Resort and Heavenly's Adventure Peak, which offers family-friendly, non-ski winter and summer activities, including the ever hair-raising zip line. For a mountainside experience, including ski-in, ski-out access to Heavenly Mountain Resort, check The Ridge Tahoe.
Golf lovers owe themselves a round at adjacent Edgewood Tahoe, home of the annual American Century Celebrity Golf Championship, which shares its lakeside footprint with the spectacular, newly-built Lodge at Edgewood Tahoe.
Nearby Zephyr Cove offers beach lounging, watercraft rentals, and scenic cruises aboard the famous M.S. Dixie II paddlewheeler, as well as snowmobile tours and sleigh rides in winter.
Where to Stay in Tahoe North
Where to Stay in Tahoe South
Welcome to Carson Valley — Genoa, Minden, and Gardnerville
Just over the mountain (via Kingsbury Grade) from Stateline and South Lake Tahoe, lie the scenic ranchlands and charming small towns that make up the Carson Valley, offering their enchanting mix of natural beauty, historic sightseeing, amazing outdoor recreation, and old-fashioned hospitality.
Genoa Bar? Sure, do! And It's the Oldest One in Nevada!
Hanging a left at the bottom of Kingsbury Grade and Foothill Rd (NV-206) will bring you right into Nevada's oldest permanent settlement, Genoa. In 1851, the Mormon traders who set up shop probably never guessed that nearly 170 years later, folks would still flock here—especially to visit Nevada's oldest "thirst parlor," Genoa Bar & Saloon. Dating back to 1853, this movie-quality saloon features a variety of wild relics, including Willie Nelson's hat, Raquel Welch's bra, and what the bar considers to be their most prized possession: a diamond dust mirror that was shipped "around the horn" from Scotland to San Francisco before landing in Genoa.
In addition to Genoa Bar's historic suds, this picturesque hamlet is known for its delicious cafes, charming inns, intriguing shops, and glimpses of Nevada history at the Courthouse Museum and Mormon Station State Historic Park. Lovely dining awaits at The Pink House, a historical home-turned-restaurant with an in-house cheese shop and charcuterie; or, just grab a panini to-go at the Genoa Country Store and wash it down across the street with a Genoa Bar Bloody Mary.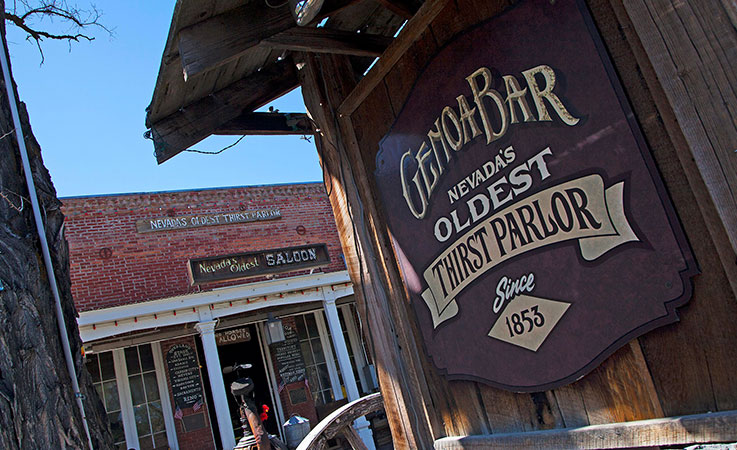 Soak in Some History
Check out the luxurious David Walley's Resort, a longstanding Nevada go-to hangout, where famed author Mark Twain was rumored to have soaked his bones, along with plenty of distinguished politicians of the era, and even a few Pony Express riders to boot.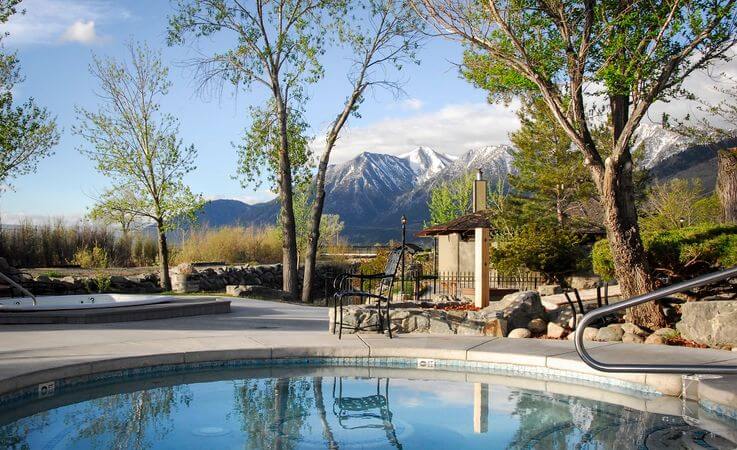 Let's Get Idyllic: Gardnerville and Minden
In the heart of Carson Valley, against the backdrop of the Eastern Sierra, easy going Gardnerville's flowery streets were designed for strolling. Amble among century-old buildings to window shop for local art, crafts, and antiques, or hop between hearty restaurants, like the Overland Restaurant & Pub, lively saloons, and a garlic-loaded steak (or at least a picon punch, Nevada's unofficial state drink) at the iconic JT Basque Bar & Dining Room.
When it comes to charm, Minden is clearly on the same team as its next-door neighbor, Gardnerville. Plots to win your heart include summer street fairs, top-tier concerts at Carson Valley Inn, anything off the menu (or vast beer list) at Minden Meat & Deli, and Carson Valley's boldest new attraction, the highly anticipated Bently Heritage Estate Distillery, one of only THREE estate distilleries in the entire country. Located in the 100+ year old mill that originally belonged to the Dangberg empire, the property has embraced LEED certified standards to process grain from the creation of exceptionally high-quality gin, vodka, and (when it matures) single-malt whisky. (Open for tours and tastings through Sunday.)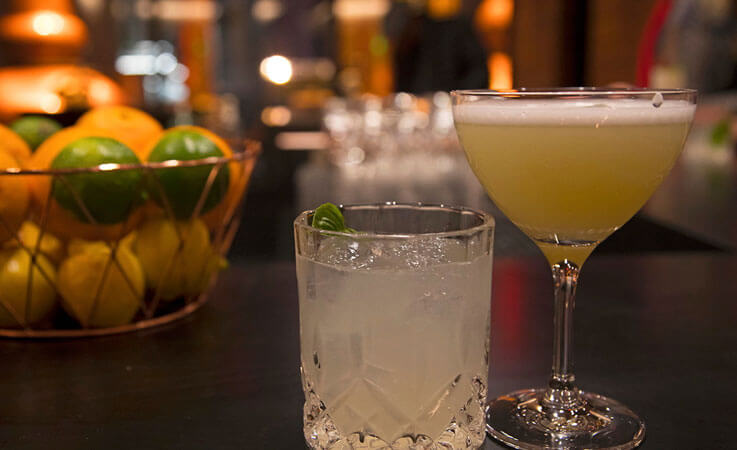 You can also try some local history on for size at Dangberg Home Ranch Historic Park, home to one of the area's founding families and one of the oldest pair of Levi's coveralls in the entire state of Nevada. Close out your adventure by stopping to learn more about the region's rich heritage at the Carson Valley Museum & Cultural Center.
*Not to Nevada-brag on ya, but one more of them, Frey Ranch Estate Distillery, is just up the Loneliest Road in America in Fallon…
Where to Stay in Carson Valley
Capitalize on Culture in Carson City
Even before statehood in 1864, Nevada's capital connected everything else on this road trip—from the lumber bases of Lake Tahoe to the silver and gold shafts of Virginia City to the bread basket of Carson Valley and the westward gateway of Reno. The town still bustles as a commercial center and its stories still flourish among its top-notch cultural institutions.
Swing by the Carson City Culture & Tourism Authority and pick up a guide to Downtown's self-guided Kit Carson Trail, which meanders around the historic homes of Nevada's early movers and shakers (D.L. Bliss, George Ferris, Mark Twain), the site of "The Shootist" (John Wayne's last movie), the Governor's Mansion, and other historic, allegedly-haunted mansions from Nevada's early days.
The Nevada State Museum—Carson City, housed in the historic Carson City Mint building, features 17 galleries, a recreated gold mine, American Indian artifacts, and one of Black Rock City's biggest and oldest residents: America's largest exhibited Columbian mammoth skeleton.
Railfan? Head to the Nevada State Railroad Museum—Carson City, which boasts ample static exhibits and an impressive collection of rolling stock—including the famous Inyo and Glenbrook steam locomotives, as well as the last working McKeen Motorcar on Earth. Then, hop aboard the Virginia and Truckee Railroad for a narrated ride from Carson City to Virginia City and back, where passengers will spend about three and a half hours exploring Virginia City on their own. A shorter ride from Virginia City to Gold Hill and back is also offered.
Carson City is home to Stewart Indian School Cultural Center & Museum, a former federal boarding school for American Indian children. Today, visitors can stroll the grounds and learn about Stewart's complex history through a self-guided audio cell phone tour among the 63 stone buildings on this 110-acre property, which is listed on the National Register of Historic Places. Or, join in on the festivities at the annual Father's Day Powwow.
Carson City's cuisine scene has undergone a bit of a renaissance, with popular spots like The Union Eatery Taphouse & Coffee, Squeeze Inn, LA Bakery and Sassafras Eclectic Food Joint all driving the trend. For a full list of dining options in Carson City, as well as places to stay overnight, see VisitCarsonCity.com.
Kick It on the Comstock
Just a 30-minute drive from Carson City (or Reno) lies Virginia City, the 1850s-era mining town built above the legendary Comstock Lode silver mines. The site of one of the largest silver booms the world has ever known, which attracted 25,000 fortune-seekers at its peak.
Wandering among the historic, boardwalk-lined Historic C Street and original buildings in this old mining town, it's easy to believe you've been dropped into the 19th century. In fact, while dancing to a western swing band with locals clad in Victorian dresses, cavalry uniforms, and other bygone western getups at a place called the Bucket of Blood Saloon, it's hard NOT to…
Today, Virginia City is home to about 1,000 residents and some of the most beautifully preserved homes, churches, saloons, cemeteries, and other famous historic structures of the West—a claim to fame that earned the entire town a spot on the National Register of Historic Places.
Blast With the Past
History buffs can fill days museum hopping (there are over a dozen of 'em), with some of the best glimpses of the past available at the Fourth Ward School Museum and St. Mary's Art Center. Tours are plentiful—on foot or trolley, self-guided or expert-led, around town or in a mine, or even in a haunted building around what some experts claim is the most paranormally active place in the USA, especially Mackay Mansion, the Washoe Club, and the Silver Queen.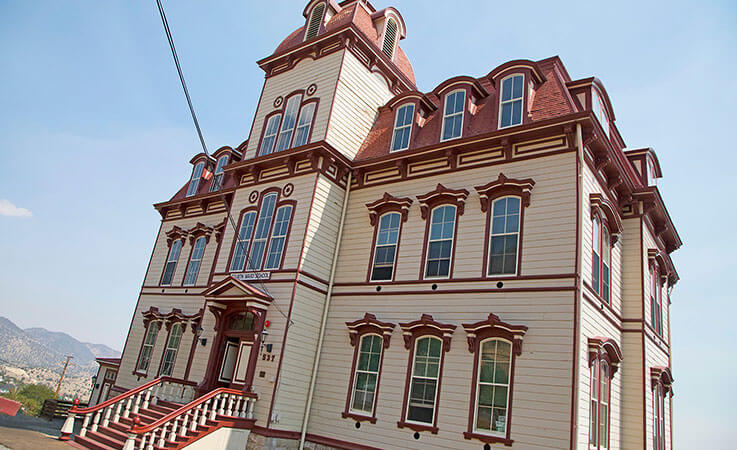 Back to the Present
And yet, as exciting as the town's past is, if there's one thing "VC" knows how to do, it's live in the moment. Time it right and you may find yourself crawling between twelve Old West saloons, catching a show at Piper's Opera House, rooting for favorites in the International Camel & Ostrich Races or the World Championship Outhouse Races, tasting competing chili or Rocky Mountain oyster recipes, cheering on one of more than ten annual parades, or generally whooping it up at one of the town's dozens of raucous, street-closing, crowd-drawing weekend events.
Saloon Crawling
Saloons with old wooden bars, tin-stamped ceilings, antique artifacts, and all manner of old-time ambiance are found up and down Historic C Street, the main drag. Come to the Bucket of Blood Saloon for its "hundred-mile view," stay for a few live sets from David John and the Comstock Cowboys, who perform western tunes from 2 p.m. to 6 p.m. on weekends. Toast the namesake of the Silver Queen, an impressive wall-sized lady dressed in hundreds of silver dollars. Or get psyched on a show at the Red Dog Saloon, where bands such as Big Brother and the Holding Company, Jefferson Airplane, and the Grateful Dead hung out in the 1960s. Wanna hit 'em all? Show up to Virginia City on an event weekend and sip your way around town on an official Saloon Crawl.
Where to Stay in Virginia City