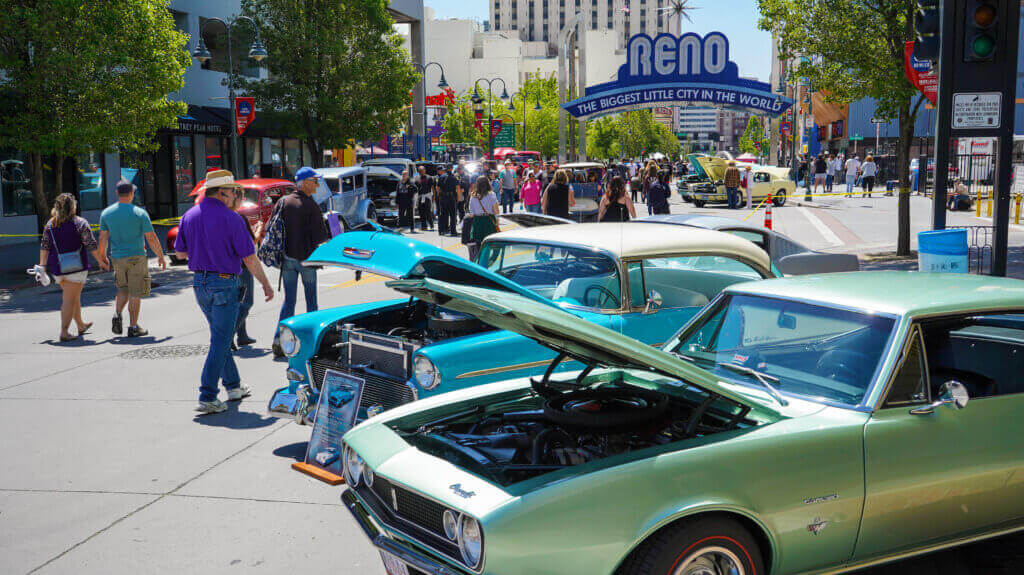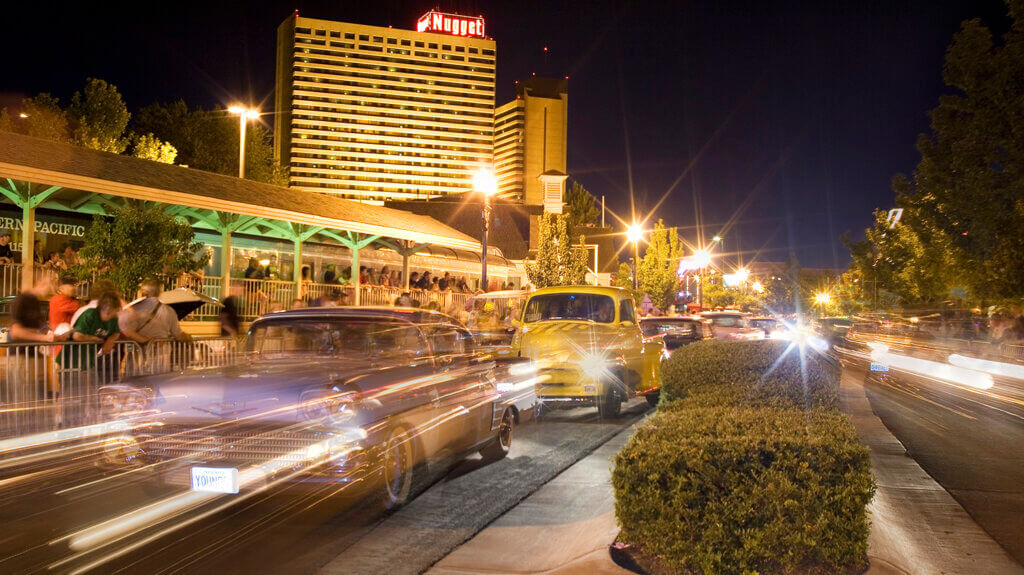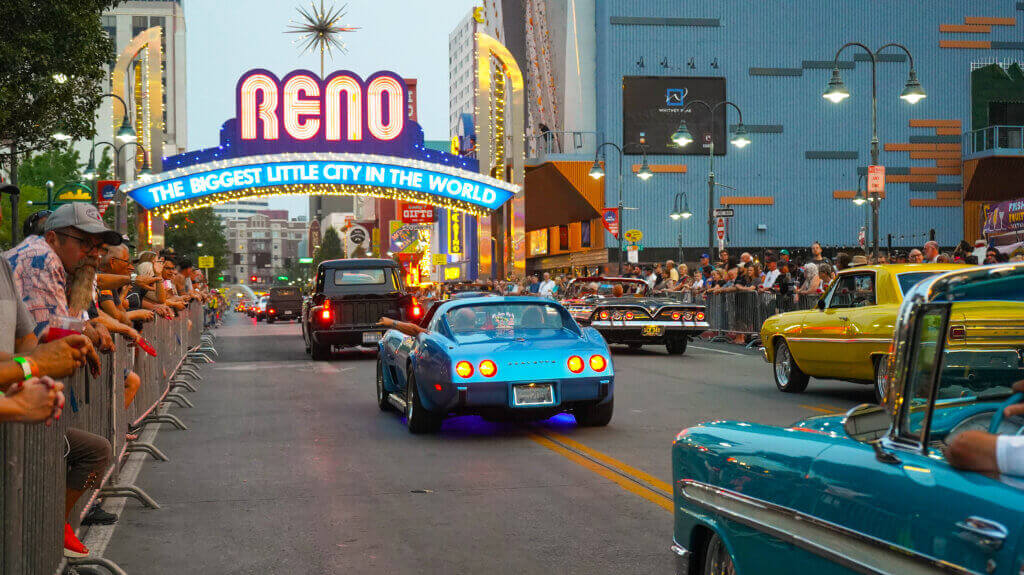 A Celebration of Classic Cars & Rock N' Roll
Hot August Nights (HAN) celebrates more than 35 years of tradition with musical legends headlining the weeklong automobile nostalgia festival dedicated to classic cars and rock n' roll. Zero in on shiny chrome, custom paint, white-wall tires, and souped-up engines at several daily show-n-shines held throughout the area, including Victorian Square in Sparks, in Downtown Reno, the Grand Sierra Resort, the Atlantis, and the Peppermill.
Hot August Nights, Reno Activities
Organized night cruises take place in downtown Reno along N. Virginia Street and in downtown Sparks on Victorian Avenue. Other activities include public poker walks, swap meets, a classic car auction, show-and-shines all around Reno-Sparks (and even up the hill in Virginia City), while the Nugget Casino Resort in Sparks also hosts nightly burn-outs and drag races.
Hundreds of classic cars and custom builds fill parking lots at the Grand Sierra Resort, Peppermill Resort, Spa & Casino, Nugget Casino Resort, and more all week long. Cruise down and ogle some amazing autos before the awards are presented on Sunday.
Reno Car Auction & Big Boy's Toy Store
At the Reno Sparks Convention Center, you have the opportunity to snag the vintage car or hot rod of your dreams. The Hot August Night MAG Auction offers classic cars for sale, including collector Mercedes Benz, Ford Mustangs, Chevrolet Corvettes, Chevrolet Camaros, and more.
In downtown Reno, in the middle of the daily Show-n-Shine action, Big Boy's Toy Store features hundreds of muscle cars, classic cars, and street rod automobiles. Vendors showcasing the latest in parts, accessories, and technology for your hot rod or collector cars line up with everything from stereo equipment, tires and wheels, and engines. If you're looking for a part or a custom build, you'll find one at Big Boy's store.
Hot August Nights Entertainment
Hot August Nights is more than just a Reno car show. Attendees can bust out their blue suede shoes and enjoy an array of free live entertainment at outdoor venues throughout the Reno and Sparks area. Free concerts take place on outdoor stages located at the Grand Sierra Resort, Atlantis, Peppermill, and Silver Legacy Plaza in downtown Reno, as well as at Victorian Square and the Nugget Event Center in Sparks.
More Details
Show More Details