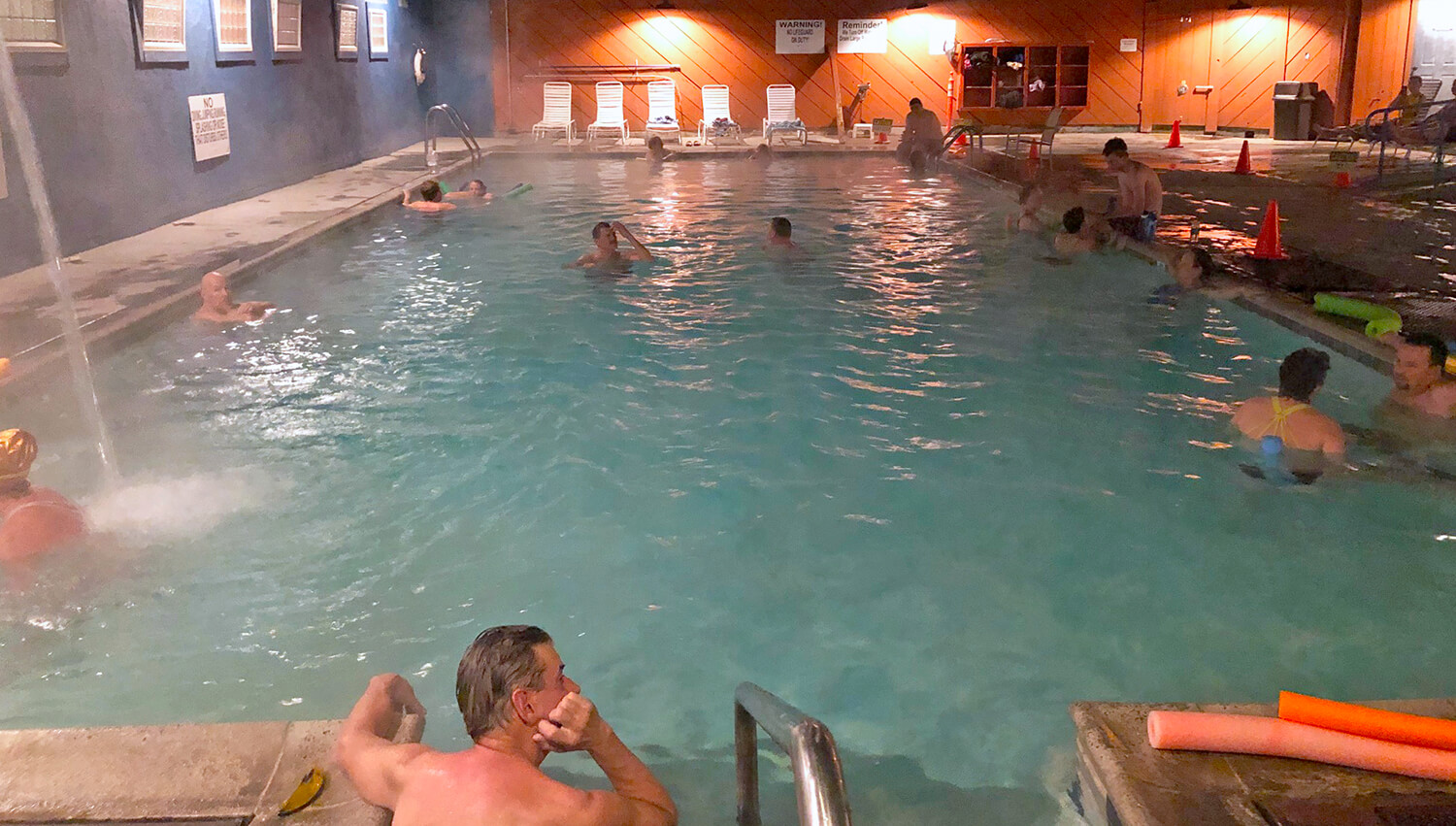 There are many many things that have brought Nevadans together for decades—hot water is certainly one of them. With more natural hot springs than any other state, visitors and locals alike certainly have their pick. With a history, convenience and affordability like Carson Hot Springs, search no further for your perfect soak.
CORONAVIRUS SAFETY NOTICE
Since June of 2020, Carson Hot Springs has been operating with enhanced safety measures, including taking temperatures of all guests prior to entry, limiting pool capacity to 50 soakers, requiring masks (except while swimming), and enforcing social distancing. To view the facility's complete list of safety guidelines, visit their website.
HISTORIC CARSON HOT SPRINGS
Situated in Nevada's Capital City, this large natural hot spring has been relied upon for more than 150 years. First used by American Indians pre statehood, immigrants en route to California rediscovered the spring in 1849. As the nearby Comstock Lode silver discovery boomed and Nevada entered statehood, the natural hot springs—along with the rest of Carson City—developed. By 1880, bathhouses and dressing rooms were introduced, along with a modern swimming pool, diving board, and a hotel. Considering the world's largest silver strike was being discovered mere miles from the hot spring drawing the most famous businessmen in the world, luxury was commonplace. Patrons were transported from Carson City to the hot springs by horse and buggy, and weekly rates were made available.
Throughout the next several decades, ownership and the name of these hot springs changed. The property was renamed to Carson Hot Springs by the early 1990s, thanks to the then-owners George Wingfield and Fred Dangberg. Around this time, a club house was built, drawing the likes of big bands in the 1930s and 1940s. Later, Carson Brewing Company began bottling and selling the mineral-rich hot springs water for guests and the casual passerby.
VISITING CARSON HOT SPRINGS TODAY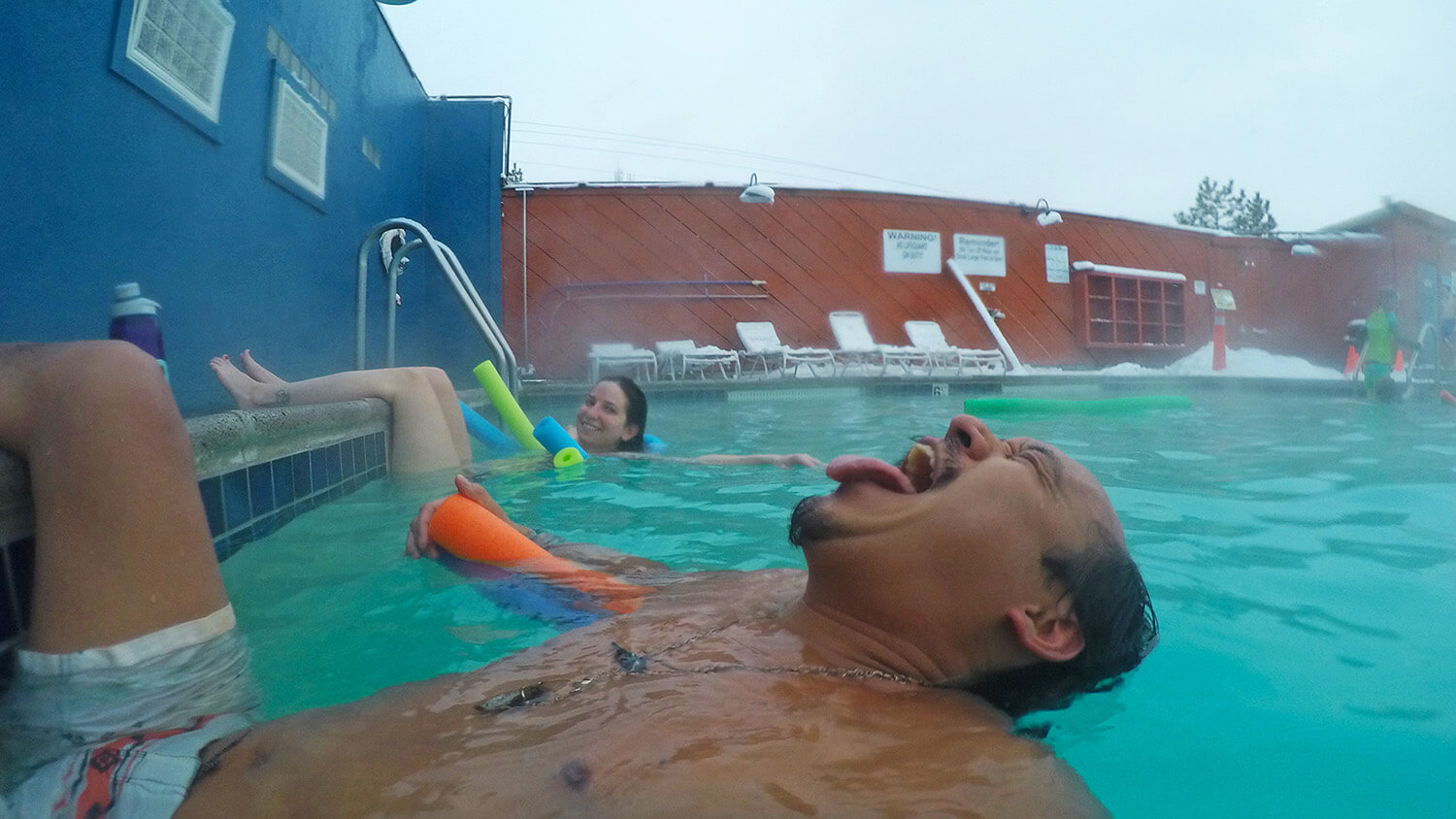 Interestingly enough, the original location of the pool and hot springs remains, as does the site of the club house. The original club house has been remodeled, and today, Sassafras Eclectic Food Joint operates one of the best restaurants in Carson City from this historic site. Though mineral water is not being bottled by the Carson Brewing Company anymore, the Shoe Tree Brewing Company has moved in to the property and offers award winning beers that have garnered national attention. Mastering nightlife, delicious meals, original craft beers, and hot water—not much has changed on these historic grounds 150+ years later.
NATURAL MINERAL PROPERTIES
The hot springs naturally flow out of the ground from 35,000 feet below the Earth's surface, and loaded with all the good minerals, including: sodium, sulfate, chloride, silica, potassium, calcium, fluoride, magnesium, and lithium. Together, these natural mineral springs promote strengthened protein in hair, nails and skin, rid the body from poisons, help muscles relax and function properly, balance iron content in the blood, and increase tranquility.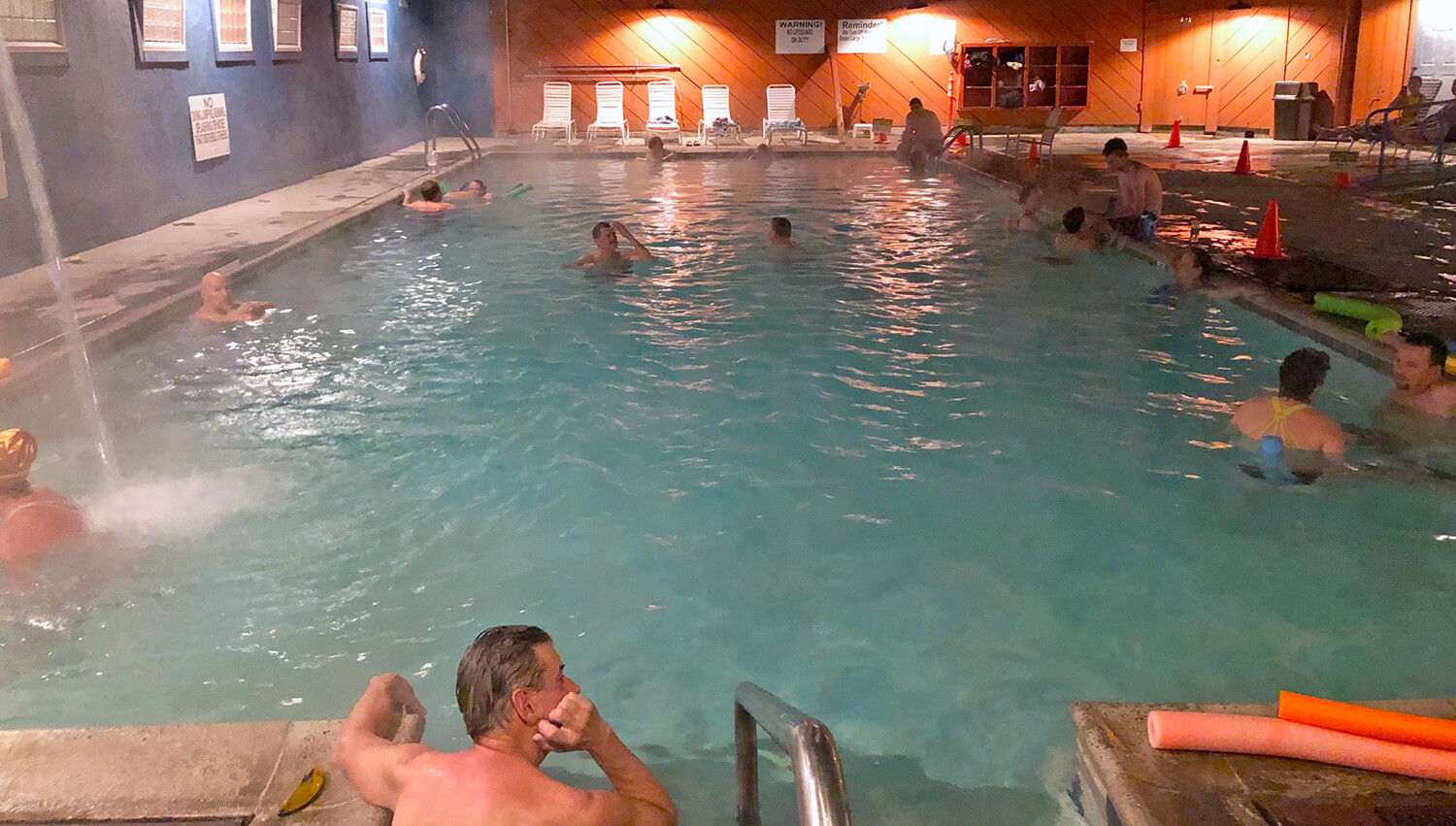 The natural mineral water at Carson Hot Springs flows out of the ground at 121 degrees. Air spray and evaporative cooling are used to lower the water temperature when pools are drained and refilled each day. No chemical or city water is added. Carson City Hot Springs features three outdoor pools—ranging in temperature from 95 to 104 degrees year round—along with 10 private hot baths (or "Mini Spas") ranging in temperature from 95 to 104 degrees fahrenheit.
Saunas are included with all admission, and visitors are encouraged to bring their own towels. Lockers are provided, but please be sure to bring your own lock. If you do not have your own towel or lock, these items are available for sale at the front desk. No alcohol or coolers are allowed at the hot springs location.
HOURS & ADMISSION
Carson Hot Springs is open seven days a week from 7:00 p.m. to 9:00 p.m. This resort hot spring offers affordable day rates and season passes that range in price. No reservations are currently being taken for the private spa rooms, but instead offered on a first-come, first-served basis—walk-ins are encouraged and welcome. For the most up to date information on rates and discounts, please dial the property directly at (775) 885-8844.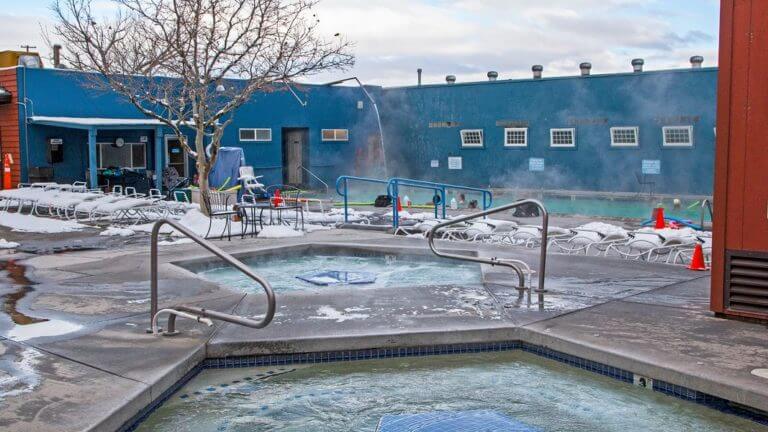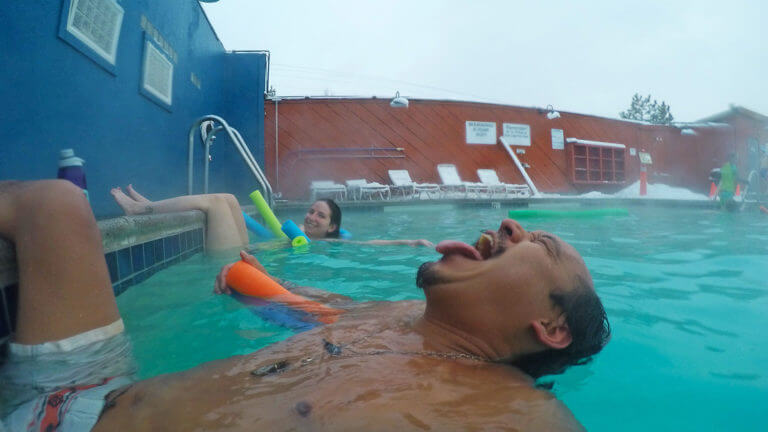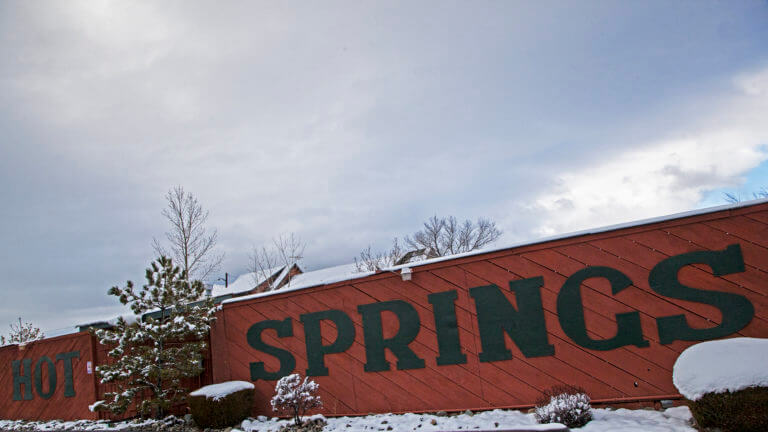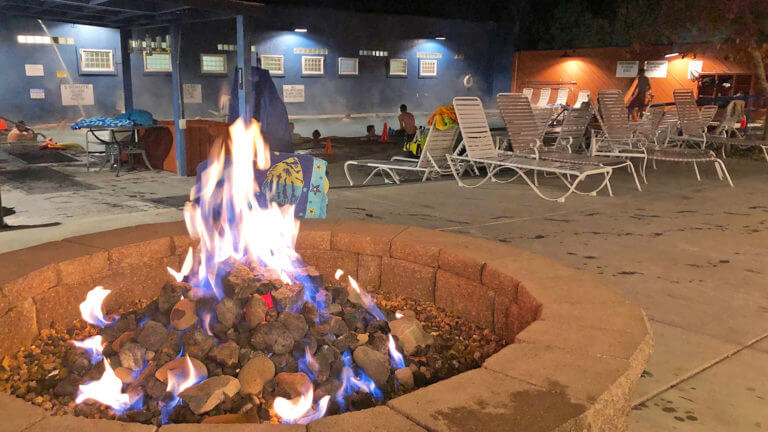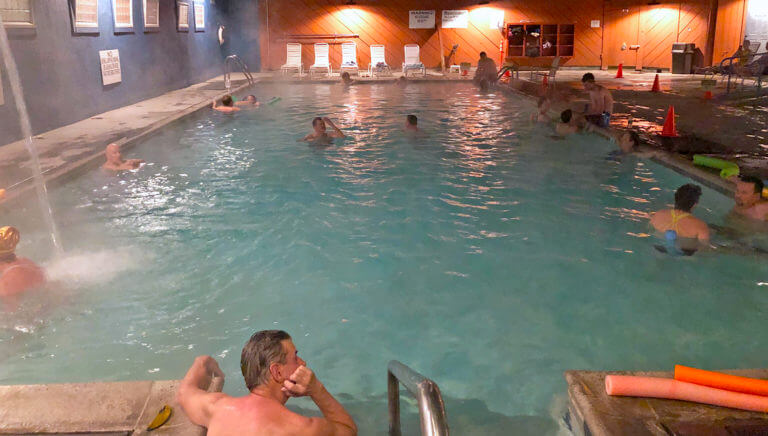 This Location: