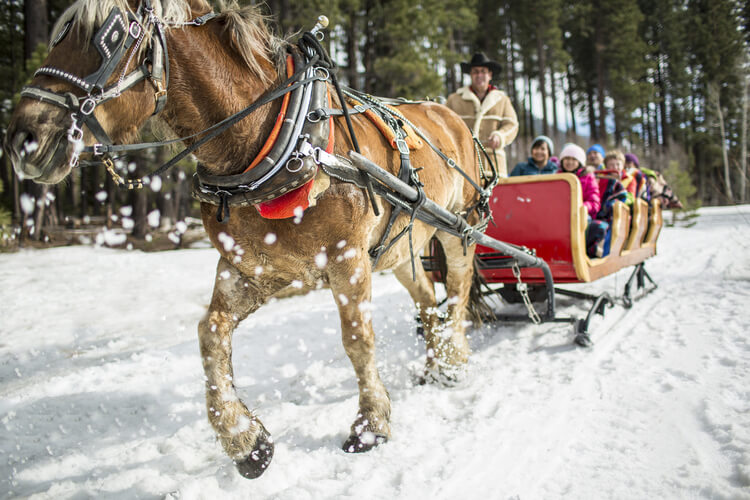 Borges Sleigh and Carriage Rides
What better way to enjoy Lake Tahoe's storybook scenery than on a horse-drawn carriage or sleigh ride? With Tahoe as the ultimate playground for outdoor enthusiasts, wind down after a day in the mountains and kick up the relaxation a notch with a carriage or sleigh ride in Lake Tahoe. With locations in both South Lake Tahoe and Incline Village, the Borges family offers unmatched outings for couples and families alike. During the summer months, riders delight in taking carriage rides in South Lake Tahoe for a tour around the sights near Stateline or postcard-perfect Sand Harbor. In the wintertime, wheels are swapped for runners as the horses hitch up to an old-fashioned sleigh, allowing guests to dash through the snow to their heart's content.
Borges Sleigh and Carriage Rides History
Borges Sleigh and Carriage Rides began all the way back in 1965 when Sam Borges entered his son, David, in the South Lake Tahoe Dodge dealership's raffle for a Shetland pony. To their excitement, David was the lucky recipient of this extraordinary prize, and so it began. After toting kids around the neighborhood for fun, the Borges family launched a full-blown business in 1967 when Sam presented his horse-drawn sleigh ride business to Brooks Park, who ran cattle in a particularly scenic meadow in South Lake Tahoe. Sam and Brooks hashed out a deal, and Borges Sleigh and Carriage Rides sprang to life.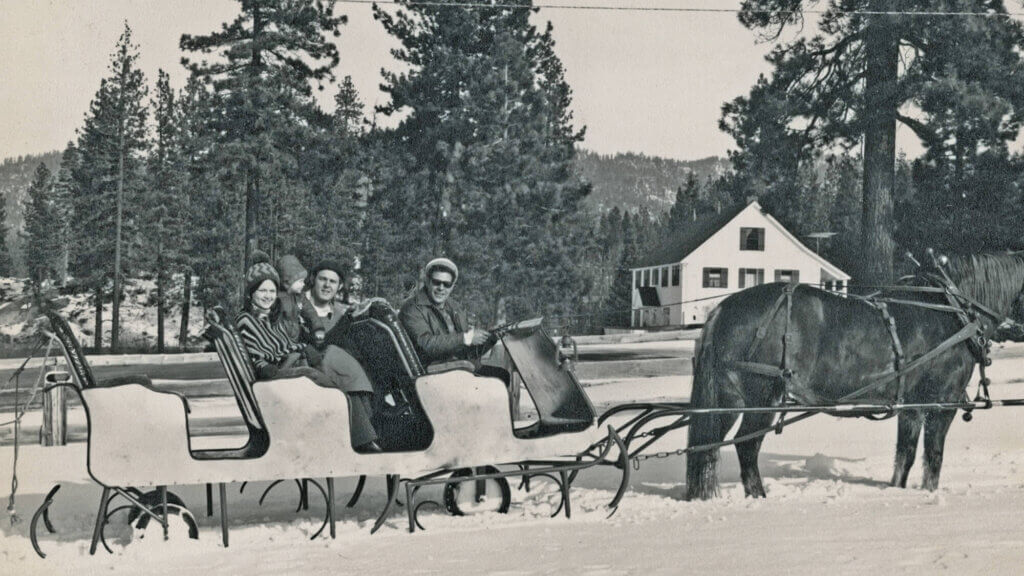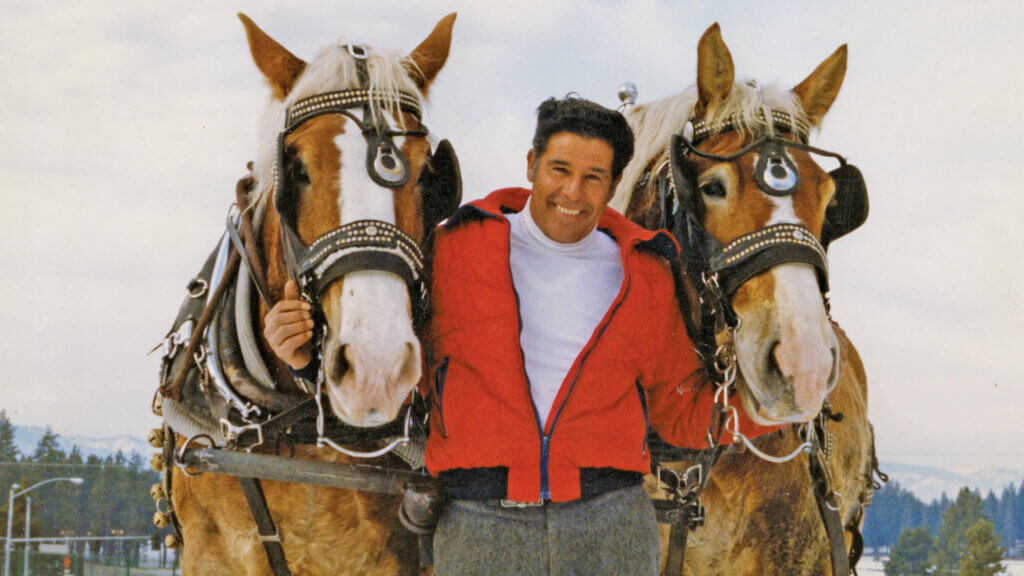 Sam seamlessly maintained this exclusive operation for years on end before his son, Dwight (literally) took the reins. Today, Dwight and his wife Dianna affectionately care for an incredible team of 15 Belgian draft horses and pride themselves in exceptional customer service. Creating such a steadfast business model took a lot of work and attention to detail. Because of Sam's lifetime labor of love, the Borges' are approaching their 50th anniversary of Borges Sleigh and Carriage Rides in Lake Tahoe.
Sand Harbor Sleigh Rides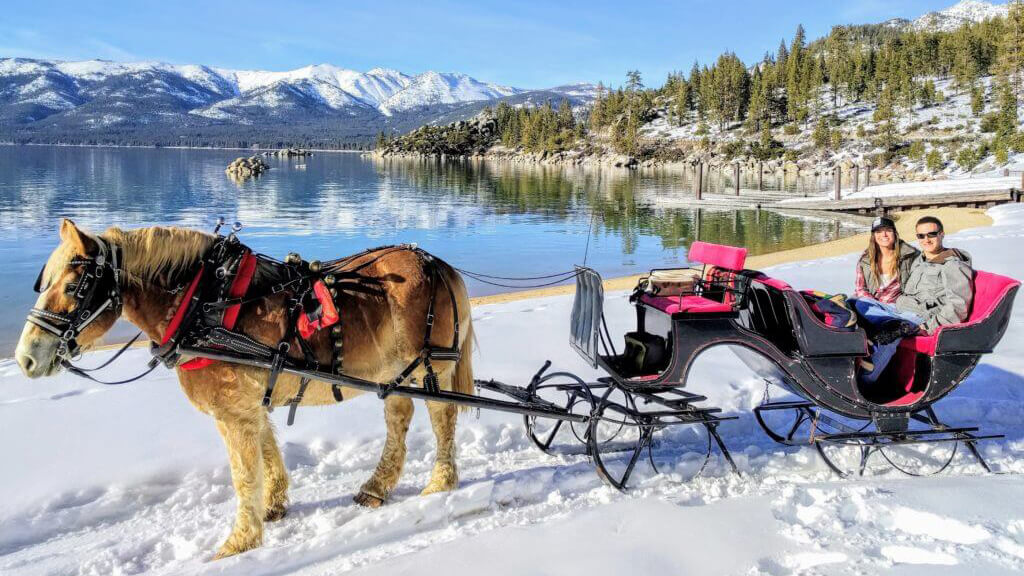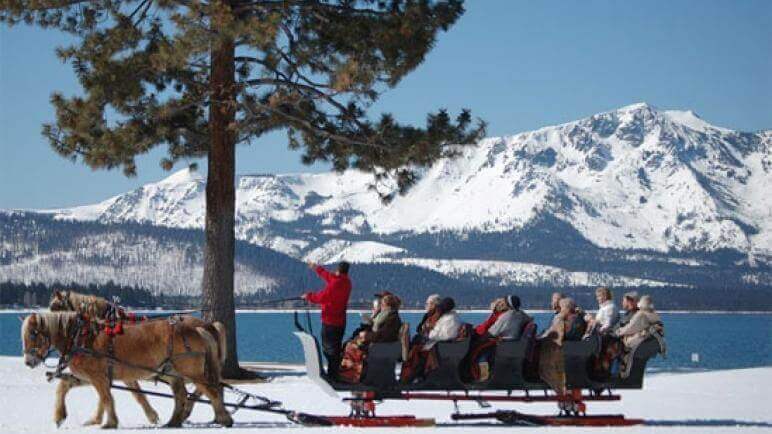 If you are looking for spectacular views of the Lake Tahoe area and towering pines, Sand Harbor is the wintery ride for you. This Incline Village sledding adventure begins at the Sand Harbor Nevada State Park Visitor's Center, which is located just past the main entrance of the state park. The rides are usually one hour long, with time allotted for taking pictures to capture your memories and petting the beautiful blonde Belgian horses.
Lake Tahoe Sleigh Rides
You can also experience an adventurous yet relaxing sleigh ride on the other side of Lake Tahoe, in South Lake Tahoe, CA, just past Stateline, NV. A favorite for visitors and locals alike, the wintertime sleigh rides take place in one of the last undeveloped areas on the south shore of Lake Tahoe. With a beautiful view of the crystal clear blue water that Lake Tahoe is known for and under the pine trees surrounding it, you can enjoy a wintertime sleigh ride that you won't soon forget.
And here is the best thing yet, Borges Sleigh and Carriage Rides is not just a seasonal holiday operation. Instead, delighted visitors to the Carson-Tahoe area can enjoy horse-drawn narrated sleigh rides year-round.
Hours:
The sleigh rides run with or without snow and are available from 11:00 AM to 2:00 PM in November and December and from 11:00 AM to 3:00 PM in January and February. In the non-winter months, call to find out about horse-drawn carriage rides, too.
Admission:
Borges Sleigh And Carriage Rides encourage visitors to make a reservation to ensure available time for a planned ride. Ticket prices are $50 per adult and $20 per child.
This Location: