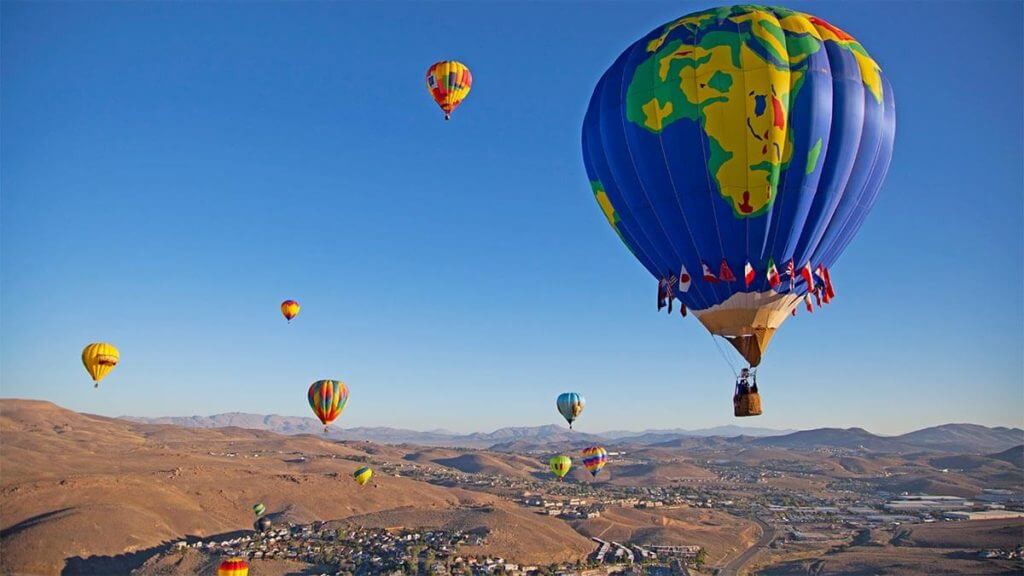 Since its humble beginnings in 1982, the Great Reno Balloon Race has grown dramatically from just 20 hot air balloons to a world-renowned event featuring nearly 100 balloons lifting off from Rancho San Rafael Regional Park in Reno. This fave top annual event features a rainbow of hot air balloons that rise above Reno in the early morning, visible from the hiking trails of North Reno to the sidewalks of the University of Nevada and vantages all around town. 
The Great Reno Balloon Race is nothing short of tradition in Washoe County. On the ground, spectators—some still comfortably clad in pajamas—sit atop blankets and camp chairs or even bundled up in their sleeping bags, gripping hot beverages and gazing into the pre-dawn sky for the ethereal Super Glow Show that takes place before the sun even peeks above the horizon. 
Some spectators opt for a more luxurious show and view the hundreds of hot air balloons in Reno from the comfort of a clear, heated tent with a 360-degree view at the Cloud 9 Club. This VIP club experience features catered food from Reno-Tahoe vendors, special parking passes, and a hosted mimosa bar. Learn more about the Cloud 9 VIP Club here, and turn this classic event in Northern Nevada into a day you'll never forget!
Following that early morning spectacle, some hot air balloons launch for Dawn Patrol just as the first hint of light can be seen to the east. The rest of the balloons rise later at Mass Ascension after sunrise.
What to Expect at the Great Reno Balloon Race
A select group begins the competition portion of the race as tens of thousands of visitors look on in awe, while vendors sell snacks and souvenirs and kiddos take tethered rides in the balloons that aren't gunning for the win. Drinks, food, crafts, art, and souvenirs are for sale along the path of the park during the event.
Travel Nevada Pro Tip
This year, you can experience the Great Reno Balloon Race from the sky!
Balloon Nevada
is the event's official hot air balloon ride provider, and if you book the exclusive
Great Reno Balloon Ride
package, you can be in the air above Rancho San Rafael as Mass Ascension takes place.
Each morning, pilots are briefed about wind speeds and directions at various "ceilings" or elevation measurements. The pilots use this information along with the forecasted weather changes and the local terrain as navigational tools.
Spectators can expect to see a variety of specialty-shaped balloons along Balloon Boulevard, including favorites like the Angry Birds; Jewel, a hummingbird; Pegleg Pete, a pirate parrot; Rio Grande Raider, a pirate ship; SnoBird, a camera-carrying penguin; Miss Bell, a replica of the Liberty Bell; Smokey Bear; Sushi; Gus T. Guppy; Wells Fargo's Cent'r Stage; Pencil Boy; and more.
More Details
Show More Details