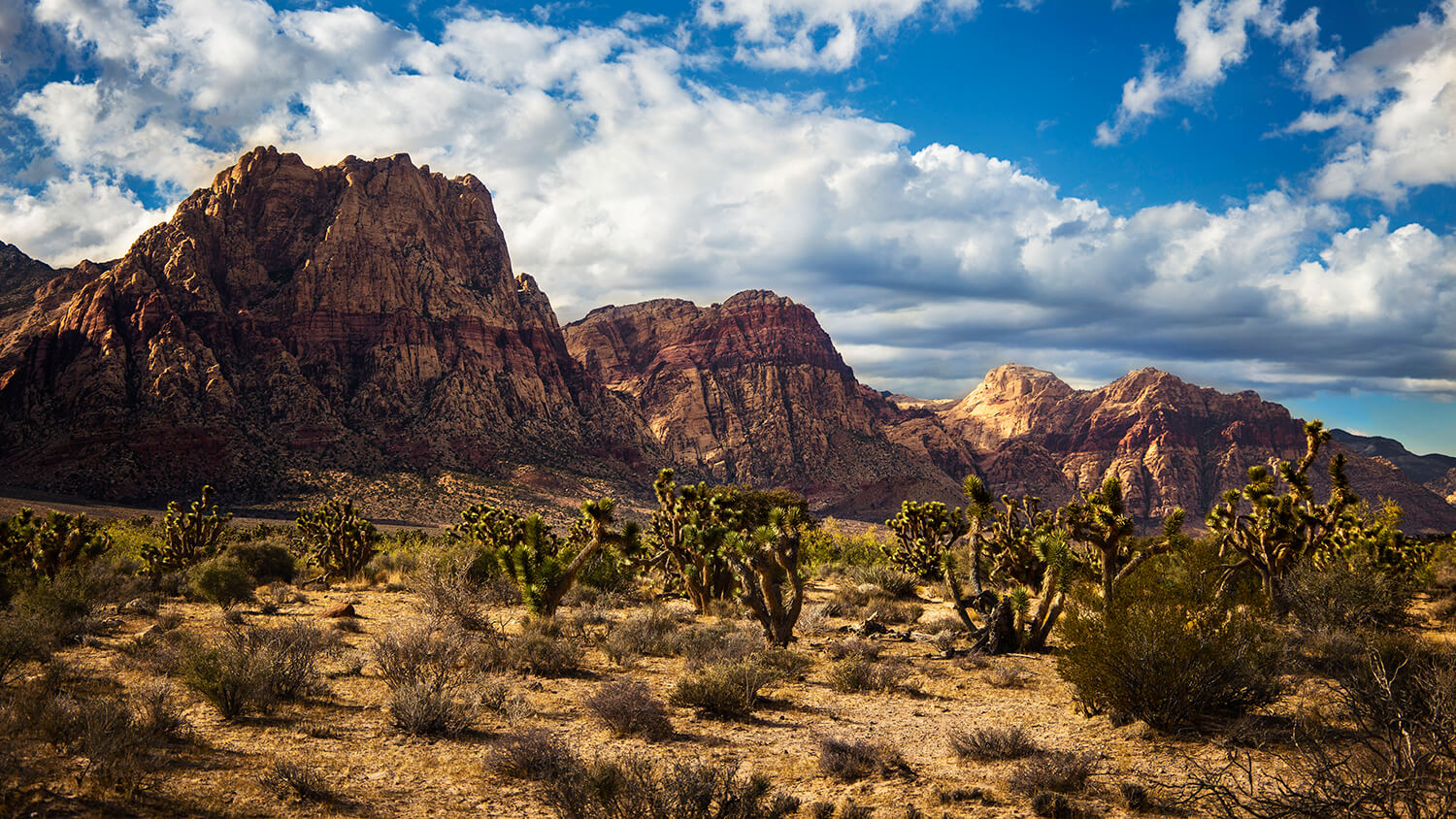 Red Rock Canyon National Conservation Area
Red Rock Canyon
One of the most scenic places in southern Nevada is as popular with visitors as it is with locals, and that place is Red Rock Canyon. Hands-down one of the most breathtaking places in the Silver State, nearly 2 million people come here to explore red-banded canyons, towering sandstone peaks, and ancient petroglyphs. Whether you are traveling across Nevada or from across the globe, the glorious desert landscape of Las Vegas and the surrounding area is definitely worth the trip.
Take in the startling contrast of red sandstone layered through gray limestone in the sheer cliff faces, some of which reach a staggering 1,800 feet, is an incredible natural wonder that won't soon be forgotten. This sandstone is part of the same geologic formation, known as the Navajo Formation, that is also found throughout the southwest United States.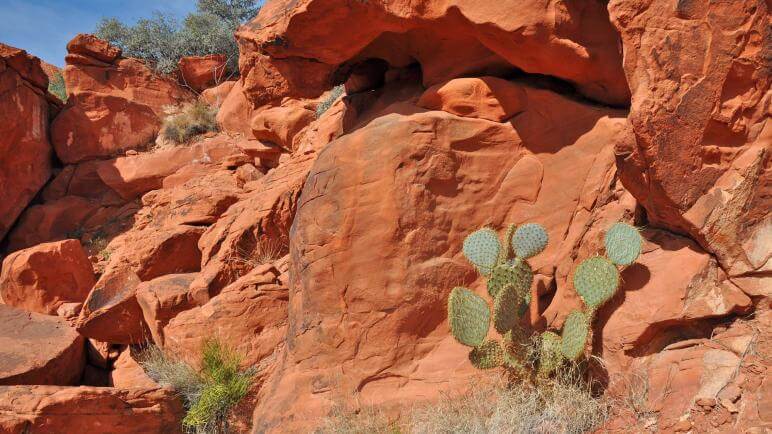 Red Rock Canyon, which measures more than 195,000 acres, is Nevada's first National Conservation Area and serves as a mecca which exemplifies the unique qualities of the Mojave Desert. Although the recreation area is just 17 miles west of the Las Vegas Strip – close enough that peak tops are visible from the Las Vegas Valley – it's worlds away in terms of atmosphere.
Beyond the spectacular sightseeing and photography opportunities, Red Rock Canyon offers an array of recreational activities, too. Visitors can horseback ride, picnic and rock climb, which is a very popular activity in Red Rock Nevada. Horseback enthusiasts will find numerous trails among the fiery red sandstone of this Bureau of Land Management (BLM) managed area. Equestrians should inquire about water and other hazards before tackling the trails. We also recommend stopping by the visitors' center to check out the bookstore and exhibit rooms. With a 13-mile scenic drive that covers more than 30 miles of picturesque hiking trails, there's something for every member of your family or car troupe to enjoy here.
Red Rock's Climbing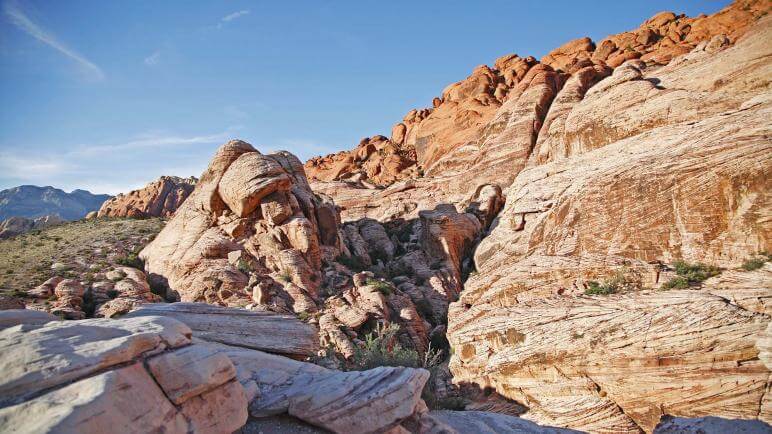 Serious rock climbers crave the challenges of Red Rock's climbing, from its towering sandstone ridges to its huge boulders. With more than 1,200 named routes, there are plenty of choices for every ability. Most of the rock is Aztec sandstone. The desert varnish rock is considered to be the most difficult, but the most exhilarating!
Climbing Red Rock Canyon has a few perks—and it's not just the few hundred short sport routes and big 20-pitch outings. Before choosing and tackling your line, though, make sure you're checking the weather! While Red Rock Canyon stays relatively warm but rain, rock climbing and wet sandstone, don't mix too well.
Red Rock Nevada's sandstone majesties are fragile and easily damaged when they are wet. This too means that holds have the potential to rip off. Some routes have been permanently damaged due to visitors attempting to climb after a heavy storm.
Rule of thumb: if the ground around your climb still feels a bit damp, head to another face. There is plenty of other rock climbing in Red Rock Canyon like limestone, granite, basalt and more. Local Las Vegas climbers are trying to spread awareness about Red Rock. Learn more about climbing after a heavy storm and the affects foot traffic has on the area.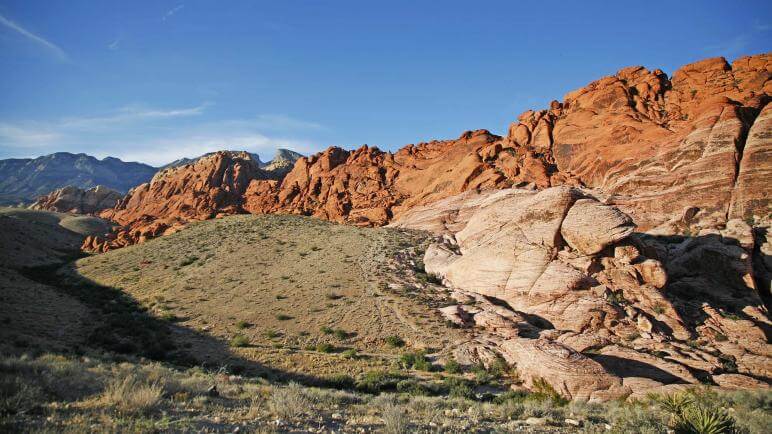 The best thing about Red Rock Canyon, Nevada is the availability of bolted anchors on the many popular multi-pitch routes. At Red Rock, you'll experience true freedom away from the noise and traffic of the city lights during the day. If you're at Red Rock National Conservation Area at night, you'll be able to see the glow of the city lights from Las Vegas. Only then will you realize how close you are to the city!
And with some of the best vertical routes on the continent, it's also a (literally) natural home for Red Rock Rendezvous, a "dirtbag" celebration of all things climbing-related.
YDS: 5.2 – 5.14b
Grade: III-V
Crazy-Popular Crags:
Cannibal Crag: 19 routes ranging from 5.6 – 5.12d
Dog Wall: Moderate routes with one 5.7 and several more advanced climbs.
Panty Wall: Popular for its 5.6 to 5.12a routes Magic Bus: Routes range from 5.8 to 5.10a
Black Corridor: Very popular for its high concentration of routes and for the fact that it's almost always shady. Routes range from 5.9 to 5.12a.
Classic Climbs:
Tunnel Vision: 5.7 on the Angel Food Wall
Dark Shadows: 5.8, good desert varnish challenge
Olive Oil: 5.7 on the Rose Tower
Getting There: Red Rock Canyon National Conservation Area is located 18 miles west of Las Vegas on State Route 159.
Best Hikes in Red Rock Canyon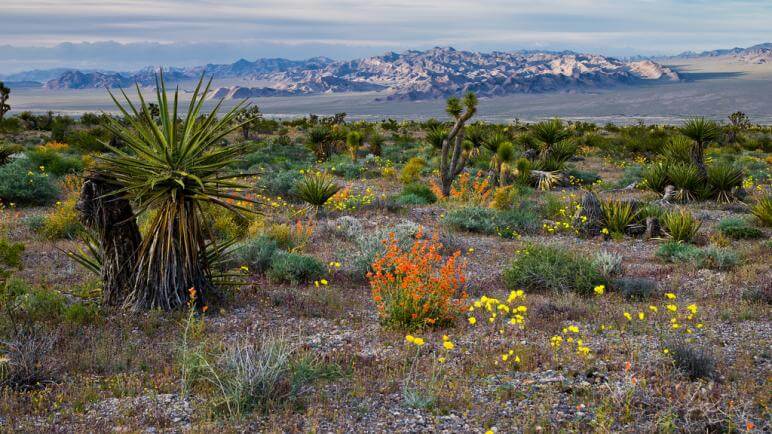 While rock climbing Red Rock is a popular experience, many visitors forget the epic hiking available throughout this massive area. As explorers begin to weave their way through the unique rock formations, caves, dramatic canyons, exciting ridges and rolling red hills, some of the best hikes in Red Rock Canyon begin right as you enter the park.
Red Rock Canyon trailheads start right off the 13-mile loop that takes visitors through the conservation area. There will be a hike for each visitor to Red Rock, from strolls to switchbacks.
Low-key Hikes in Red Rock Canyon
Lost Canyon Children's Discovery Trail. We promise it's not just for kids. This trail can be easily enjoyed by everyone. Only .75 miles round trip with a 200-foot elevation gain, Lost Canyon Children's Discovery Trail includes waterfalls, natural tunnels, petroglyphs, a boardwalk, stone stairs, and more than a few opportunities to catch some wildlife.
Keystone Thrust Trail. If you are looking to immerse yourself in the geological grandeur of the area thoroughly, the Keystone Thrust Trail is where the Pacific and North American continental plates signed their names into the earth. This hike is about 2.2 miles round-trip and, offering 360-degree views of Calico Hills. The elevation gain for this hike is 400 feet and will begin from White Rock parking lot.
White Rock/Willow Spring Loop Trail. This hike could be considered moderate for some, but only if you choose to add La Madre Spring to the mix. The White Rock/Willow Spring Loop is 4.4 miles. You will start this hike from White Rock parking lot, too! This trail will take you through a quintessential desert landscape, complete with cacti, pictographs, and maybe even bighorn sheep! By adding on the La Madre Spring trail to your journey, the hike will end up being about 6 miles, but you'll be rewarded with a year-round spring. Keep in mind, you will gain a considerable amount of elevation, but you can always stop for a break at the Willow Spring Picnic Area before making your decision.
Challenging Hikes in Red Rock Canyon Include: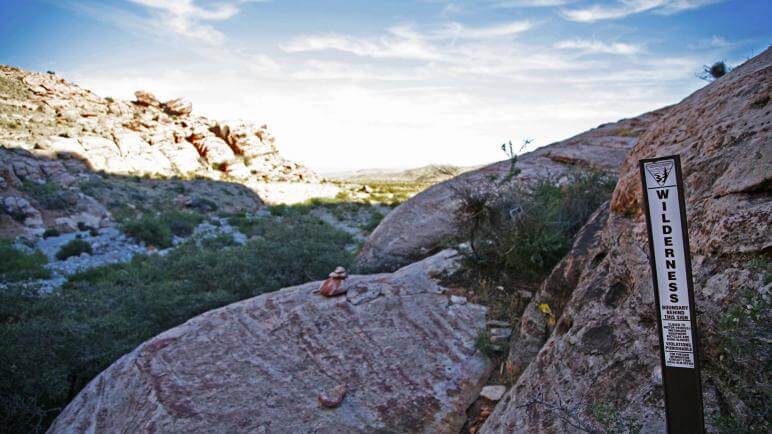 Turtlehead Peak Trail. It goes without saying, the best views come with the most work, but we're saying it anyway. For an iconic view of Red Rock National Conservation Area, Las Vegas and beyond, tackle Turtlehead Peak Trail. This is a strenuous, 5-mile hike through exposed ledges, climbs past sandstone crags, and interesting washes. If you are an experienced hiker, you'll really enjoy this trail. As you start to gain elevation (about 2,000 feet to be exact), hikers will traverse rocks, gullies and more. The Turtlehead Peak Trail begins at Sandstone Quarry parking lot.
Calico Tank Trail. Even though this hike is only 2.5 miles, there are a few parts that can be tricky to navigate. You will gain about 400 feet in elevation as you walk up some interestingly constructed stone stairs. At some points throughout this hike, you will be using both your hands and your feet! The "tank" that gives the trail its name is located at the furthest end of the hike. There is a natural water catch area that will fill quite significantly depending on the rainy season. This is an in-and-out hike, meaning you will leave on the same trail you came in on. Parking for this trail is located at Sandstone Quarry.
Ice Box Trail. Ice Box Trail is best taken during spring when the Nevada wildflowers are in full bloom. This hike showcases dramatic high-walled yellow and charred-looking canyon formations, junipers, pinyon pines, and large boulders, some the size of cars! The trail envelops adventurers by surrounding them with steep walls that rise up around on three sides.
Calico Hills. This popular trail is what most visitors picture Red Rock to look like, and they'd be right. Not too far away from the visitor's center, Calico Hills are a signature point of interest for tourists to the area. The hills can be accessed from a few points, but the two main parking lots that people typically take off from are Calico I and Calico II. This hike is 6 miles roundtrip and runs along the front side of the red stone ridge.
Red Rock Admission
Admission to Red Rock Canyon National Conservation Area is $15 per vehicle.
Starting November 3, 2020, Nevada BLM will offer online timed entry reservations and purchase of daily entry passes for Red Rock Canyon National Conservation Area Scenic Drive. Daily passes and timed entry reservations will be available through Recreation.gov. Advanced reservations are available beginning October 13, 2020 and will vary in price by $2 depending on the season and time of day. For more information, please click here.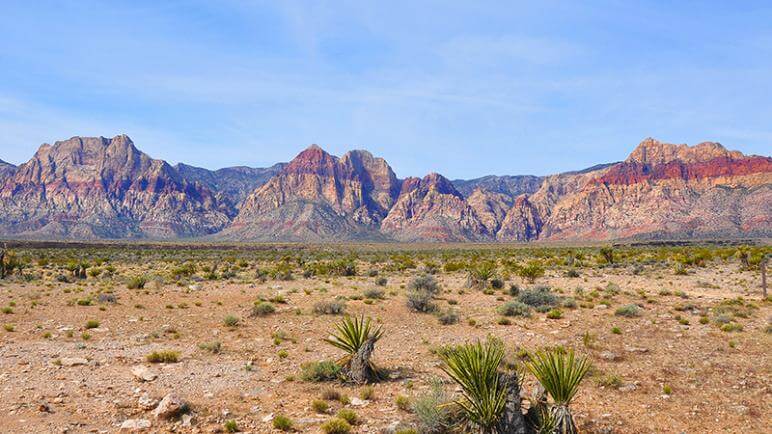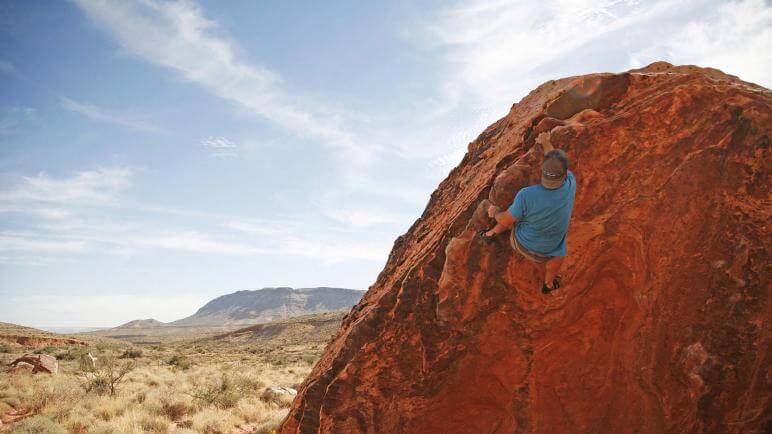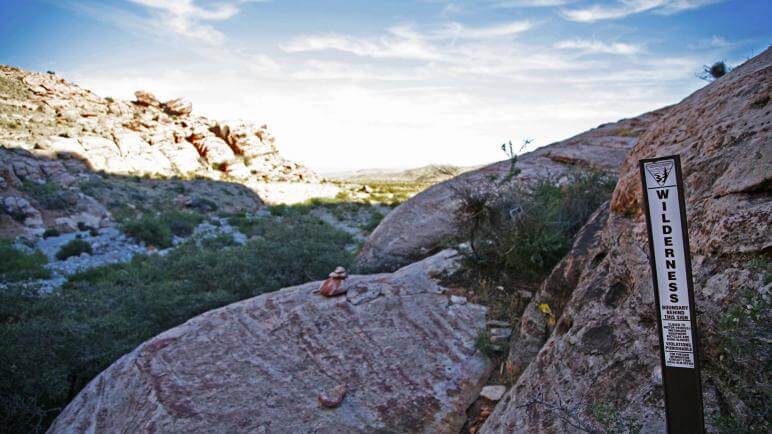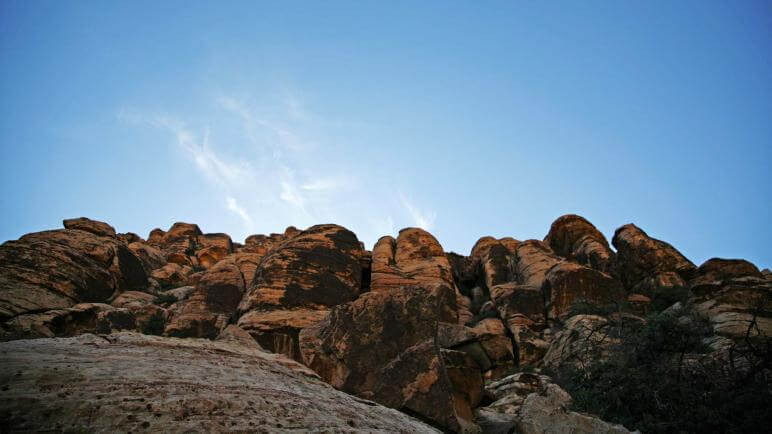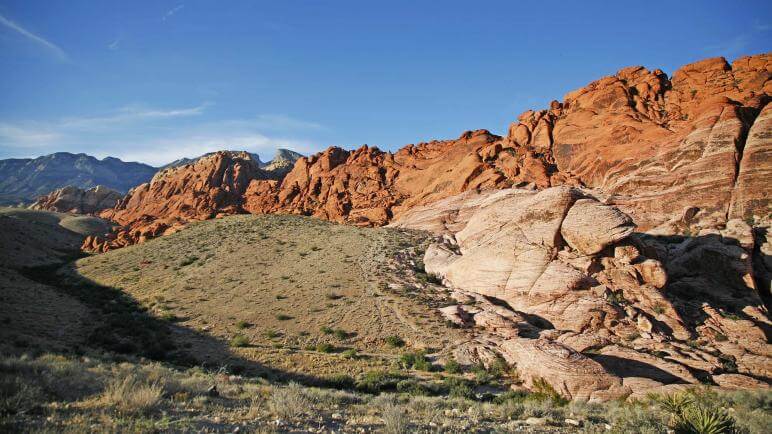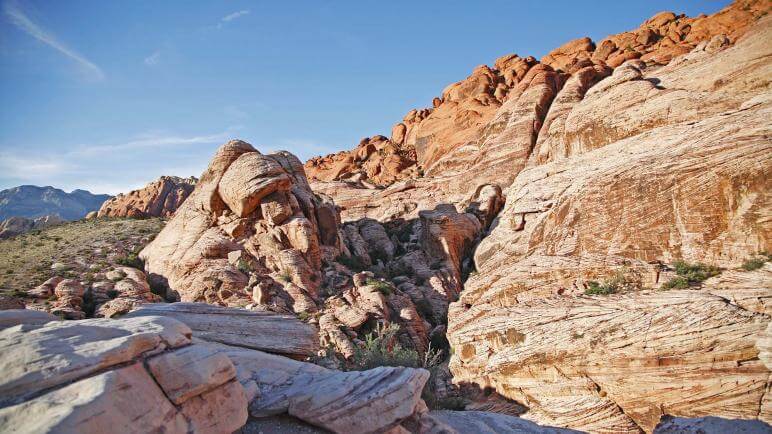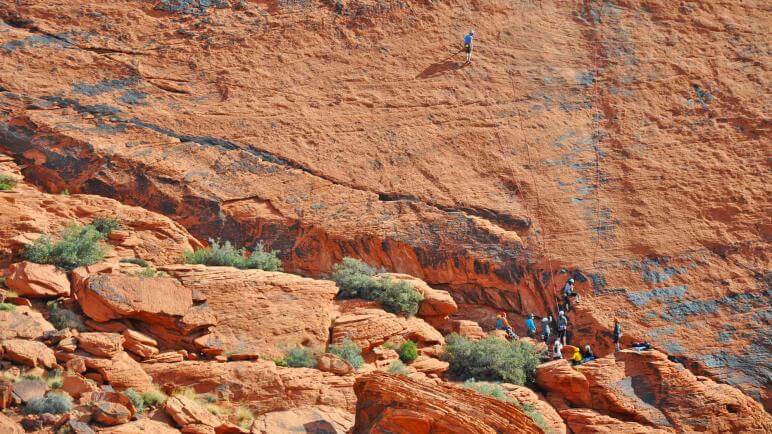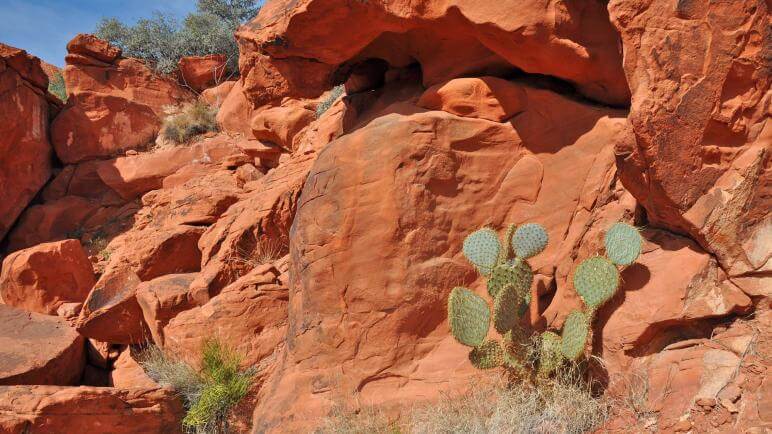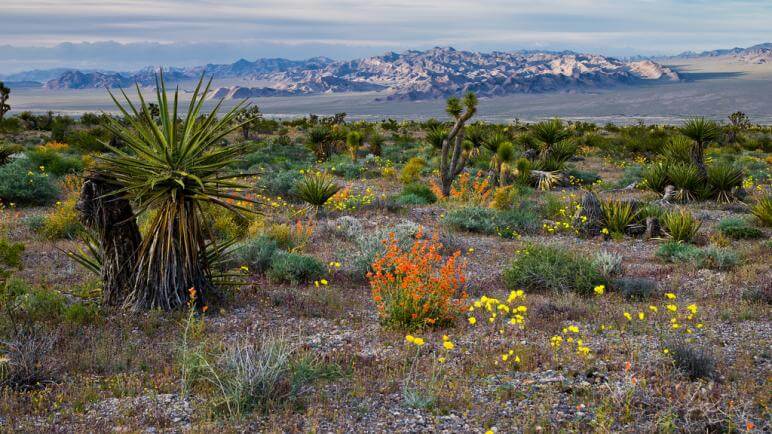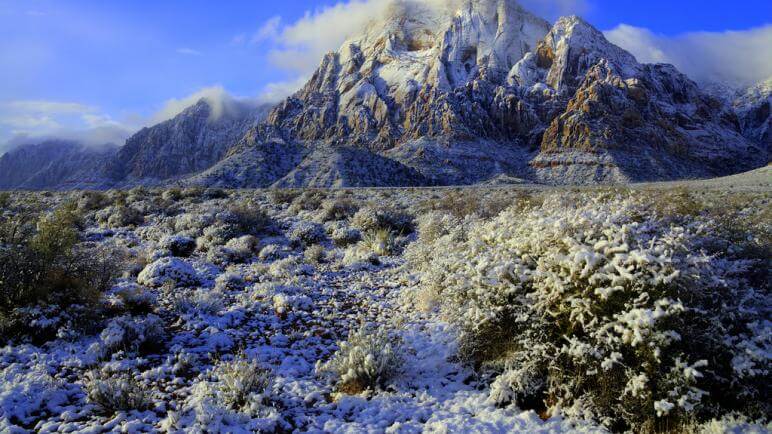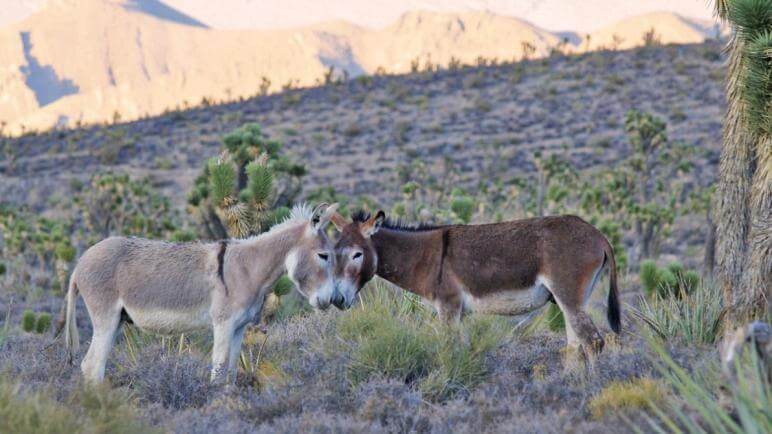 This Location: