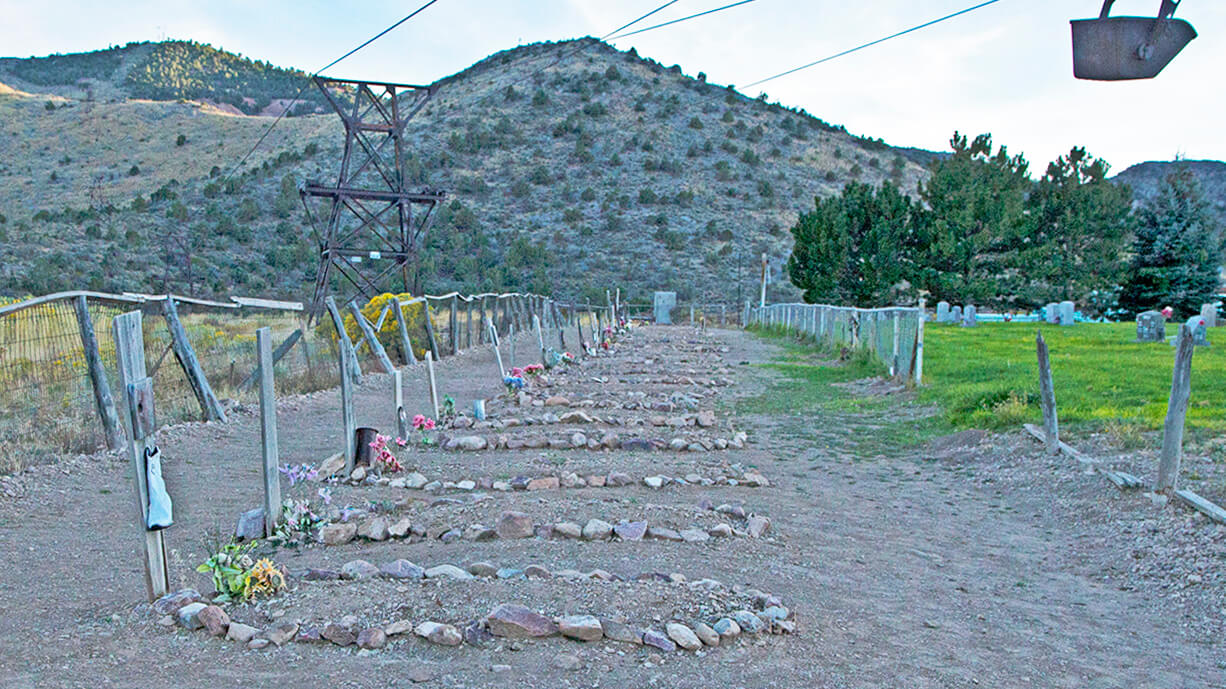 One part history lesson, another part untamed lore and legend, there's no better way to get reacquainted with Nevada's authentic Wild West past than a visit to Boot Hill Cemetery in Pioche, Nevada. Here, the streets ran red with enough crime and lawlessness to blast the crown off famed locales like Tombstone and Dodge City, propelling the need for a proper burial site before the gold and silver mining even really started cranking. Situated on the northern edge of Pioche along Nevada's Great Basin Highway, discover Boot Hill Cemetery, a place where graves had to be dug so fast (and shallow) that the buried wretches' boot tips often poked up out of their plots—enough of them having been outright criminals to warrant an entire row of graves nicknamed "Murderer's Row."
Ever read about legendary Wild West greats like Dodge City and Tombstone, where lawlessness and deadly, drunken brawls were commonplace? Gunslinging just so happened to be a favorite pastime in Nevada's far-flung mining town of Pioche, too. Except in a way bigger way, with even more shooting crimes and a whole lot more murder. During Pioche's heyday, the story goes that hired gunmen were recruited in droves, just to protect mining claims and keep mining operations cranking at full steam. Legend has it that the bullets were flying at such a rate in old Pioche that some people got shot before they even disembarked from their stagecoaches. In fact, in 1871, an astonishing 72 unfortunate souls were laid to rest before a single person died of natural causes. Compare that with Tombstone's three total homicides on record. (Oh, Hollywood…)
Located in Lincoln County, Pioche is roughly 175 miles north of Las Vegas up the Great Basin Highway along U.S. Route 93. While the town you'll visit today is decidedly more peaceful, "Nevada's liveliest ghost town" offers a vibrant and immersive look into what life was like in the real Wild West—and nothing better represents Pioche's notoriety as the roughest, toughest mining town in the Old West quite like Boot Hill Cemetery.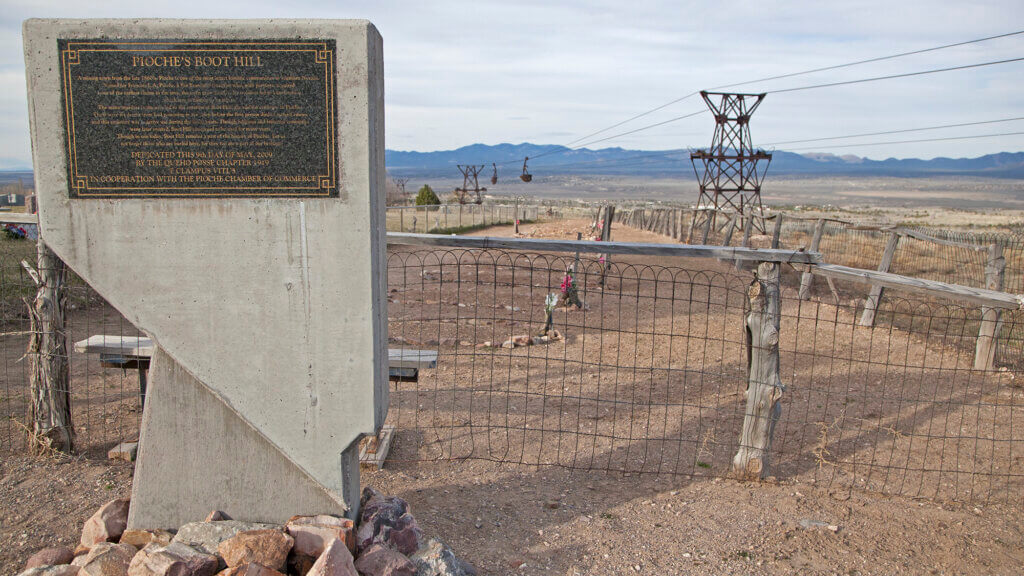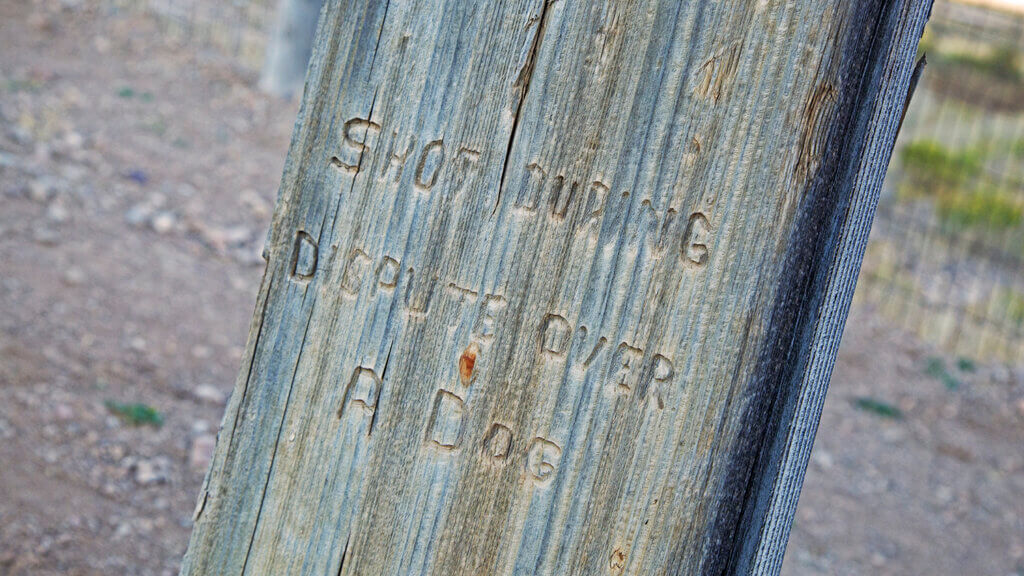 The Story Behind Boot Hill Graveyard
Any historical society or Western history buff can tell you that the term "boot hill" comes from the fact that many of those buried in a boot hill graveyard died unexpectedly and violently, usually with their boots on (and occasionally even still sticking up out of the ground after hasty, shoddy burials).
In fact, crime and murder ran so rampantly in Pioche that Boot Hill Cemetery was established to inter these scoundrels and even includes "Murderer's Row," a section of the cemetery containing the graves of more than 100 alleged murderers. Many are unmarked, while others tout some fascinating grave markers describing their crime and cause of death, like Irish-born Morgan Courtney, who met his tragic end at just age 29. Seems Courtney got on the wrong side of George McKinney, the town's railroad security guard. Their difference in opinions quickly spiraled into a brawl that became the stuff of legend. When you stand before Courtney's grave on Murderer's Row, it's easy to imagine what happened next to the man described as, "Feared by some, respected by few, detested by others" and "Shot in the back five times by ambush."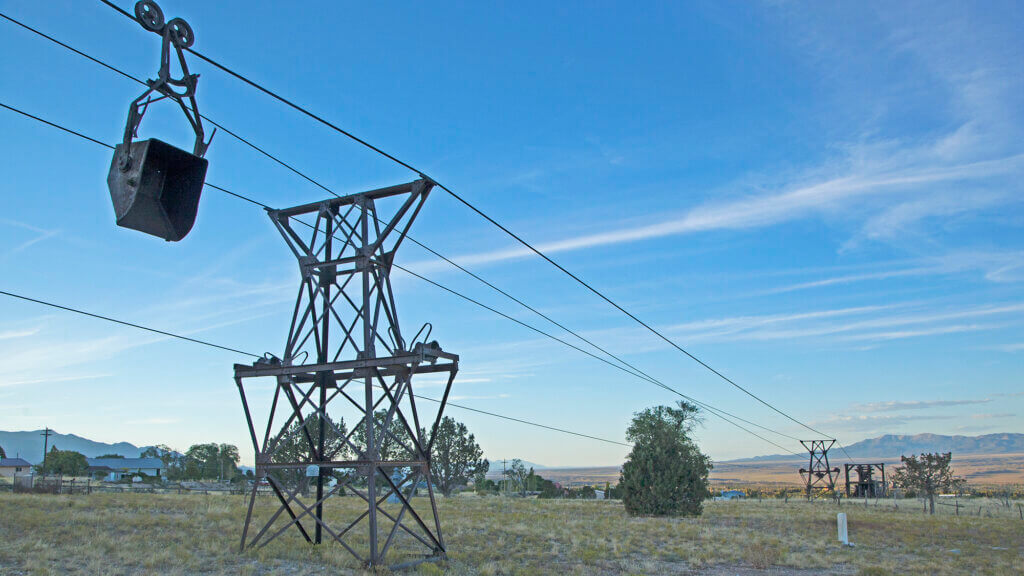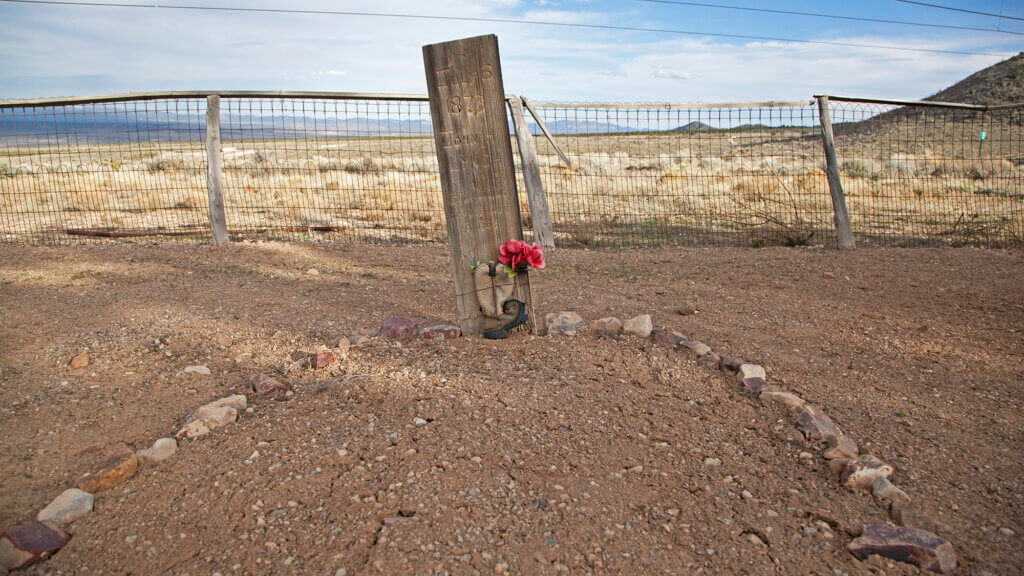 Getting to Boot Hill Cemetery and More to Know Before You Go
From downtown Pioche's Overland Hotel & Saloon, head north on main street then make a right on Comstock Road. There will be a historic marker along the main road pointing toward Boot Hill. Comstock Road turns into Boothill Cemetery road. The cemetery will be on your left. Park anywhere.
Travel Nevada Pro Tip
Boot Hill Cemetery can be found on the eastern edge of the cemetery, but please be respectful when visiting, as this is not just a historic burial ground, but also Pioche's present-day cemetery.
Once there, you can't help but notice a certain presence. No, we don't mean the paranormal or ghostly kind (although many claim just that, especially at night—both here and up at the Overland Hotel & Saloon). We're talking about the 1920s-era aerial mining tramway which quietly stands sentinel over the cemetery, its ore bins vainly awaiting another payload from long-forgotten miners. The tram, original to the mining operations that ran during the 1920s and 30s, was used to transport buckets of silver and nickel ore from the mines to the Godbe Mill. While the tramway is now abandoned, its cables still stretch high over parts of town with its original buckets suspended above. While aerial tramways were common during Nevada's mining booms, the one you see before you in historic Pioche is the only intact one left anywhere in the Silver State.
Hours:
Boot Hill Cemetery is open from sunrise to sunset seven days a week. For more information about this historic cemetery and the stories of those entombed within, make the Lincoln County Museum and Million Dollar Courthouse (open seasonally) part of your Pioche discoveries.
Admission:
No admission is required to access the historic Boot Hill Cemetery.
This Location: