NEVADA HOT SPRING ETIQUETTE: 10 Rules to Know Before You Soak
How? By embracing the Nevada hot springer's code of ethics. Although it does vary, and the rules remain mostly unwritten, we've embraced the most widely accepted wisdom from the community and put it right here for handy reference.
Read up and you'll be ready to respect the springs, preserve this pastime for us all, and get yourself into only the right kind of hot water.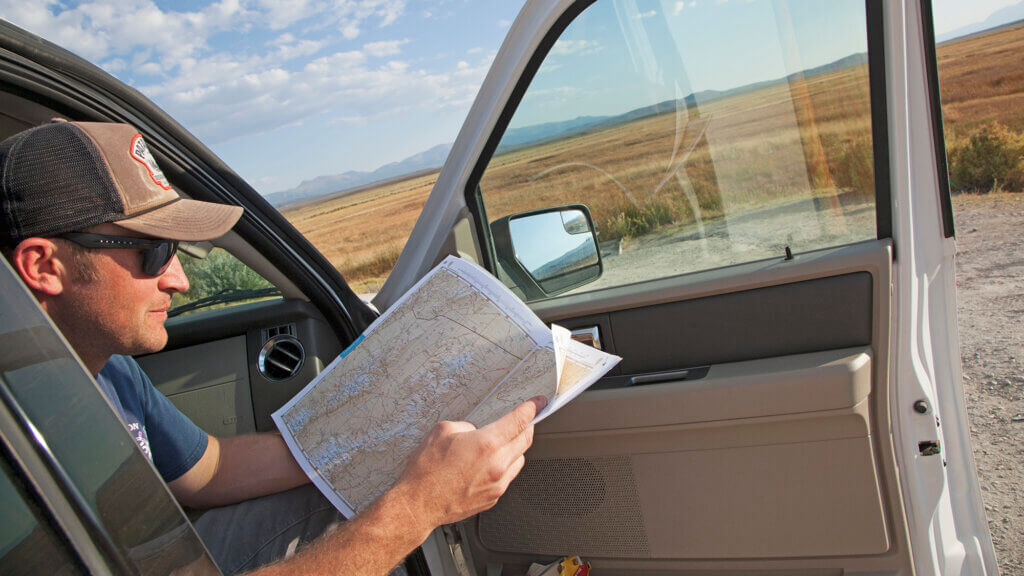 1. Google Maps Ain't Gonna Cut It
In backcountry Nevada, web-based mapping apps — and even GPS — are usually wonky, often unreliable, and sometimes flat-out wrong. Get yourself topographical maps of the areas you plan to visit (and travel through — not just the final destination). Or do yourself a real favor and spring for super-detailed, recently updated statewide atlas. (We're big fans of this one.)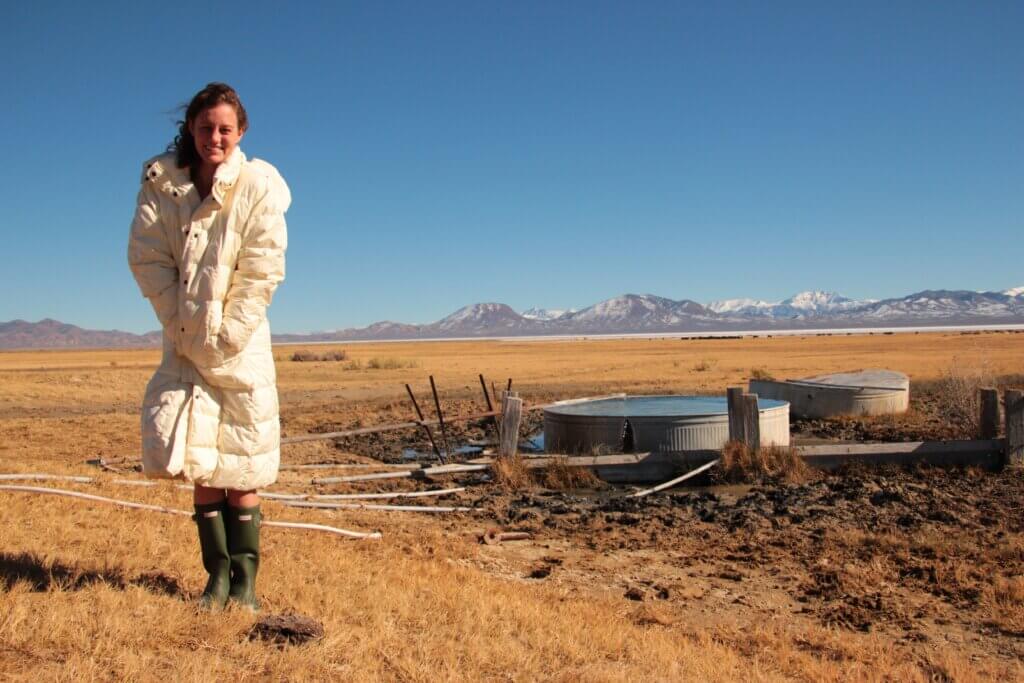 2. Dress for "Soak-cess"
Where there are hot springs, there is also often dirt, boggy soil, or mud. So leave your "car shoes" — slip-on boots, Chacos, Crocs, whatever — in the car and slip into a pair of "soak shoes" that you don't mind maybe getting a little messy.
Bring something cozy to wear for the to/from walk. Just like with "car shoes," you'll be glad you've got an extra step in the process in between being wet and being back in the car — especially in the colder months. (Plus, showing up to some off-grid cowboy tub in a swanky, plush robe just makes you look — and feel — like a true super soaker.)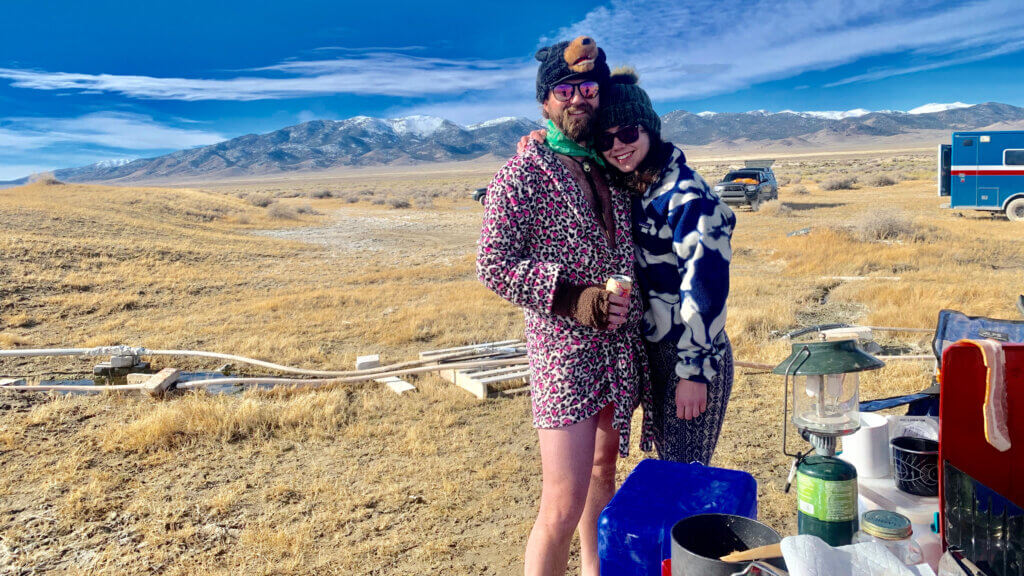 3. Grab the Right Gear
As with any outdoor activity, don't leave home without the proper gear. (Sounds obvious, but you'd be surprised at the kind of stuff we've seen.) At a bare minimum, we'd suggest:
Adventure attire (you don't need to wear anything in the tub, but you never know how much time you may be spending outside of it)
Food for meals and extra snacks (even if you plan on grabbing grub at a restaurant en route)
Water, water & more water (plastic 5-gallon water jugs are cheap and effective)
Headlamps + extra batteries
Spare tire (plus the tools and knowledge required to change it)
Brush up on packing tips and other backcountry wisdom with Nevada's trusty Dirt Road Code.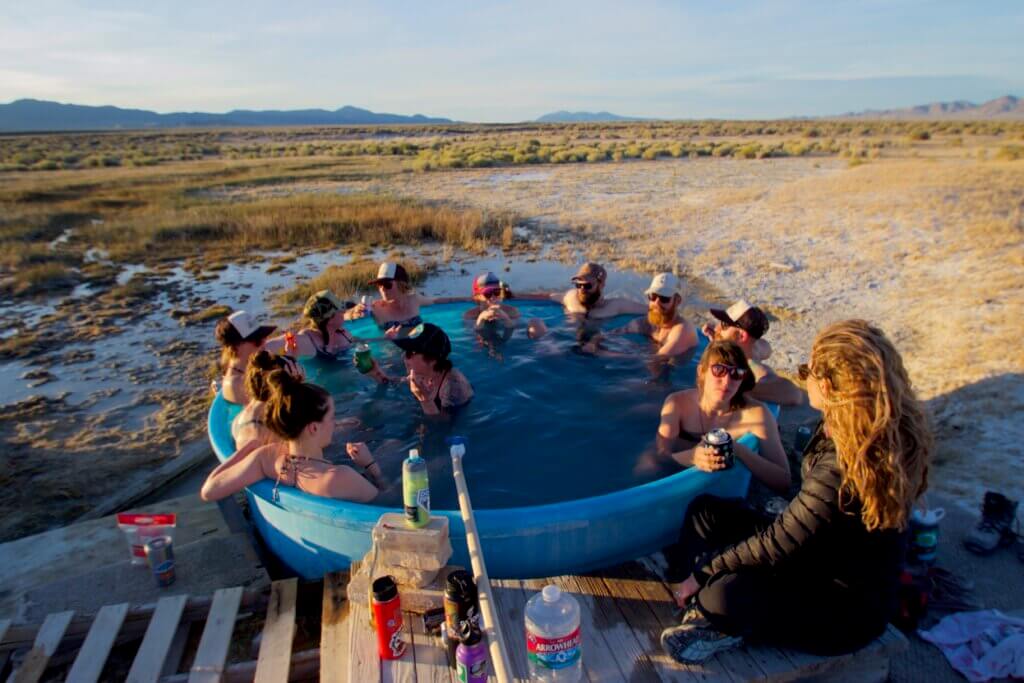 4. Live by the Buddy System
Heading out for the weekend? It's always a good idea to bring friends along with you — for safety, but also for company — when you're exploring the unknown.
That said, sometimes solo sojourns are just what your soul is seeking. In that case, just be sure to let a friend or family member know:
Your primary destination
The closest town or community to where you're going
Your Plan B adventure, if things don't work out — which is always a good thing to have, too. (Also, don't forget to message them back and let them know you're home safe!)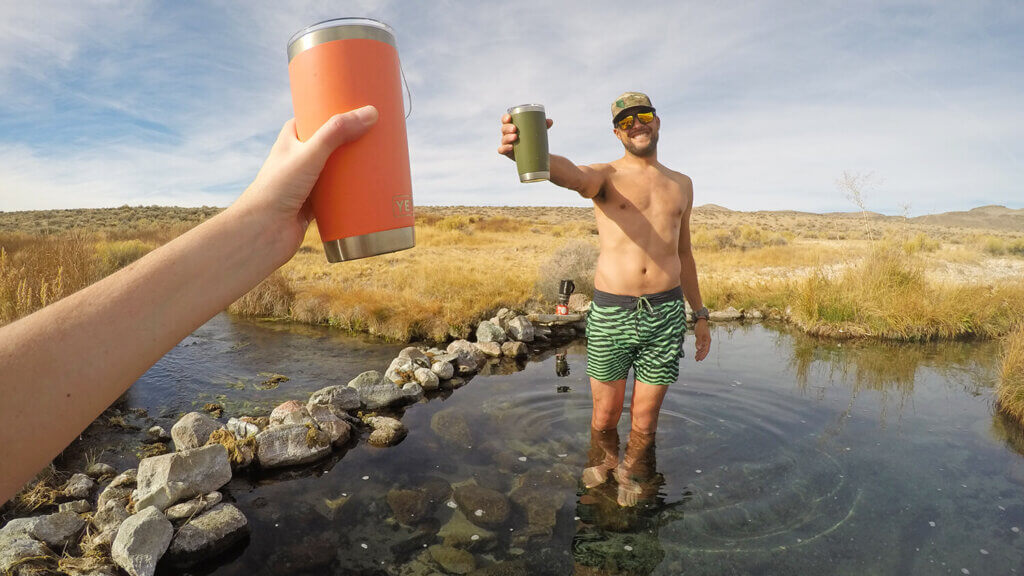 5. Think Before You Dip
Many classic Nevada soaks are in a hand-dug pool, old bathtub, or even cattle trough with water piped into it from a much hotter source nearby. Things can change fast out here, including thermal activity, so always check the temperature before hopping in.
A hot tub thermometer or an instant-read temperature gun are handy tools to have, as well as the knowledge of exactly what temperature you're comfortable with. [Hint: Maximum temps at hotels are generally 104.5°F — and your body actually starts getting colder in anything less than 98°F.]
We recommend keeping your head above water, too, as these geothermal soak sources are also enjoyed by wildlife (microscopic and otherwise). If you do decide to dunk, pinching your nose shut is the go-to move.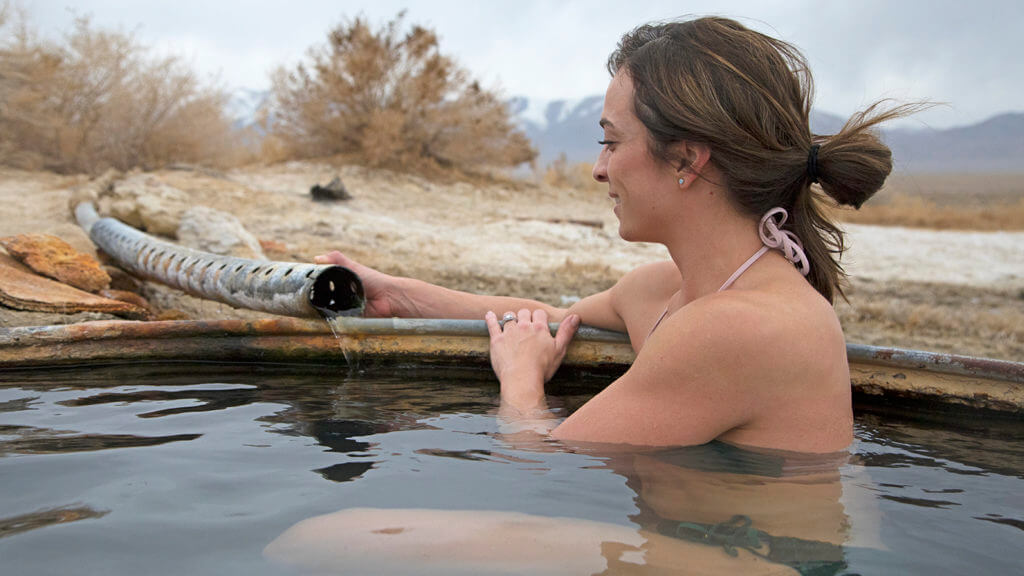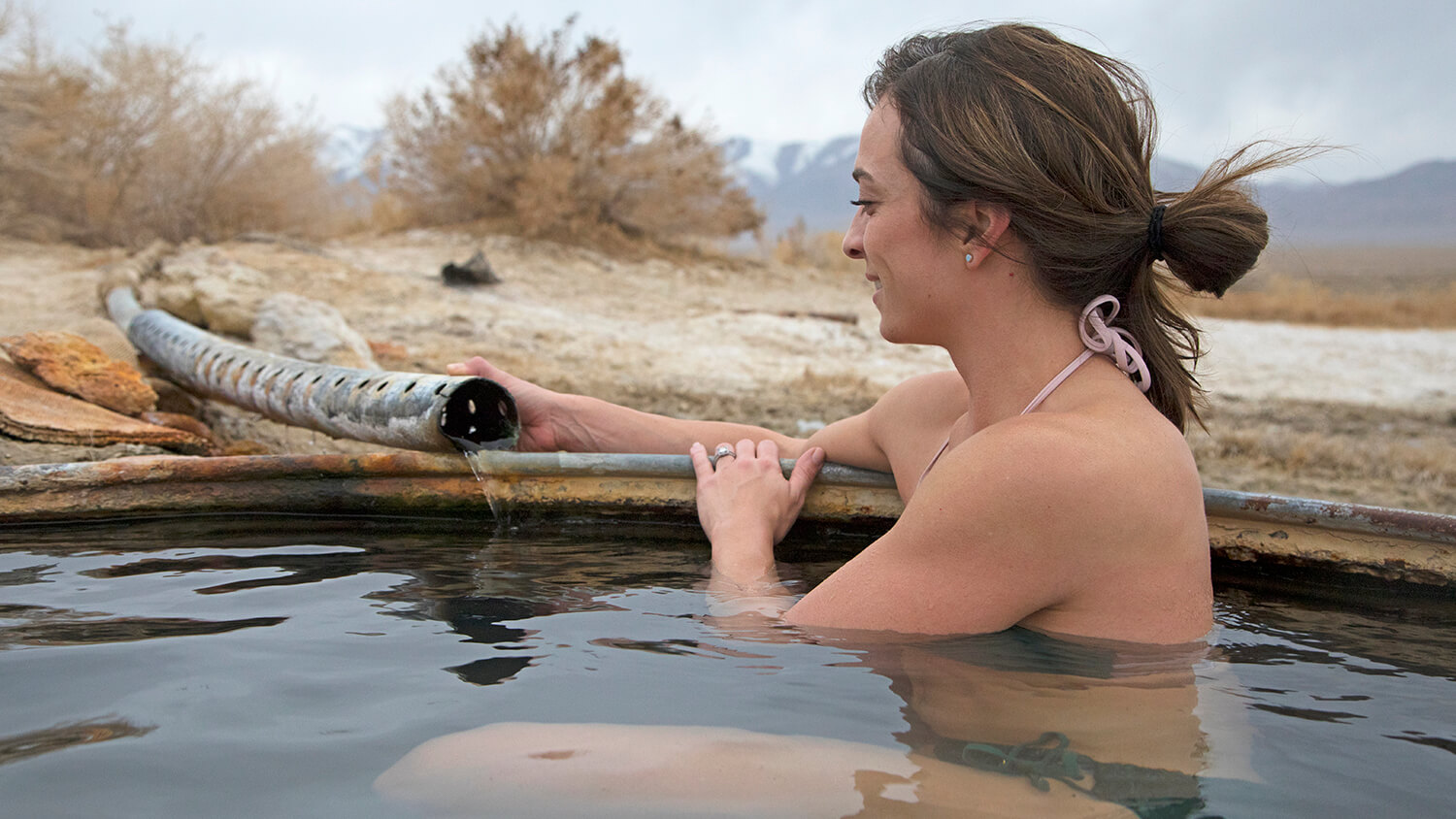 6. Prime It for the Next Soakers
If there's a valve to control flow (or even just a pipe to reposition), be sure to leave a little bit of water trickling into the tub when you leave — NOT full flow. While it doesn't usually take long to heat a cold tub up, it can take hours (or even days) to cool a scalding hot tub down.
Meanwhile, in colder months — just like your sink at home — a small trickle prevents pipes from freezing.
Also, with potentially extremely hot pools often nearby, be sure to keep close eyes on your pups (and/or adventure cats) — especially if you're camping overnight. Emergency veterinarians are hard to come by in the backcountry.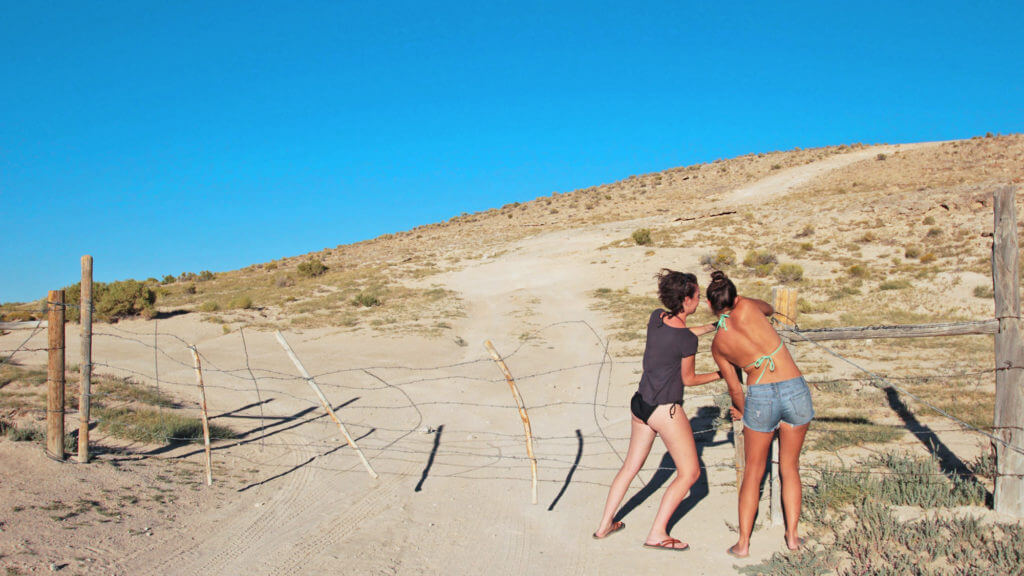 7. Leave Gates How You Found Them
Being a good steward is what hot springing is all about. There are phenomenal hot springs on private land, and many Nevada ranchers and landowners let people enjoy them — as long as they don't trash them.
If the gate on the road is open, leave it open.
If you found the gate closed, close the gate once you've passed through.
And obviously, anything you pack in, always pack it out. In fact, bring extra trash bags, just in case someone before you wasn't as awesome as you are going to be.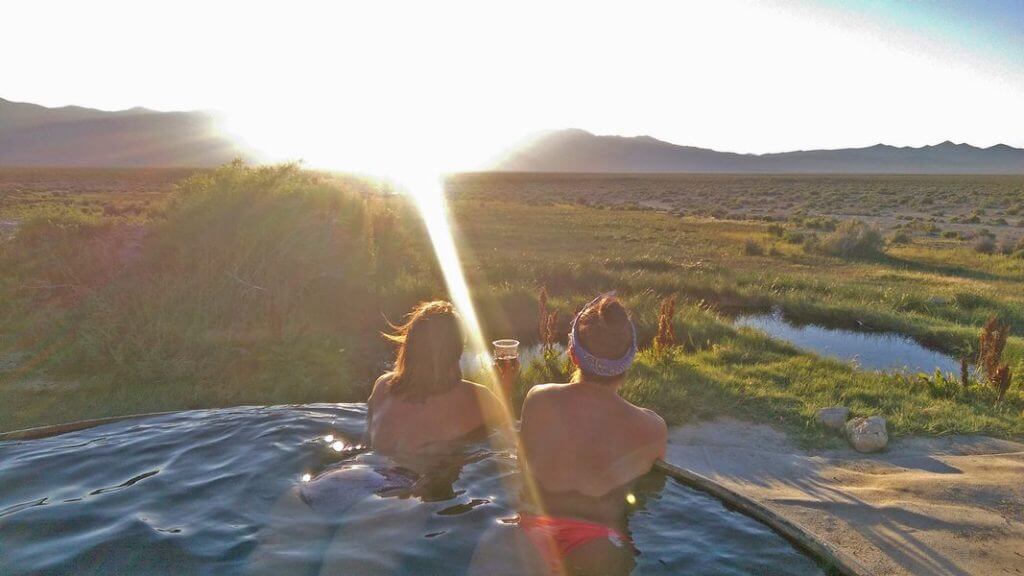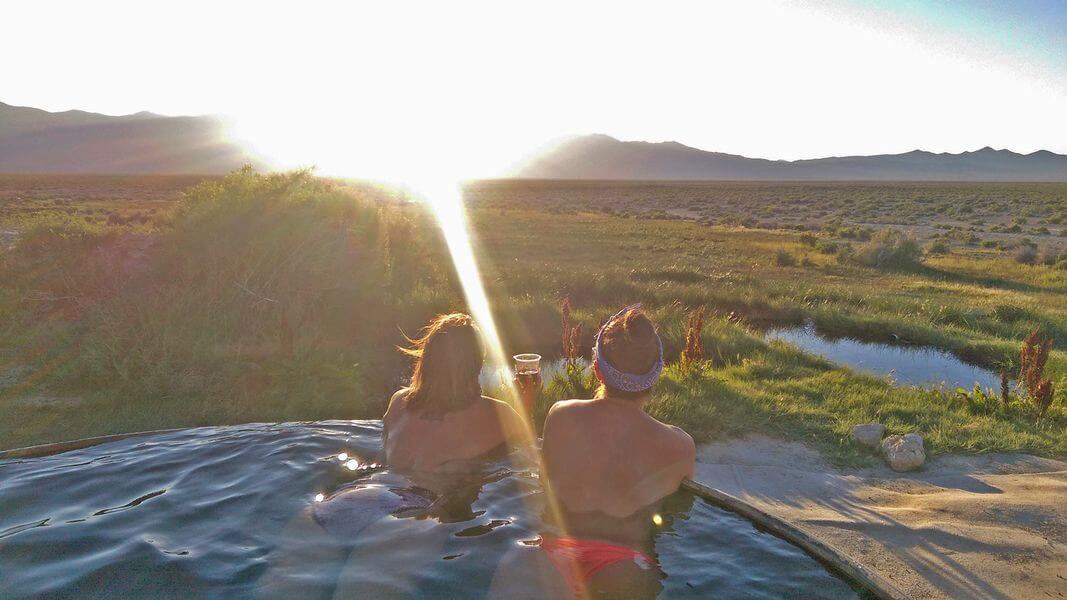 8. What Dress Code?
It's normal to rock up to a spring and find everyone in suits — of the swim or birthday variety. While there is no set rule, respect and courtesy go a long way.
Don't worry; if you find a tub full of bare-it-all bathers, no one will make you "follow suit."
But likewise, if you show up "underdressed" to a tops-and/or-bottoms convention, gauge the group. If they know this scene, they should be 1000% OK with you strippin' down; that's how it's always been for millennia.
That said, in the age of social media, there's now a decent chance that they very well may not. Thus, it's fair to ask politely — or at least to slip in discreetly.
Regardless of the situation: As in the rest of life, just don't be a weirdo and the good times should flow for everyone.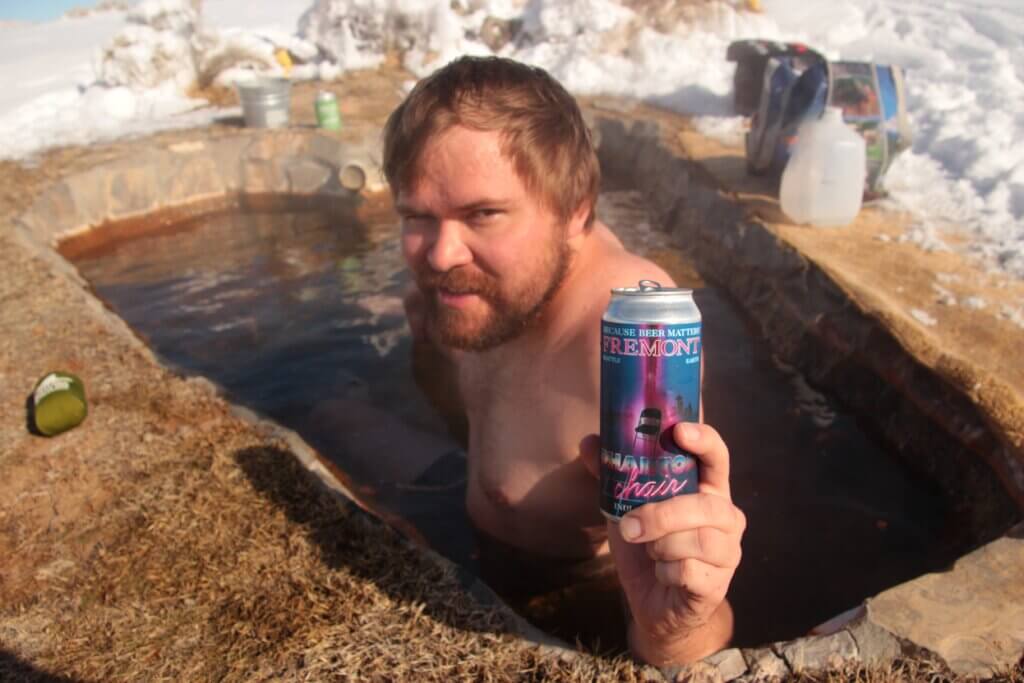 9. Don't be a GLASS-HOLE
A sip when you dip is one of life's true joys, but keep it to cans, camp cups, and other unbreakable vessels, only.
Really, though. Do we actually have to spell this one out? Don't be that person. Seriously. That person thinks they're different. Then screws it up. And ruins it for everyone by getting that place closed. And sucks forever. We don't like that person. No one else does, either. Not worth it.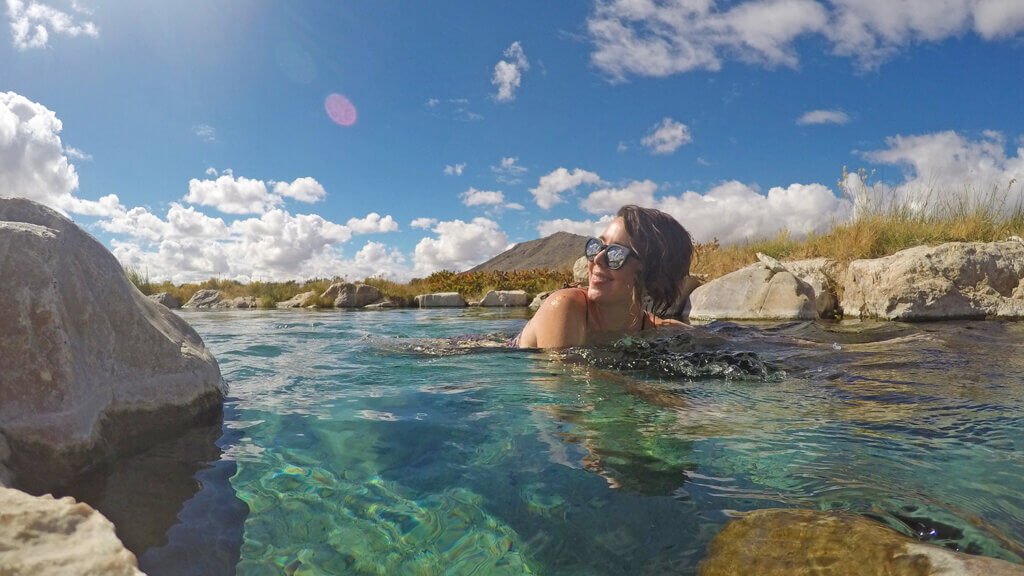 10. …Or a GEO-BAG!
So! You found a sweet soak and want to show it of to all your friends (or followers) … If you must post the shot, go for it. You earned it. And clearly, before doing so, you studied your etiquette.
Just be sure you DO NOT GEOTAG IT.
Too many internet / social media-blasted spots have ended up overrun, trashed, and closed down.
For the Record: Out of 300+ hot springs we know of, we will only ever allude to a small handful on public land that local communities also promote.
The big point is: Do your part and don't ruin it for everyone.
Happy Soaking!
Get Inspired
Related Stories