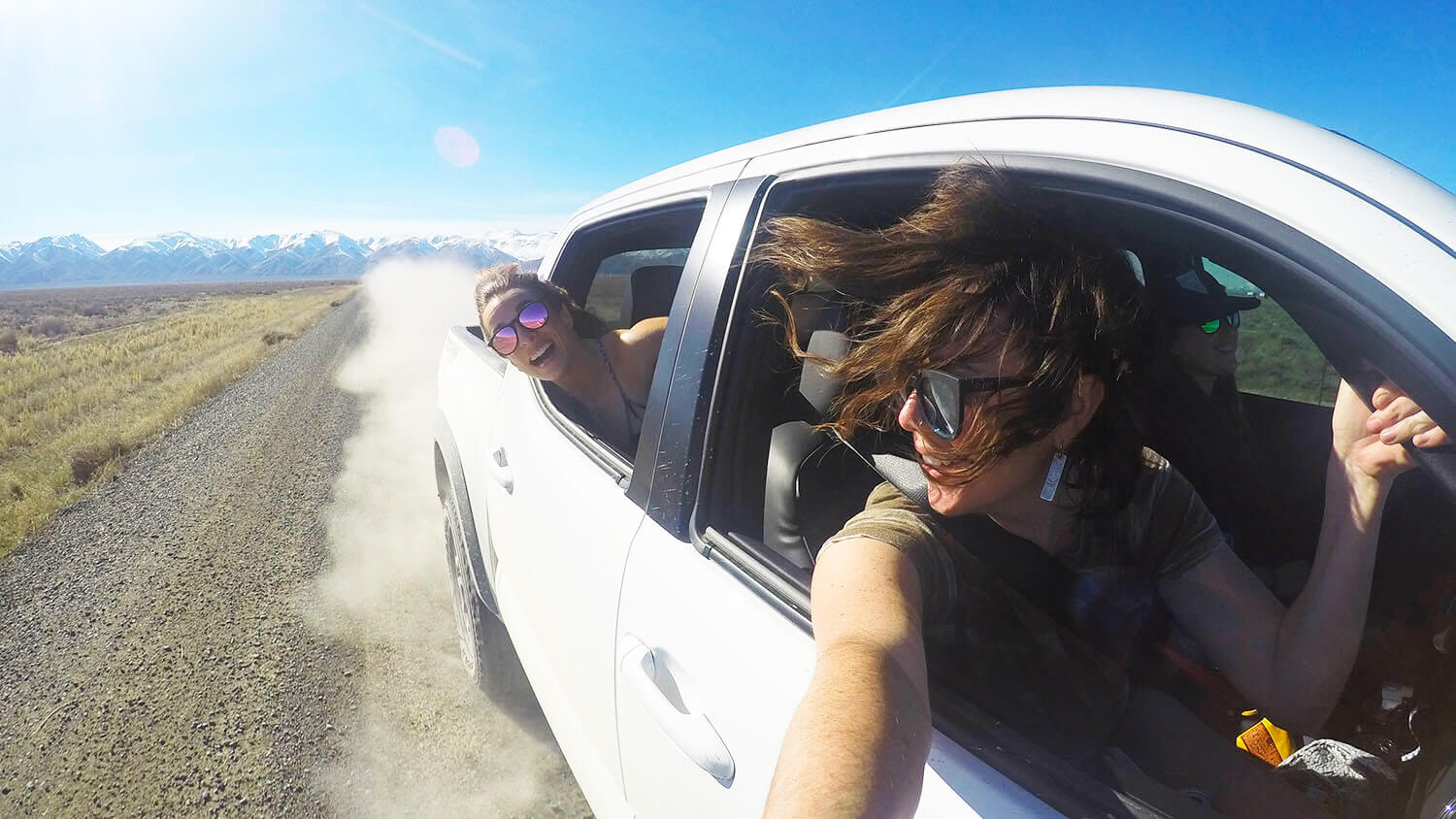 BEYOND THE ASPHALT: 19 Ways To Live By The Dirt Road Code
That feeling. You know… the one that takes over the second your tires drop off the pavement and grab onto a good dirt road. It's called freedom, baby, and there sure is a whole helluva lot of it calling you from those hundreds of miles of pristine Nevada backroads. That said, once some adventurers have Reno or Vegas in the rearview, we get it: backcountry Nevada can seem intimidating. That horizon-chasing basin and range geography sure feels endless. But for seasoned Nevada road trippers, there's no greater place to be.
Not yet one of those? Even if you're a metro-dweller who rarely ventures beyond a decent WiFi signal, we've got you. In fact, follow our tips and, before you know it, you'll be an ol' pro at navigating our peaks and valleys, following the dirt to petroglyphs and Sagebrush Saloons, a hot spring or #NVGhostTown or three, and everything else that lies within. So read on, get comfortable dippin' a tire or two into Nevada's off-grid bliss, and get ready to discover exactly what dirtbag dreams are made of.
Travel Nevada Pro Tip
Goin' out for a rip? Our partners at Off-Road Nevad—an all-star team of federal, state, and local agencies, nonprofits, and dozens of communities—offers a one-stop shop for maps, KML/KMZ files, rules and regs, and other great info on 82 OHV trail systems and thousands of routes in every corner of the state. View an interactive map and get the dirt on your next off-road adventure at
OHV.NV.GOV/TRAILS
.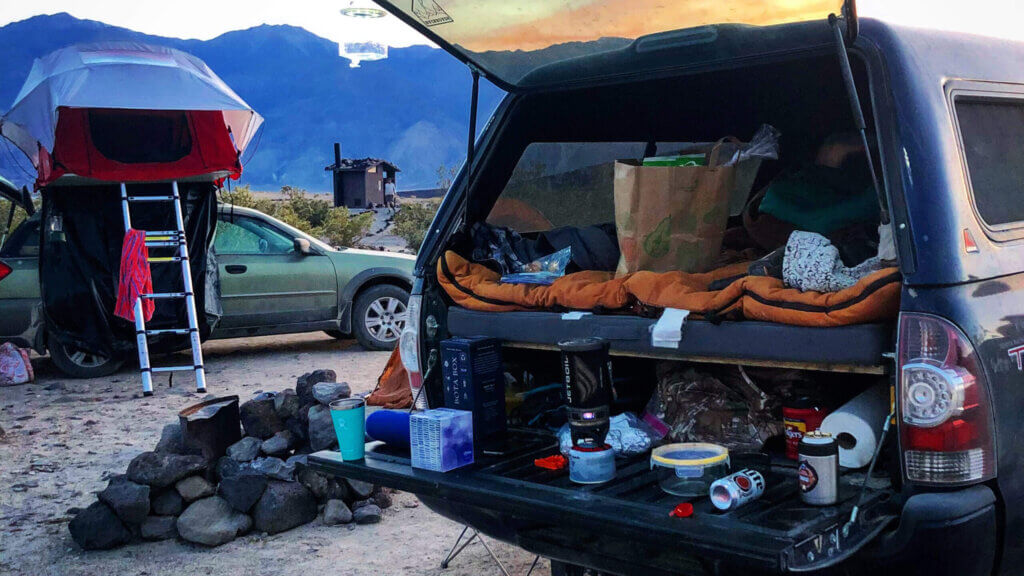 1. Get your pack list dialed, then stick to it for good
Travel Nevada Pro Tip
Once you've got your gear list finalized, pick up a medium sized Rubbermaid-style bin from the store, pack your goods inside, and leave this thing locked and loaded in your trunk. Keep it stocked and, when not traveling, don't ever take anything out of it unless you need it for another trip… that way, you'll automatically be ready the next instant you wanna peel outta town.
Getting prepped and ready to roll out into rural Nevada for the very first time can sometimes feel like a mission to the moon. You're headed into some deliciously remote countryside that's sure to unlock an echelon of freedom you may not know exists, but it also means this: if you don't bring something, you'll most likely have to live without it for the next few days. (Not many Walmarts or REIs out there in Austin or Tonopah, guys.) But once you've got your pack list dialed in, the whole adventuring into Nevada's backcountry thing can steadily operate on good ol' autopilot for awhile. Only you know what you need to be comfortable on the road, but here are some tried-and-true items to make your pack list foolproof:
Headlamp, flashlight, and maybe even a solar lantern or two
Jetboil or campstove and (the correctly corresponding) fuel
Lighter
Camp chairs
Somewhere to sleep, whether that be a tent, or a setup somewhere inside your rig
Towels (Bonus points: bring bathrobes, too)
Camp cook set—backpacking bowls/cups/utensils make for easy packing
Sunscreen and insect repellant
Garbage bags
Cooler
Binoculars and Camera
Deck of cards and dice
Tow strap
Jumper cables, and jump pack if you've got it
Tire patch kit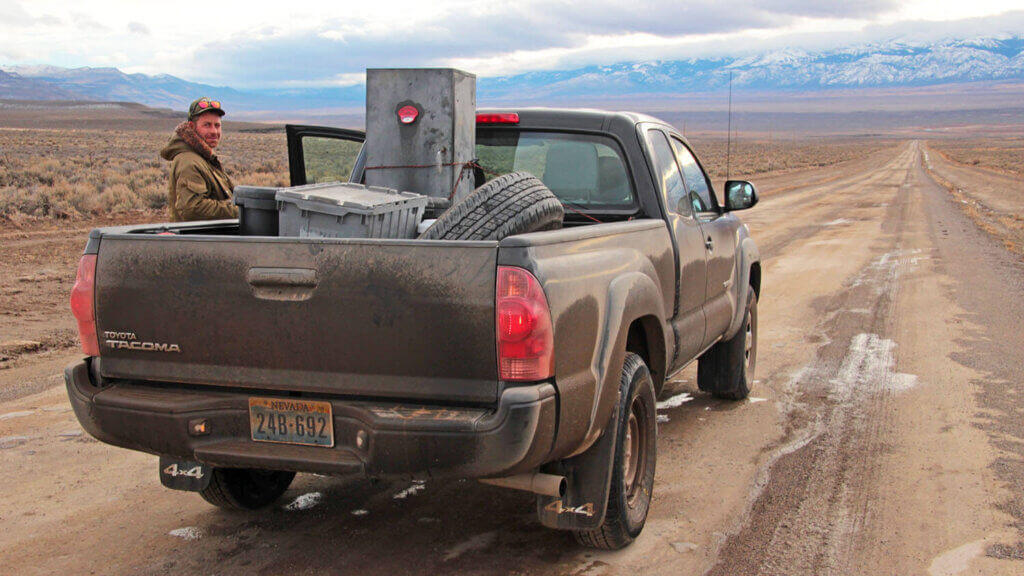 2. Experienced backroader? Bring a shovel & air compressor for extra peace of mind
Everything spelled out on that list up there is pretty crucial to being comfortable and enjoying your time away from home, and safely to boot. But if you're looking to travel those backroads with a true "if it hits the fan, we're covered" mindset, then toss in a shovel and air compressor, too. Most times, you'll never need either, but if you or one of your caravan buddies gets into a jam, you're already in the best position. If you don't end up needing them to dig your way out of a situation or fill up a low tire, chances are you'll still end up using the shovel. Whether you need it to make yourself unstuck, show some love to a natural hot spring, tend to a fire, or even use as a flagpole for your camp, it's a pretty easy and minimal-space item that will make your trip better any way you cut it.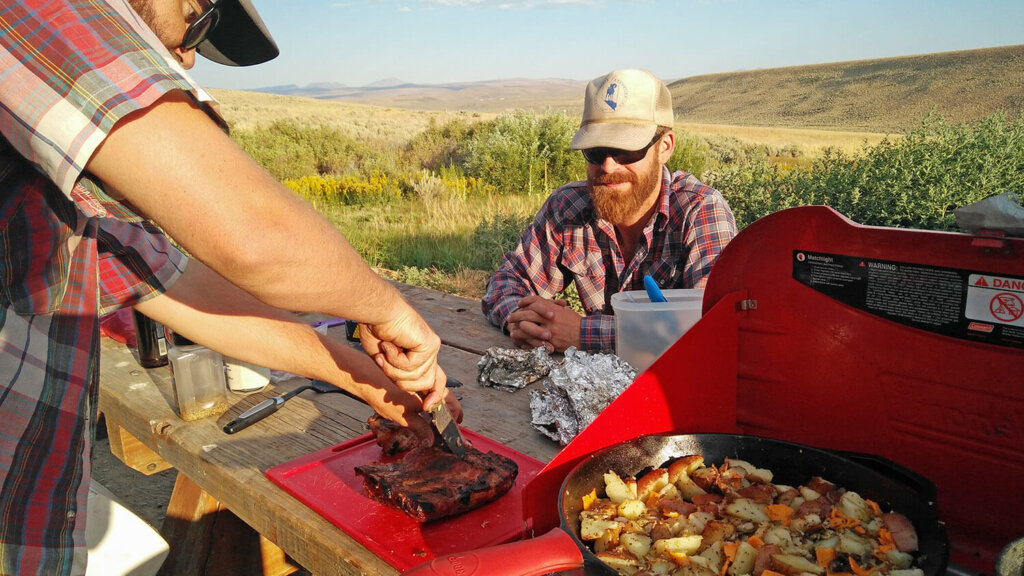 3. Don't forget food & water, either
The craziest myth about traveling to remote areas in Nevada or camping in general is this: you are stuck with crap, readymade food. Once you can get past this straight-up ridiculousness and realize that, whether you're cooking in your house or in a room without a roof, the tools are the same and the food will taste at least as good (if not better), it will change your life in ways you didn't see coming. With just a teensy bit of prep, you can be sittin' (and eatin') pretty out there—king of your camp, not another person for 100 miles, chompin' on perfectly grilled steaks and veggies.
Plan out what you want to eat on the road, dial in some of the marinades and spices, minimize on the packaging and garbage by compiling into reusable containers, and hit the road. We can promise you this: that jet boiled au jus for your French Dip, or perfectly smoked rack of ribs seriously can't taste better than being served from your camp table or tailgate. And don't forget to pack water! Most people need about a liter of drinking water per day, but be sure to grab more if you need it to bathe or cook with. Best bet? Get a multi-gallon water jug and fill it at home. Packing tons of good groceries not only makes your time in rural Nevada feel better, but if you get into a jam, you know you're set to wait it out if you need to.
4. Always carry a paper map or atlas… Always
The fact of the matter is, knowing how to read and navigate by paper map or atlas is just purely satisfying, but also a more legitimately reliable way of traveling through Nevada. For one, you're not relying on cell service in order to get you from A to B, but navigating through the state by good ol' fashioned paper map means that you'll be in touch with the entire route (not just what's right ahead of you), not to mention side roads worth exploring, ghost towns, maybe even a hot spring or two, and a whole new Nevada you never knew existed.
Benchmark Maps are our preferred fav, and while you're at it, just spring for the $25 atlas. It's a good item to keep tucked in your gearbox, sure to unlock a level of contentment tenfold.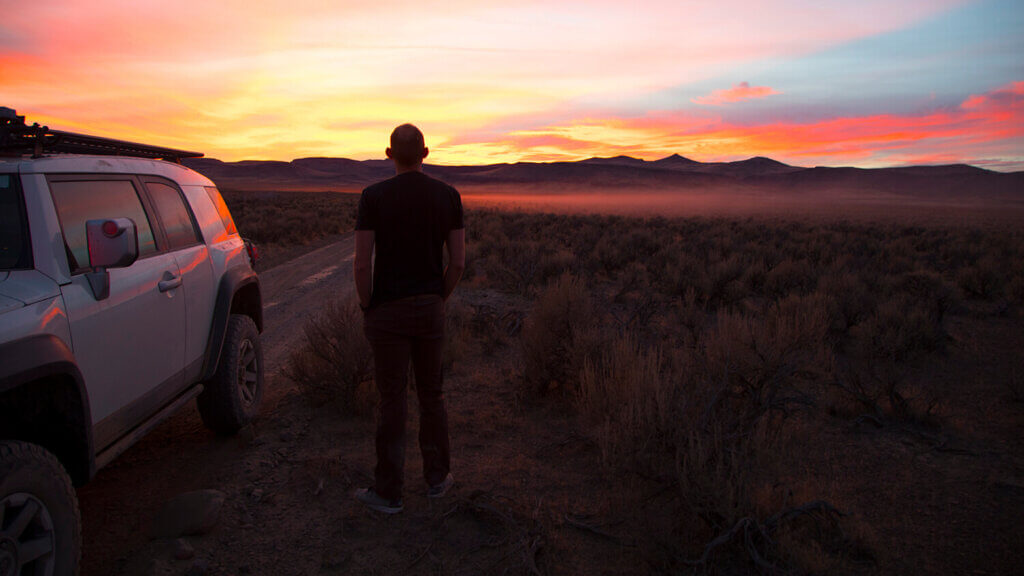 5. Know the Cell Signal Situation before you hit the road
It's hard to imagine not being completely devoted to and fully dependent upon those little pocket sized computers… in fact, this is probably what most people would rank as their "must pack" item. (I mean, how did we ever even get by without cell phones?) BUT, aren't most people looking to get into some remote countryside searching for a badass reset? The good news is this: if you've got AT&T, chances are most of your trip will be without cell coverage beyond Reno, Elko, and Vegas.
Verizon tends to have more far reaching coverage throughout the state, but the point is this: travel smartly, and be certain you can hang out there without phoning in the rescue committee. Plus, pro dirt road traveler or not, it's probably wise to let someone know where you're headed and when you'll be back. It may seem a little scary to be without cell coverage at first, but by the time you rip that bandaid off for the second or third time, it will be the sort of solitude you didn't realize you were missing out on.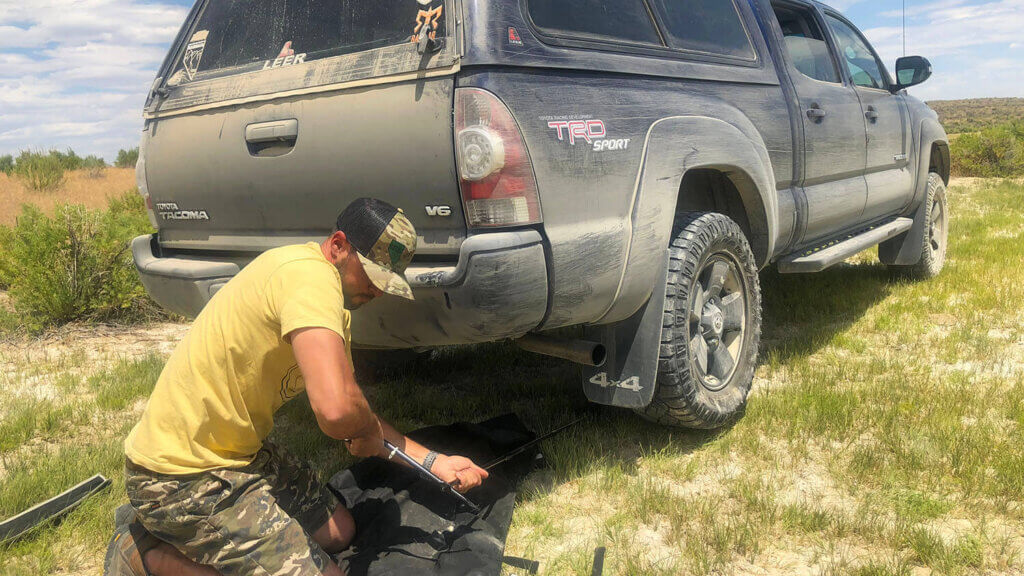 6. Be sure you're rolling out with "good tires" and a full size spare… and know how to change a flat
You always hit that damned nail or pointy rock when you least expect it, right? Through gritted teeth, right. A flat tire never comes at a convenient time. That being said, a serious majority of Nevada backroads aren't the cut-up, rutted-out 4×4 tracks you might be imagining, but instead, are glorious dirt-ified expressways where you can fly down the valley at 60 mph with zero problems. But once in a blue moon, no matter if you're rolling with 9-ply tires or not, it just happens.
You've spent all day driving down dry riverbeds in a truly sketchy situation, then turn off onto a regular dirt road and bam. You hit a nail or sharp object and are down for the count. Comes with the territory, right? Trust us, we don't even want to put the fact that you may have to change a flat tire out into the universe, but you'd better be safe than sorry guys. High clearance is always recommended but not mandatory. Tires on the other hand, are. Make sure that you've got some good solid tread on those babies, carry a full size spare, and if it really hits the fan, make sure you've got the tools and knowhow to swap out a flat.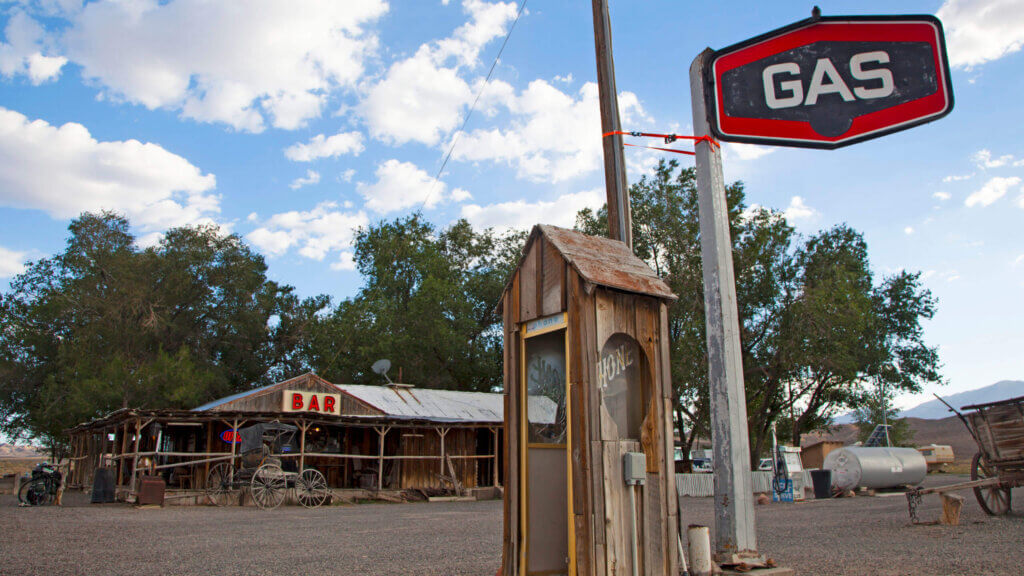 7. Top off before peeling outta town, and be sure to carry extra fuel
Some of Nevada's most spectacular countryside just so happens to be some of the more isolated areas in the lower 48—we're lookin' at you, Sheldon and Jarbidge. But hey, even if you AREN'T aiming to get super deep into the Nevada outback, we weren't exactly dubbed the Loneliest Road in America by accident, guys. Though there are certainly plenty of gas stations along the #NVRoadTrip you're setting out on, the fact of the matter is this: they're definitely spread out and you may not realize what you're seeing in front of you is the last place to gas up for like, 100 miles (or more.)
That, or it's not uncommon to roll up to a place selling gas, only to find out, they did sell it… 20 years ago. Or they do currently sell it, but it's $5.00 per gallon. As a good rule of thumb, top off your tank before peeling outta town, and maybe even carry a couple extra gallons or so, just in case. If you don't end up needing it, wouldn't you rather hit the road as prepared as possible? 'Cause honestly, who cares if you come back with extra fuel in your tank for the work week. Besides, isn't this really starting to feel like a true adventure you're about to embark on?
8. Pack your down puffy, bathing suit, and everything in between, 'cause Nevada
We wish we were kidding—really, we do—but when it comes to packing the right get-up for exploring Nevada's lesser known places, you kinda just have to bring a little bit of everything and it just is what it is. But hey, the positive in that is this: a freak blizzard, sun-scorcher, white squall, and damn near everything in between could go down and you'll be ready to rock. The best part? Sometimes the outfits you'll don out there will be a slick combo of the two, like a down jacket, bikini, and mukluks. It gets the job done, you're comfortable, and most importantly ready for Nevada's high and low desert curveballs. You know what we say around these parts: You don't like the weather? Wait 15 minutes. (Yep, we're one of those places.) But if you've got those layers on lock, ain't nothin' going to stop you now.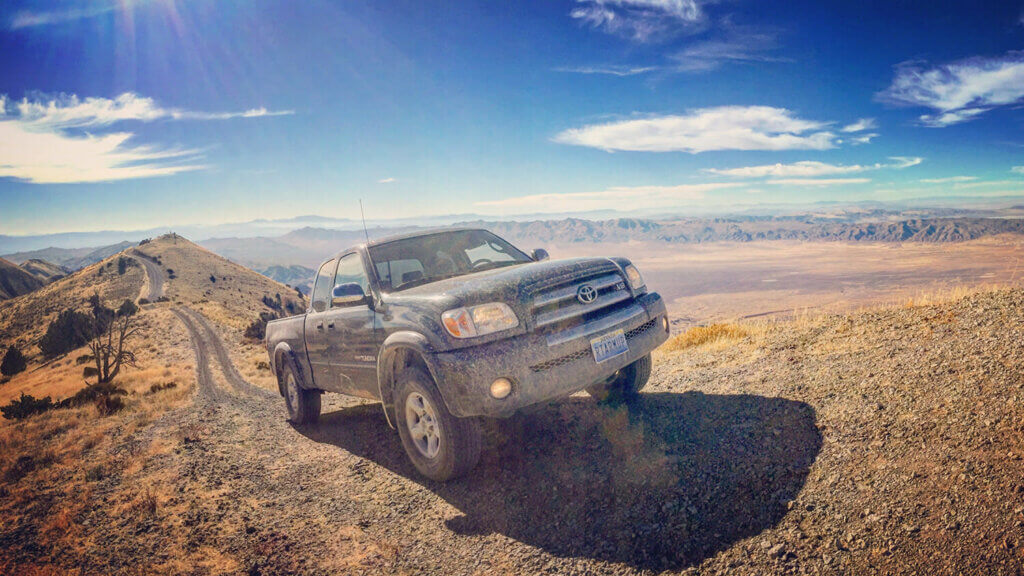 9. In The True Spirit Of Adventure, Sometimes The Best Roads Aren't Really Even Roads
You know that Benchmark you've got in tow? Whip that baby out, and get to looking for a Nevada Ghost Town or two you wanna hone in on. Some of the best in the state certainly don't have a paved path leading to them, which is a good thing, right? They're preserved by proximity, and now that you've got your gear and transportation dialed in, what's truly stopping you? Holy wow, what a liberating feeling—being able to really get out to do and see these things, not to mention FOMO-fying those Insta feeds. From Delamar, to Belmont, Tuscarora, Hamilton and Treasure City, sometimes the best way to access isn't the easiest, but far exceeds in satisfaction. Take the fork. Roam. Oh what a feeling, discovering some things out there that maybe aren't even spelled out on your map.
In love with the Silver State as much as we are? Learn what you can do to help us keep the places we cherish special—and open—for us and future generations.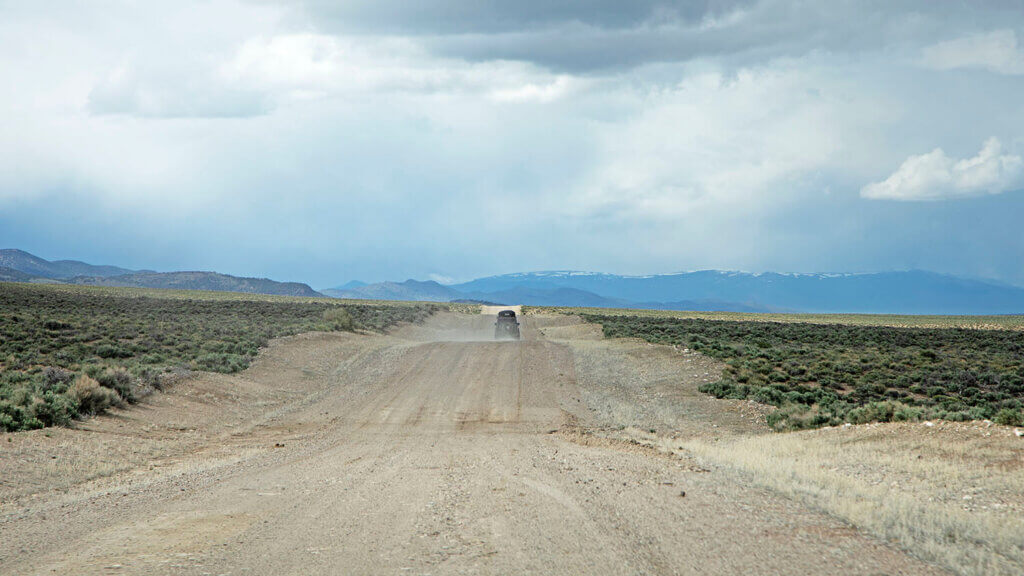 10. Keep your distance between cars
Who here enjoys being tailed? Or likes broken windows? Good, then it's settled. We're dropping into Off-Grid Nevada as the ultimate rat race refuge, and there ain't no time—or reason—for either of these things. If you're caravanning with a crew of friends, there's pretty much zero to no chance you're going to lose them. Go ahead, let 'em drift up there ahead of you a half mile or more… there's likely not going to be ANY traffic, and even if you pass one or two cars in a 70-mile-long valley, you'll still have eyes on them. If you roll up on someone who's out for a Sunday Drive, well then back off and go check out some side road for a bit, or safely pass them. And if you're the Sunday Driver offender, pull over and let whoever's in a hurry behind you get to where they're going.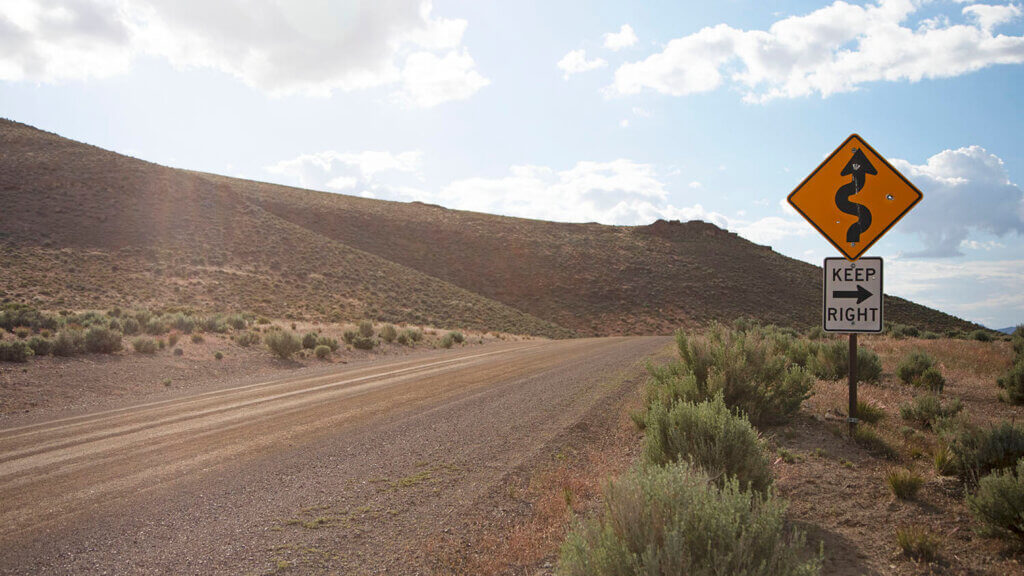 11. Stay to the right, even if it seems like a one-lane road
Driving on dirt roads can sometimes (who are we kidding, ALL the time) feel like this limitless speedway. Between whoops, unexpected turns, and not a whole helluva lot of policing going down, it's super duper fun and one of the reasons that we so seriously champion this experience. BUT! Take it from us, it's easy to get carried away, and that all quickly comes into focus the first time you hit an unexpected turn, lose traction and realize, "well that certainly was a close shave."
Have fun out there to dial in those freedom vibes, but also remember that it's dangerously easy to lose traction out here, and serious turns aren't always marked. Traction control issues out here are real, whether it's a hard turn, or unexpected braking situation. Also, a good rule of thumb is to stay on your side of the road as much as possible, especially when it's a blind turn or you're ascending a blind hill. More often than not, you'll get to the top of that hill and be surprised by another dirt road rambler coming in your direction, and fast—you'll be saying a prayer to the dirt road code, happy you were on your side of the road with enough room to pass each other. (By the way, a horn toot at one of these features is considered a friendly "Hey, I'm here!")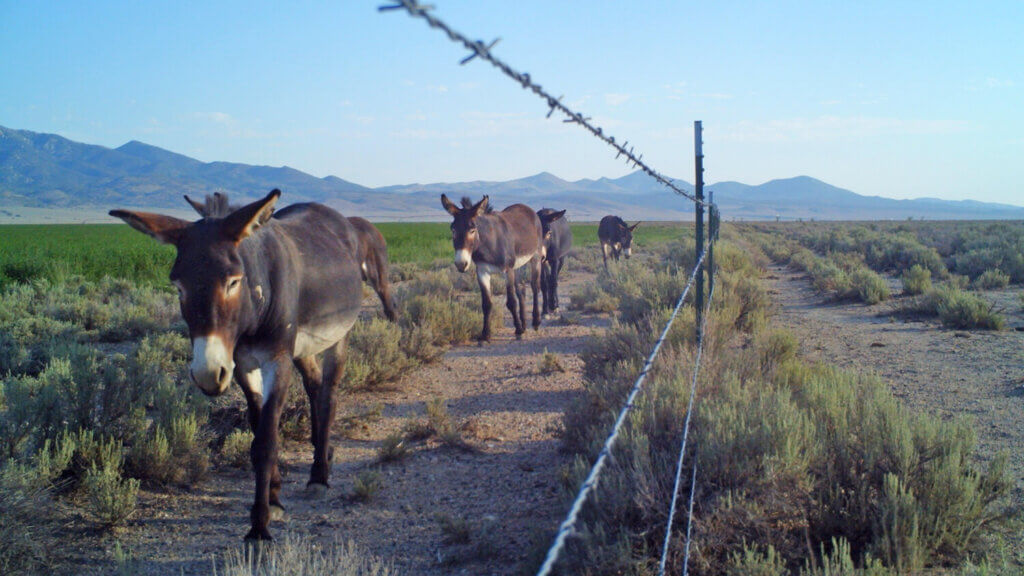 12. Keep your eyes peeled for critters
While we're at it with the whole speed thing, remember this: if you're going so fast you can't avoid running over an animal, you're going too fast. Beyond the asphalt, the fauna ranges from rattlesnakes to rabbits, coyotes, antelope, wild horses, and burros. When you're out here, you're on their turf, especially considering many of these herds are protected and fixtures of the very place you're visiting.
When ripping through the backcountry, be sure to keep an eye out for large birds of prey sitting in the middle of the road, too—though you think they will automatically take flight as you approach, hawks, eagles and other large birds characteristically wont. And of course you've got unfenced, open-range cattle in this neck of Nevada. In this case, we're talking about a rancher's livelihood, if one were to be struck… accident or not. Keep your eye on speed out there, and remember to always try and give more than you take.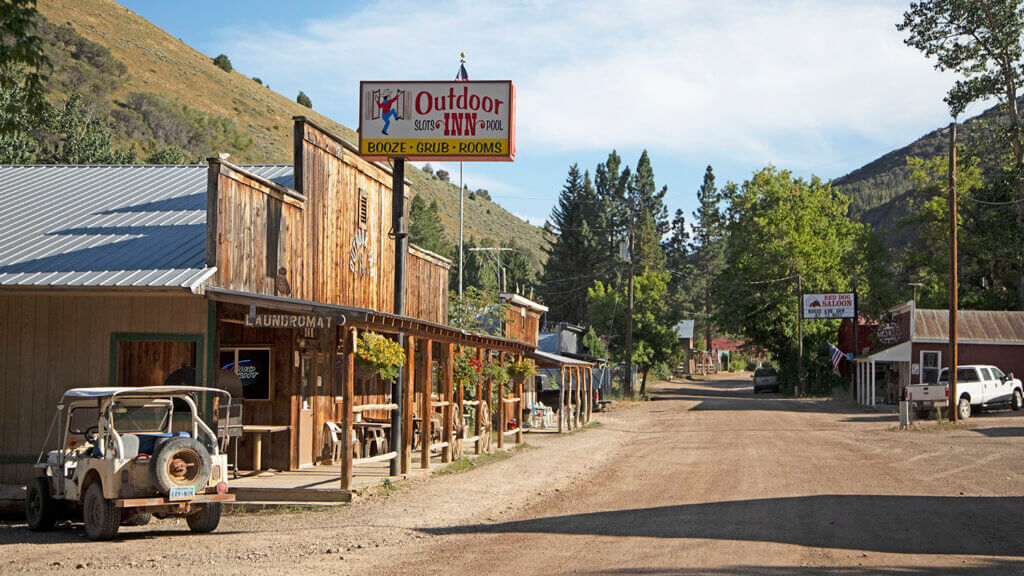 13. When driving through ranches or small communities, slow it down
Drink this one in, no matter the surface of the road your trippin' on. Best road tripping practice maybe of all time is to slow down when you hit civilization, whether it's posted or not. This is totally crucial for many obvious reasons, but when you're dirt road rippin', becomes especially important for the sheer amount of dust your car kicks up when traveling at a rapid rate.
If you're an out-of-towner, the more you slow your roll while you're cruising into a town that's not yours, the more kudos you'll get from the locals. Thanks to your mindful pace, their cars, houses, yards, and faces won't be covered in a thin layer of dust your vehicle kicks up… plus, you'll be extra alert of spunky ranch dogs that may run out to greet you as you pass on by. If you earn a friendly little steering-wheel-wave from an oncoming motorist, you're doing it right.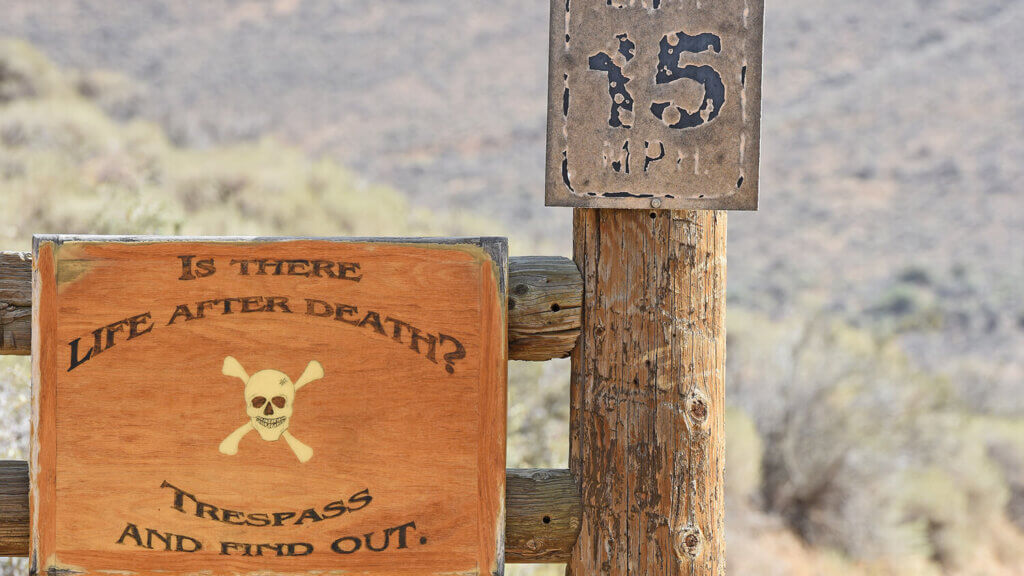 14. Accessing public land, and the power of "No Trespassing"
Nevada is unlike any other place because, quite literally, there aren't a whole lot of fences… the exploring is yours for the taking. And just because you might not always run into a "No Trespassing" or "Private Property" sign, it doesn't mean that's not the case. It's safe to say that no matter where you go, the land you step foot on belongs to someone. Whether that be local ranchers, someone in the nearest town, an American Indian tribe, or it's under the watchful eye of the Bureau of Land Management (BLM) or United States Forest Service and is considered public, either somebody owns it or some kind of agency manages it. Be respectful, and aim to be the kind of guest these places want to welcome back. When you find a place marked "No Trespassing" or "Private Property," head back the way you came, even if you think no one is watching. If you can't find someone to ask permission from, don't trespass.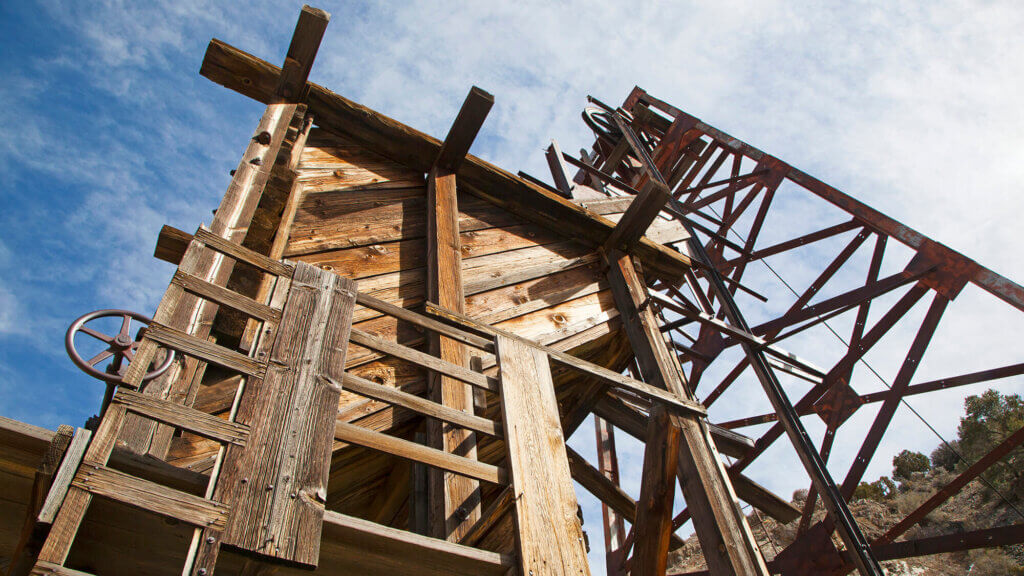 15. Move the Nevada story forward for good
Finders doesn't always mean keepers, guys. Even if you've just discovered the coolest old mining headframe that still has many original parts intact, or the most perfect insulator has fallen from a nearby defunct powerline, or you find a pair of Levis tucked inside an old miner's cabin… the best rule of thumb is this: get pumped that you found such a cool artifact, important to the Silver State story! Grab a few photos, study it, try and imagine who must've used it and what their lives were like. Then? Leave that bad boy right where you found it and move on.
Not only is taking these relics extremely uncool, it's also illegal. And what gets us the most is, wouldn't you want someone else to be able to experience what you just did? Walking off with it automatically denies anyone else from discovering what you just did, all for the sake of it sitting in your front flowerbed or ending up in a garage sale in 20 years. Resist the urge to pillage so the next ghost towner can have the same experience you did, and our American story can keep moving forward.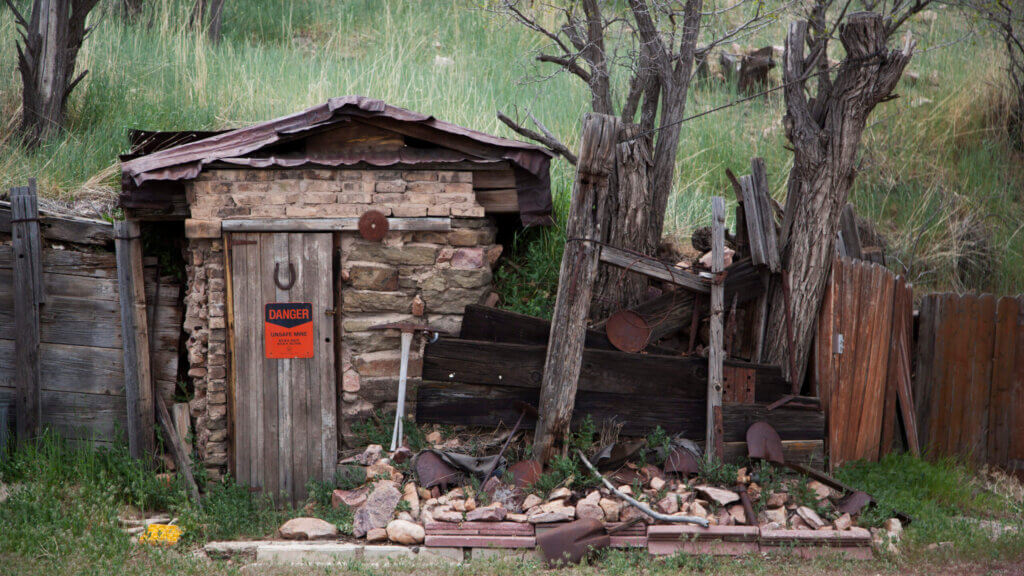 16. Ghost town and abandoned mine features etiquette
We get it. Going just a little further out there tempting, SO TEMPTING! But the fact of the matter is, don't mess around with open and abandoned mine shafts or adits, just don't. We're right there with you, lusting after these rosy, Indiana Jones-inspired adventures, creeping around long forgotten corners to navigate a puzzle of long forgotten tunnels that once hauled millions in gold and silver… maybe a good ghost story or two. The imagination is a powerful place, but the fact of the matter is, unless you've got a date with the Grim Reaper, stay far, far away from abandoned mine shafts.
Though it may not seem like it from afar, they're dangerous. Floorboards break, cave-ins are common, and fatal gasses seep out of these things that don't have an odor or color. Even something as simple as walking on around the entrance to one can stir up enough toxic sediments to kill a person, and has. If you've got the urge, stick to those on the nice list, but don't go a-wanderin' into any old abandoned mine you see.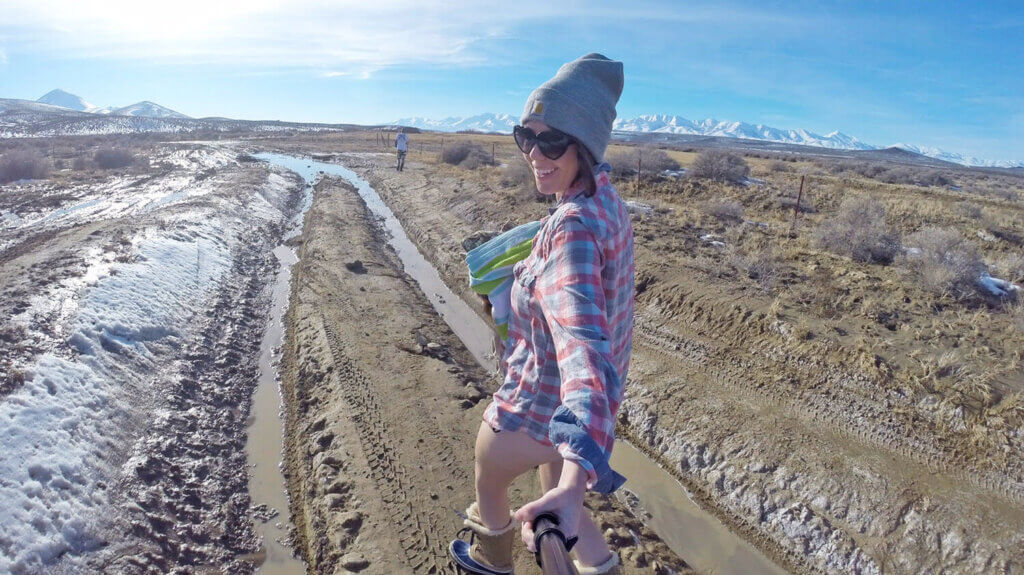 17. Be prepared to hoof it in for the final ascent
If we had a nickel for every time we had to hit the eject button and walk the last 100 yards in… well, then I suppose we'd have about a whole buck about now. It's totally part of the adventure and definitely part of the fun—the whole feeling of not knowing exactly how this whole thing might pan out. Somehow, by the grace of real Nevada backroads magic, it always does. If the roads are rutted or undrivable, don't run the risk of getting your rig stuck AND worsen the condition of the road even more by trying to blast through it and hope for the best. Odds are, if you've been cooped up in the car all day, some fresh air a leg stretch are already what you're needing. That, and could it be more fulfilling hoofin' it in the last teensy bit? Somehow it makes you feel part of it, or like you earned it, and we couldn't be more pumped on that. If push comes to shove, you will be too. (Besides, you packed those mukluks, anyhow, right?)
18. Get somewhere for sunset
'Cause who wants to be driving when it's dark, anyway? Not us! Not when you've got some real face melting sunsets popping off and best damn stargazing in the lower 48. Plus, have you ever tried to find a very specific place in rural Nevada in the dark? Not near any street lights or civilization? Let's just say it's hard, and much more enjoyable during the day. As the sun starts to drop behind those ranges, the desert comes to life in more ways than one, wildlife being one of them. True to high desert zone that Nevada is in, temps plummet quickly, and you'll find it easier and easier to spot wildlife as they come out of refuge, having hidden from the intense sunlight during daylight hours. Besides, we'd much rather see a wild burro take a drink from the hot spring as you're catching the sunset from than during a surprise debut in your headlights.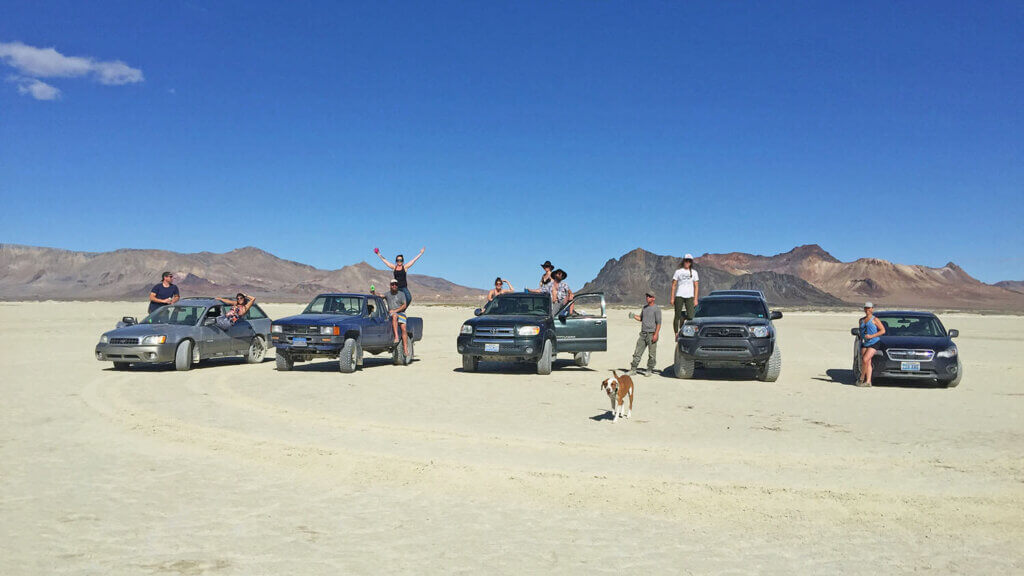 19. The Journey Is the Ride…
Though you've certainly got your sights set on getting into a specific region or place, don't forget the most important thing of all: get into the process as it's unfolding. It's one of those things that's far more easily experienced than explained, guys. As Nevada adventurers, we've grown to regard those driver's and shotgun seats as second homes of sorts—places to nestle into, surrounded with a perfected playlist or podcast, road trip snacks, and some of your fav people to roll with. Last year, I think we spent more nights sleeping in the backs of our trucks than we did in our own beds, and wouldn't have it any other way. Enjoy the in-between process as you navigate from A to B and never forget to let that DFMI flag fly, babes. Lucky for us (and now you), there's no better venue for it than backroad Nevada.
Get Inspired
Related Stories