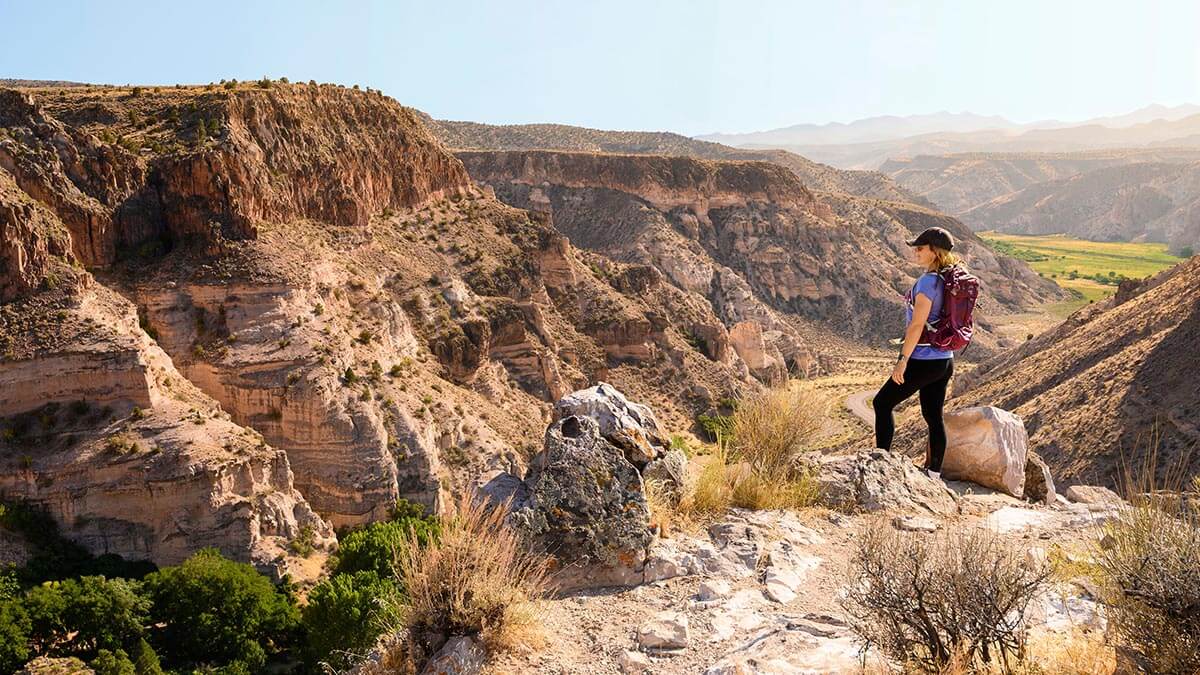 Park-Packed Weekend On The Great Basin Highway
It doesn't get much more out-of-town-for-the-weekend than this wild trip. Marked by stunning contrasts around every bend, this route blasts out of Vegas, winding through wide-open country to several spectacular Nevada state parks and a couple of story-packed, historic Nevada locales.
It's up to you (and what time of year you go) how much you squeeze in. But one thing's for sure: with this little itinerary, you definitely won't run out of the very best options.
Travel Nevada Pro Tip
Pack all the things; this route is replete with opportunities for hiking, biking, camping, stargazing, swimming, fishing, endless photography, and a whole lot more.
Hit the road for several unique parks and small towns teeming with tales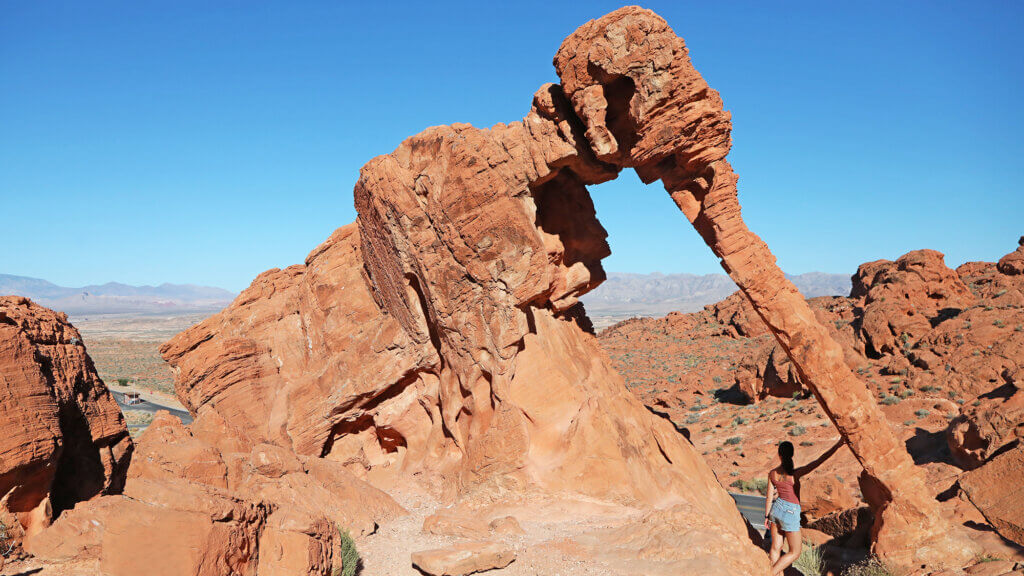 Get Up, And Get On The Road
This trip starts in Las Vegas. Although we all know what "Waking Up In Vegas" can feel like, our advice is: set that alarm. Depending on your choices today, an early start gets you a shot at golden hour in Cathedral Gorge. But we'll get to that. Right now, let's get you rockin'.
If you haven't been to Valley of Fire before, our very first (and very famous) state park is well worth at least a cruise through and a leg-stretcher. Cooler morning temps are perfect for picturesque hiking and wildlife spotting along under-a-mile strolls to petroglyph-etched Atlatl Rock and Mouse's Tank (which also contains a natural rock basin), or more ambitious trails to faves like Elephant Rock and the fabled Fire Wave.
Reward yourself in Overton with breakfast bites to-go from Cablp (Criss Angel's Breakfast Lunch & Pizza) or a milkshake, sundae, or other kind of sweet treat for the road from The Inside Scoop, then pilot your adventure mobile back onto the Great Basin Highway.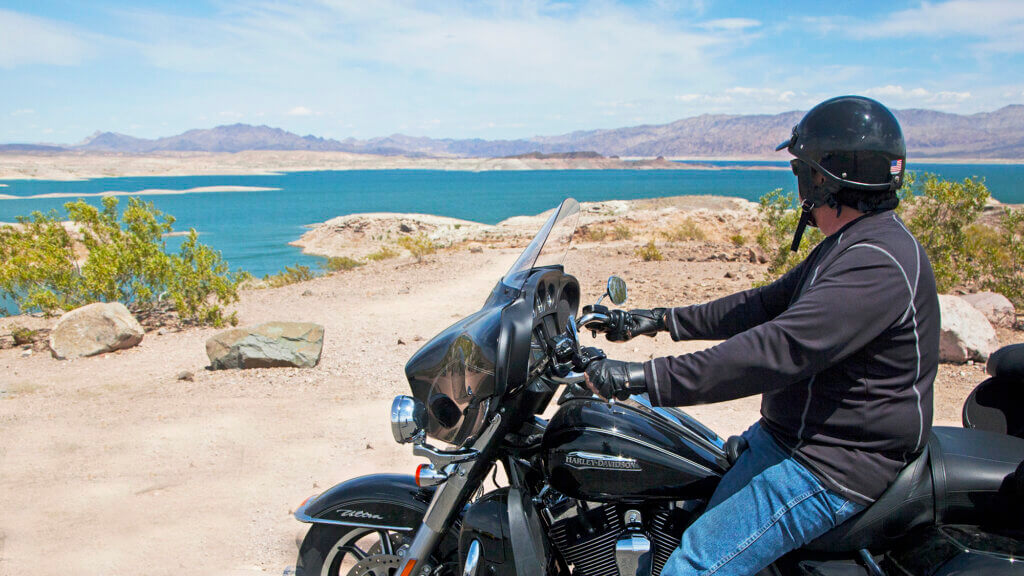 Travel Nevada Pro Tip
Take the scenic route. From Vegas or Henderson, get yourself to state Route 167 – AKA Northshore Road – and cruise past vistas out to Lake Mead, Gold Butte National Monument, and even peaks of Grand Canyon-Parashant National Monument. Keep your eyes peeled for wild horses, and consider a quick dip at Rogers Spring, a literal desert oasis!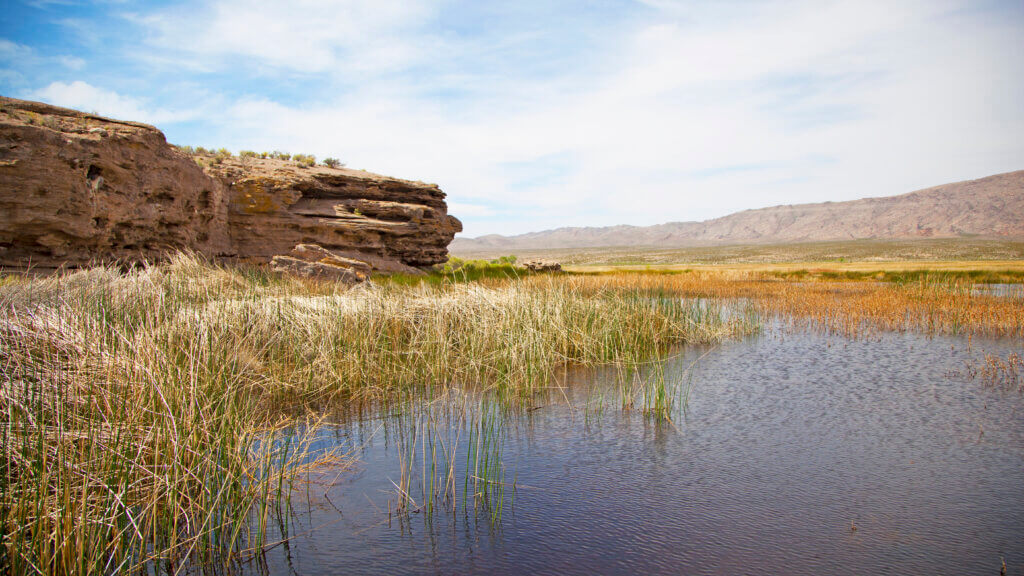 Pahranagat Pitstop
Watch for migratory birds throughout Pahranagat National Wildlife Refuge's stretch of watery grandeur—a major stop along the avian Pacific Flyway—from a vista point or easygoing walking trail. When you hit Alamo, fill up the car (it's one of your last chances for a while) and—if all that bird-nerdin' has got you peckish—also your belly with a burger or some extra crispy wings from Chester's Chicken To Go. If snacks are more your jam, snag some jerky (and pose with some spaced-out cowboy aliens) at Hiko's E.T. Fresh Jerky, which marks the turnoff for another out-of-this-world Nevada road trip, the Extraterrestrial Highway. (Did we just plan your way home? You're welcome!)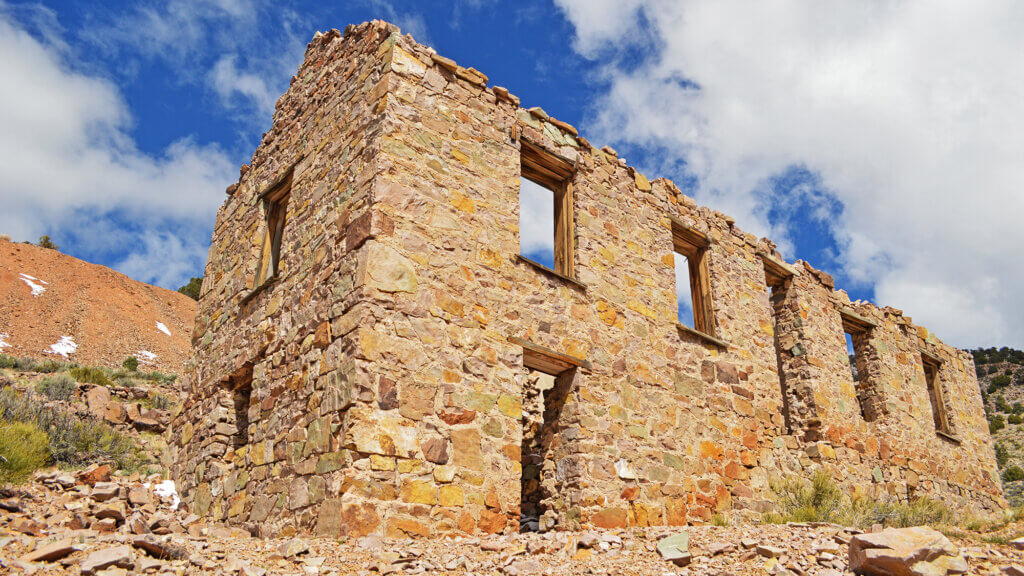 Joshua Trees & Ghost Town Must-Sees
As you head out of Hiko, watch for the "forest" of Joshua Trees, which pickily only poke up in places in a very specific combo of climatic and environmental conditions; lucky for us, this is one of 'em. Ghost town aficionados with high-clearance vehicles owe themselves a detour to Delamar, where a fascinating cluster of mining-era buildings made from a kaleidoscope of colored stones will inspire you to leave a "glowing" review.
Travel Nevada Pro Tip
Ghost Town Detour: History buffs in desert-tested vehicles should make the 13-mile detour off US-93 to investigate dozens of miners' cabins, town buildings, mining structures, and other vestiges of
Delamar's
short-but-very-sweet stint as Nevada's primary ore producer from 1895 to 1900.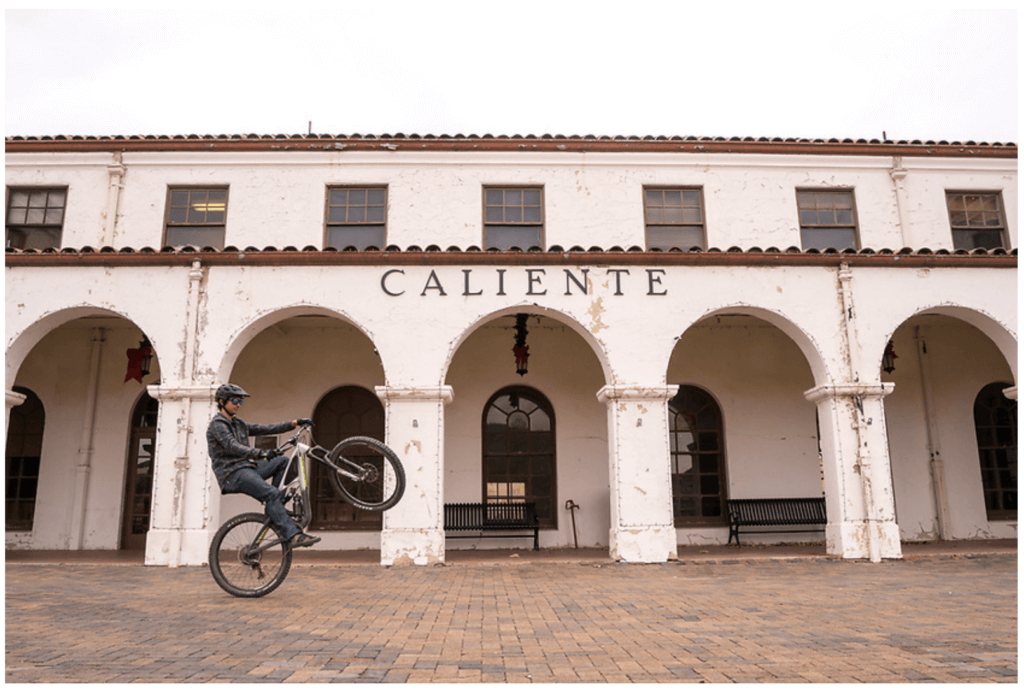 Caliente: Your Hot Ticket To State Park Paradise
Now that you're all warmed up, welcome to Caliente! Dubbed the "City of Roses" for its wild rosebed-lined streets, this former resort town (you can't miss the classic Mission Revival-style railroad depot that proves it) is your petal-powered gateway to miles of fresh-cut mountain bike singletrack and some spectacular scenic wonders. If you arrive early enough, set up shop at your lodging of choice (we love Patty's Motel). But keep your boots on; adventure awaits.
Rainbow Canyon: Color Yourself Impressed
Aptly-named Rainbow Canyon entices rock climbers and shutterbugs, while hikers should head for the lush oasis of Kershaw-Ryan State Park, where short trails reveal long vistas; meanwhile students of frontier history should book it to Elgin Schoolhouse State Historic Site. (Best advice? Visit all three; each is located along that same beautiful byway.)
Travel Nevada Pro Tip
Take the Passport Challenge! The Nevada State Parks Passport booklet can be picked up at any state park. Visitors who have their booklets stamped at 15 different parks will earn a FREE annual pass to all Nevada State Parks.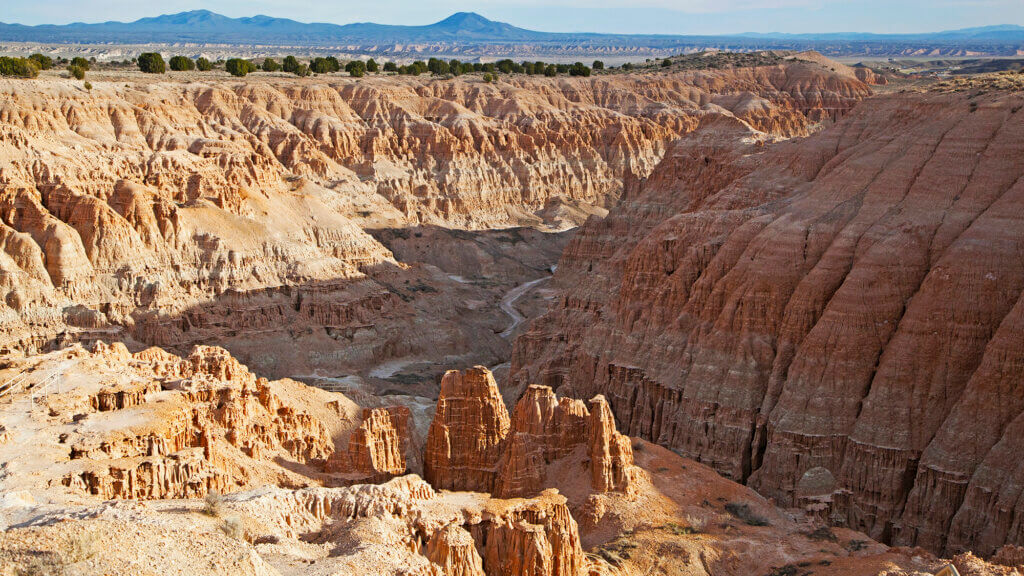 Cathedral Gorge-ous
If you waited until now to check in to your hotel, enjoy your breather, but don't get too cozy just yet. Less than 20 minutes up the road, Cathedral Gorge State Park is your golden hour go-to, where that setting Nevada sun ignites countless hoodoos, spires, and otherworldly formations as you slink through labyrinthine slot canyons or simply take in the top-down view from Miller Point. Either way, not a bad way to end the day.
Travel Nevada Pro Tip
Earn yourself an appetite? For evening eats, beeline it to Side Track Restaurant for juicy burgers, hand-rolled pizza, and tasty cocktails at its accompanying Side Car Speakeasy—both situated in a charming, refurbished historic building.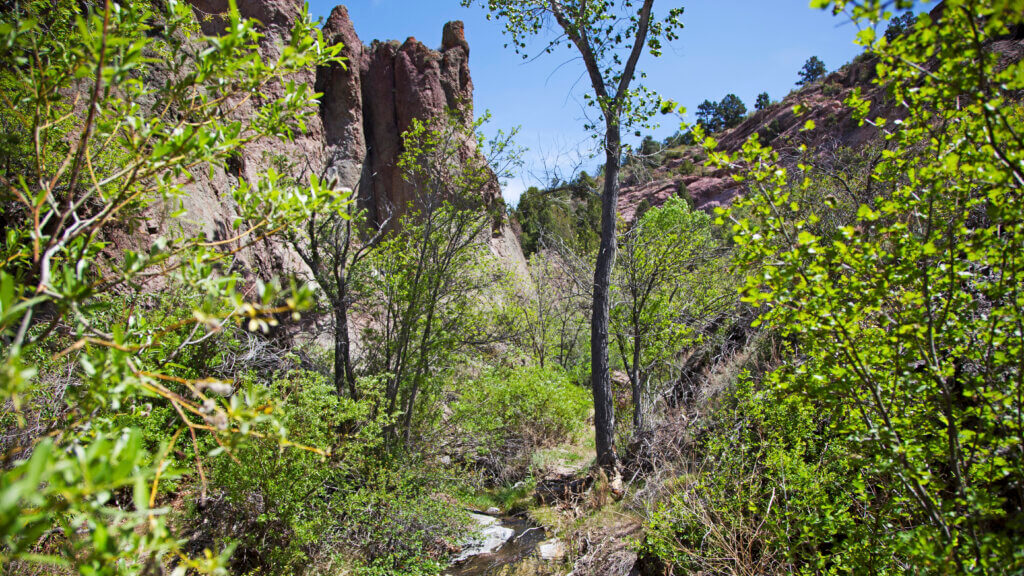 Morning Meanders In Our Most Remote Park
Rise and dine at the Knotty Pine, Caliente's capital for café classics since at least the 1950s, where the décor befits the name and the chicken fried steak & eggs wins the game. They open early to help get your day started off in the right direction, which happens to be about an hour east to Nevada's most gloriously remote state park. Beaver Dam begs an A.M. expedition among waterfalls, mixed-conifer forest, fin-like erosional features, stunning vistas, trout-packed honey holes along Beaver Dam Creek (Tenkara anglers, take note!), and, of course, plenty of evidence of the critters that earn this park its name.
Travel Nevada Pro Tip
A 4×4 vehicle is not generally required in dry weather, but call the park directly to check conditions for this 25-ish mile stretch of dirt road. (775) 728-8101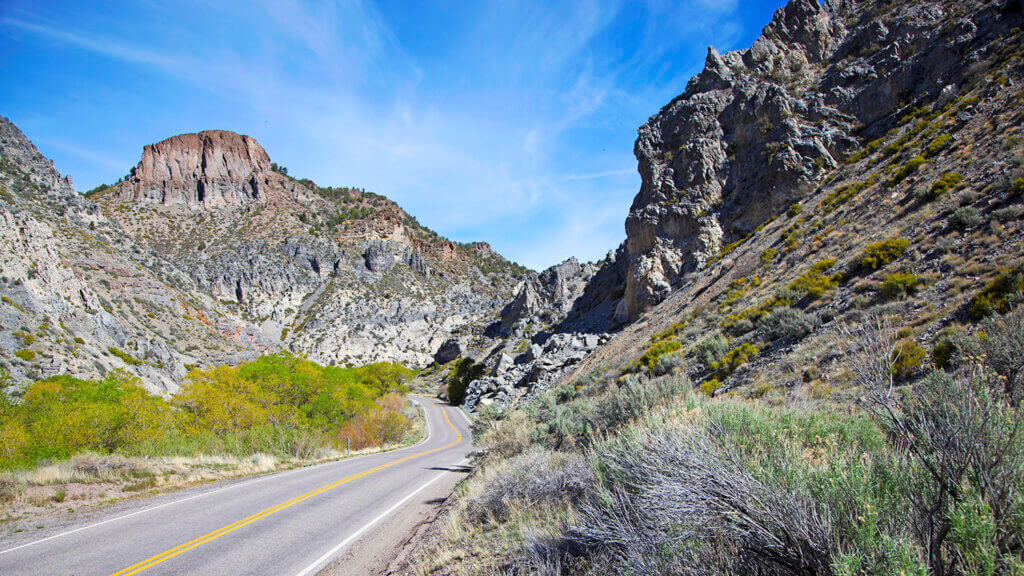 Spring Forward, Echo Back
When you return to pavement, you can double back the several miles to Caliente for something to gnaw on at J&J's Fast Food Restaurant, or continue north to the area's two sister state parks, Echo Canyon and Spring Valley, whose sizable reservoirs beckon swimmers, birders, boaters, and fishermen. Like something out of a Harley Davidson commercial (because it actually has been), the road into Spring Valley is lined with alluring rock formations, some of eastern Nevada's earliest homesteads, and even "pioneer graffiti" etched or oil-greased onto sandstone outcroppings as far back as 1872.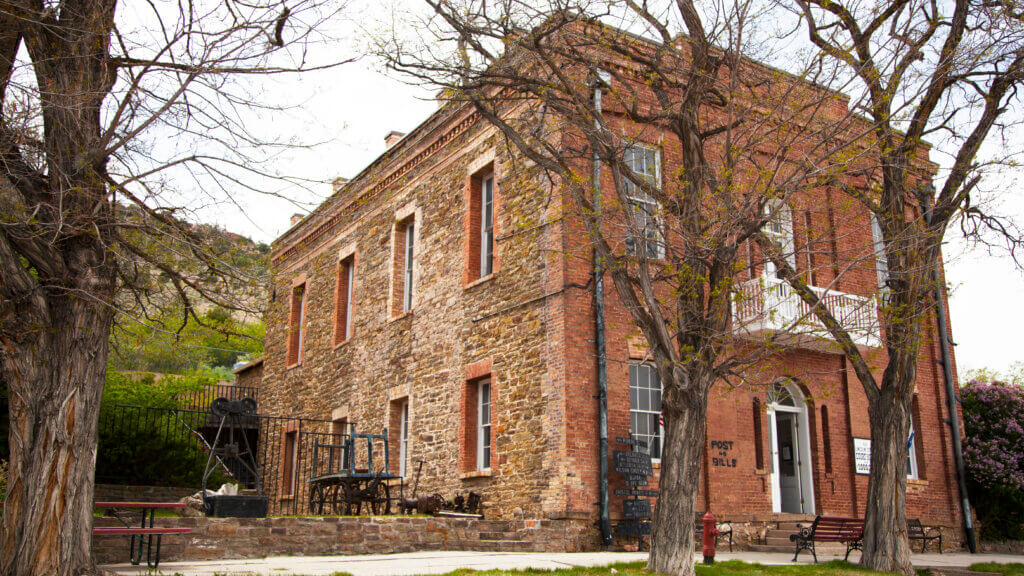 Post Up In Pioche
Now it's time to hit the town. And by "town" we mean "Nevada's liveliest ghost town," Pioche. The Wild Western roots of this infamous enclave (Tombstone and Dodge City had nothin' on rambunctious ol' Pioche) can be seen among its historic buildings, the Million Dollar Courthouse (free by appointment through the Lincoln County Museum), and intriguing epitaphs at Boot Hill Cemetery, situated beneath Nevada's last-standing ore-hauling aerial tramway.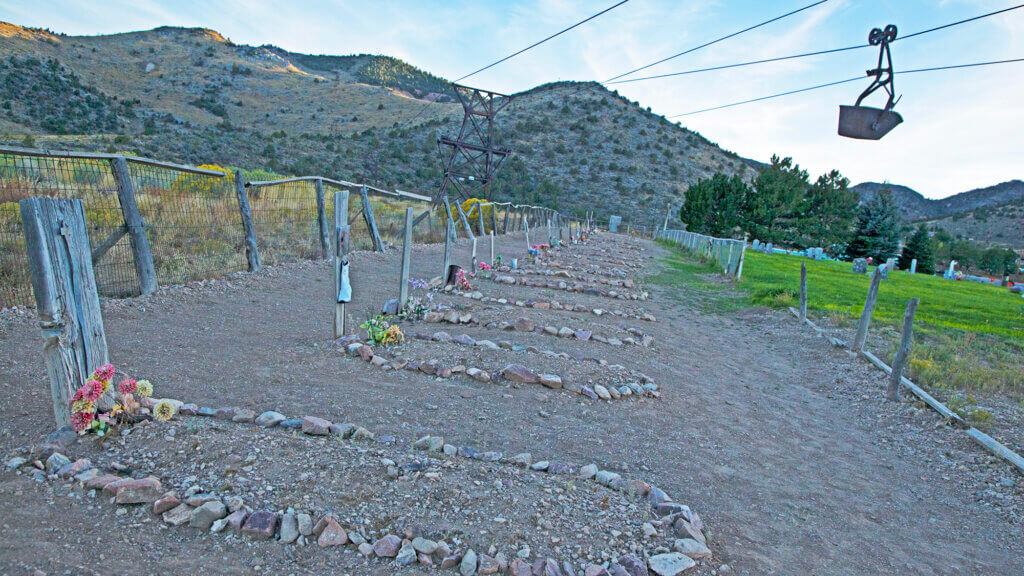 Treat yourself to a self-guided downtown photo tour, then sit down to comfort-food classics at the Historic Silver Cafe (nearby, The Gunslinger's got you covered for caffeine tomorrow morning) before settling in at the amazingly ornate, old-school, western-chic—and allegedly haunted—Overland Hotel & Saloon.
Travel Nevada Pro Tip
Each of the Overland Hotel's rooms are uniquely themed (we love the Bears Den and the Victorian Suite), except for the mysterious Room #10. If you like good ghost stories, ask why at the check in counter…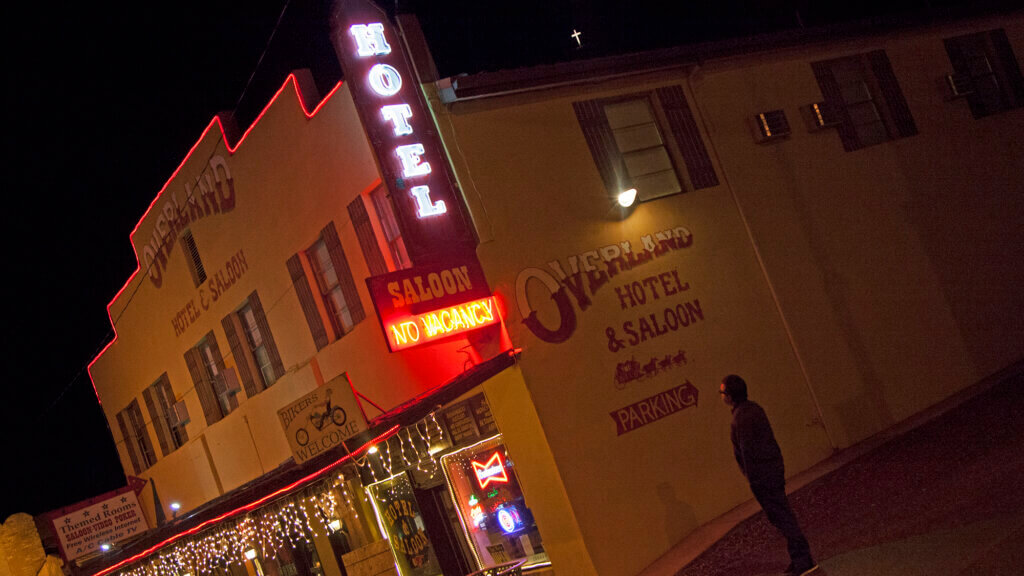 If you're thirsty, the authentic saloon downstairs, as well as a couple other solid sagebrush saloons up the street, will pour the adults in your crew something to sip on as you reminisce, swap pics, and toast one helluva trip. Only in Nevada, baby.
GO FURTHER
Got more time? There's plenty more to explore. Push north along the Great Basin Highway to action-packed Ely and Great Basin National Park. Or loop back to Las Vegas via a quirked-up combo of the Extraterrestrial Highway and the Free-Range Art Highway.
Get Inspired
Related Stories