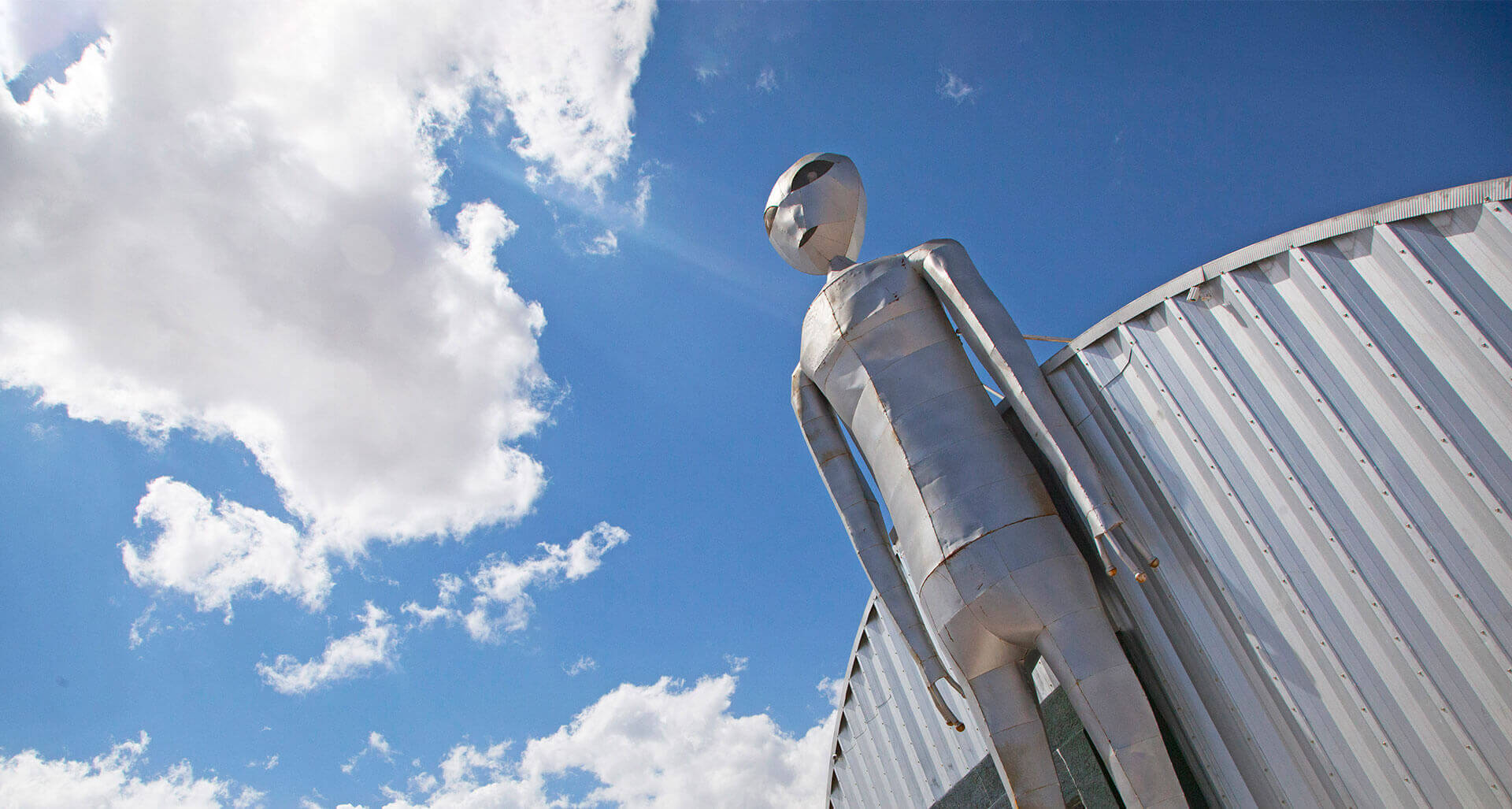 Reveal the out-of-this-world secrets of the Nevada desert
Alien Highway
The unusual is our usual on Route 375.
In the belly of Nevada, surrounded by miles of undeveloped desert, lies a mystery that involves the alleged home of recovered alien spacecraft, extraterrestrial technology, and maybe even a few little green men on the federal payroll.
On the Extraterrestrial Highway road trip, you'll run adjacent to the Nevada Test and Training Range, which includes Area 51, a part of the base that is so secret, the government did not acknowledge its existence until 2013. Hundreds of strange UFO sightings in the area (especially within range of mysterious Groom Lake) have been reported over the decades. So as you drive the Alien Highway on Nevada State Route 375, keep your eyes peeled. You may just see something a little odd … up in the sky? Maybe. On the ground: 100%. But, isn't that why you're here?
One thing is for sure: when you pilot your vessel along the wide open roads through this scenic, otherworldly wilderness with that warm wind in your hair (or antennae), you'll appreciate why a visitor would travel across the galaxy to enjoy this kind of freedom on the ET Highway.
Don't Be a Space Invader
As part of an active military base, it is patrolled and guarded by some of the heaviest security on Earth or anywhere else. That means what it's NOT is a tourist attraction. Be sure to obey all posted signs and don't even think about trespassing. You will be caught and you will be prosecuted. And let's be real, no selfie is worth that kind of headache.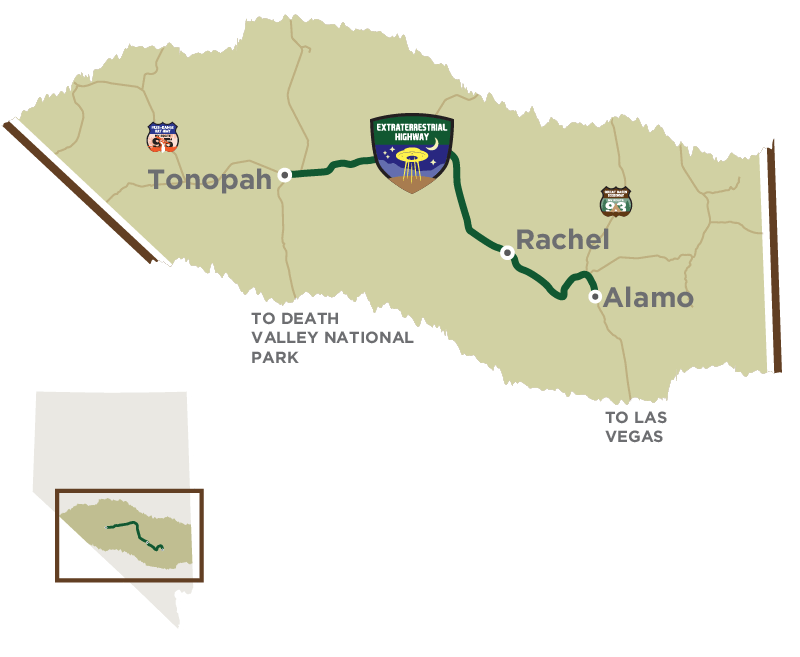 Got a close encounter with the #ETHighway? Do share!
The Truth is Out Here
Whether you depart civilization in Tonopah or make the "Kessel Run" up from Las Vegas (itself a different planet in some folks' view), prepare to train your eyes for alien-themed everything—from curios to murals to vodka—and be sure to keep your ears open to the glorious humans who don't need a phone to call these lovably odd locales home!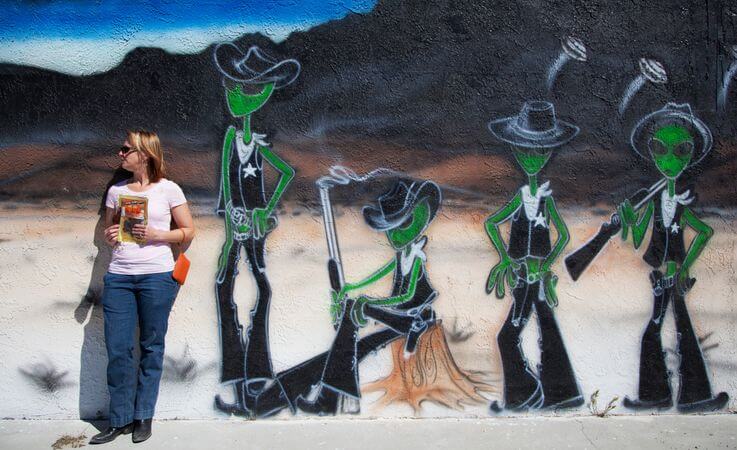 Travel Nevada PRO TIP: We're presenting this road trip from east to west—from Crystal Springs to Tonopah—but feel free to have at it in either direction. Better yet, extend your mission and add a chunk of the Free-Range Art Highway for plenty more "out there" destinations between Tonopah and Las Vegas.
Head north from Las Vegas on U.S. 93. It's about 109 miles (175 kilometers) to Crystal Springs, where U.S. 93 connects to the ET Highway. On your way, you'll pass Pahranagat National Wildlife Refuge, a recreational oasis surrounding a stretch of wetlands that invites thousands of migratory birds to take a break from their journey along the Pacific Flyway, as well as through the communities of Alamo and Ash Springs—your last couple chances to tank up. Once you see the jerky shop in Crystal Springs, you've reached your official launchpad.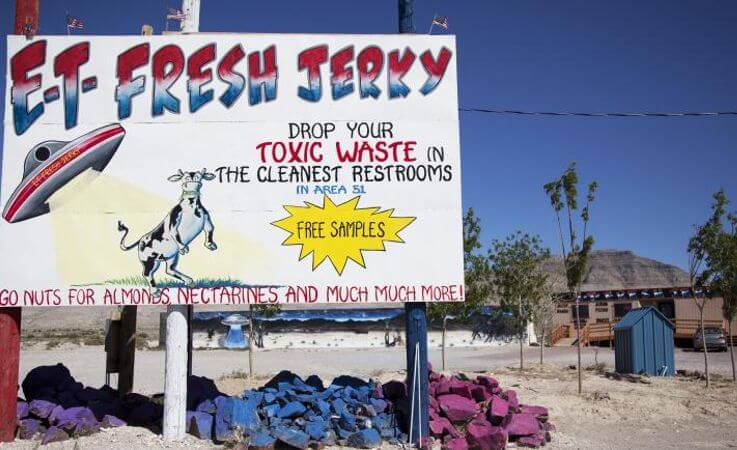 E.T. Fresh Jerky
After savoring samples of "Teriyaki Time Travel," "Hell Hole Hot," and other jerky specialties, peruse kitschy trinkets, pose with life-size local out-of-towners in funky murals, and be sure to "drop your toxic waste in the cleanest restrooms in Area 51."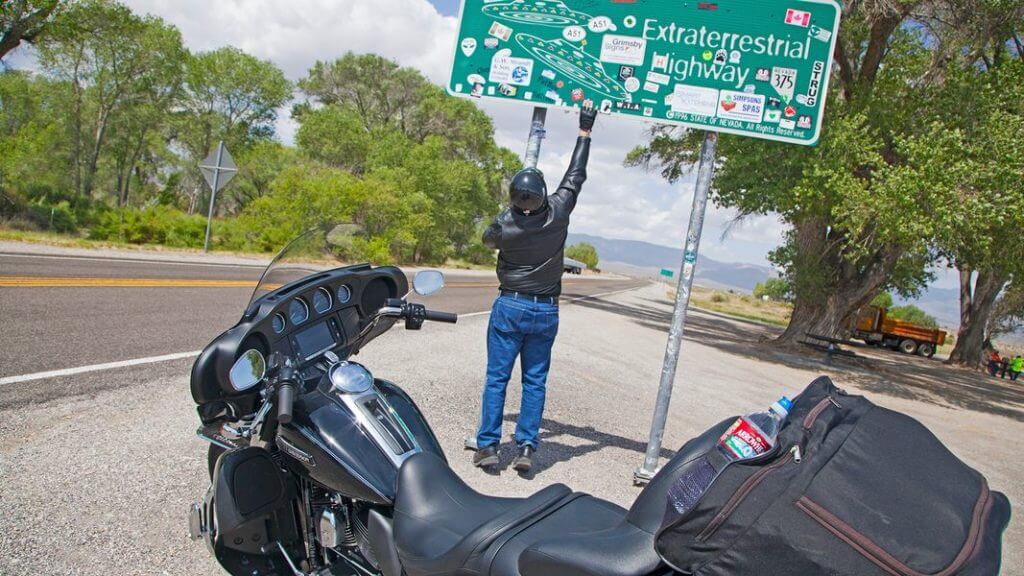 ET Highway Sign
Stop the car—this sign pic is mandatory. Fun fact: Route 375 was officially dedicated as the "Extraterrestrial Highway" in conjunction with the release of the Will Smith classic Independence Day in 1996. The movie, about an alien invasion of Earth, has humans making their final stand at none other than Area 51. Another movie that was filmed on this infamous highway is "Paul." If you're into Seth Rogen stuff, we recommend you check it out.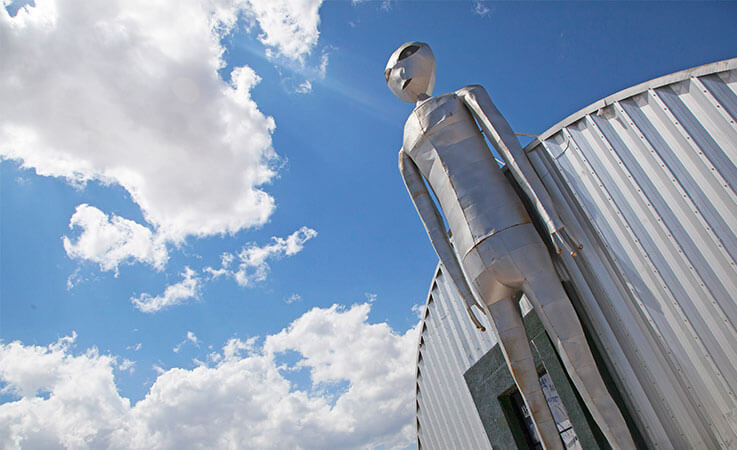 Alien Research Center
When you spot the giant silver space dude guarding the Quonset hut—likely from miles away—you've got the right place. Stop in for an impressive array of UFO-related literature, Area 51 t-shirts, souvenirs, "alien agave" tequila tastings, and other (un)-Earthly delights.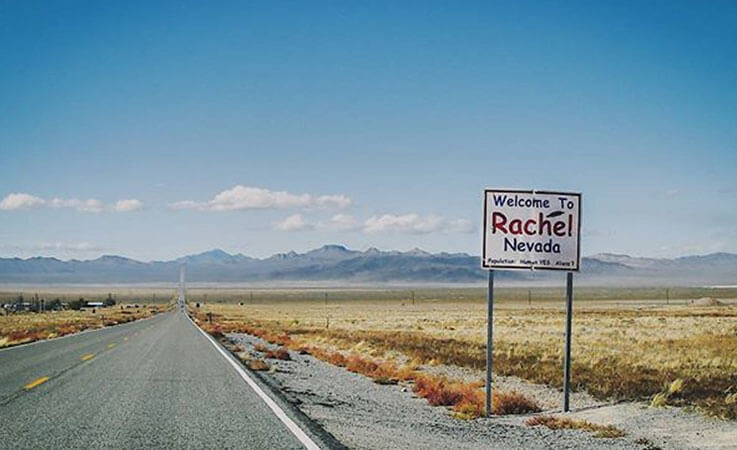 Rachel, Nevada
Population: 54, according to the 2010 US Census (but maybe closer to 100, depending on who you ask). Rachel's proximity to Area 51 has earned a legendary status in the hearts of UFOlogists (it's a thing), as well as on the screens of many films, TV shows, and video games.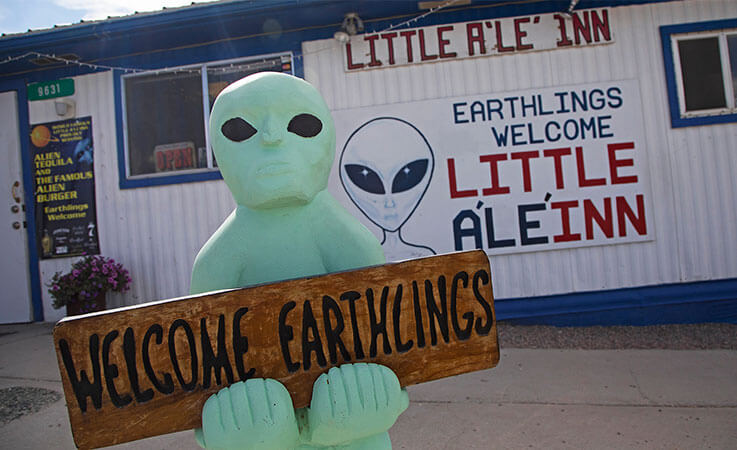 Little A'Le'Inn
Naturally, the closest bar, grill, and motel to Area 51—located in Rachel—serves up Alien Burgers, all manner of UFO-themed merchandise, a tow truck rescuing a broke-down UFO, and other fun photo-ops. Like stories? Just about everyone around here's got a good one or ten, so get ready to talk to some strangers.
To Tonopah and Beyond
Next up, a ribbon of classic highway that blasts through some seriously wide-open country. This is an open range, so keep your radar scanning for cows (you know, like the UFOs do). The ET Highway officially comes to an end at the junction with U.S. 6. But continue west for about 50 miles where civilization awaits in the small central Nevada mining town of Tonopah.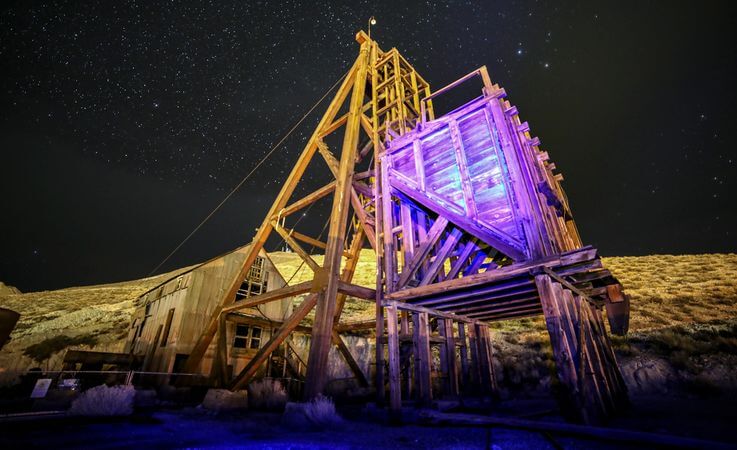 Swing by the Tonopah Historic Mining Park and the Central Nevada Museum for a dose of the past, including some of the more terrestrial treasures extracted from mines around the "Queen of the Silver Camps," or head into Tonopah Brewing Company for some tasty beers named after them. At night, look up and wave to any friends you've made at the Tonopah Stargazing Park, or get a closer look at thousands of stars with the astro-fans at a local Star Party, then catch some shuteye at a local hotel. And don't worry, if you still haven't gotten your X-Files fix, plenty of places around town are known hotspots for paranormal activity.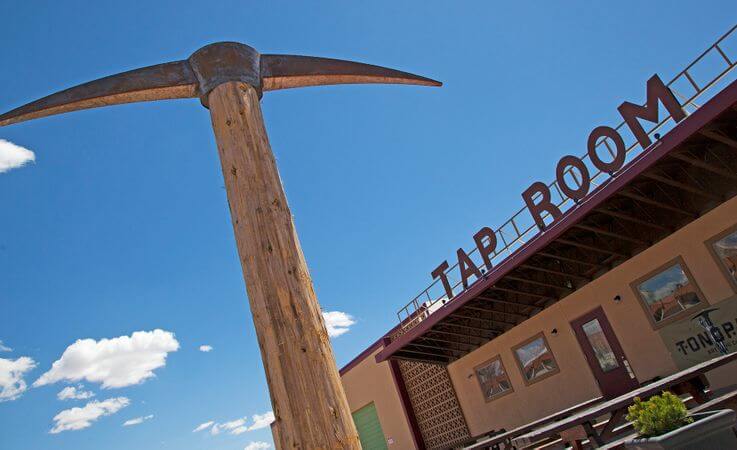 From Tonopah, complete the loop back to Las Vegas (or north to Reno) along the Free-Range Art Highway, or venture further west into Death Valley and other lands of extremes along The Death Drive to make some more memories on another classic Nevada road trip.