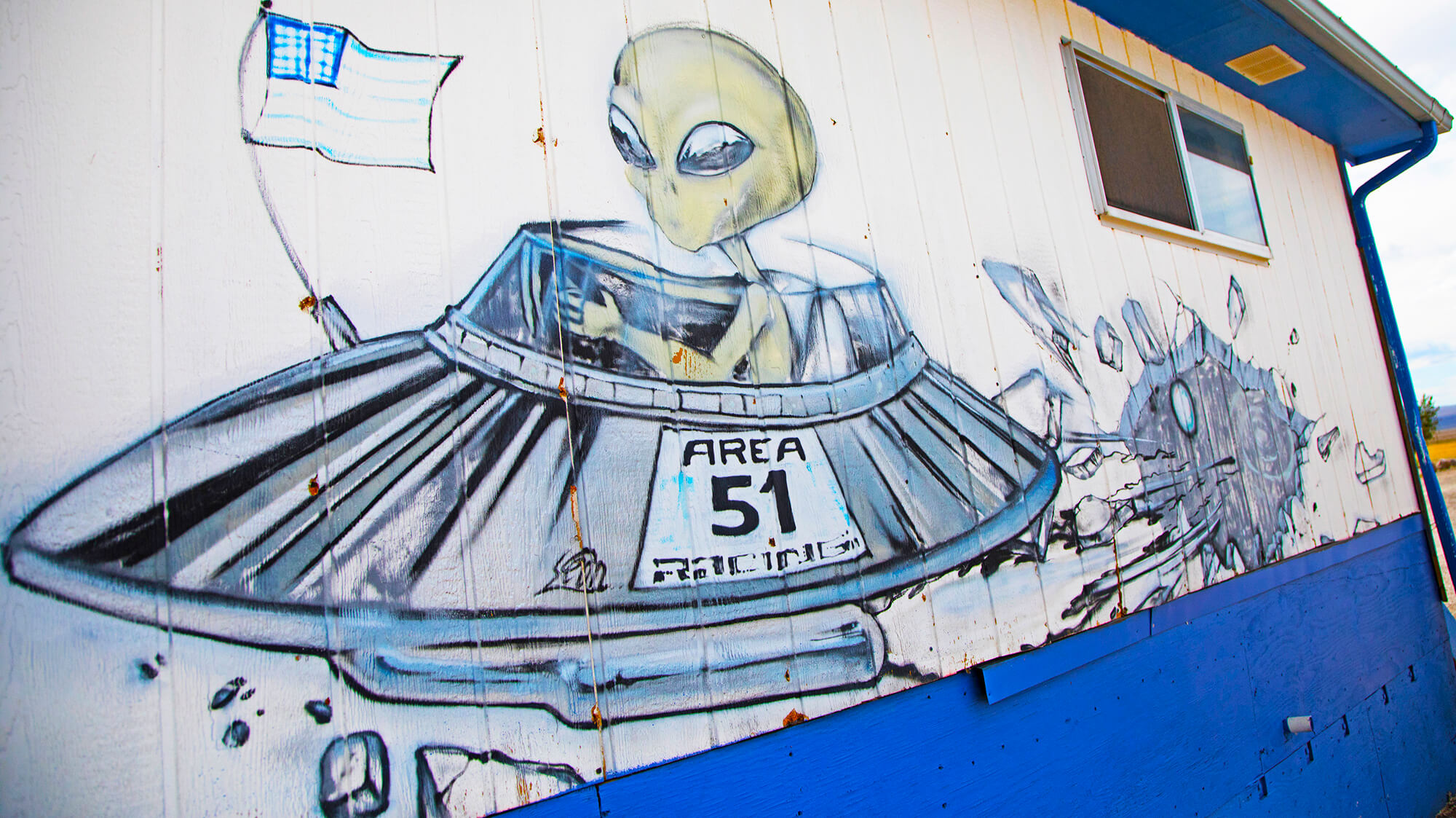 Know Before You Go: DON'T BE A SPACE INVADER
So. Area 51 does indeed exist (officially now). It's also part of an active military base, patrolled and guarded by some of the heaviest security on Earth or anywhere else. That means what it's NOT is a tourist attraction. If you find yourself close by, obey all posted signs and don't even think about trespassing. You will be caught and you will be prosecuted (at the very least). Even worse, you might even end up being meme-ified for all eternity. And let's be real, no selfie or amount of likes are worth that kind of headache.
So, What is Area 51?
Area 51, a highly classified remote detachment of Edwards Air Force Base, was built in 1955 as part of the more substantial Nevada Test and Training Range complex, initially to serve as a test facility for the U-2 Spy Plane. Although it has never been declared a "top secret base," the area is highly protected and is restricted to both land and air use. Other well-known aircraft tested at Area 51 include the Archangel-12, the F-117 Nighthawk stealth fighter, and even the SR-71 Blackbird (maybe that's how the X-Men got on board with it).
Area 51 and UFO Sightings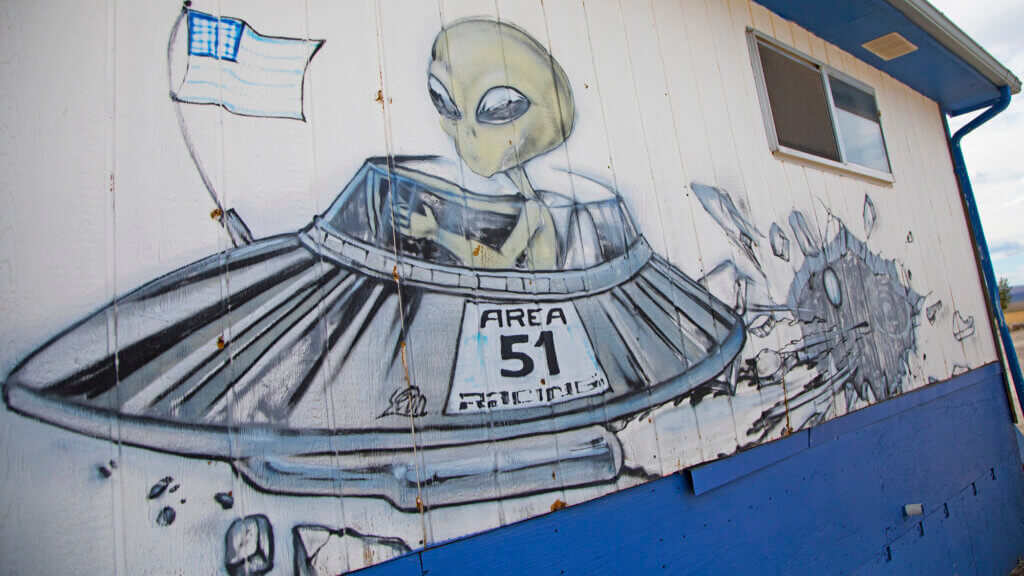 When people spotted secret aircraft, made of never-before-seen technology, flying at high speeds and high altitudes, they were unsurprisingly mystified as to what they saw. Since these prototypes' development was top secret, and sightings were rare, it is easy to understand how so many people must have thought they must be from another world! That is, or so the military says…
To this day, Area 51 still remains a top secret testing facility, and the government, as well as the testing companies, don't want you anywhere near it. Currently, the closest you can drive to Area 51 still puts you over 15 miles away. The restricted airspace above Area 51 actually forms a rectangle with an area of 575 square miles.
How Area 51 Got Its Name
Area 51 gets its name from old maps of the Nevada Test Site that defined the area around Groom Lake as Area 51. When Area 51 first started, Lockheed called the area Paradise Ranch to try to attract workers to the project. Today, Area 51 and the Test Site are part of the Nevada National Security Site (NNSS).
Where is Area 51?
Area 51 is located in southern Nevada, 83 miles north-northwest of Las Vegas, on the edge of Groom Lake. However, don't pack those floaties just yet; it's usually dry and there's no way you'll be able to storm Area 51 security guards anyway.
The perimeter of the base is marked with orange posts and patrolled by guards referred to as "camo dudes." Signage around the base promise that deadly force is authorized against Area 51 storming trespassers; CCTV and motion censors placed vast distances from the base on public lands guarantee it.
Extraterrestrial Highway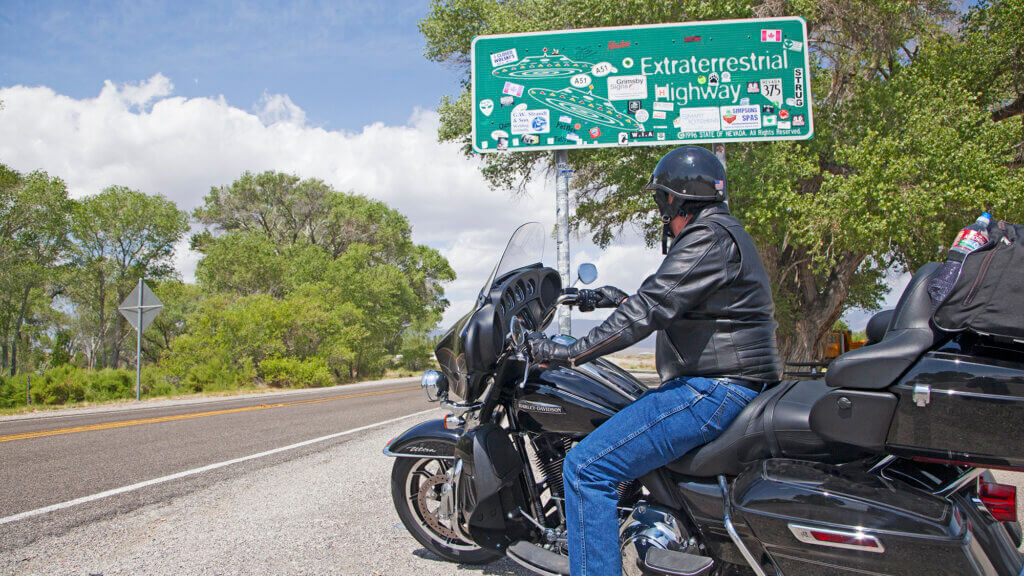 But don't let us burst your bubble! The closest you can get to Area 51 is the alien-themed-everything-you-can-think-of road trip known officially known as the Extraterrestrial Highway. If it's otherwordly adventure you're after, point your vessel towards state Route 375 and blast off on the weirdest road trip on the planet. Because, hey… "Let's see them aliens" is actually what the organisms behind Nevada's funkiest alien-themed jerky shop, "research" center, burger joint, bar, motel, and more have been saying for lightyears…
Basically, stitch together a string of unexplainable stories, ET-obsessed attractions and destinations, and a stretch of wide-open road skirting Area 51 along a 92-mile portion of State Route 375, between Hiko / Crystal Springs and Warm Springs, and you've got our most out-of-this-world Nevada road trip. The truth may be out there, but this stretch of highway really is; refuel in Tonopah to the west or Alamo or Crystal Springs to the east before going boldly to this sector of the state.
Hiko, E.T. Fresh Jerky & the Alien Research Center
In Lincoln County, Nevada in 1865, a number of mining camps came to life in an area called Pahranagat Valley. William "Billy" Raymond purchased several of the mines, and designed a town called Hiko. Today Hiko is most recognized as the official southern starting (or ending) point of the Extraterrestrial Highway, near the Crystal Springs Rest Area. Before launching off, take a moment to sample some E.T. Fresh Jerky, make use of the "cleanest place to drop your toxic waste," and sign the wall that thousands of others have while getting a selfie with the outlaw E.T. mural. Just a bit further on, be sure to stop by the Alien Research Center to drink in all kinds of E.T. lore, or at least some Alien Agave tequila.
Discovering Rachel, Nevada
With its proximity to Area 51, and located on the Extraterrestrial Highway, it's understandable why the town of Rachel, Nevada is known as the "UFO Capital of the World." Though most of the locals don't concern themselves with UFOs, the small community remains a regular stop for UFO hunters hoping for a sighting and to learn more about Area 51. As well as for hungry voyagers craving an alien burger washed down with an alien beer at the Little A'Le'Inn,
Most day-trippers from Las Vegas are here for the alien connection, but that doesn't mean there aren't other activities to do in the area. Petroglyphs, historic ghost towns, and beautiful desert scenery are all in the immediate area. If your visit to Rachel includes an overnight stay, we can not promise that you'll see alien activity, but you will be stunned by the astonishing night sky.
Area 51 Tours and Activities
In addition to ghost towns and potential alien sightings, there are plenty of things to do near Area 51. The National Atomic Testing Museum leads monthly tours of the Nevada National Security Site, managed by the National Atomic Testing Museum in Las Vegas. While the visit does not offer the chance to tour Area 51 itself with your family, you can definitely get a sense for its Martian-esque terrain while piloting your own vessel around the surrounding wilderness.
If you're looking for a robust look at the history of Area 51 and Nevada's atomic age without traveling out of Las Vegas, be sure to check out the National Atomic Testing Museum or the "Atomic Nevada" exhibit at Nevada State Museum–Las Vegas.
Area 51 Alien Center
While Rachel, Nevada may be the closest town to Area 51, Amargosa Valley (on the other side of the base, not along the ET Highway) is probably the most visible, thanks to the bright green painted buildings and UFO-adorned billboards at the Area 51 Alien Center, located right on US-95 betwen Tonopah and Las Vegas, at the turnoff to Death Valley National Park (south on NV-373). Here you'll find a gas station, convenience store, and a cafe all serving up all manner of alien-themed kitsch, from souvenir t-shirts to bottles of booze.
Despite its name, you won't find a way into Area 51, but you could certainly stay at the Amargosa Valley RV Park across the highway, or pick something up at the Alamo Fireworks Megastore—home of the "World's Largest Firework"—for something that'll go out with a far safer bang than an Area 51 raid.
Storm the ET Highway on an Intergalactic Scavenger Hunt
In fact, we've even got a guide for you. Check our Area 51 Intergalactic Scavenger Hunt (it's not Area 51, but it sure is #Area51ISH). It's our road map to close encounters with all things extraterrestrial around central and southern Nevada. We've also forecasted seven hotspots where you're more than likely to sight – and snag – a totally unique, found-nowhere-else-in-the-galaxy Unidentified Free Object to swaggify your adventure.
Places to Stay, When You Come to Area 51
If sleeping near the Nevada Test Site is on your bucket list, we've got just the place for you to stay. Little A'Le'Inn is just off the famed ET highway and is a great place to pick up supplies or stay for the night. If you're going to stay in Tonopah, there are hotels such as The Mizpah Hotel, Tonopah Station Hotel and RV Park, or the Jim Butler Inn & Suites. If your road trip takes you to Vegas for the night, there's a variety of hotels pretty close to Area 51 the entire family can enjoy such as the El Cortez Hotel and Casino or the Golden Nugget. On the other end of the Extraterrestrial Highway is Alamo, and a perfect landing pad for you while you explore the route. Stay in your own private themed cabin at Windmill Ridge in Alamo, or head for Caliente and lock in a bedside soak at the Hot Springs Motel.
If you're just driving by Area 51 and are looking for a place to crash for the night in a galaxy (or at least a town) far, far away from the top secret testing facility, visit our full list of places to stay.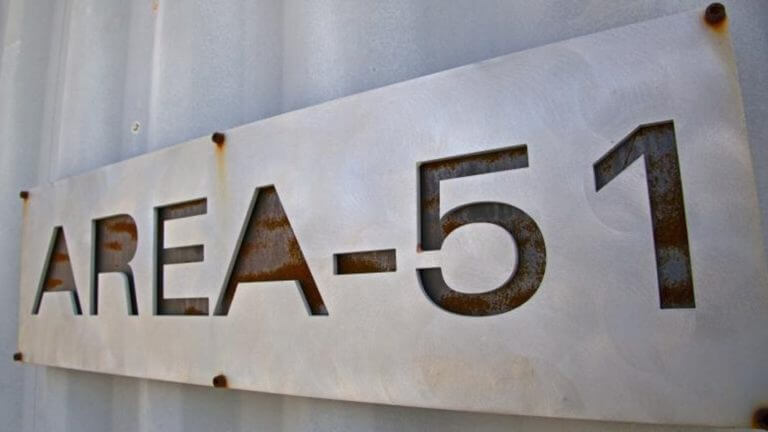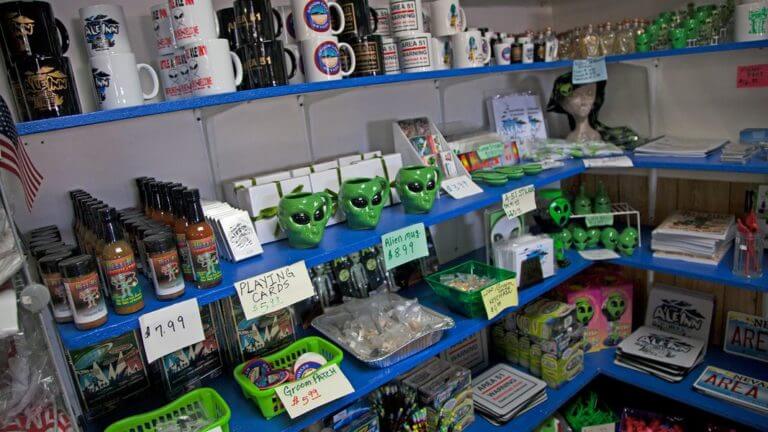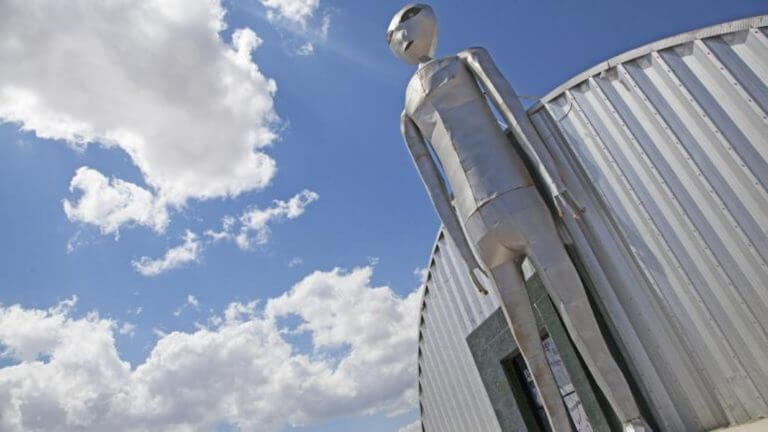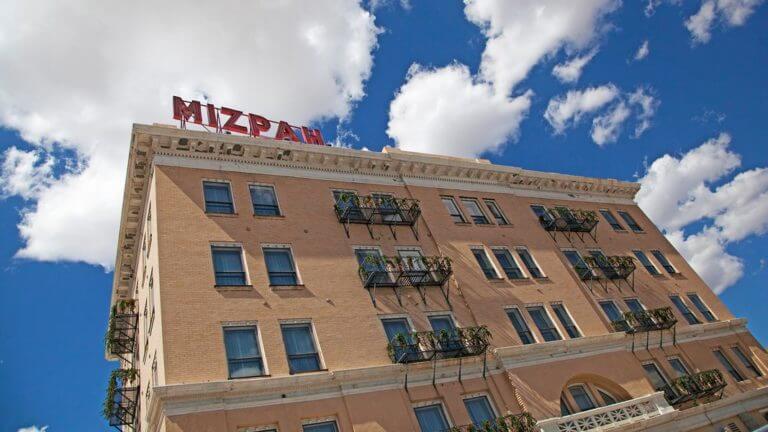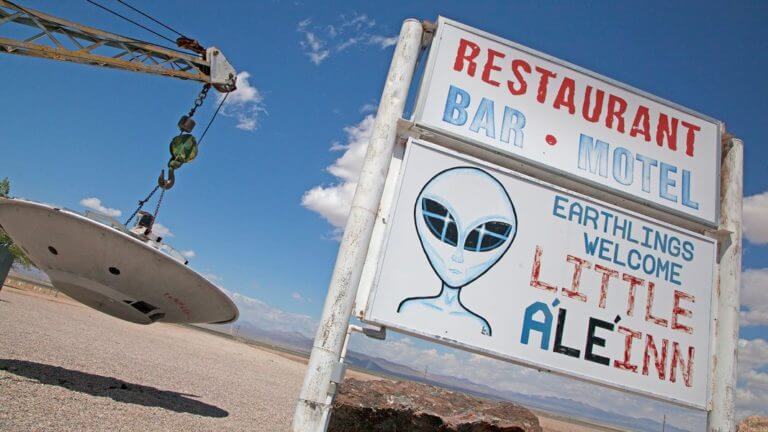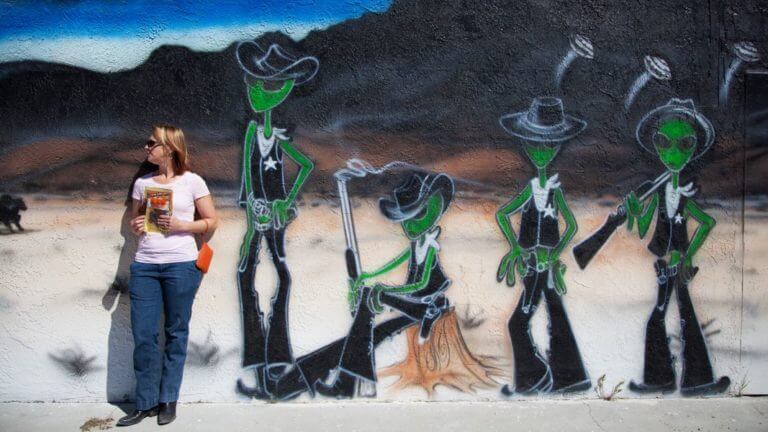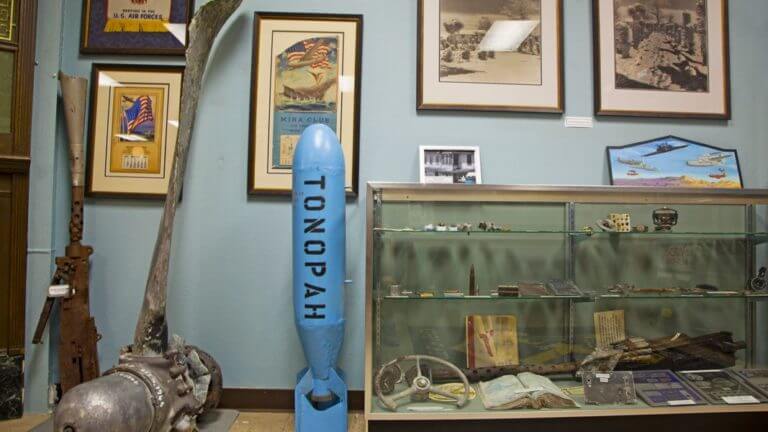 This Location: