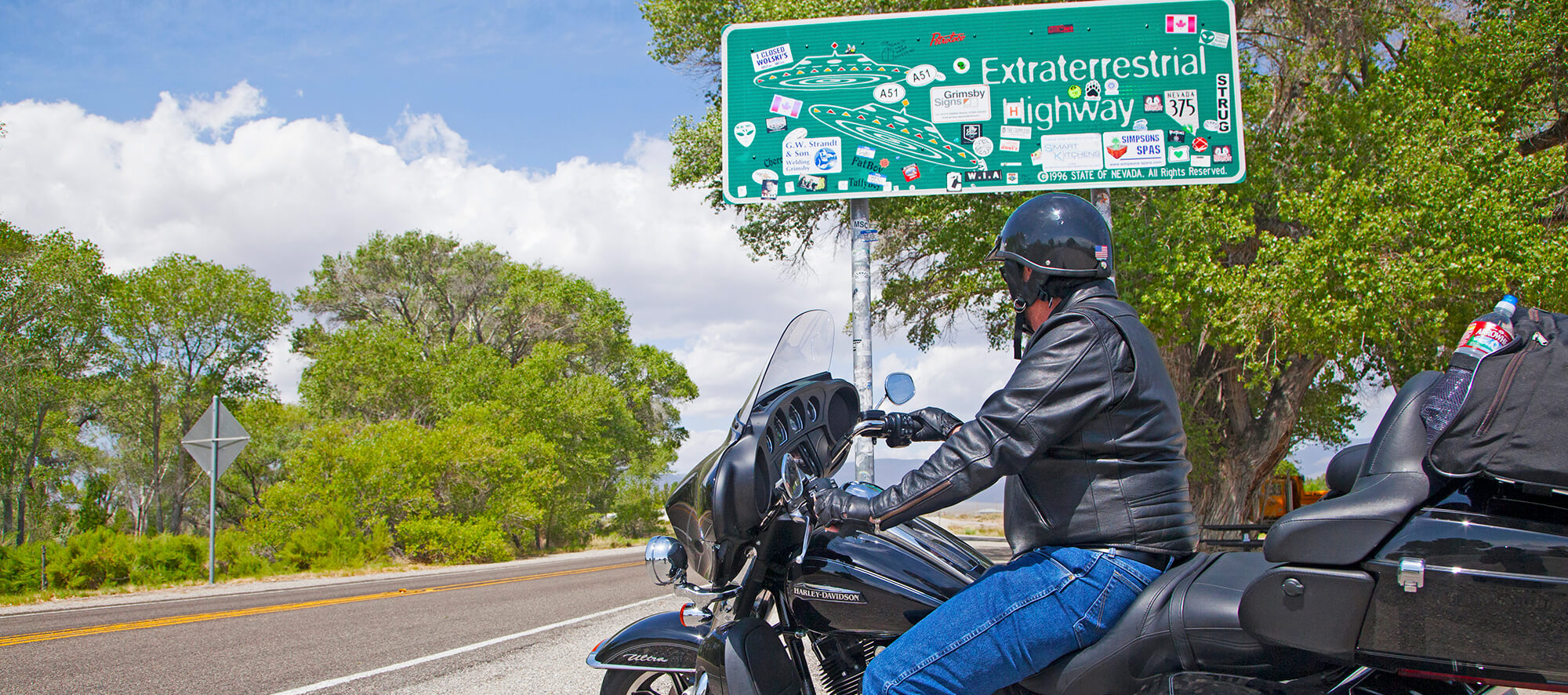 Rachel
When checking out the famed Extraterrestrial Highway in central Nevada, a trip to Rachel is vital. Replenish on road-tripping supplies, or spend the night to try to spot a UFO yourself at Rachel's Little A'Le'Inn for an unforgettable experience.
With its proximity to the mysterious Air Force testing facility known as Area 51, coupled with its prime location smack dab on the Extraterrestrial Highway, it's easy to see why the tiny town of Rachel is known as the "UFO Capital of the World." While most of the locals don't seem to concern themselves with UFOs, the small community remains a regular—and quite frankly one of the only—stops for UFO hunters hoping to learn more about the highway, Area 51, and of course the odds of eyeing an out-of-this-world experience of their own.
Tucked away in the Sand Springs Valley, Rachel was first developed by al alfalfa farmer in the 1970s and was originally named Tempiute Village, and later Sand Springs. Outside of agriculture, more residents were drawn to the community as a result of a mine opening nearby. Within a few short years, the first baby to be born in town came along—Rachel—and the town was renamed a third time in honor of the milestone. By 1980, the mine shut down, right before the UFO activity began, and the town shrank accordingly.
By the 1990s, a string of imaginative tales of the ET Highway and the mysteriously secretive Area 51 became mainstream, prompting the publication of countless books and television appearances, even drawing in reporters like Larry King to rehash their experiences. This thrilling string of unexplainable accounts is exactly what prompted this famous route—State Route 375—to be renamed the Extraterrestrial Highway in 1996. Aliens or not, the lack of human life on the ET Highway is a bit eerie, with less than 200 cars traveling the route daily.
Today, less than 60 people call Rachel home, but are quite busy tending to alien enthusiasts traveling this Only-in-Nevada highway. While several businesses have come and gone throughout the years, one has remained. The Little A'Le'Inn, Rachel's local restaurant, bar and inn is the only place to stop along this untraveled, alluring route, and is a good place to jump out the car and stretch your legs and even get your hands on some alien swag if you like. It's here that you can order themed treats like the Alien amber ale, and you can count on this place for emergency fuel and supplies. But travelers beware—you're going to pay for it. As the only place to stop between Tonopah and Alamo, prices aren't exactly cheap. We always encourage people to travel with extra fuel when traversing the back roads of Nevada, but especially in this circumstance as resources are extremely minimal.
As the day-trippers from Las Vegas prove, Rachel may be best known for alien lore, but that doesn't mean there aren't other points of interest to be found in the vicinity. Historic ghost towns, petroglyphs and downright stunning desert scenery are nearby, and the town's remote location makes for an unbelievable night sky. If your visit to Rachel includes an overnight stay, you will be stupefied by the immense night sky. We cant promise that you'll see strange alien activity, but we will assure you that you'll have an unforgettable dark sky above you, perfect for astronomy enthusiasts.
Fun Fact: The trailer park in Rachel was the movie set for the 1996 box office hit Independence Day.