12 Reasons To Stop Everything And Get To Pioche
Headed to Nevada? MUST LOVE ROAD TRIPS. Geographically speaking, the Silver State is bigger than all of of England…driving is a prerequisite when it comes to enjoying this amazing place, but each journey is so satisfyingly worth it. And, of all the road trips you might find yourself dabbling in, the Great Basin Highway is totally stunning. Just like you'd imagine the mighty Great Basin Desert itself, the route begins by fulfilling all of your Wile E. Coyote, Road Runner hankerings, but then evolves into some seriously majestic wide open basins as far as the eye can see, eventually thrusting its way up to 13k feet. The Great Basin Highway stretches from Hiko, all the way up through Great Basin National Park, and on to the state-straddling community of Jackpot. But guess what? The white, soft underbelly of the entire route cradles the quiet, usually unnoticed community of Pioche—presenting the perfect opportunity to really see all this amazing town promises. No matter how you cut it, you're going to be joyriding on this euphoric portion of pavement, but the sweetest little stretch is the 196-mile stint on either side of Pioche. You haven't even arrived, and already you're batting 1,000. And we promise you, it gets better. Way better.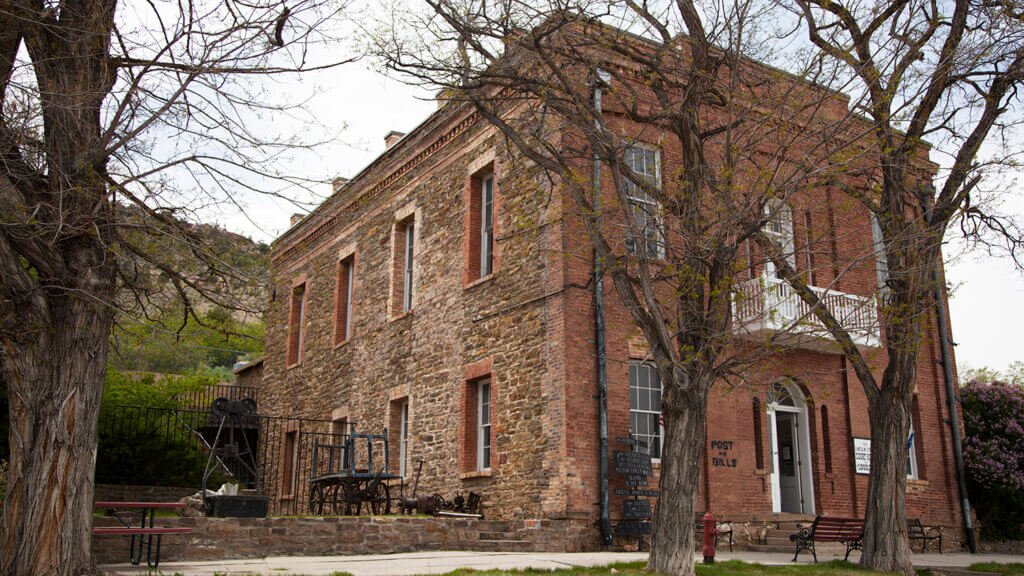 1. The Million Dollar Courthouse
Pioche
In the beginning, Pioche was no different than most Nevada towns. Gold-hungry prospectors discovered silver in 1864—the same year Nevada became a state—and was movin' and shakin' by the 1870s. Business was a-BOOMIN', and it wasn't long before Pioche was one of the most important silver-mining towns in Nevada. And what comes along with a massively successful mining community? Unimaginable wealth, of course. So much prosperity stemmed from Pioche that it became the county seat by 1871 and construction of a courthouse began.
Here's where it gets sticky, friends. The county was contracted to build the new courthouse and was hired at a cost of $26,400…still a lot of moolah for the 1870s, right? So much in fact, that they didn't have all the funds together, so they purchased a stack of bonds valued at $25k. The building was complete just one year later, but the project was so mismanaged that the courthouse ended up costing $88,000, nearly four times the budget. Officials had no choice but to finance it—and at an ungodly rate to boot. The debt swelled to $181k by the 1880s, then to $670k by the turn of the century, and wasn't ultimately paid off until 1937 for… you guessed it: One. Million. Dollars. Today, the original building stands (so cool!), home to the Lincoln County Historical Museum, which is chock-full of impressive artifacts, like one of the original train engines used to haul ore from the Jack Rabbit Mine.
Travel Nevada Pro Tip
Keep an eye out for the original jail cell posted up out back, which was originally accessed via the second floor of the courthouse. Story goes that this place is all kinds of haunted, but you'll have to be the judge of that one for yourself.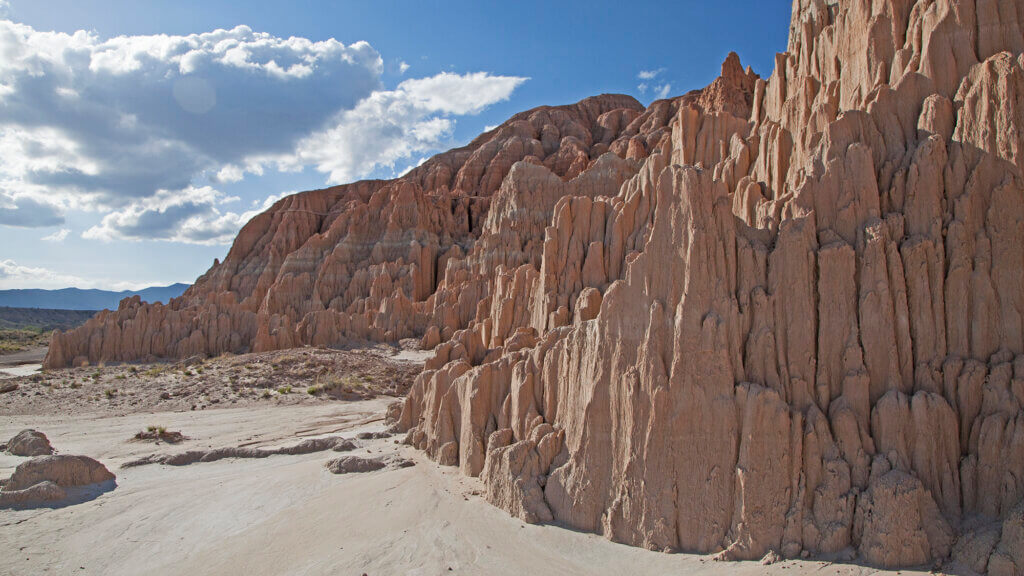 2. Nevada Slot Canyons Galore
Panaca
Hey guys, we've got a news flash for ya: Utah isn't the only place with completely spectacular slot canyons. 'Tis true, slot canyons also exist in a little old place that starts with an 'N' and ends in a 'EVADA' and are located a cool 10 minutes south of Pioche in Cathedral Gorge State Park. This Nevada State Park sets the scene for big-thinkers… the otherworldly landscapes will have you feelin' like you just time-traveled to a faraway place. Count on seeing buff-colored slot canyons, dramatic spires and even a few natural tunnels at Cathedral Gorge, the grand combination of which (in geo-speak) is called an alluvial shelf: a landform created by deposited clay sediment over a long period of time.
Interestingly enough, long before this area was a state park, a local family hosted a series of Shakespearean plays within the modern-day park boundaries, using these dramatic peachy formations as a backdrop. Cathedral Gorge was also one of Nevada's first four state parks, and had its original infrastructure built by the CCC boys in the 1930s. In fact, Nevada's largest concentration of state parks surrounds Pioche; as the site of the regional park office, Cathedral Gorge State Park is the perfect place to find out about all five within reach.
Travel Nevada Pro Tip
You can totally weasel your way back into the slot canyons all the way back. Keep on the lookout for a natural occurring tunnel. Geologically, the thing is unquestionably cool, but if you want to see a kit fox [AND WE DO] this is the hideout rangers have spotted these babies in.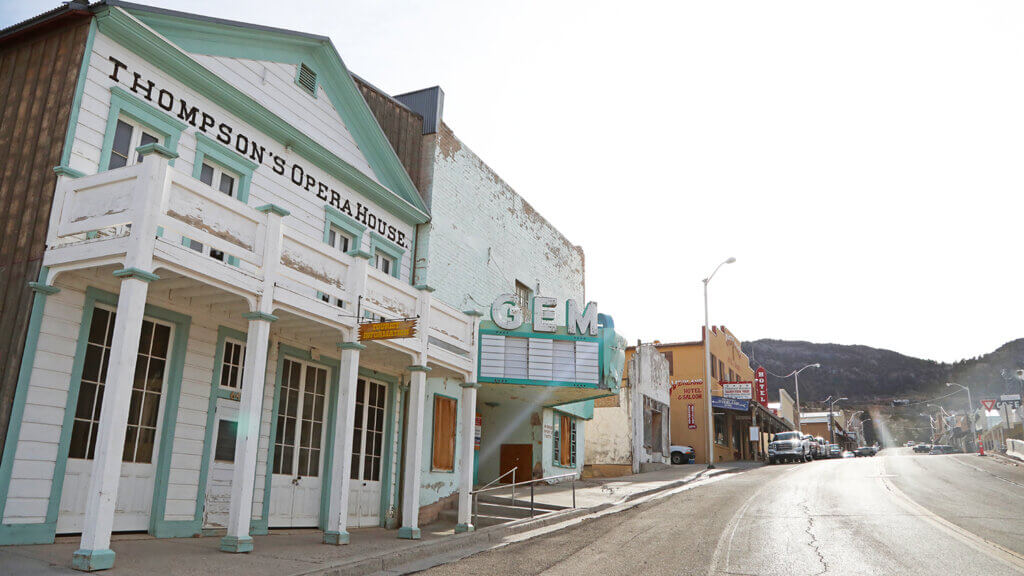 3. Historic Downtown Pioche
Pioche
OK, so we definitely already touched on the fact that Pioche was this amazing mining town in the 1870s. The town was a massive producer, one of Nevada's largest, in fact, of high-grade silver ore. Other mining boomtowns peppered throughout the state may have rivaled Pioche's mining success, eventually going one of two ways here: completely faded into the shadows with no traces persisting into modern times, or turned into a bit of a touristy zoo. Pioche couldn't have fallen into a sweeter spot between the two. Here there are no gimmicks, tours or anything staged in any sense… instead, a whole heckuva lot of real-deal history remains.
The first thing you need to do when arriving in Pioche? Throw your rig into park and walk everywhere throughout the downtown. Driving around just can't create the same experience you get from walking through all the history. Besides, all said and done, we're talking a total of one mile-ish of walking… nothing crazy here. The downtown is CUTE. Prepare to see a few "DANGER—OPEN MINE SHAFT" warning signs peppered around historical buildings and a few 1870s-era miner shacks that have weathered the storm. That and some Pioche institutions, like the Mountain View Motel—built in 1885 and said to have hosted Herbert Hoover (among many other famous folk) during the 1930s. Or the amazing Thompson Opera House, built in 1873 and still standing tall-ish over downtown Pioche today.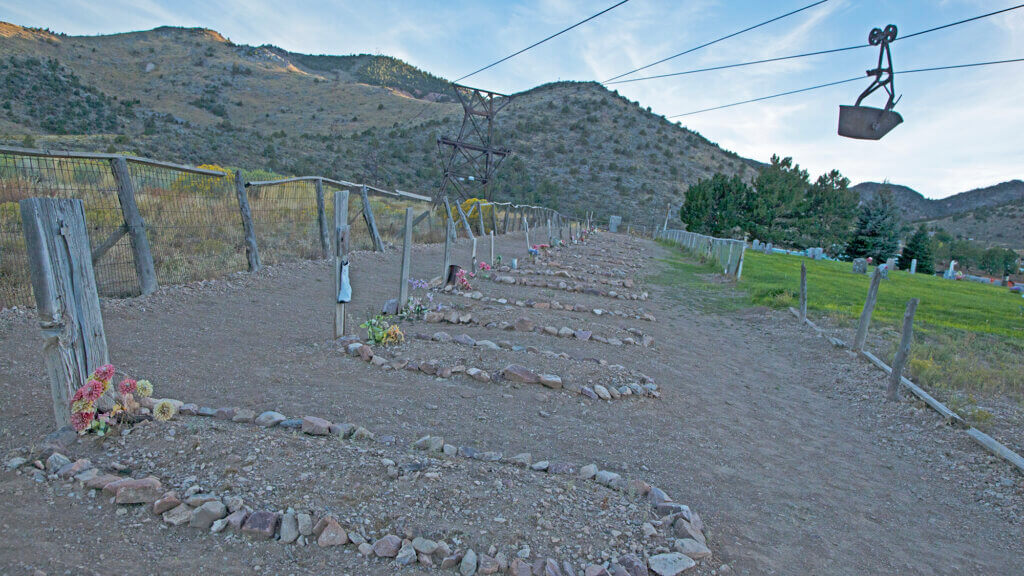 4. The Pioche Aerial Tramway & Historic Walking Tour
Pioche
Of all the amazing things happening in and around Pioche, one can't-miss-it attraction is the historic Pioche Aerial Tramway. While many historic aerial tramways once supported many Nevada gold and silver mines, what you see overhead in downtown Pioche is the only remaining tramway of its kind in the Silver State. After the massively lucrative mines were cranking out a cool $600k in silver ore, it wasn't long before someone came up with a more efficient way of hauling it. The ticket? A gravity powered tramway that dangled over the town—instead of through it—so it wouldn't interfere with other establishments trying to go about their business.
Built by the Pioche Mines Company in the 1920s, this aerial tramway carried ore from the mines, down Treasure Hill, eventually delivering its payloads to the Godbe Mill at the base of town. It was an ingenious operation; the weight of the ore in the buckets headed to the mill was enough to pull the empty buckets all the way back up the hill (although, just in case, it had a 5-horsepower backup motor). The bad news: by the time they had this thing dialed in, most of the mines had dried up, leaving this beaut just shy of a decade to do its duty. But the abandoned tramway and authentic ore buckets still dangle over Pioche today and are worth a photo op, to say the very least.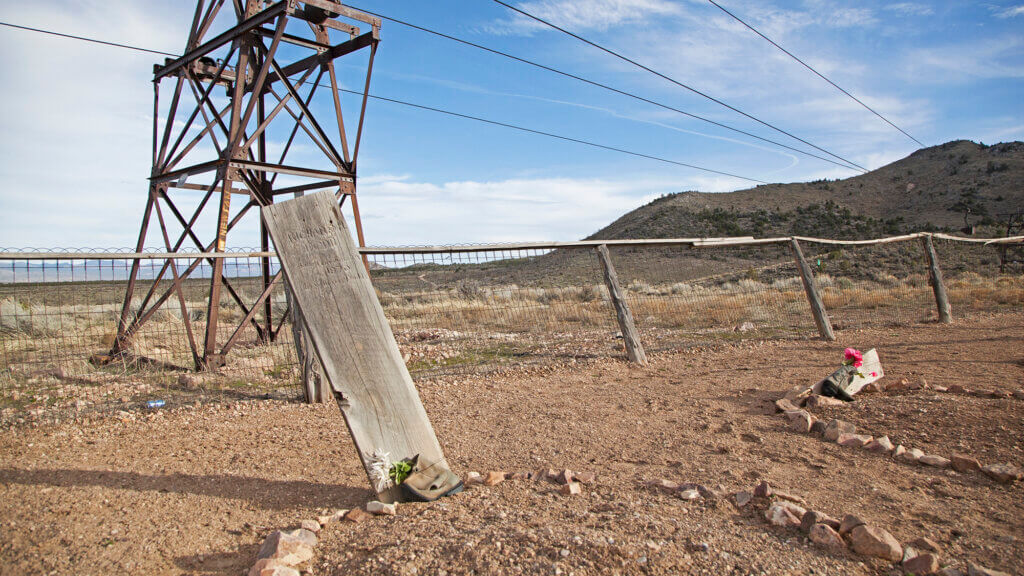 5. Murderer's Row at the Legendary Boot Hill Cemetery
Pioche
Not exactly on the way to many other places, Pioche still remains remote today. But even back when it was booming, Pioche was remote, even for its time, but the fact that its mines were cranking out hard-to-imagine wealth was all it needed to grab the attention of a whole slew of miners and socialites. Thousands flocked to the area, and so did plenty of bandits, looking to get their hands on a cut. Speaking of which, here's the interesting part. Ever heard of a town called Tombstone? Or maybe Deadwood? We hate to break the hearts of those Wild West zealots out there, but Pioche had those babies beat… and not just by a little. Pioche had the reputation of being one of the dowdiest towns in the Old West. During a time when mining operations weren't exactly OSHA approved and kerosine lamp fires were the reg, you'd think that there might be a few work-related deaths, right? Not in Pioche… at least, not before another leading cause. With 78 saloons and a population of only 6,000, you might say it was completely standard for arguments to escalate in gunfight.
A whopping 72 people were laid to rest in one year's time before a single person was killed by natural causes or a work-related accident. SEVENTY-TWO. A staggering 60% of homicides in the entire state during the 1870s occurred in Pioche, and a murder a month went down for three consecutive years straight. To compare, Tombstone had three. Pioche's slain were all entombed in Boot Hill Cemetery, and here's the kicker: you can still visit this boisterous burial ground, which is conveniently located right beneath the aerial tramway. Pay attention to "Murderer's Row," near the back of the cemetery, where you can read some fascinating causes of death. Expect to see headstones inscribed with things like, "Shot During Dispute over A Dog," or "Feared By Some, Detested by Others, Shot in the Back 5 Times from AMBUSH." Tombstone and Deadwood? Hollywood hype. Pioche? Simply the baddest of the bad.
6. History Delights at Spring Valley State Park
Pioche
Remember that part about Pioche being next to Cathedral Gorge and oh… four other parks? Yeah, consider Pioche your launchpad for a southeastern Nevada State Parks exploratory mission. Lock that one in your noggin, grab a State Parks Passport and hightail it to another gem in the area: the delicious Spring Valley State Park. Located 20-ish miles or a 30-minute drive from the core of Pioche, you'll feel like you just dropped into a Harley-Davidson commercial as you wind your way in and out of spectacularly scenic canyons and into park boundaries. From the looks of it in Pioche, a visitor might suspect there isn't water for miles on end around these parts. BUT a trip to Spring Valley will change that tune pretty dang quick. Pioneers making their way west couldn't pass up including this invaluable resource in their route, and many—upon reaching it—called it good and settled in this exact area, staking down their homesteads and ranches in this rediscovered section of the American West.
Some of those ranches, dating all the way back to the 1860s, fall within modern day park boundaries, so be sure to swing by and see some super cool relics. The ag industry continues to be a key driver in the local economy around these parts, thanks in large part to the Eagle Valley Dam, constructed in 1965 within Spring Valley. Among the reservoir's many uses, fishing, swimming and ice fishing are particular high notes surely worth writing home about.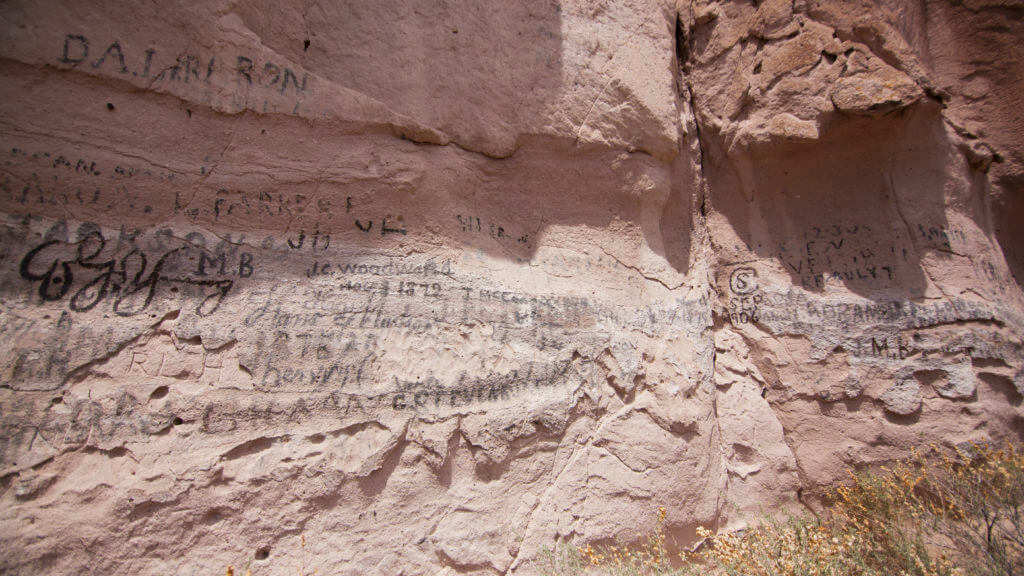 7. Pioneer Graffiti
Pioche
Of all the backroad secrets that exist in Nevada (and trust us, they abound) this little guy is truly in the top five. When it comes to visiting Spring Valley State Park, you could leave park boundaries the way you came in, go back out to the highway and make your way into the main entrance of Echo Canyon State Park. Ooooor, you could just follow the main road in Spring Valley, take it past the historic ranch buildings, through a tiny sliver of accessible private property, and enter Echo Canyon through the back. Sneaky, sneaky.
Sandwiched between both parks is one massive unrevealed treasure: a wall of what I refer to as some seriously cool Pioneer Graffiti. Remember, it's not on public land, friends. We beg you to be brief, we beg you to be respectful. But drink in some amazing pockets of history left on an amazing, seemingly untouched rock wall betwixt these two parks. As you know from Spring Valley, early explorers and pioneers densely populated the area. Some called it good, but those who left didn't hit the road without leaving their mark. Some etched their names into this wall, following the old-school petroglyph style of American Indians, while others left their names with some good ol' fashioned axle grease from their wagons. Yep. It's THAT. COOL.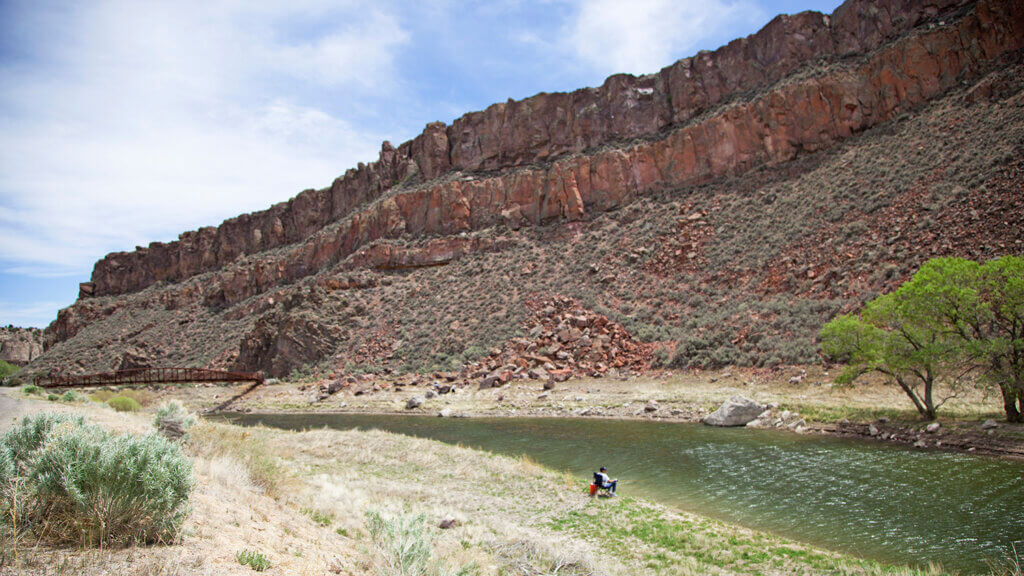 8. Echo Canyon State Park
Pioche
You've arrived at Echo Canyon, which officially marks your third glorious Nevada state park of the trip. Not too shabby, right? This park, like many others in this relatively unexplored—yet thrilling—chunk of southeastern Nevada, is flipping cool. Sliding into the park via Spring Valley—essentially going the opposite way of the "traffic"—is the most stunning way to experience it, as you'll wind up with a front row view of some seriously impressive rock formations. And maybe you had some sneaking suspicions, but don't think you're going to leave Echo Canyon without seeing some eye-catching canyons. There is also an impressive preponderance of water in the park and some of the best camping in the region. Fish by boat from the lake, or post up on shore in the canyon under some really pretty bridges. Either way, a visit to Echo Canyon is an easy, euphoric day trip from Pioche.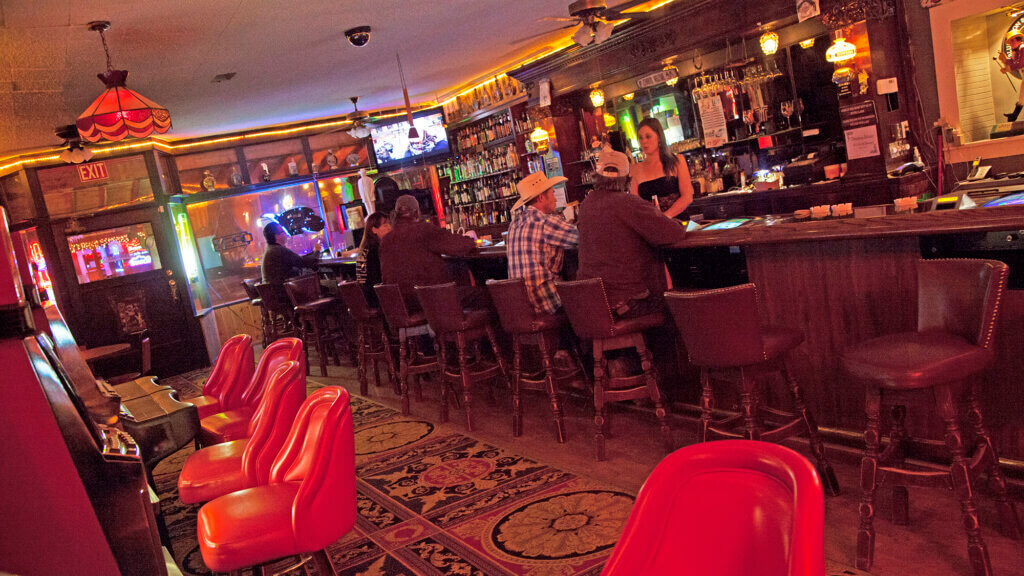 9. The Best Bar Hopping for 70 Miles
Pioche
We're the first one to go all in on some flashy Midtown-meandering, Fremont-exploring kinds of fun. But there is also a time and a place for some backcountry bar hopping, and the fact of the matter is Pioche is the greatest tavern territory within a 100 miles. Period. And the best part about it? It's been that way for decades. Based on Pioche's 1873 tax records, Pioche was home to a hard-to-believe 78 saloons and 34 brothels for a community of just 6,000 people. You might say they knew how to do the damn thing; well, lucky for us, they haven't forgotten.
In stride with small town standards, most of Pioche's business roll to a stop around dinnertime. By then, you should've had ample time to check out all the amazing artifacts in the Million Dollar Courthouse and peruse a handful of memorable graves at Boot Hill… and wind up plenty thirsty. Come evening, the solutions are easy, as the only things you're likely to find open are three little pockets of paradise: the Nevada Club, the Overland Saloon and the Alamo Club & Liquor Outlet—three glorious bars all within a half mile of each other, just begging for your patronage. In these parts, whiskey has and continues to be a popular favorite among travelers and locals alike, but you can't ever go wrong with a Nevada Martini—a domestic draft beer with two olives. Bottoms up!
Travel Nevada Pro Tip
All three saloons are equipped with amazing little pizza convection ovens. If you arrive past the 6 o'clock hour, chances are most of the few restaurants in town are closed up for the evening. No biggie, just opt for the three different varieties of frozen pizzas within all of Pioche's three bars for an only-in-Nevada experience you won't forget–'cause seriously, what better combo than pizza and beer?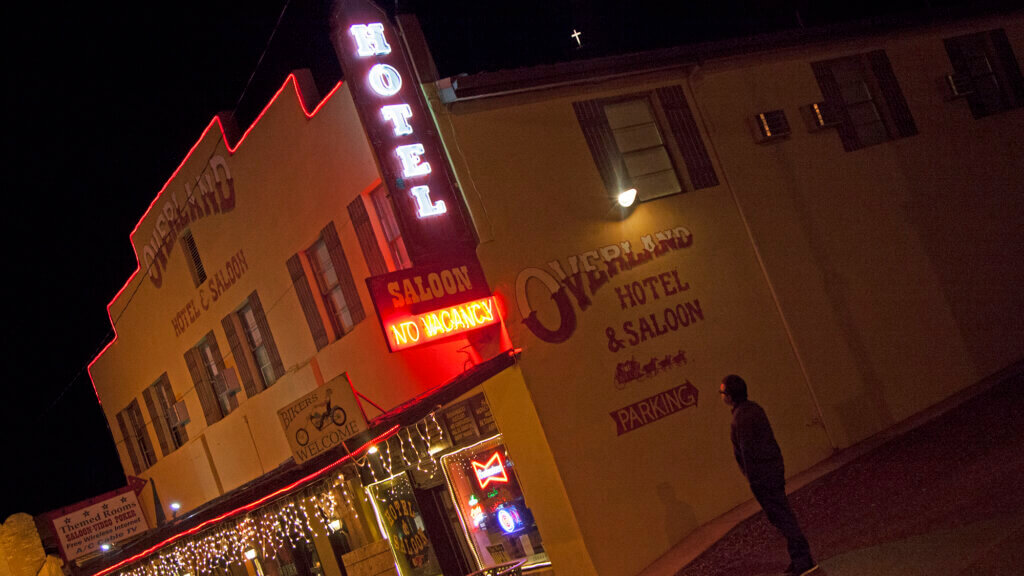 10. The Pioche Neon Scene
Pioche
Sling back this tall drink of water (or whiskey): Vegas ain't the only town brimming with seriously good neon. As if this list wasn't packed full of a whole bunch of things you may have not known about, here's Secret No. 24,870,239,480 comin' atcha hot: some of the most perfect neon is buried in the heart of off in these out-of-the-way places. Pioche is a prime example. Like beacons in the night, bask in the buzzing glory of the Alamo Club & Liquor Outlet, Overland, and Nevada Club, and try your best to align your trip with a new moon phase. I hope you brought your DSLR and tripod because the night scene in this beauty of a locale is certainly worth a 30 second shutter.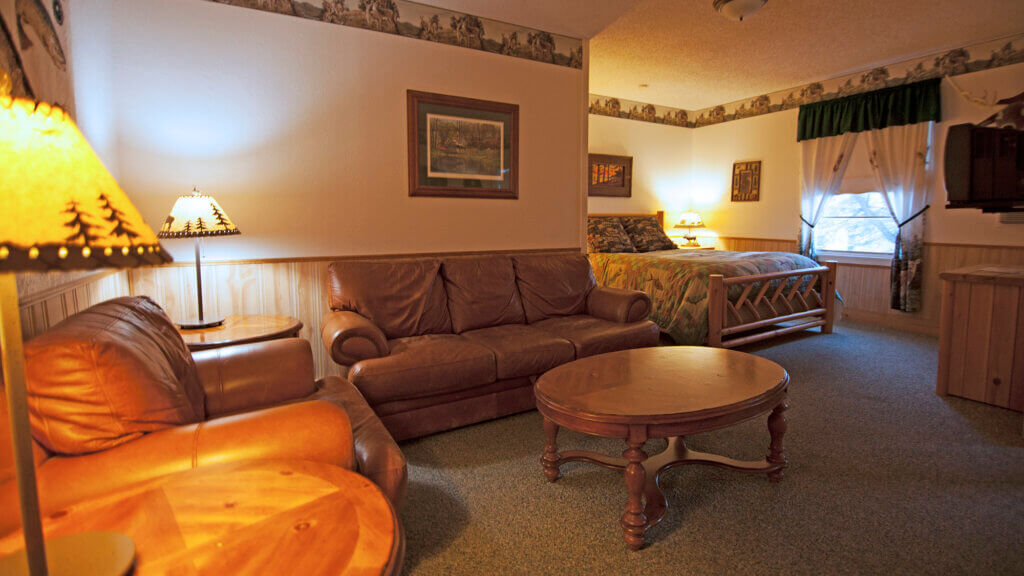 11. The Historic Overland Hotel & Saloon
Pioche
It's possible you're ponied up to the bar in the Overland by now… BOTTOM LINE: this mighty fine establishment is worth prolonging in the fullest sense. Polish off this already foolproof journey by staying in a tangible piece of history in one of the luxuriously-themed hotel rooms upstairs. And get this: an authentic, 1870s-era miner's abode sits in the rear of the property today giving a glimpse of what life was like when this establishment came to fruition—although I can assure you the rooms are now a few light years ahead.
The Overland Hotel & Saloon you frequent today was once made up of a dancehall, grocery store, doctors' offices and hotel rooms; of course, true to Nevada form, the only part of the modern-day Overland that remains is the saloon. The most important part, eh? The massive cherry wood Brunswick bar counter you see today was reconstructed after being housed in a bank, and relocated to the Overland from Kimberly, NV (now an uninhabited ghost town.) When posting up for the night at the Overland, it'll be a no-brainer to see why this historic treasure is one of the county's main attractions.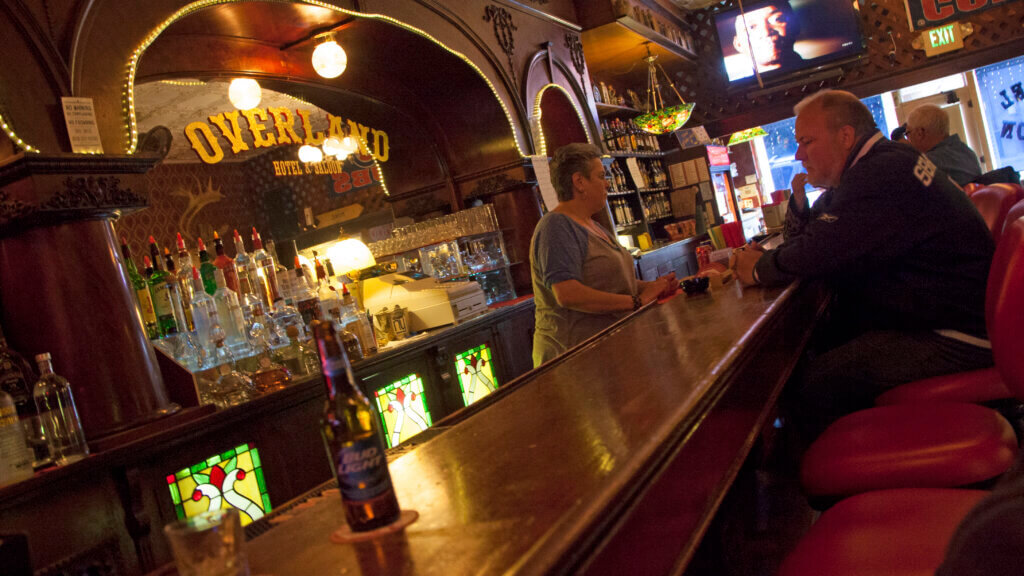 12. It's All About The Locals
Carson City
Most places have the same collection of things: super cool outdoor adventure experiences, a solid dose of history and some sort of meal or dining experience you can go home and tell your friends about. What separates Nevada in the fullest sense is one small detail with a great big bang: the people. I kid you not, every single time I go to Pioche, I make sure to end with a trip to the Overland, and it's the same unbelievable group of people. And despite the gap in time since my last visit, they remember me like it was yesterday, pick me up with a big rough hug and say, "SIT DOWN, SYD, I'll buy ya a drink!" That my friends, you can't find just anywhere, but it's a quality that is very much alive in downtown Pioche. #NVHistory
Get Inspired
Related Stories