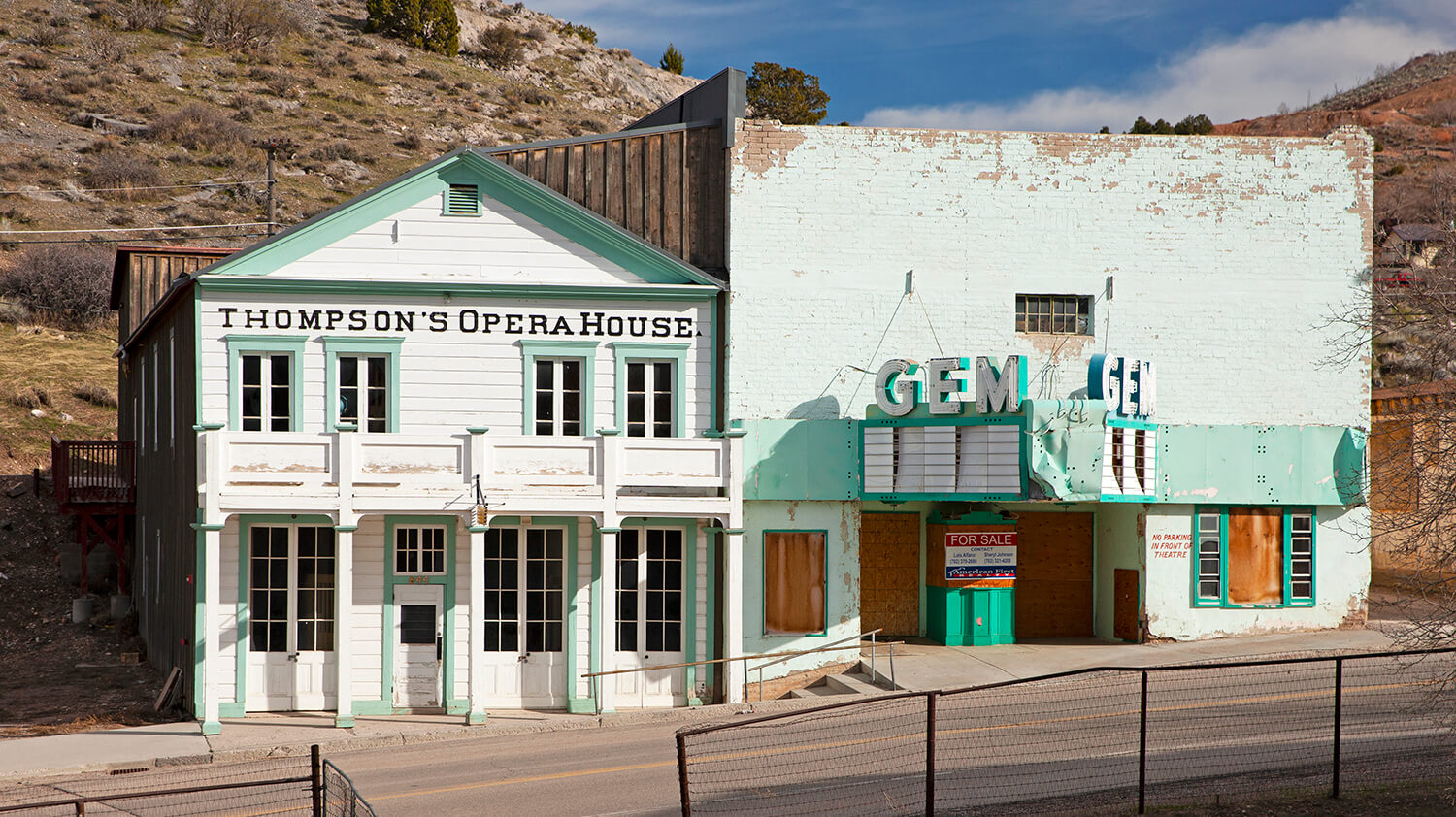 Looking for a taste of real-deal Wild West history? With a rough-and-tumble past that rivaled Tombstone, Dodge City and the other Old West greats, no other place remains truer than Pioche. Nestled in the heart of southeastern Nevada's Lincoln County, get to know sterling silver mining history that shaped the Nevada story and lasting 1870s-era buildings that have stood here since Pioche's very beginning. Once you're here, stroll historic Main Street, then peel back the pages of time at the Historic Gem Theater—a glowing fixture of the Pioche scene for more than 80 years.
This 250-seat theater was built in 1937, right in the Golden Age of Hollywood. Thompson's Opera House, Pioche's first and original theater, sits next door to the Historic Gem Theater and has been part of the Pioche story since the 1870s. Hosting a myriad of elegant balls, variety shows, theater and beyond, this tried-and-true Old West staple slowly lost its appeal as silent movies came onto the scene. The Gem Theater first opened operating within the historic Thompson's Opera House, and by 1937, a new theater made for a thriving film era was freshly built and the Gem Theater officially had a new, separate home right next door to Thompson's Opera House.
This single-screen theater showed movies from 1937 all the way to 2002, when a windstorm stripped the theater's roof off and the historic building suffered tremendous damage. The theater sat vacant and shuttered for nearly 20 years until Melissa Clary came into the picture, purchasing and bringing new life to the Historic Gem Theater careful preservation. Founding the Friends of Gem Theater non profit organization, Clary plans to restore and reopen this storied moviehouse soon.
To donate to the Gem, or purchase an original Gem watercolor print whose profits go toward restoration, click here.
Hours:
The Historic Gem Theater is in progress of historic renovation and is not yet open for moviegoers. Check back for updates!
This Location: