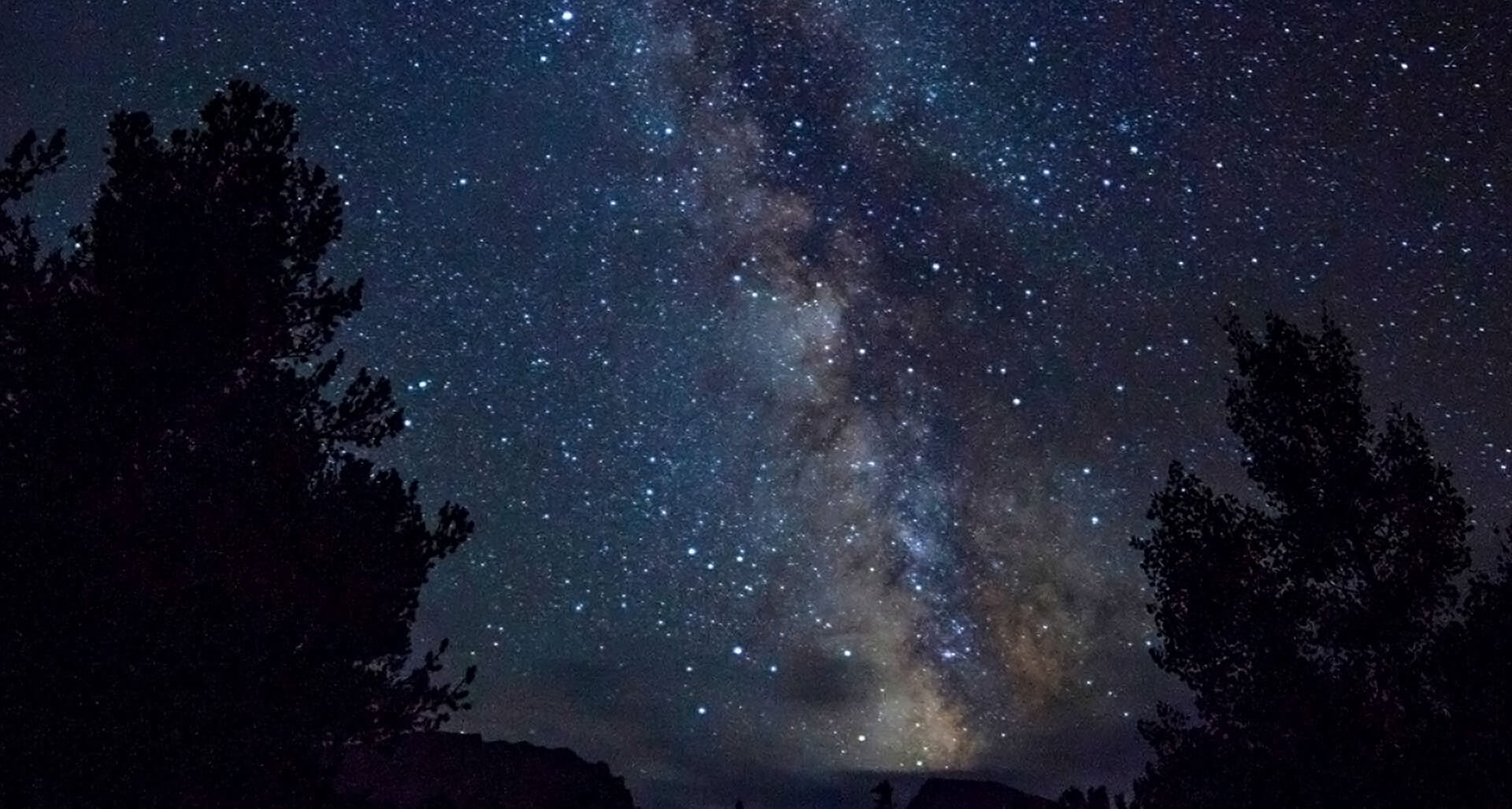 FROM 5,000 YEARS AGO TO SIX FEET UNDER AND 25,000 LIGHT YEARS AWAY
Take US 93 from Las Vegas to Ely
Stunning parks, funky towns, and natural wonders — Nevada's adventurous eastern edge beckons.
From sandstone canyons to alpine lakes and plenty of history along the way, the Great Basin Highway — which closely follows Nevada's U.S. 93 — will take you through several Nevada state parks and a few intriguing communities before you end up at Great Basin National Park, home of 13,064-foot Wheeler Peak and the Lehman Caves system. Pack that gear because the Great Basin Highway road trip is ideal for hiking, mountain biking, rock climbing, swimming, fishing, endless photography, stargazing, and so much more.
Don't forget your Nevada State Park Passport for this #NVRoadtrip! Your Nevada State Park Passport can be picked up at any Nevada State Park. Travel Nevada PRO TIP: If you get your passport stamped in 15 of our state parks, you will earn one free annual pass to all of them!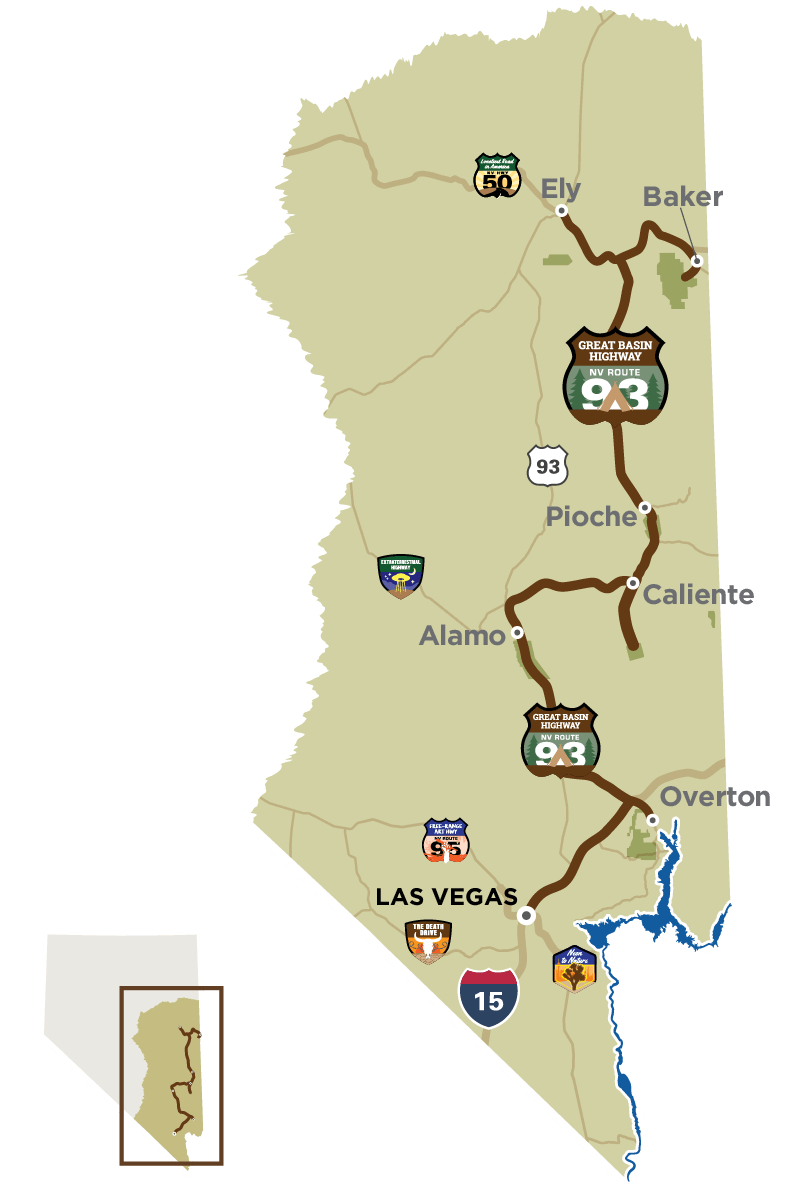 Share those good times on the #GreatBasinHighway
Las Vegas to Valley of Fire State Park
From Las Vegas, it is about 52 miles/84 kilometers on Interstate 15 east to Valley of Fire State Park. However, if you have time, take the scenic route. Northshore Road—AKA a combo of state Routes 169 and 167—gently winds from Vegas towards Valley of Fire State Park, hugging the park boundaries, past view after more epic view out to Lake Mead, Gold Butte National Monument, and even peaks of Grand Canyon-Parashant National Monument. Watch for wild horses!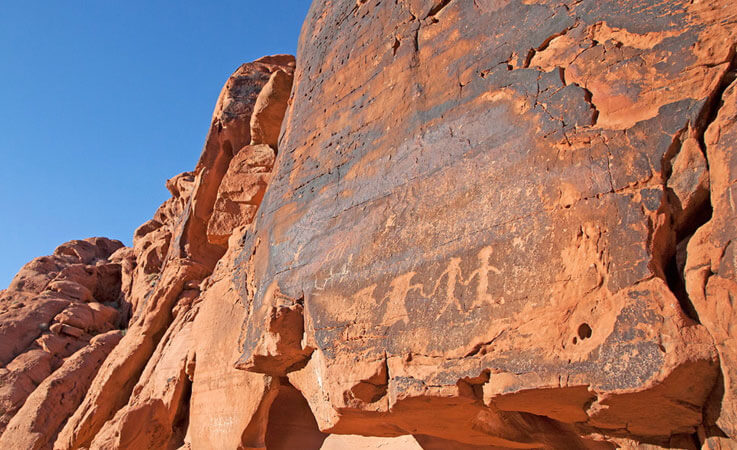 Once you've reached Valley of Fire State Park, do yourself a favor and make your first stop the visitor center, where you'll learn more about Valley of Fire's geologic and natural history before exploring trails through area canyons and ancient rock formations. Keep your eye out for petroglyphs! These ancient rock carvings left by southeastern Nevada's Ancestral Puebloans can be found throughout the park, but they are most easily viewed at the Atlatl Rock area near the western end of the park and along the Mouse's Tank Hiking Trail.
From Valley of Fire, head west on Interstate 15 to the junction with U.S. 93, the Great Basin Highway, and continue north.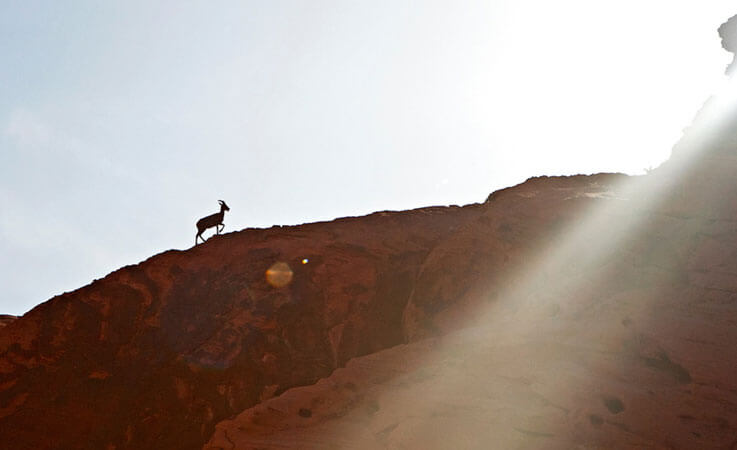 Camping in Valley of Fire State Park
Valley of Fire State Park is especially stunning in the early morning and at golden hour. To experience these magic moments, you'll have to plan ahead. These campsites are first-come, first-served. Any non-campers in the park before sunrise or after dark are considered trespassers and will be ticketed. Valley of Fire is also one of Nevada's oldest, first, and most visited parks, so don't be surprised about the parking—or the people! (Don't worry; there's plenty of all-to-yourself scenery coming your way down the road…)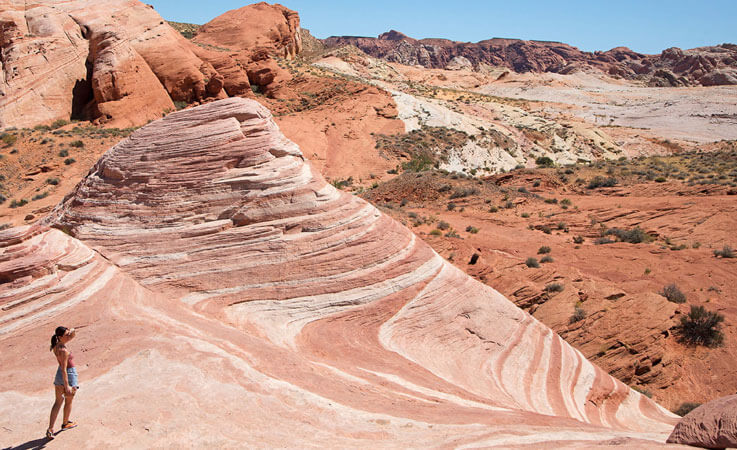 Should You Stay or Should You Go Now?
After a day exploring Valley of Fire, you may be ready to cool down for the evening, either in the park or in nearby Moapa Valley. However, if you're hot to trot, head back to I-15 to catch US-93 north and get yourself closer to Caliente (a couple more hours down the road). If you're planning another park-packed day tomorrow, you'll be glad to shave off some miles.
Leg 2:
Cruise On to Caliente
Travel Nevada PRO TIP: Most roadtrippers combine this sort-of-in-between jaunt with Leg 1, tacking it on at the end of a day exploring Valley of Fire, or get an early start and combine it with Leg 3. There's no wrong way to do it!
Either way, you've got about 2.5 hrs (155 mi / 250 km) of beautiful highway between Valley of Fire and Caliente. En route, you'll pass Pahranagat National Wildlife Refuge, an oasis-like wetland refuge for migratory birds (and humans who enjoy nice walks), as well as through the communities of Alamo (where you'll find meals and accommodations), Ash Springs, and Crystal Springs—site of E.T. Fresh Jerky and the official launchpad to our most out-of-this-world Nevada Road Trip, the Extraterrestrial Highway. To stay on course, continue on US-93 toward Caliente.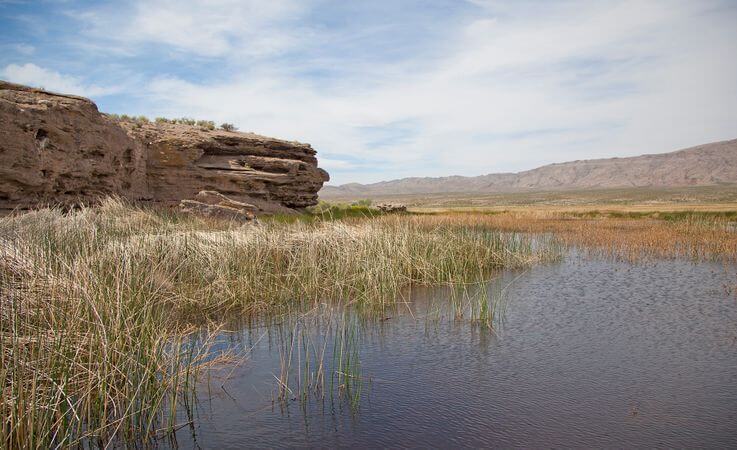 Feel like getting a little… Paleozoic? 30-ish minutes east of Crystal Springs, pull off at Oak Springs Summit Trilobite Area, located on the south side of Oak Springs Summit, near mile marker 81. This site, overseen by the Federal Bureau of Land Management, contains the fossil remains of six different types of fossilized marine creatures from the Paleozoic Era, called 'trilobites.' A 20-minute weave down a pretty canyon takes you right into Caliente.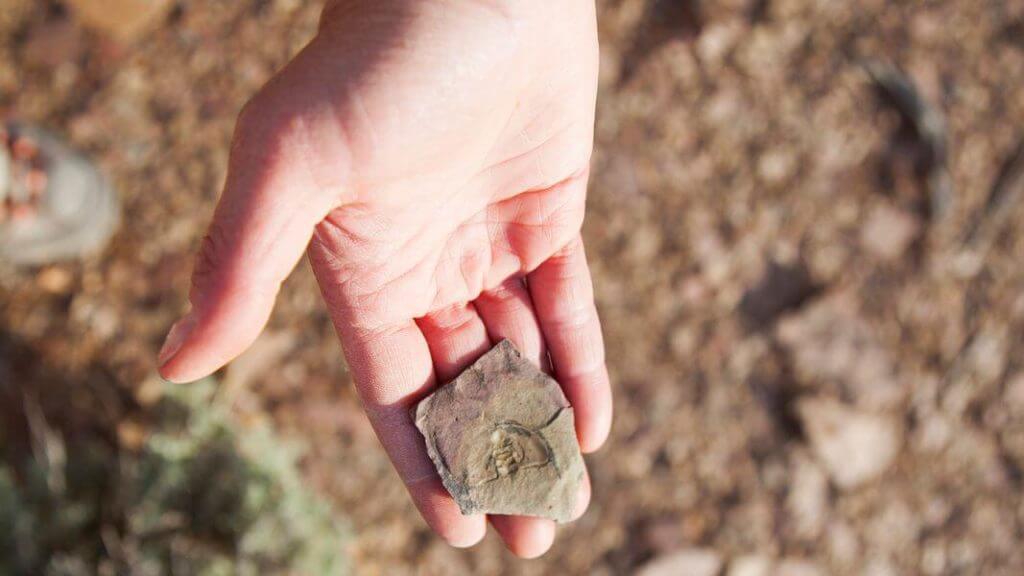 Leg 3:
Endless Combos: Parking Hopping in Paradise
Leg 3 of the Great Basin Highway is filled with adventure in unlimited combinations. With five state parks in close proximity, be warned: as much time as you allow yourself… you're gonna fill it! That's why we recommend overnighting Caliente or Pioche, which both serve up their own lasting character, backed up by a hefty helping of history. Here are some highlights to consider when assembling your own park-hopping adventure.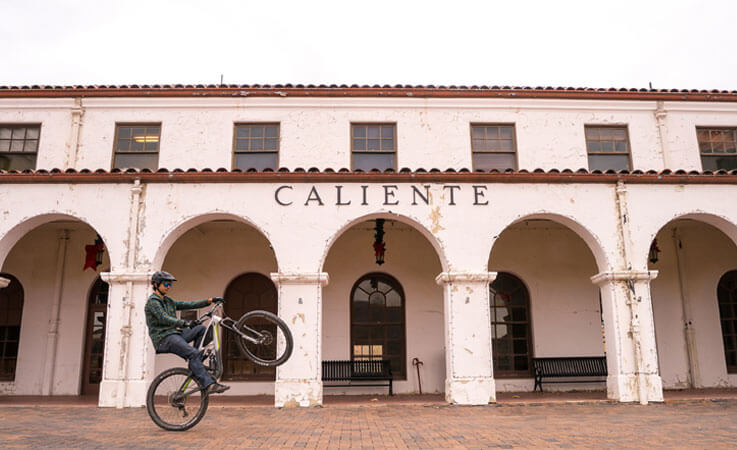 Caliente: So Hot Right Now
Dubbed Nevada's "City of Roses" for its rosebed-lined streets, Caliente is a former resort town (with a classic Mission Revival-style railroad depot to show for it) rolling towards rebirth as a mountain bike mecca, with a new bike skills park as well as Barnes Canyon, a 20-mile singletrack trail system. After a day ripping trails, get out of the saddle and into a private hot tub at the newly remodeled Caliente Hot Springs Motel, complete with cycling-themed rooms (of course). Then, cool off with a cold one at the Side Track Restaurant & Side Car Speakeasy or wash down some hot grub at the Knotty Pine.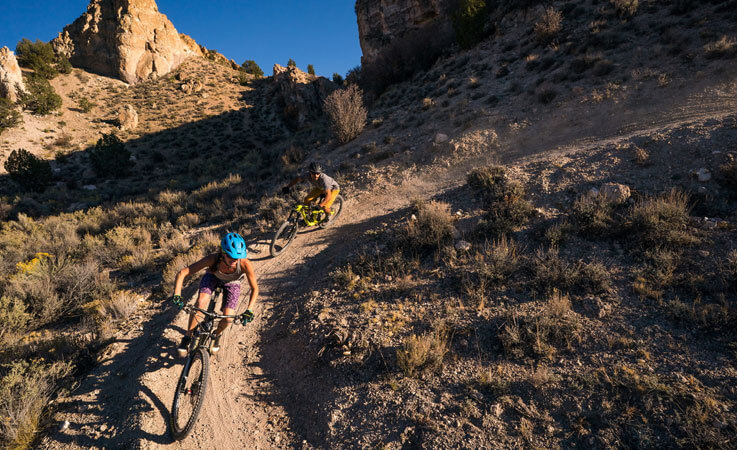 Kershaw-Ryan State Park and Elgin Schoolhouse State Historic Site
Ogle the literally "gorge-ous" views on Kershaw-Ryan State Park's easy, 1.5-mile Overlook Trail. Then dip your toes into the spring-fed pool and take in the lush gardens, lovely grounds, and even koi ponds in this verdant park. Camping available. 3 mi / 4.8 km to Caliente. 28 mi / 45 km to Pioche.
Continue another 20 minutes south on NV-317 through breathtaking Rainbow Canyon (a rock climber's unspoilt paradise) to Elgin Schoolhouse State Historic Site, a historic one-room schoolhouse offering a glimpse of Nevada's frontier past with original items and a preserved teacher's quarters. 22 mi / 35 km to Caliente. 45 mi / 72 km to Pioche.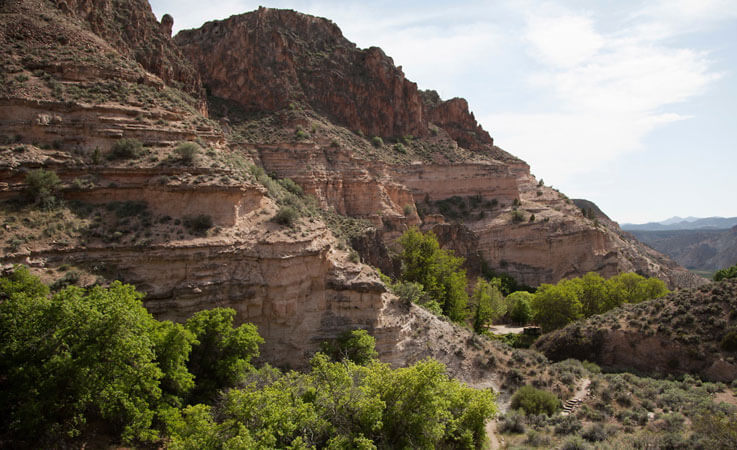 Cathedral Gorge State Park
No matter what else you have planned, make sure Cathedral Gorge State Park is on your list. Once completely under water, this sanctuary of eroding fins, narrow siltstone slot canyons, and towering "hoodoos" are a photographer's dream and a hiker's limitless playground. Stop by the visitor center for neat exhibits, info on surrounding parks, and to get your passport stamped. Camping available. 15 mi / 24 km to Caliente. 8 mi / 13 km to Pioche.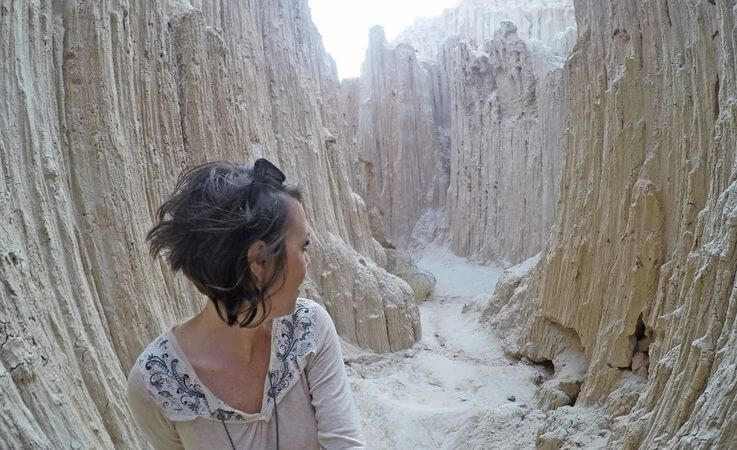 Beaver Dam State Park
If you're after some of Nevada's famed dirt roads and seemingly ceaseless landscape, head to Nevada's quietest—and most remote—park. Choose from great day hikes among waterfalls, creek beds, and mixed-conifer forests, then crash at campsites tucked into the trees or overlooking infinite vistas. For the more adventurous anglers out there, visit Great Basin small-stream, hike-in fishing at its finest, with plenty of constantly-shifting, often trout-packed honey holes all along Beaver Dam Creek. [4×4 is not generally required, but call the park to check conditions for this 25-ish mile stretch of dirt road.] 34 mi / 55 km to Caliente. 47 mi / 76 km to Pioche.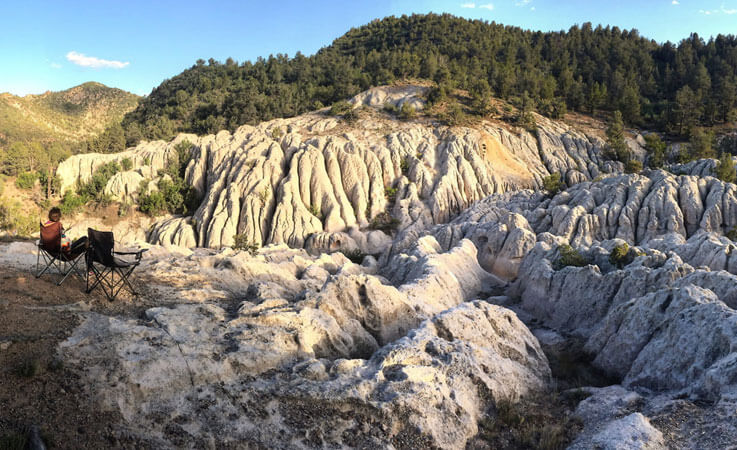 Echo Canyon and Spring Valley State Parks
These sister parks, connected by water and often visited together, start at Echo Canyon State Park off U.S. 93 on Nevada state Routes 322 and 86. A 35-acre reservoir at this park, as well as the 2.5-mile Ash Canyon Trail, offers epic opportunities for fishing, birdwatching, and boating. Camping available. 30 mi / 48 km to Caliente. 13 mi / 21 km to Pioche.
Venture 20 minutes northeast through pretty canyons and you'll reach Spring Valley State Park, known for fishing derbies, historic pioneer homesites, and some of southeastern Nevada's more iconic roadscapes. Take in 59-acre Eagle Valley Reservoir, then cruise up the canyon to snap pics of neat old 19th-century ranch homes, like the Stone Cabin. Camping available. 43 mi / 70 km to Caliente. 18 mi / 29 km.
From Boot Hill to One Mil'
Pioche in the 1870s was a young and lawless mining town, certainly up to snuff with Dodge City and Tombstone. It is said that the streets ran so red that an astonishing 72 people were laid to rest before someone actually died of natural causes. A little friendlier these days, many refer to it as "Nevada's liveliest ghost town."
As for the Million Dollar Courthouse, tiffany lamps, gilded ceilings, indoor drinking fountains, and many other swanky flourishes helped earn the "Million Dollar Courthouse" its mining-era moniker. Today, admission is free to what's now a relic-rich museum flaunting the town's history.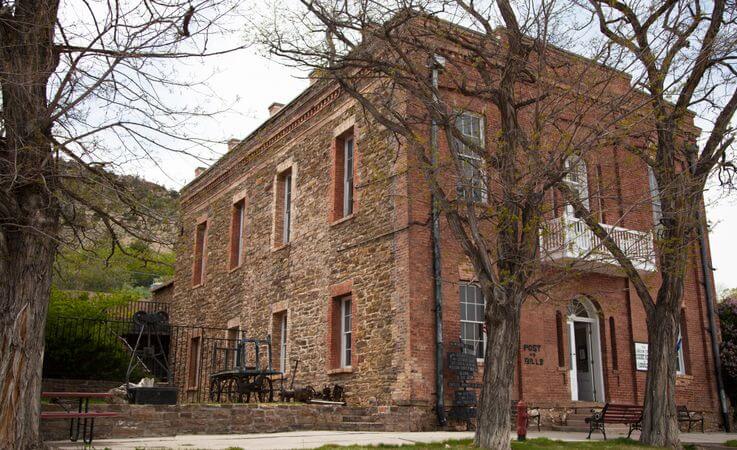 Travel Nevada PRO TIP: Regular visiting season is May–Oct., but call the Lincoln County Museum during the appointment-only months and you'll probably have the courtroom's life-size cast of mannequins all to yourself. (Because, well… #WeirdNevada?) Oh, and of course, be sure to check out the old jail behind the courthouse, too.
Boot Hill Cemetery is another great reminder of the town's origins as a lawless Western outpost. The cemetery sits below an old aerial tramway that was used in the 1920s and '30s to carry ore from the mines to a mill on the hill.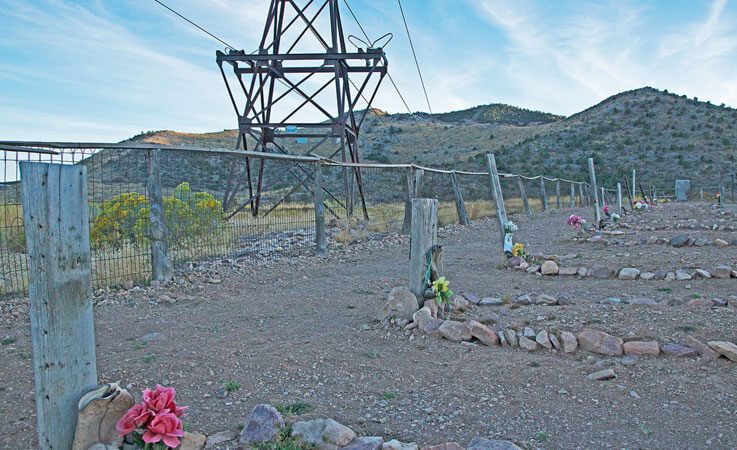 Feel like you earned some days-end libations? A few classic sagebrush saloons await, including the famous (and said to be most likely haunted) Overland Hotel & Saloon, where you'll also find comfy, old-school rooms.
Ward Charcoal Ovens State Historic Park, Cave Lake State Park, and Ely
Continue north on the Great Basin Highway — it's 101 miles/163 kilometers to Ward Charcoal Ovens State Historic Park. Here, you'll find a great photo opportunity with six large (30-feet-high by 27-feet-diameter) beehive-shaped charcoal kilns in use from 1876 to 1879. Juniper and pinyon pine were burned in these ovens which created charcoal that was used in the smelters for the Ward Mining District. Later, the structures moonlighted as the occasional hideout for stagecoach bandits and frontier outlaws.
From here, it's only 17 miles/27 kilometers to Cave Lake State Park, which has a 32-acre reservoir popular for year-round fishing – brown trout in particular. Hikers can attempt the Cave Lake Overlook Trail, a strenuous, 4.5-mile loop that begins on the eastern end of the lake, and reward themselves with an overnight stay in a reservable yurt.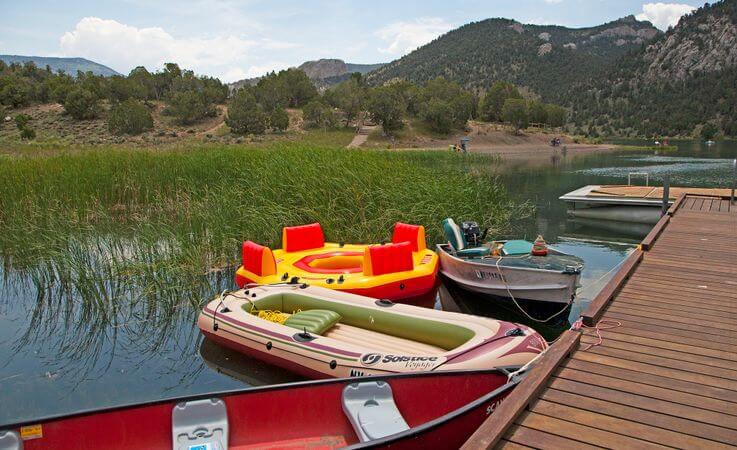 Mountain bikers can rip around on hard-packed gravel and more than 20 miles of solid singletrack, weaving through elk habitat among limestone cliffs and forests—or come get competitive during Fears, Tears & Beers each June: the country's oldest enduro race, which features a mountaintop pedal, time twisties and springs, and even a group roll through two casinos.
Cave Lake is also home to one of Ely's biggest community events, the Fire and Ice Winter Festival. This annual ice sculpture competition is usually held in January, so plan accordingly!
Rockhounds and Railfans
From Cave Lake, it's a quick 13 miles/21 kilometers to the city of Ely. This mining town is home to the Nevada Northern Railway, a historic railway that now runs the Ghost Train of Old Ely, an excursion train (which also stars in the annual Race the Rails bicycle competition), and the adjacent East Ely Railroad Depot Museum.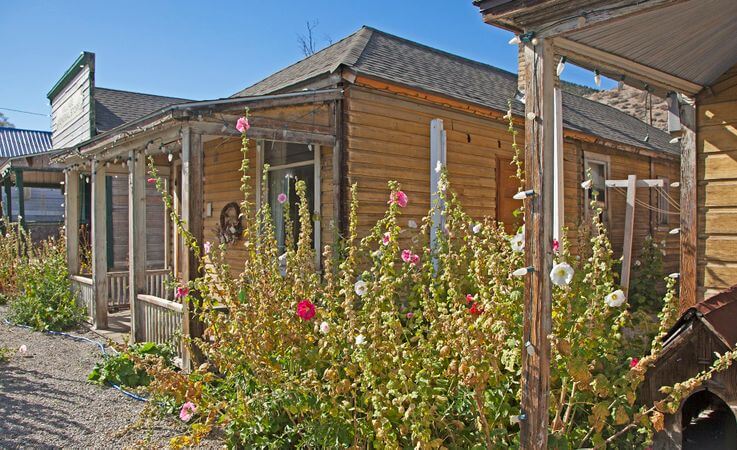 Stroll the downtown area to view the city's many murals as well as Renaissance Village, a cluster of dwellings historically preserved to represent the melting pot of cultures drawn to the copper mining boom Ely saw in the early 20th century. For a downloadable map of the Art Walk murals and the Renaissance Village, visit the Ely Renaissance Society website, ElyNVArts.com.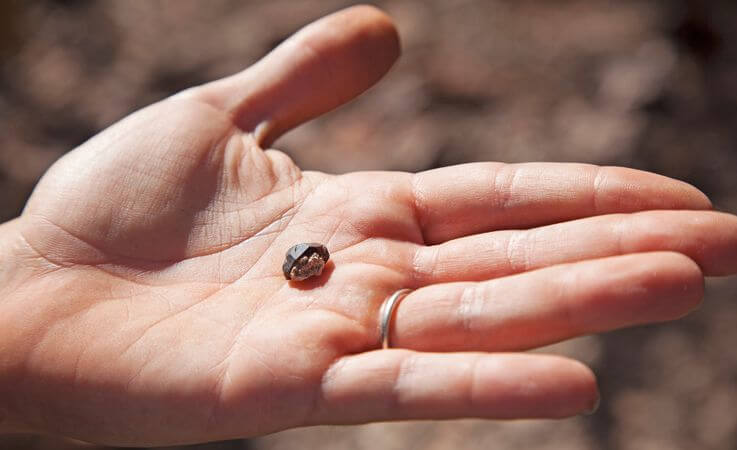 Rock lovers will definitely want to map out their visit to Garnet Hill, a rockhounding area just 4 miles/6 kilometers west of Ely, where you can search the ground for 2-carat-sized garnets to take home. Garnet Hill is managed by the Federal Bureau of Land Management and entry is free! If you're looking to stay overnight in Ely, there are several options available, each with their own charms. There's no wrong choice here; just a handful of right ones.
Travel Nevada PRO TIP: Any time of year is great to check out Garnet Hill, but the place is especially successful after a fresh rain, as many of the garnets wash down the hill and are more easily discoverable.
Great Basin National Park
You're on the home stretch. It's time to head to Great Basin National Park, just about an hour east of Ely on U.S. 50 and Nevada state Routes 487 and 488. Even after all the wonders you've witnessed on this road trip, get ready for nature to run truly wild. On Nevada's remote central-eastern border, Great Basin National Park benefits from a strikingly low number of annual visitors–one of the lowest in the country–which means this sanctuary is perfect for solitude and nature immersion.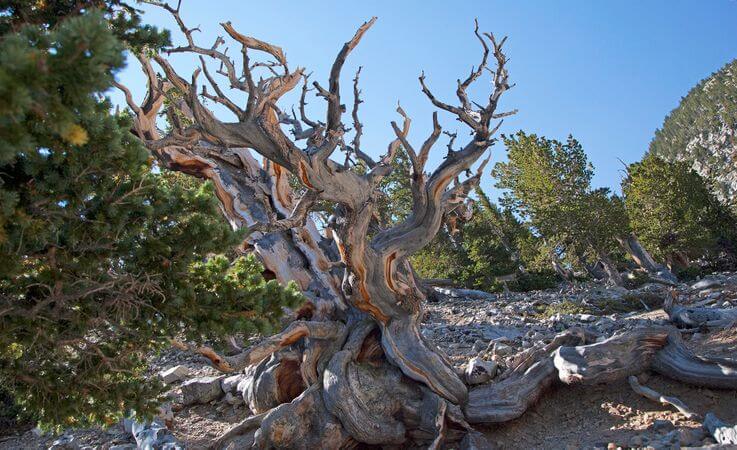 Aspen groves shade the mountain streams. Bristlecone pine trees, thousands of years old, still grow gnarled with age. Lehman Caves awes visitors with an array of colors, patterns, and rare formations forged over many millennia. A scenic paved road takes motorists to the 10,000-foot mark, where they're left to hoof it up to Nevada's second-tallest peak (Wheeler), which peers over Nevada's last glacier.
Stop by one of the park's two visitors' centers: the first is off Nevada state Route 487, open from May to Oct.; the other (and more robust one) is inside the park at the end of Nevada state Route 488, right next to Lehman Caves.
Breaking Free: Stalactites, Stalagmites, and Stargazing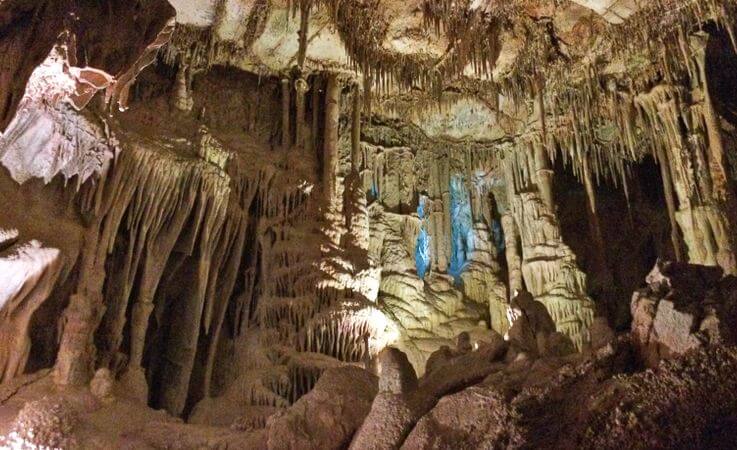 Discovered in the 1880s, Lehman Caves is a "marble cave" full of stalactites, stalagmites and over 300 shield formations that developed over eons—most caves only have a few. These delicate structures can be viewed via guided tours which are offered year-round. It's only up from here.
You'll want to explore Wheeler Peak next. Although only open seasonally (always plan ahead!), Wheeler Peak Scenic Drive is a 12-mile scenic route that winds its way up the Wheeler Peak Campground, opening into various different trails which start at 10,000 feet. Here, find trailhead access for Wheeler Peak Summit Trail, the Alpine Lakes Loop, and the Bristlecone Trail, which leads to a bristlecone pine grove. Note that the scenic drive is not plowed during winter months and is typically closed from November all the way through May due to snow.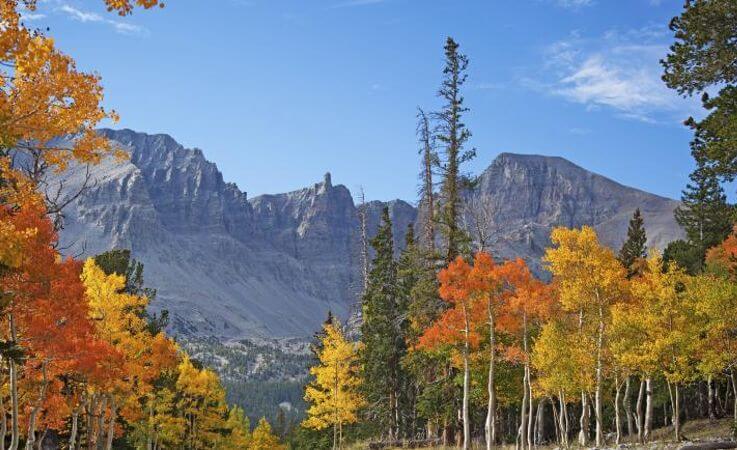 Back to Vegas, Or Do You Want More?
Your exploration of the Great Basin Highway is complete! Ready for a hot meal and a cozy bed? You've earned it. Head down the hill to tiny, artsy Baker, Nevada, where gourmet cuisine, artisan cocktails, fine beer and wine, and comfy rooms await at Stargazer Inn and Kerouac's Restaurant & Bar (May–October).
Or, shoot west to Ely where all services await. In the morning, you can backtrack to Las Vegas (243 miles/391 kilometers). Of course, for more adventure, you could also aim the vehicle towards Reno and Lake Tahoe on U.S. 50 westbound (320 miles/515 kilometers) and take on the famed Loneliest Road In America and cross another classic Nevada Road Trip off your Silver State Bucket List!