Fire & Ice Winter Festival
January 15, 2021
@
6:00 am
–
January 17, 2021
@
5:00 pm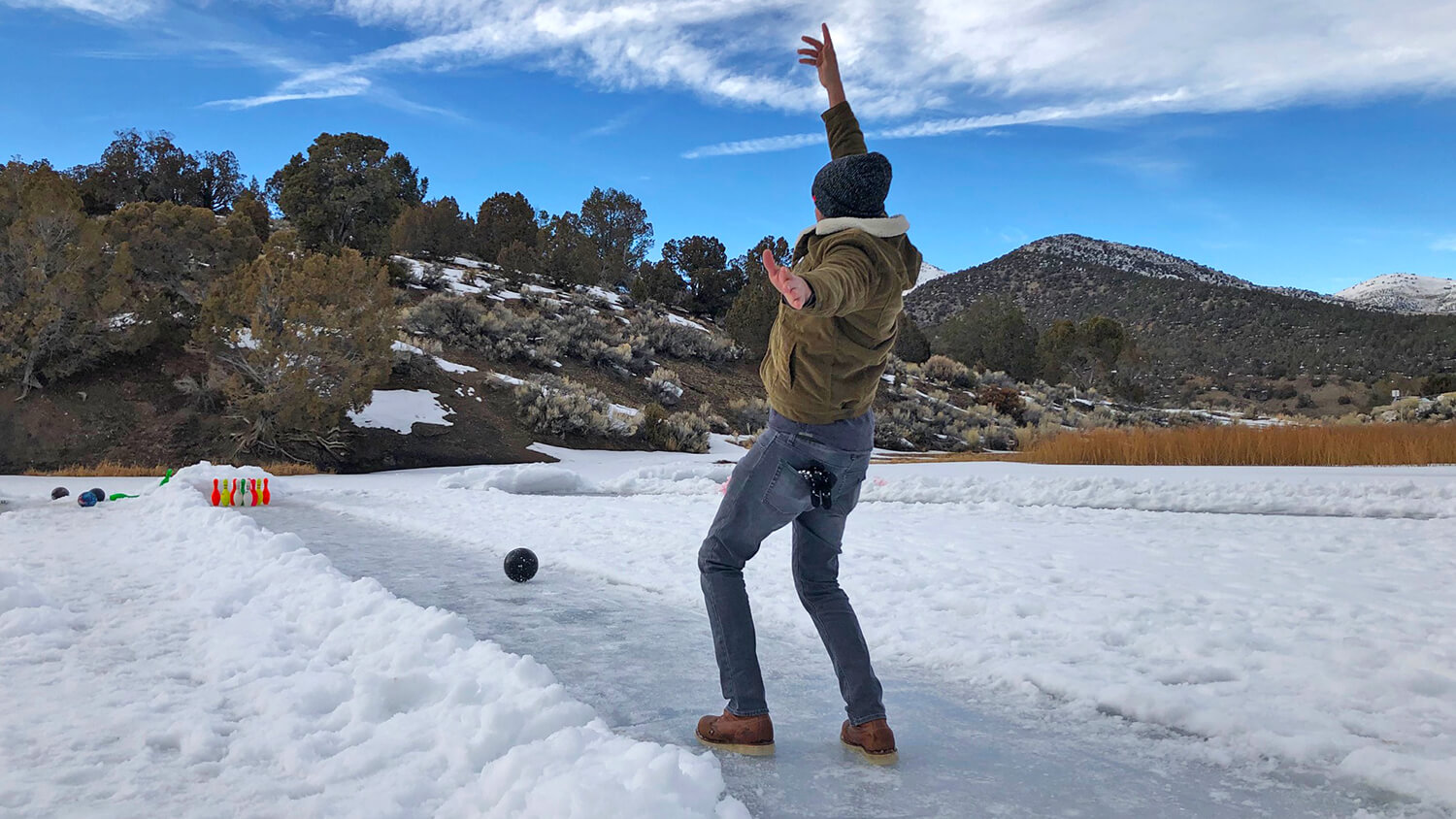 Please note that the events schedule will continue to develop as the event nears.
The Fire and Ice Winter Festival is an impressive celebration of the season in the Ely-area, offering community-wide events for people of all ages and interests. While the heart of Ely's Fire and Ice Festival is normally headquartered at Cave Lake State Park, the 2021 event locations will include the Nevada Northern Railway, Ward Mountain Recreation Area and many Downtown Ely businesses. Load up the whole fam for a diverse lineup of activities involving sports, arts and culture, food and drink, live music and beyond.
Though the 2021 Fire and Ice Winter Fest will not take place at Cave Lake, snow sculptures will continue to lead the event's activities, but this portion of the event is entirely dependent on weather. Teams interested in competing should get in touch with the Bristlecone Convention Center at (775) 289-3720.
It's at the Fire and Ice Winter Festival that visitors can expect to participate in, or bask in the entertainment of celebrating winter extremes with this event's signature ice fishing, ice golf, ice skating sledding, cross country skiing, ice bowling and even snow sculpting competitions. Bring your own sleds, skates, skis and fishing tackle, and head for Ward Mountain Recreation Area—an easy 10 minutes from downtown Ely.
After the daytime events come to a close, head back to town and board the Fireworks Express at the historic Nevada Northern Railway and East Ely Depot Railroad Museum. This event closer will be a memorable one to say the very least. After all, when else in your lifetime will you be able to experience fireworks detonating from a historic, early 1900s era locomotive? Yeah, nowhere else. Be sure to grab your tickets early if you want to ride, otherwise you can be part of the spectators in town where the show can be appreciated from miles around.
SATURDAY, JANUARY 16, 2021
Kick off the 2021 Fire and Ice events in downtown Ely with a full lineup of all sorts of wintry action. For the most up to date schedule of events a locations, please dial the Ely Bristlecone Convention Center at (775) 289-3720. But bottom line? It's safe to say Ely has an impressive lineup of events happening all over town, all day long, ranging from bowling, dart and pool tournaments, to bounce houses and face painting, karaoke, and live music. Spend the entire day bouncing around town, and cap it off with a ride on the storied Fireworks Train, where the folks at the Nevada Northern Railway truly detonate an array of fireworks from a historic, moving locomotive.
9 AM—Bristlecone Birkenbeiner Race at Ward Mountain
1:00 PM—Locomotive 93, the official Nevada State Locomotive, is running rides to celebrate its 111th birthday at the Nevada Northern Railway
2:00 to 4:00 PM—Live music performed by The Riflemen at The Cup
4:30 PM—The Fireworks Train departs from Nevada Northern Railway and East Ely Depot. Be sure to get your tickets in advance by clicking HERE—this one always sells out early!
6 PM—The fireworks display begins, and can be viewed from most places in downtown Ely
7 PM—Art Sculpture Bonfire at the Nevada Northern Railway. A local camp is building a life-size art sculptures from pallets that will be burned in a massive bonfire at the Nevada Northern Railway
7 PM—Karaoke
7 PM—Billiards Tournament
8:00 PM—Live music starts in Downtown Ely
Bounce house, face painting, arts activities and athletic events held throughout town, TBD—be sure to check back for updates!
SUNDAY, JANUARY 17, 2021
Plan on making your way to Ward Mountain Recreation Area, for a full afternoon of the activities that inspired this signature event.
10 AM—Snow Sculptures can be viewed all day at Broadbent Park
10 AM—Beginners Guided Snowshoe Hike at Ward Mountain Recreation Area
10 AM—Sledding Hill opens at Broadbent Park
11 AM—Ice Horseshoes at Broadbent Park
12 PM—Axe Throwing begins at Broadbent Park
12 PM—Ice Bowling Tournament at Broadbent Park
12 PM—Disc Golf Ice Putting Contest at Veteran's Park
5:30 PM—Fireworks at Broadbent Park
For more information about Fire & Ice, to get your hands on train tickets, and to plan your visit to Ely, call the Bristlecone Convention Center at (775) 289-3720 or click Visit Ely.
Address
US HIGHWAY 93 AT SUCCESS SUMMIT
City
ELY
State
NV
Postal Code
89301