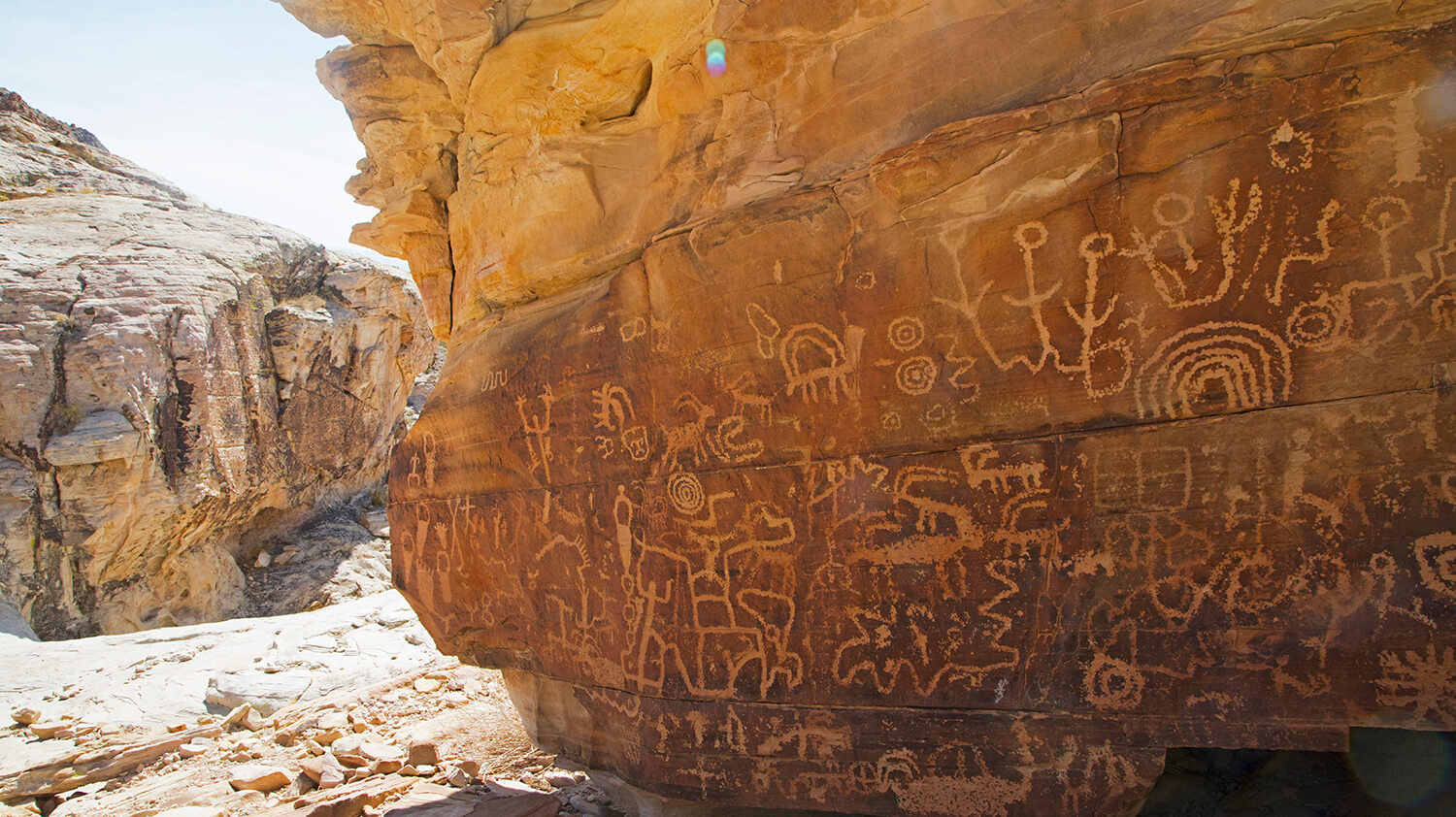 Spanning nearly 300,000 acres across the enchanting Mojave Desert, Gold Butte National Monument should be top of the list for any desert explorers. One of America's newer national monuments, Gold Butte boasts striking red sandstone landscapes in an extremely remote section of southeastern Nevada. Here, visitors can expect to find alone-in-nature experiences, ancient petroglyphs, and unique perspectives of nearby Lake Mead National Recreation Area and Valley of Fire State Park. Best of all, Gold Butte National Monument is well situated between Las Vegas and a high concentration of the West's national parks.
Aside from its vibrant desert landscapes, Nevada's Gold Butte National Monument is known for impressively large and beautiful petroglyph panels and its importance as a critical habitat for a wide variety of wildlife. Be sure to keep an eye out for tons of unique plant life and animals that live in the area, including the desert bighorn sheep (which is also the state mammal!).
In love with the Silver State as much as we are? Learn what you can do to help us keep the places we cherish special—and open—for us and future generations.
Whitney Pocket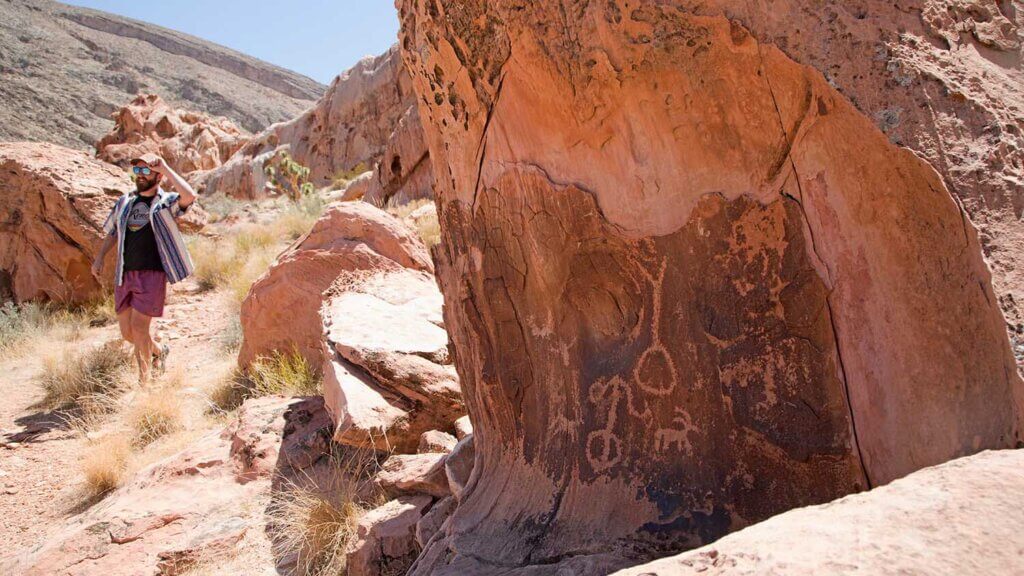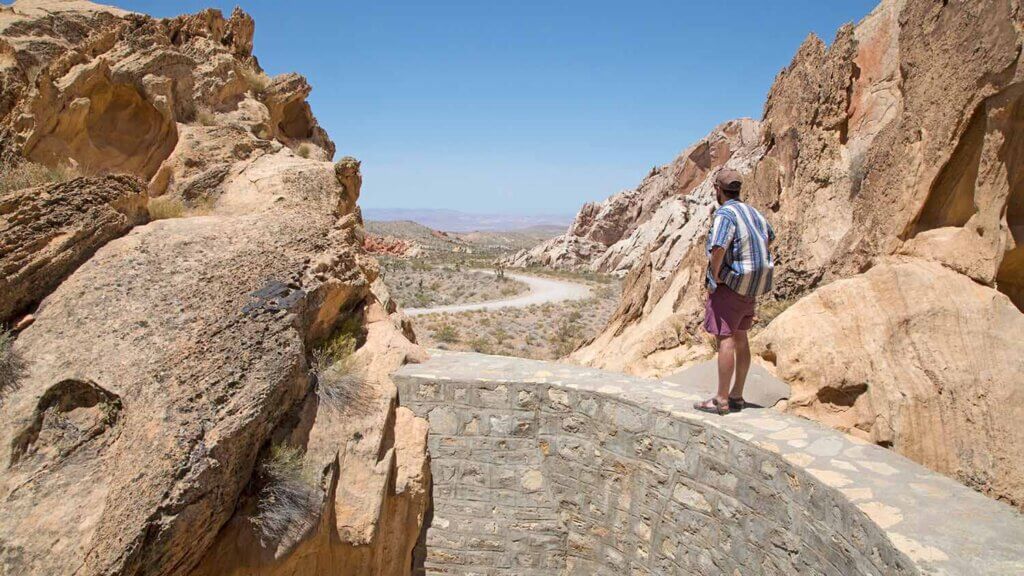 Once you've officially entered Gold Butte National Monument, your first point of interest will likely be the stunning Whitney Pocket. Here, visitors can access primitive campgrounds, set up a staging area to unload OHVs, or just start exploring the desert landscape. Before hitting the road, be sure to check out the remnants of a prehistoric roasting pit, area petroglyphs, and the Whitney Pocket Dam, built by the Civilian Conservation Corps during the Great Depression.
Little Finland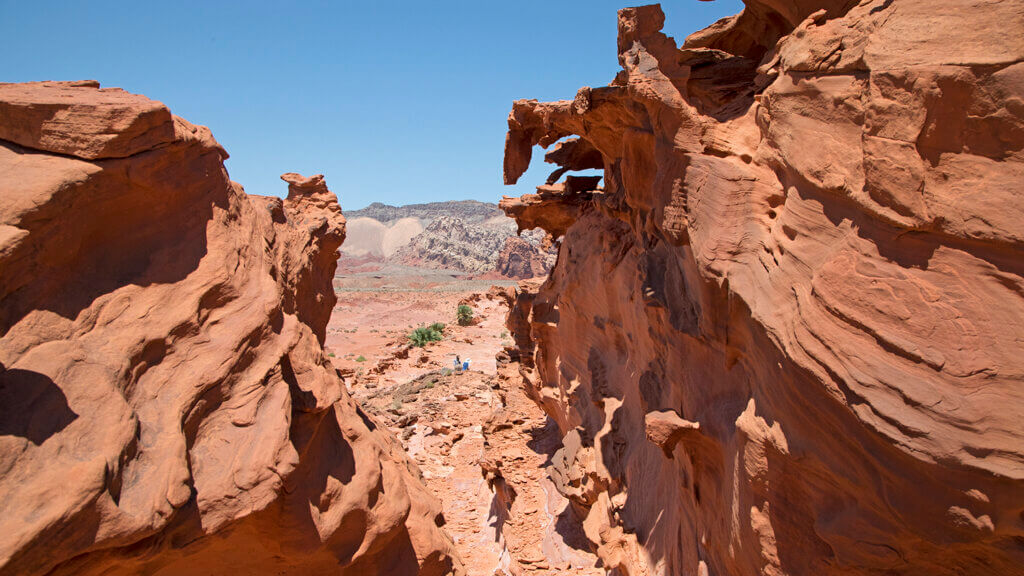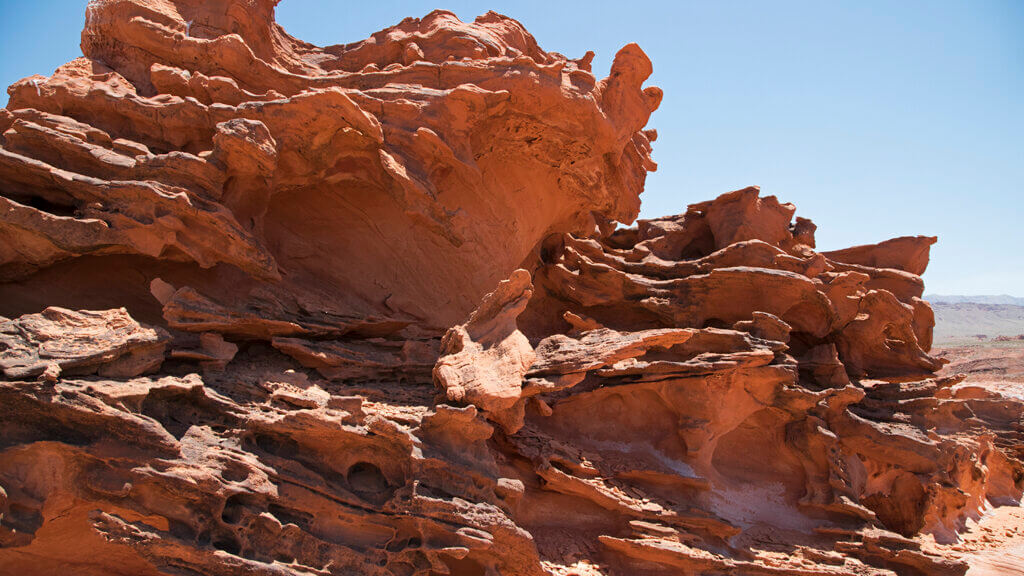 Little Finland easily ranks among Gold Butte National Monument's most awe-inspiring landmarks. The surreal desertscape features wind-swept sandstone, ancient petroglyphs, and its famous goblin-shaped rock formations. Adding to the scenery are palm trees, a natural spring, and forests of Joshua trees.
Devil's Throat, Nevada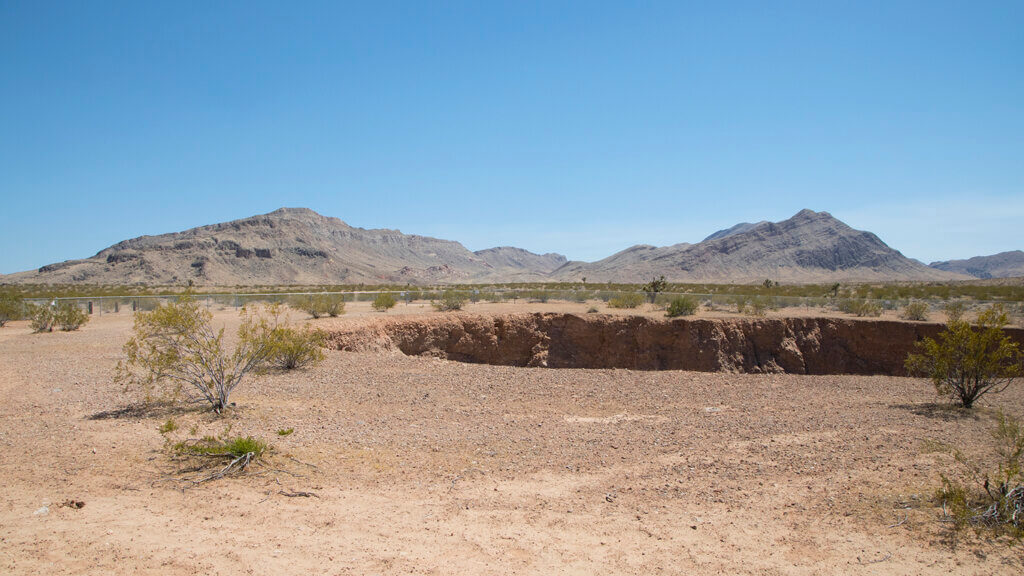 Devil's Throat is a 110-foot-deep sinkhole located on the outskirts of Gold Butte National Monument. Cloaked by sagebrush and Yucca plants, this colossal sinkhole is nearly hidden in plain sight. While visiting, always stay behind the chain link fence surrounding the dropoff: The edge of the sinkhole is extremely unstable and unsafe to walk on. However, you'll have no trouble admiring it from afar. Bring your camera, too, because Devil's Throat offers incredible photo opps, especially during early morning or at sunset.
Gold Butte Historic Townsite
In addition to its diverse ecology and rich natural history, this landscape was also a part of Wild West history. Indeed, the national monument was named after the Gold Butte Mining District, which was home to some of southern Nevada's most successful gold mines from about 1905-1910. Today, only a ghost town remains, and although extreme southern Nevada temperatures have eroded the remote site, you'll still find several foundations, historic gravesites, and old mine shafts.
Virgin Peak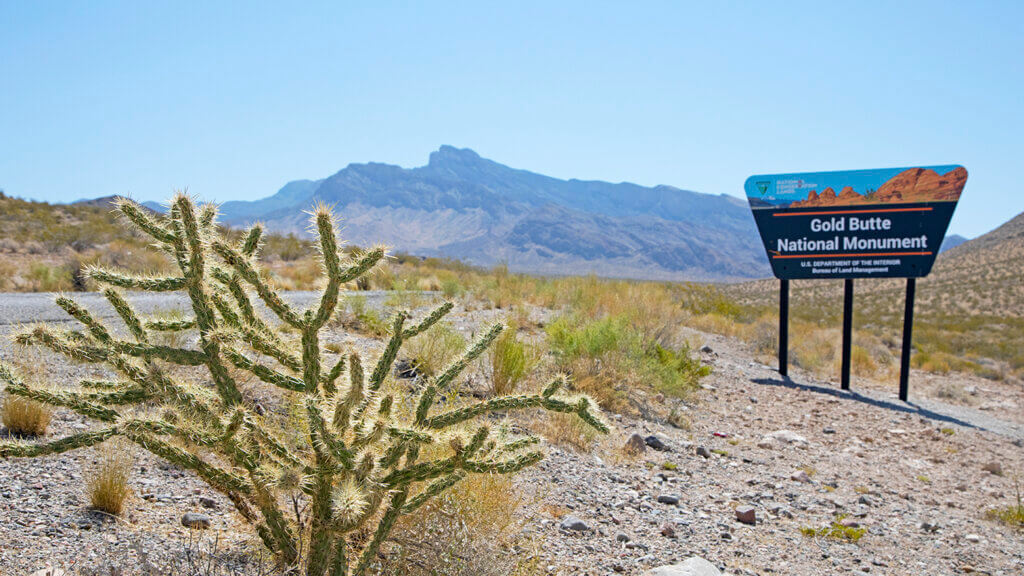 If you love hiking, consider making the trek up to Virgin Peak, the monument's highest summit. Accessing the trailhead is a bit of a challenge (the road leading up to it washed out in 2017 and is still damaged), but at a little over 8,000 feet, the views from Virgin Peak are tough to beat. For the most up-to-date information on summiting Virgin Peak and participating in this 10-mile ascent, call the Nevada Bureau of Land Management's Las Vegas Field Office at (702) 515-5000 or Friends of Gold Butte at (702) 613-5875.
Gold Butte National Monument Petroglyphs Etiquette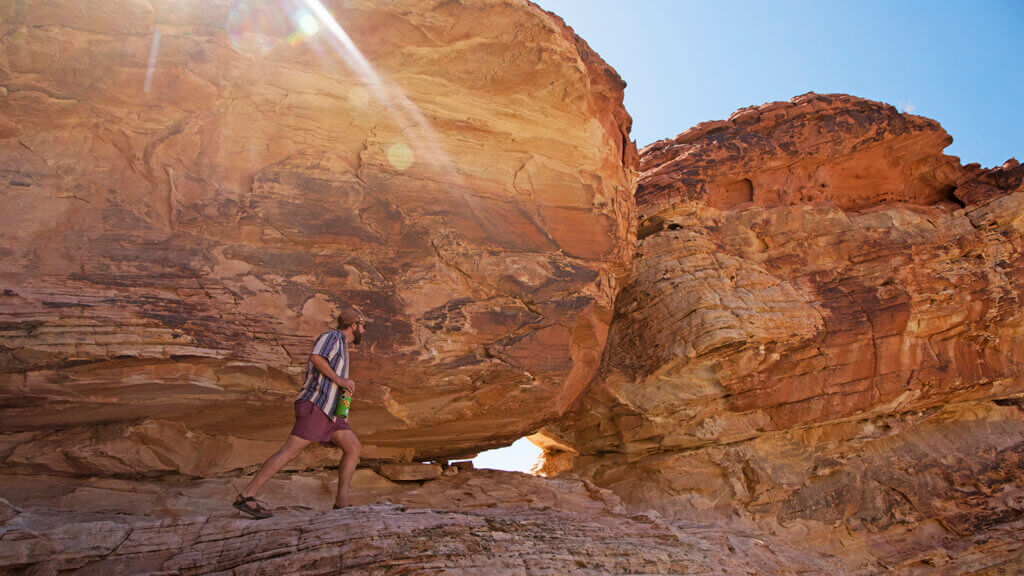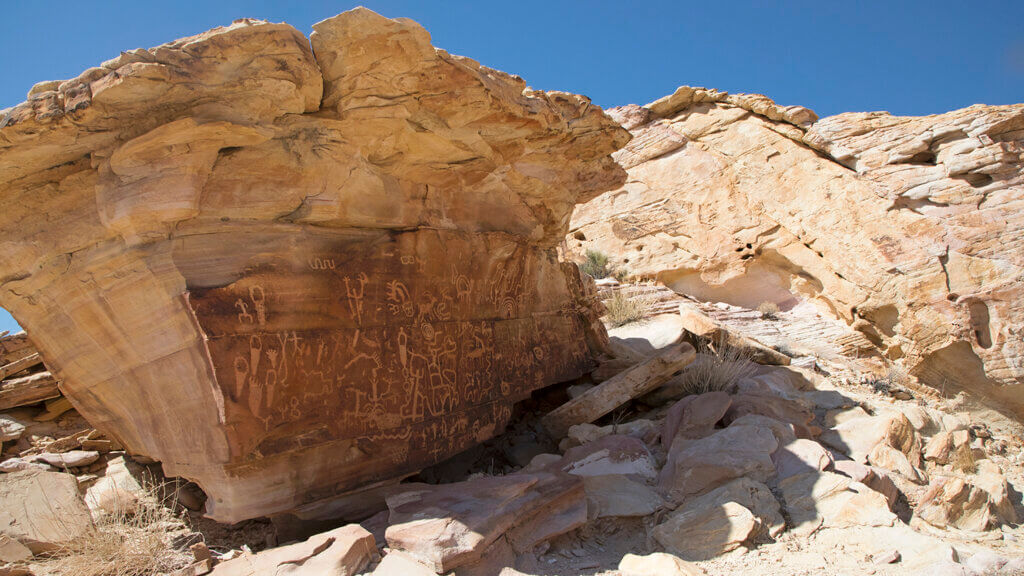 Gold Butte National Monument was inhabited thousands of years ago. Nevada's first people left their mark on this stunning landscape in a variety of ways, one of which was through their remarkable petroglyph panels. Spotting these impressive pieces is easy work — just be sure to keep your eyes peeled when exploring. And if you come across them, please do not touch them. The natural oils on our fingers easily damage petroglyph pigments.
Services and Getting to Gold Butte National Monument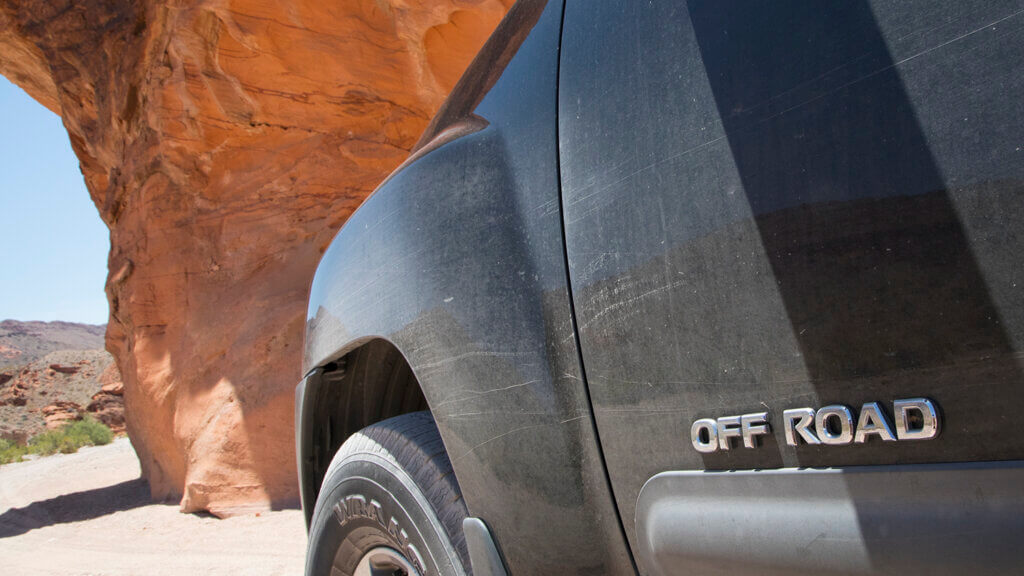 Gold Butte National Monument is beautiful beyond description, but it's also very remote. The Gold Butte Backcountry Byway can either be accessed five miles south of Mesquite (exit 112 on I-15) or 90 miles northeast of Las Vegas. Within the boundaries of the monument, there are no services — including fuel or rest stops — and camping is extremely primitive with no designated campsites. Trailheads are minimally marked, and cell service is limited — if available at all. Travelers should be aware that the road to Gold Butte was last maintained decades ago and is in rough condition. It's common to get one or two flat tires while exploring the area. High-clearance, 4WD vehicles are crucial, as are two full-sized spares. Be sure to carry plenty of food and water, and adequately prepare for an emergency situation.
From Las Vegas, take Interstate 15 toward Mesquite. Take exit 112 toward Riverside/Bunkerville. Drive south for three miles. Once you cross the bridge over the Virgin River, turn immediately right onto Gold Butte Road. Keep following this paved, potholed road. Once you pass the Gold Butte National Monument sign, then you've entered the monument and adventure is yours for the taking!
Hours:
Gold Butte National Monument sits on Nevada Bureau of Land Management public land, making it open and accessible 24 hours a day, 365 days a year.
Admission:
No admission fees or special permits are required to visit Gold Butte National Monument.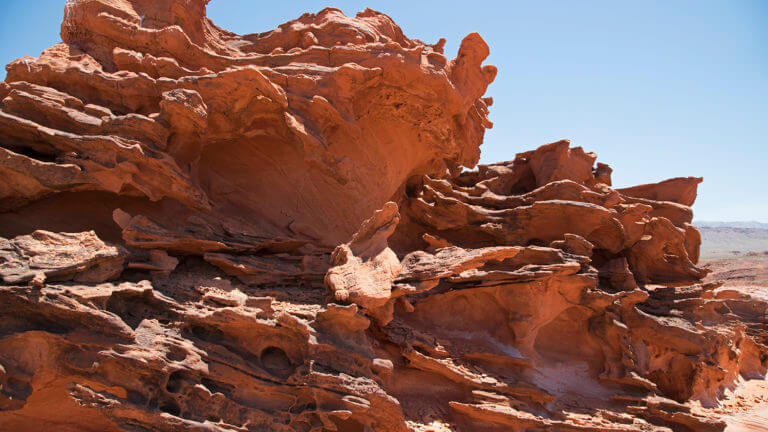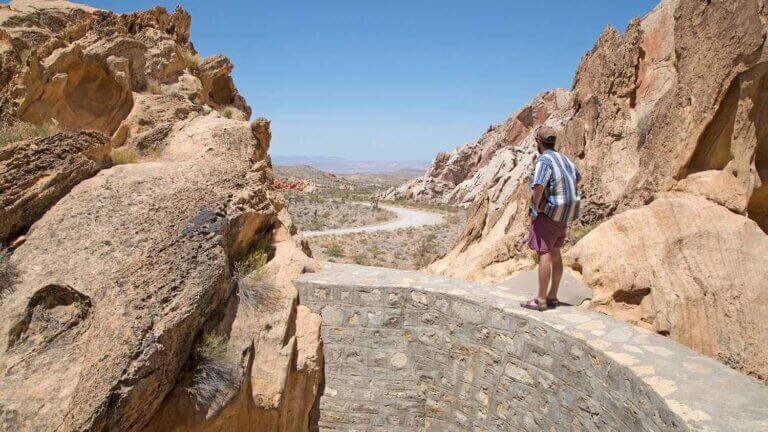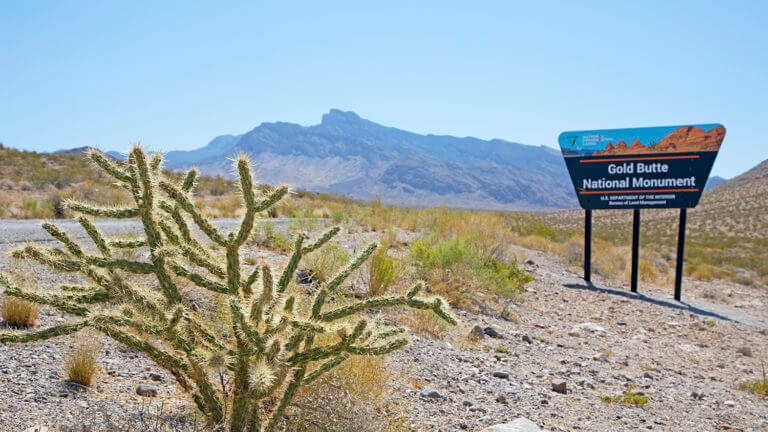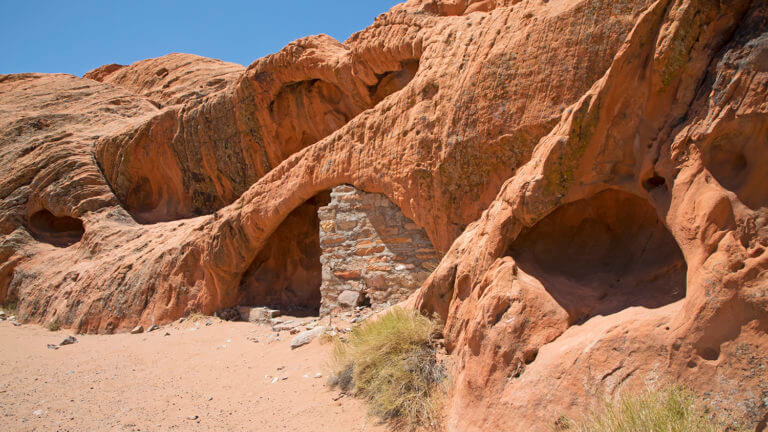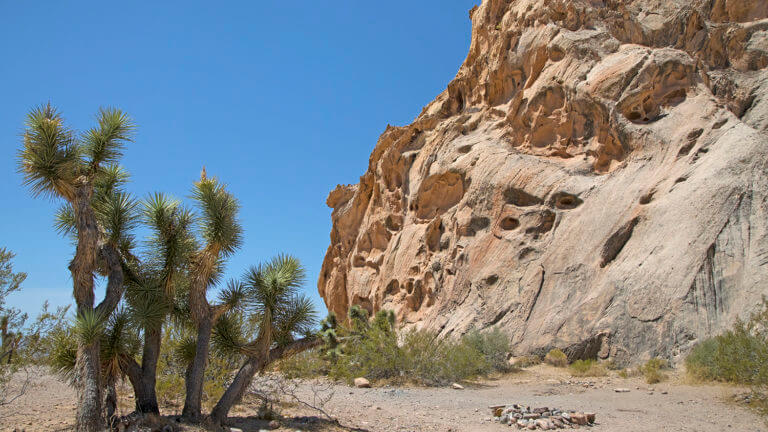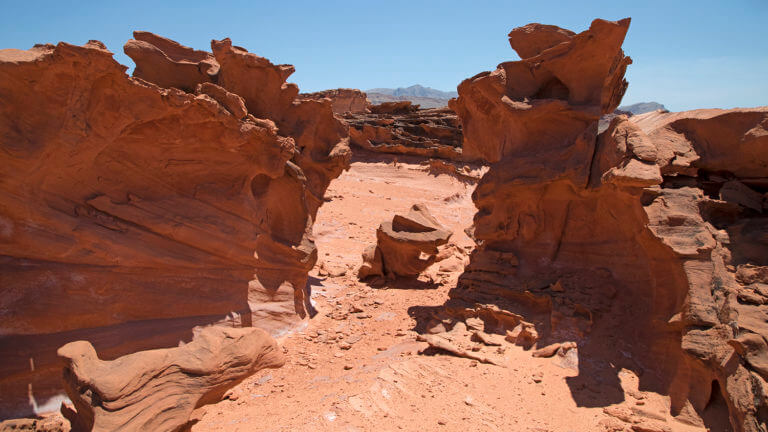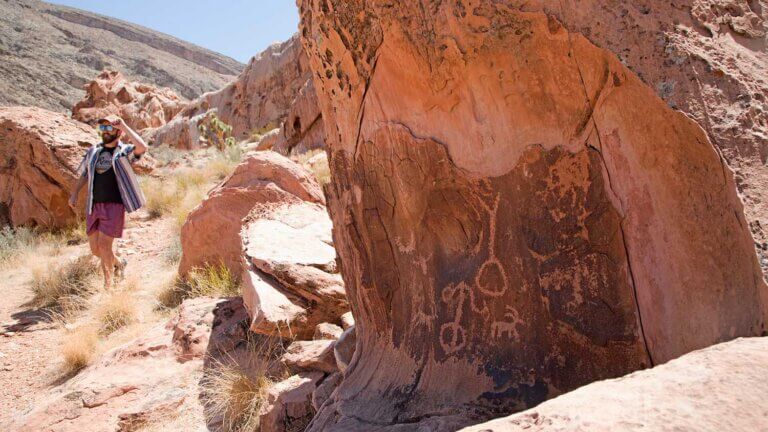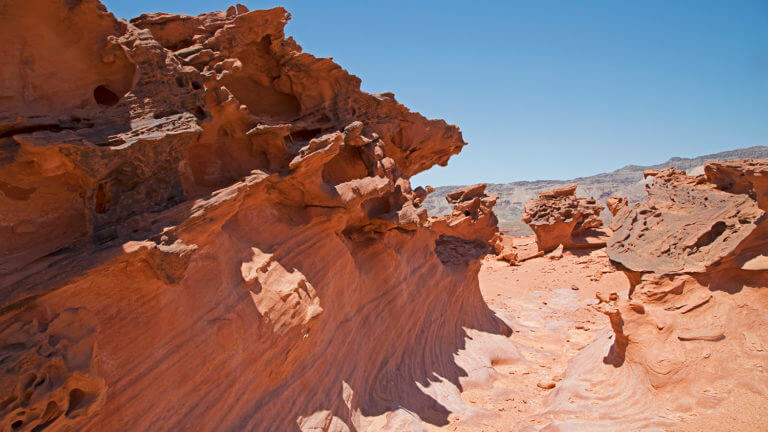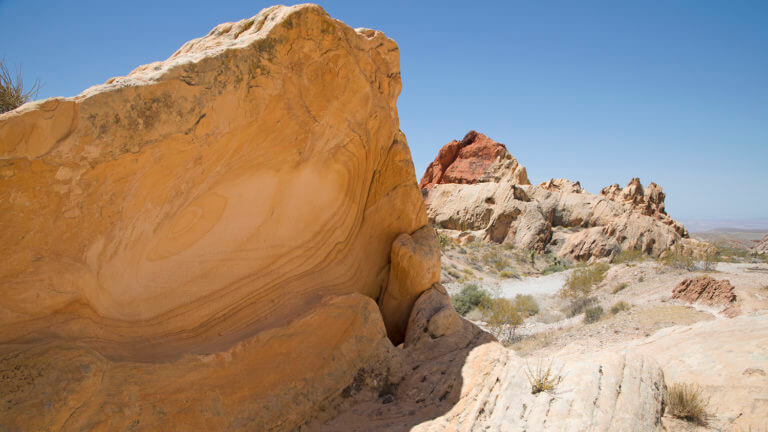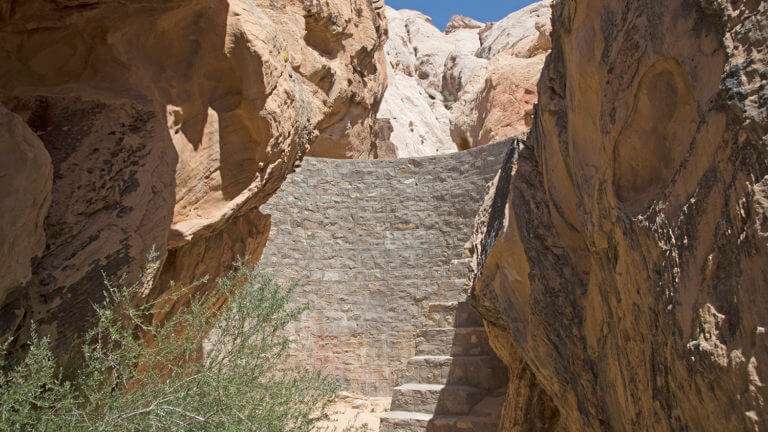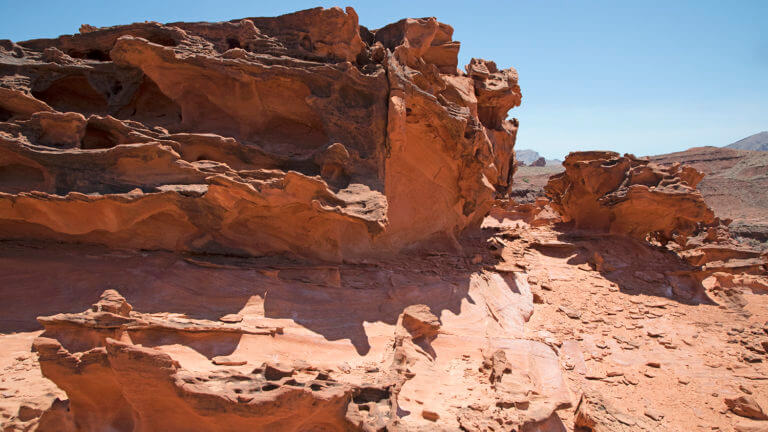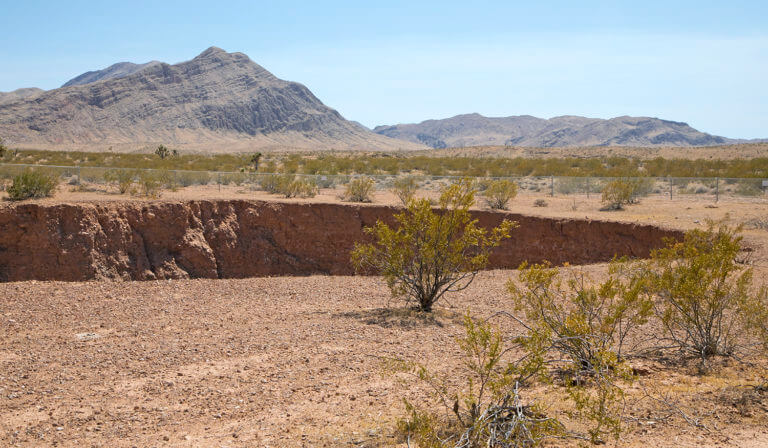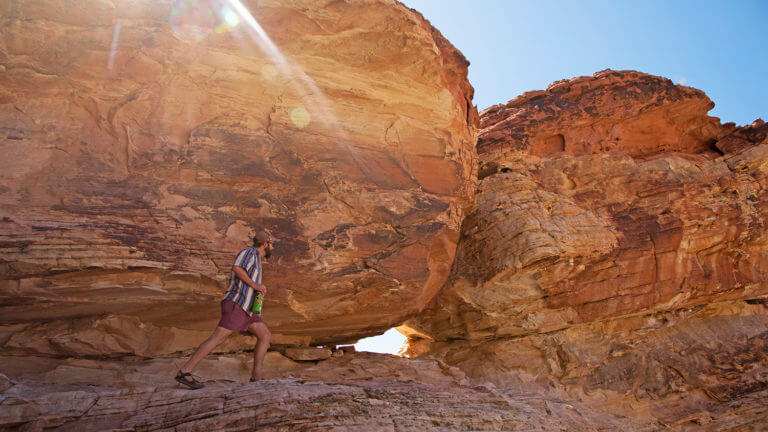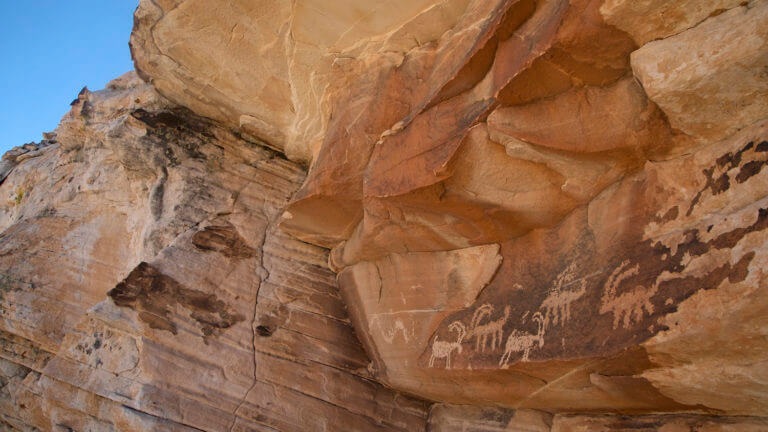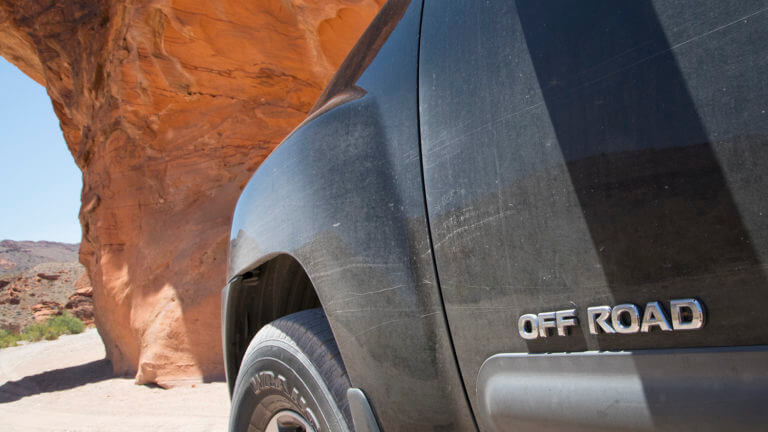 This Location: