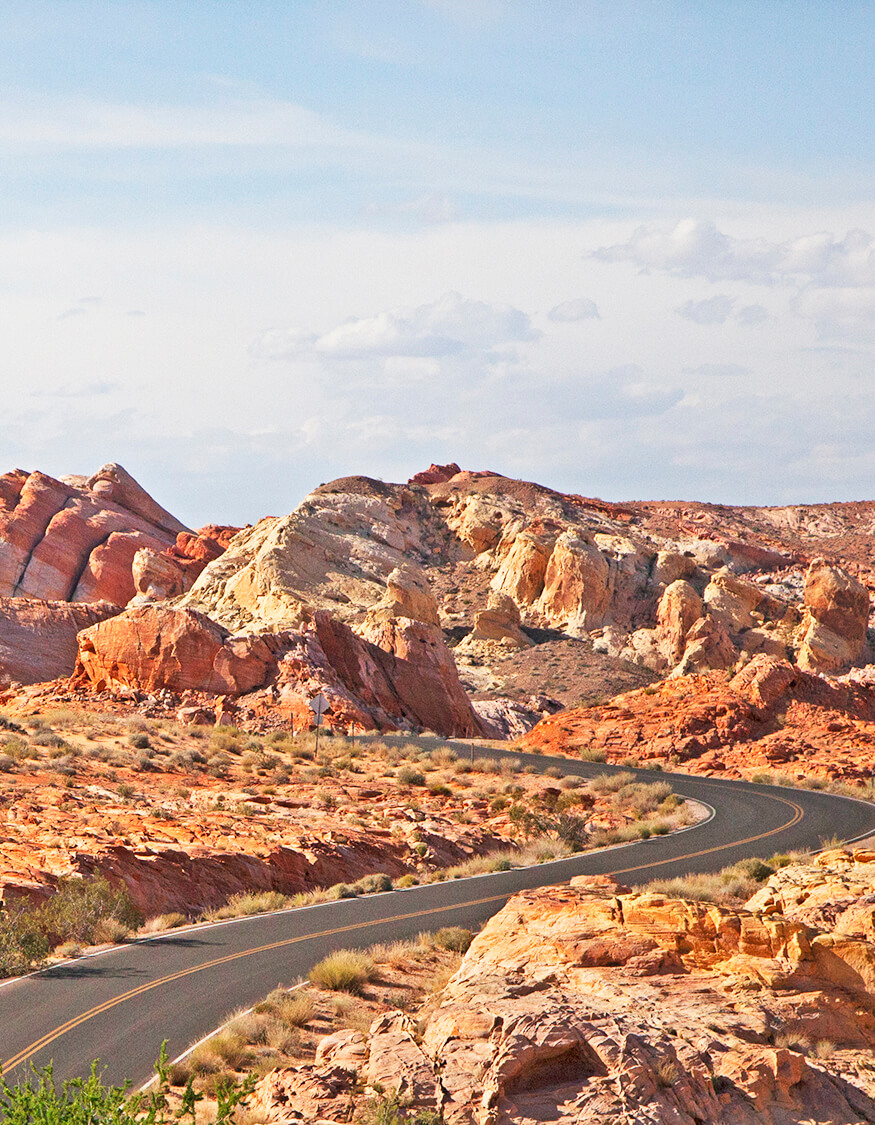 Moapa Valley
Moapa Valley is a little gem in the southern Nevada desert, edged between Lake Mead National Recreation Area and Valley of Fire State Park.
Moapa Valley is a little gem in the southern Nevada desert, edged between Lake Mead National Recreation Area and Valley of Fire State Park. Made up of a series of alluring communities—Overton, Logandale, Glendale and Moapa—this is where you'll also find the Muddy River, a tributary of the Colorado River system that empties into the expansive Lake Mead National Recreation Area.
The valley was settled in the late 1880s by Mormons drawn by the promise of successful agriculture in the fertile valley. Once tremendously lucrative, farmers would go to such measures as shipping their renowned produce to different states. Interestingly, a strong farming lifestyle still remains in the Moapa Valley to this day. Although the area was rediscovered by early settlers, there was fascinating life in this region thousands and thousands of years ago.
Various occupants have made the valley home for centuries, but archaeologists have found evidence of both Pueblo and Paiute civilizations that used the Moapa Valley. Interestingly, the Anasazi people lived in this region nearly 12,000 years ago and used the valley as their westernmost outpost. Here, they constructed their homes out of mud to create hive-like structures, which made for some interesting villages. The largest, known as the Lost City was comprised of an astounding 94 rooms. Although many of these fascinating villages were swallowed up by the gargantuan Lake Mead replicas can be toured at the Lost City Nevada State Museum in Overton today.
Many visitors are drawn to the Moapa Valley for its unmatched, small-town character that couldn't be more apparent than during the area's annual events. The Clark County Fair & Rodeo, held at the fairgrounds in Logandale, is a wholesome, family-oriented event showcasing the quality of life to be enjoyed in rural Nevada. Another popular event in Moapa Valley is the annual Bluegrass Festival, which is also hosted at the fairgrounds. For the car and bike lover, Overton hosts the annual Fall Festival Car & Motorcycle Show, and artsy types are always drawn to the Pomegranate Arts & Crafts Festival for beautiful artwork, crafts, and of course, all things pomegranate.
Besides its annual events, the Moapa Valley is a great place to explore the beautiful outdoors and truly absorb the mystique of the Mojave Desert. Valley of Fire, Nevada's oldest, largest, and most-visited state park is just around the corner from Overton. Known for its ancient, vibrant red sandstone formations, petrified wood and petroglyphs dating back thousands of years, you'll want to make sure to add this one to the list.
For details, visit the Moapa Valley Chamber website.