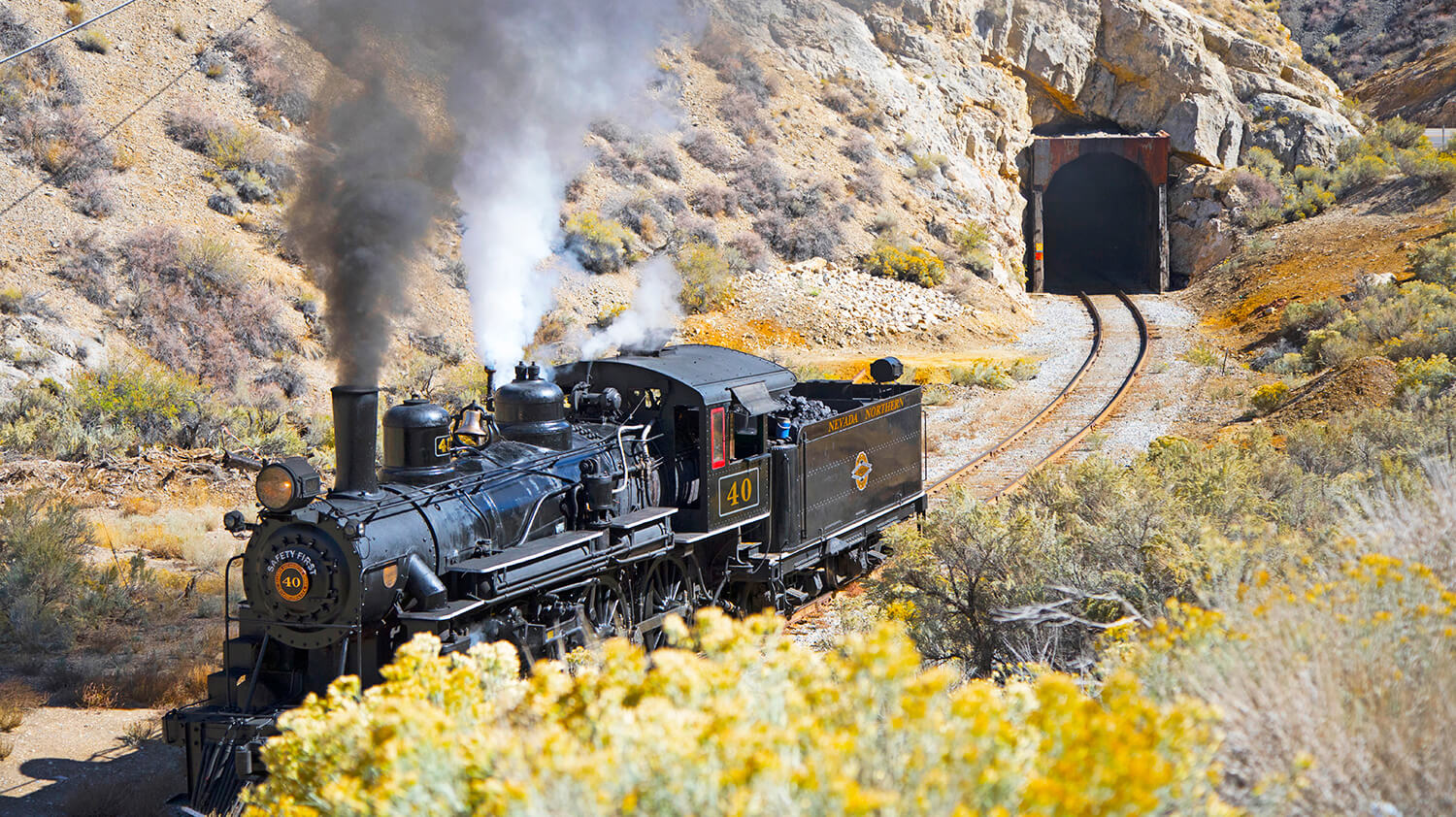 Ely: One Wild Weekend Adventure
Know Before You Go
Recreate Responsibly – Whether you're highway road-trippin' or backroad rippin', get the scoop on how to explore the Silver State safely and respectfully.
Heading off-road? Brush up on Nevada's Dirt Road Code to ensure you're prepared for an off-pavement adventure and all that comes with it.
Nevada Travel Alerts – From temporary park and road closures to unusual environmental circumstances, if we know of something going on that may affect your visit, you'll find it here, along with links to further resources to get more info.
Get the Full Itinerary
Highlights
Have a blast with the past at ghost towns and retro Mom-and-Pops
Find mountain bike paradise on all levels of trails
Cross one of the least crowded national parks off your adventure bucket list
A remote mountain town packing a big adventure punch, Ely is an unbeatable escape for whenever you need to hit the road and live it up in the great outdoors. Take two days off (three if you got 'em) and hightail it to this four-season community where art, history, and recreation – everything from mountain biking and mural walking to ghost town exploring and hot springs hunting – combine to really put the treat in retreat.
Do This Absolutely First
This game plan begins and ends in Ely. However, if you're coming from the west (or road-tripping home that way), we guarantee that your #NVRoadTrip to Ely will be way more fun if you snag an official HWY 50 Survival Guide. Sure, it's not required, but it's oh so satisfying earning all those stamps along the Loneliest Road in America. Once you stop in five towns and send the proof back to us, we'll pop a little something in the mail to you in celebration of your achievement.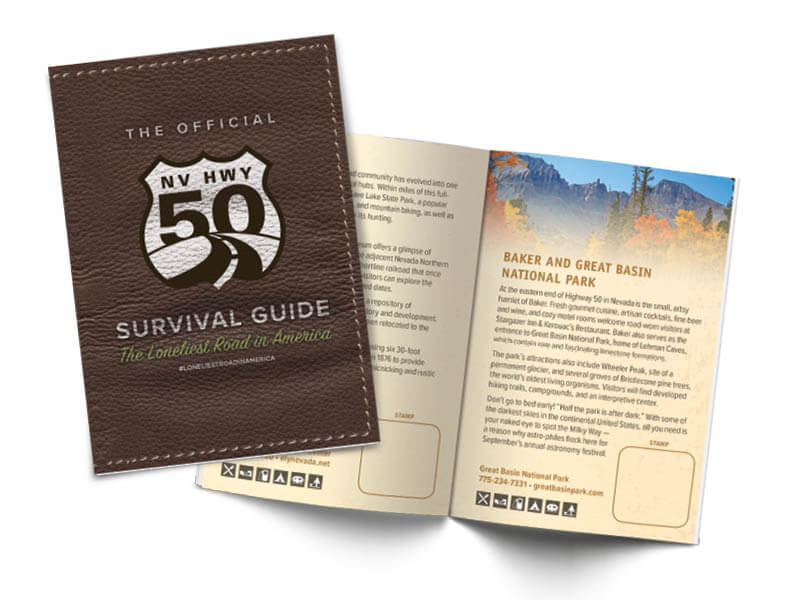 Day 1: City Sights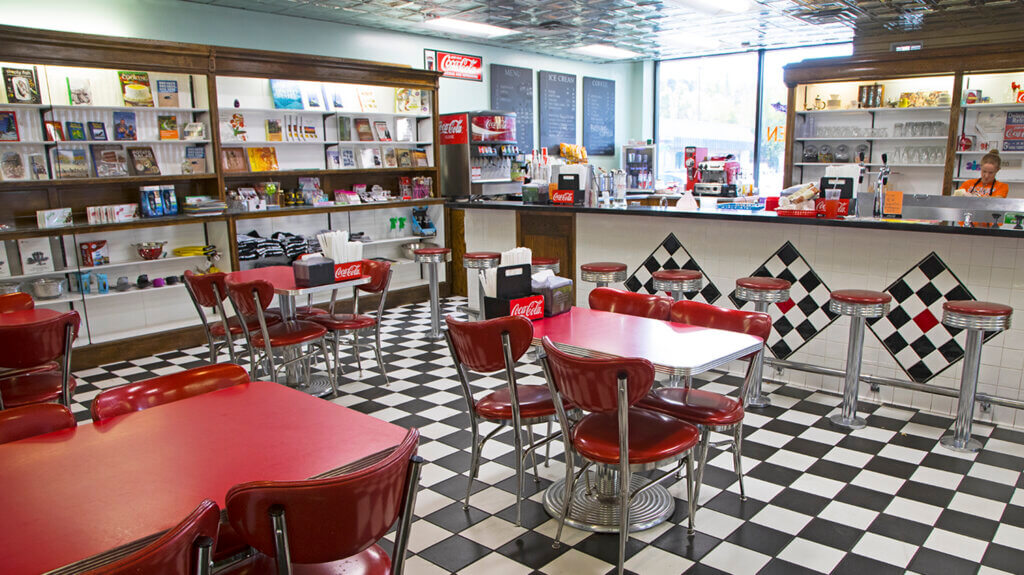 Brake for Breakfast
Just writing about these Ely eateries makes us hungry – and they're all so good, you may have to eat breakfast three times. Almost hidden in plain sight, Economy Drug is home to an old fashioned soda fountain, complete with retro charm and some of the best sandwiches in town. Hunters brings tasty classics to the table, like breakfast bagel sandwiches and donut holes, while The Cup boasts fresh-baked pastries and specialty drinks (maybe grab a cupcake or two for later).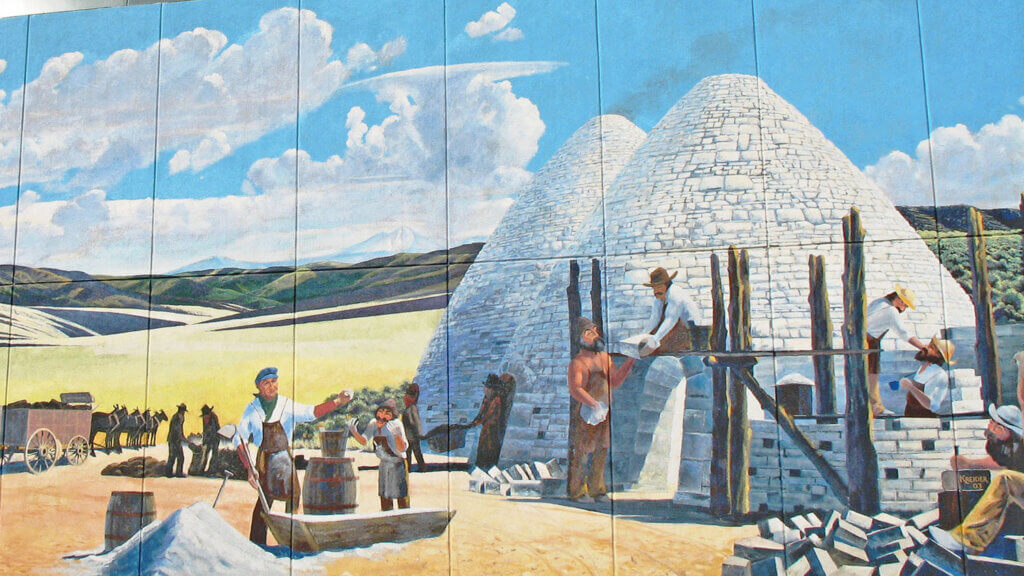 Put The "Art" In "Party"
Don't let Ely's size fool you – this small town has world-class art and culture practically at every turn. Wind your way through downtown to take in dozens of public art pieces on the self-guided Ely Mural Walk, which features sculptures, interactive murals (perfect selfie spots) and, now, freshly in-the-can accompanying audio insights. If you want to travel back to the early 1900s, when Ely first sprung to life as a booming copper mining town and Pony Express Station, head to Renaissance Village. Replica houses reflect the people who came from around the globe to work the mines and ranches, outfitted with wood-burning stoves, claw-footed bathtubs, and more eye-popping artifacts. Pick up the perfect souvenir at the Ely Art Bank, a historic bank turned curated gallery with jewelry, paintings, photography, and furniture made by Silver State artisans for sale.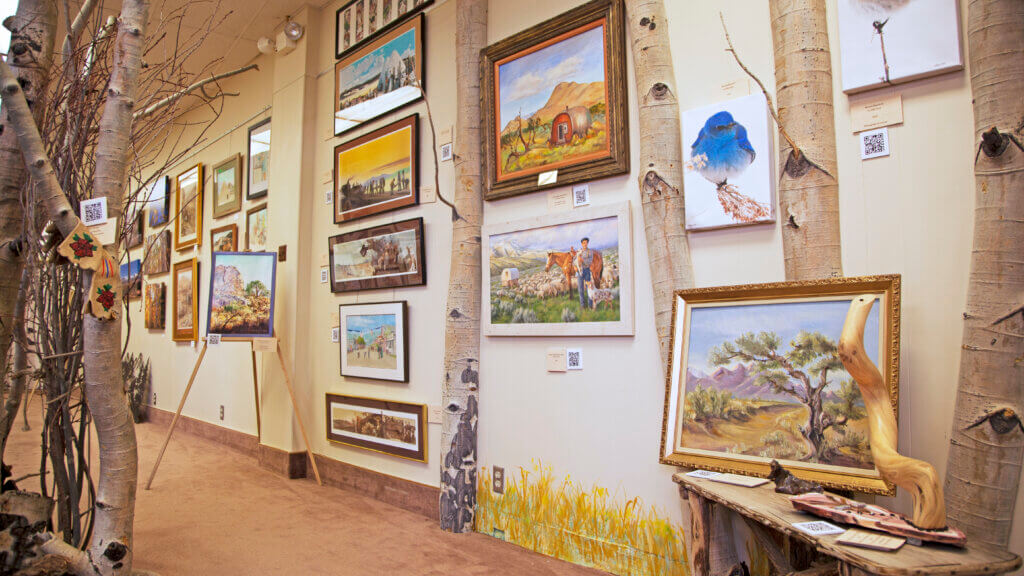 Travel Nevada Pro Tip
Renaissance Village is open seasonally on weekends, from the third weekend in May to the third weekend in September. If this sounds like a must-see for you, plan your visit accordingly!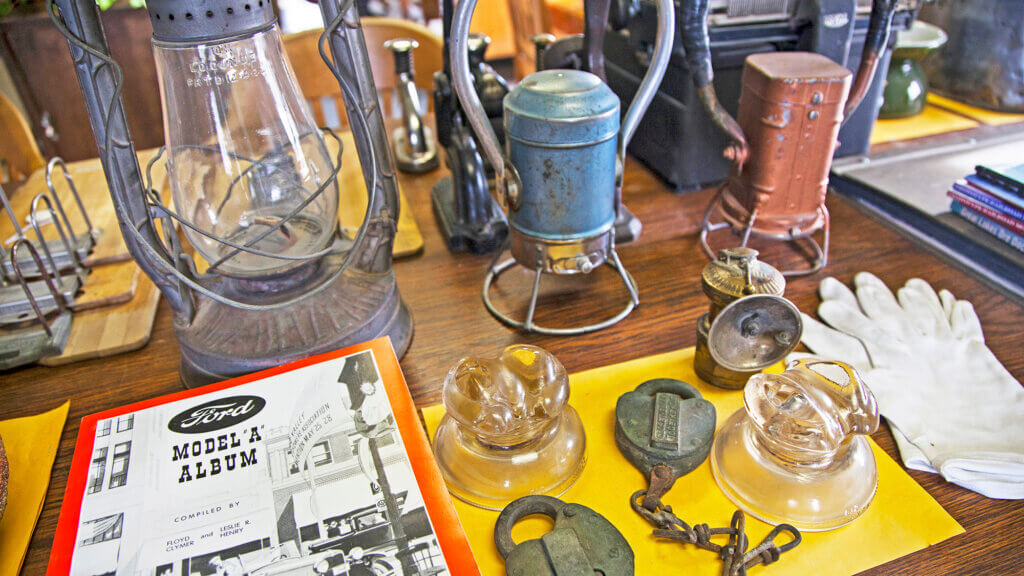 Go Loco For These 'Motives
You'll rail-y have a fantastic time at the frozen-in-time East Ely Railroad Depot Museum. It commemorates the era when the Nevada Northern Railway was in full operation for the mining camps of eastern Nevada, and has remained so virtually untouched, you'll feel like you've stepped onto an immaculately preserved movie set from the turn of the 20th century.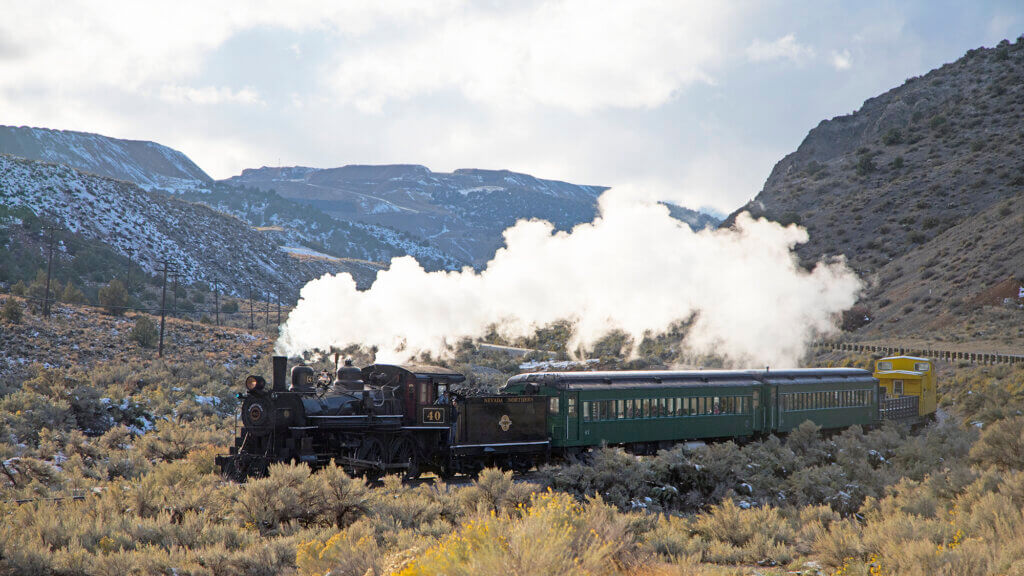 Plus, Nevada Northern Railway remains an actual working railroad straight from the past. Choo-choo-choose to catch a ride on one of their original, meticulously maintained steam and diesel engines – including themed tours like the Haunted Ghost Train or Santa's Reindeer Flyer and opportunities to "Be the Engineer" and actually drive one of these suckers. If you're lucky, you may even get to pet one of the railyard cats!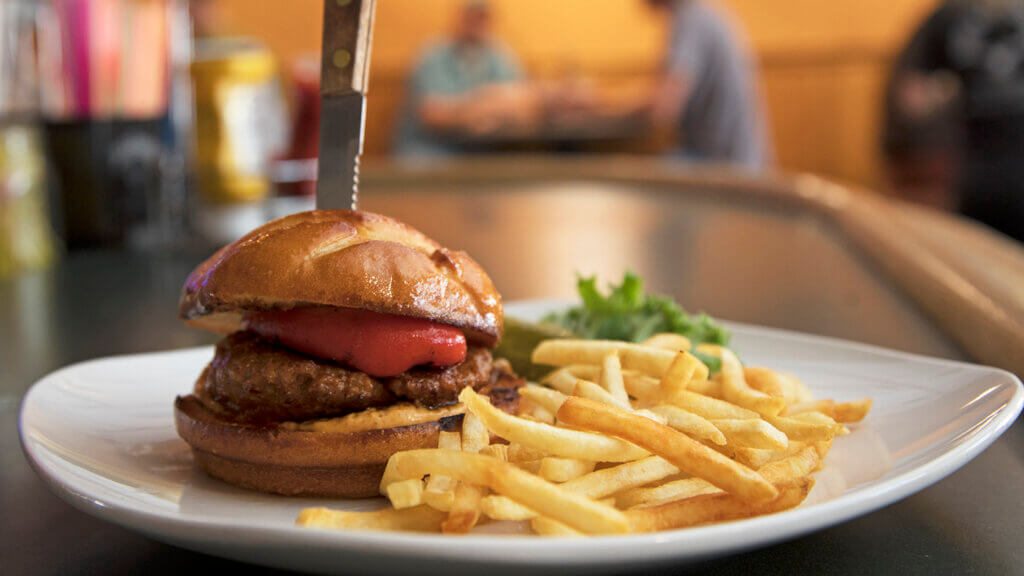 Dinner For Two (To Five, Depending On Good Behavior)
A five-star meal inside a jail cell? You better believe it. The Cellblock Steakhouse (inside the Jailhouse Motel Casino, naturally) serves up a delicious steakhouse experience and robust wine list from a dining room outfitted with tables behind bars – and yes, you can fully close that cell door (or have it closed on you) if you so desire. If, instead, you want to savor your freedom with some seriously good Basque chorizo burger-like sandwich, beeline it to Racks Bar & Grill. The menu's got country fried steak, thick cut pork chops, and penne pasta, but trust us (and Javier and Julio) about that chorizo sammie.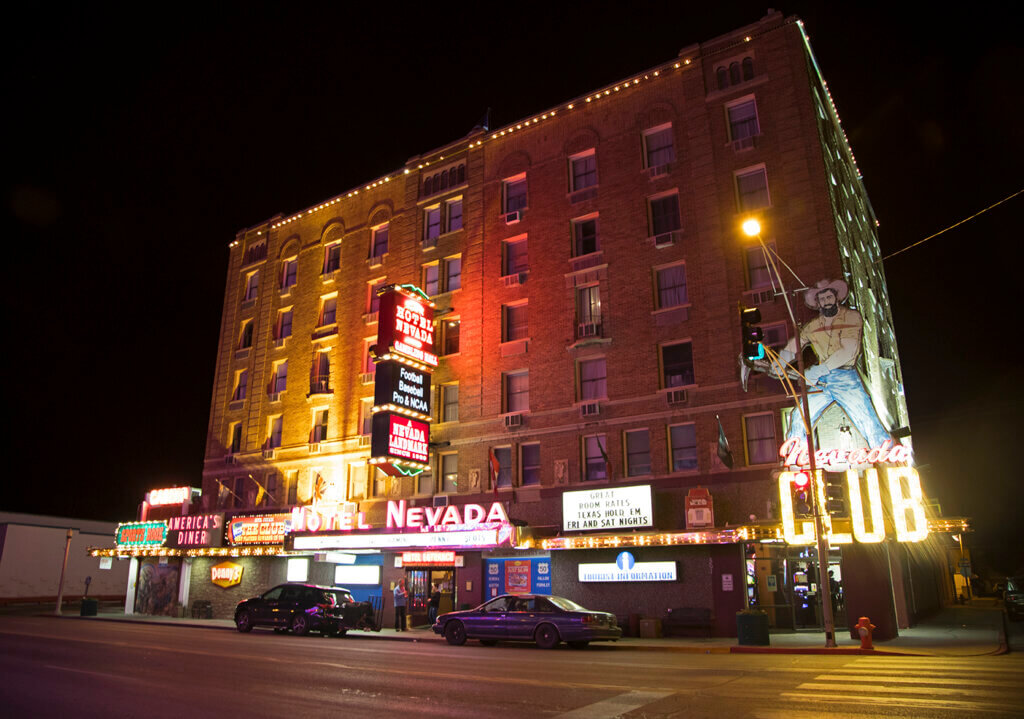 Pack Those PJs
Settle in for a sleepover at one of our favorite overnight options in Ely. Hotel Nevada overflows with legendary history – it was once the tallest building in all of Nevada and has hosted a whole roster of famous guests – and features maybe the cutest burro mural we've ever seen. Hotel guests also get a free margarita upon check-in, and we'll definitely drink to that. The Prospector Hotel & Gambling Hall can't be beat if you're traveling with a four-legged friend, as each room in their pet-friendly wing has plush beds and pawesome amenities. There's a dog run behind the hotel that's as big as a football field, too. And if you can't wait to soak in tomorrow's massively impressive views, the Bristlecone Motel has the Schell Creek Mountain Range to the east and the Egan Mountain Range to the southwest. Those sights will give you extra sweet dreams.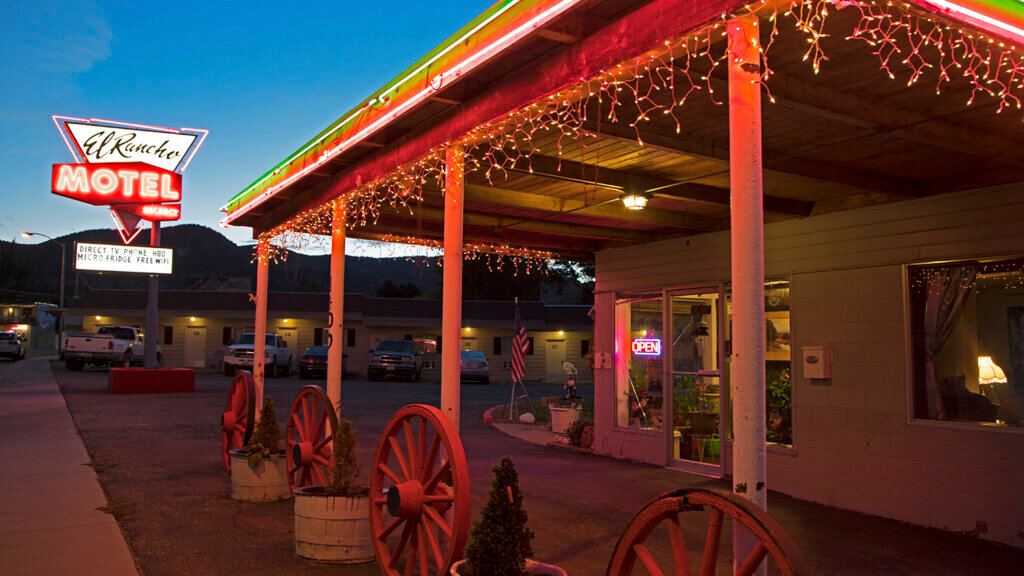 Travel Nevada Pro Tip
Ely's neon scene is totally brilliant, in more ways than one. See super cool signs at the Grand Central Motel, El Rancho Motel, and Central Theater.
Day 2: Backcountry Bliss
Talk about an awesome problem to have – Ely's got so much good stuff, you'll have your choice of adventures to fill your day with. (That just means you'll have to come back…)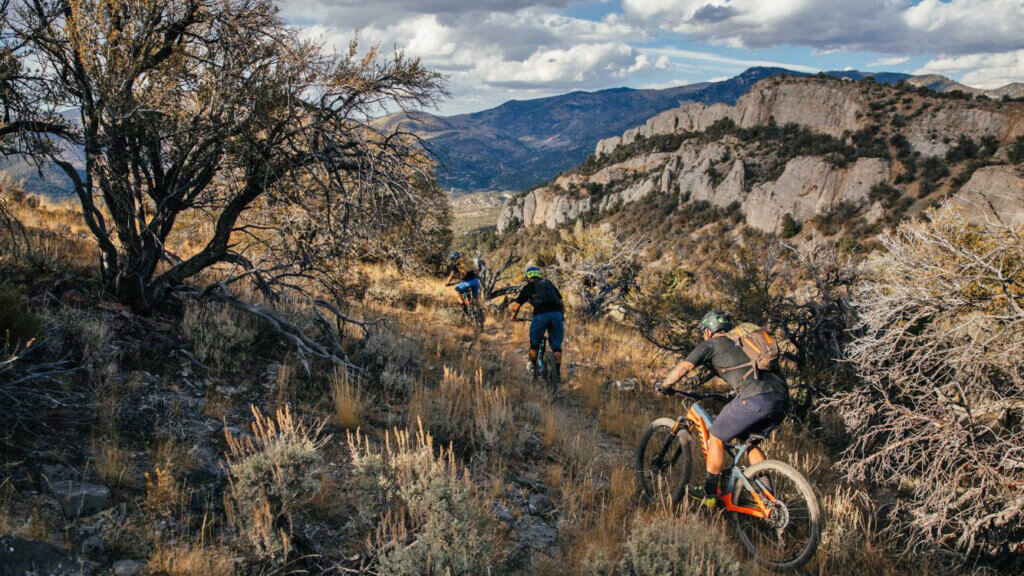 Grind Some Gears At Cave Lake State Park (And Beyond)
Ely is a mountain biker's paradise, and some of the best trails will be waiting for you at Cave Lake State Park. Routes range from 3 to 12 miles and offer moderate climbs with flowy descents through multiple ecosystems. The Great Basin views can't be beat on the High Roller Trail, and the Twisted Pines Trail must be ridden to see why it's so barked about. And this is only the beginning of the MTB goodness you'll find – Visit Ely Nevada has all the details on even more trail systems and wheely great events.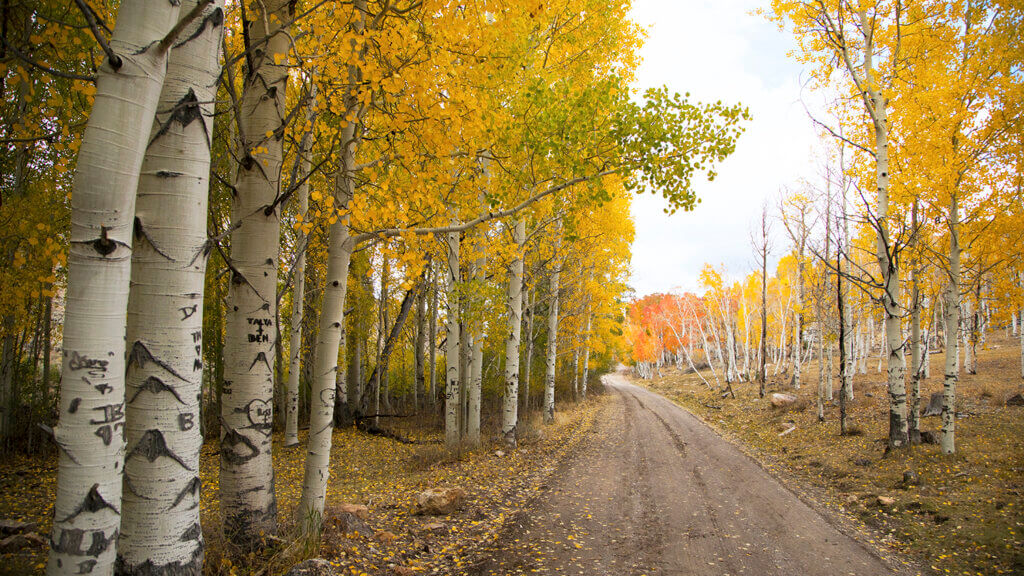 And since you're right there anyway, consider hopping on the Success Loop Scenic Drive, which is accessible right next door to Cave Lake. (Dry weather only.) You'll find incredible mountain views at the top of the Schell Creek Range, aspens exploding with color (keep your eyes peeled for arborglyphs), and direct access to trailheads and singletrack. Plus, the Success Loop will spit you out right into McGill, where the time capsule that is the McGill Drugstore Museum must be seen to be believed.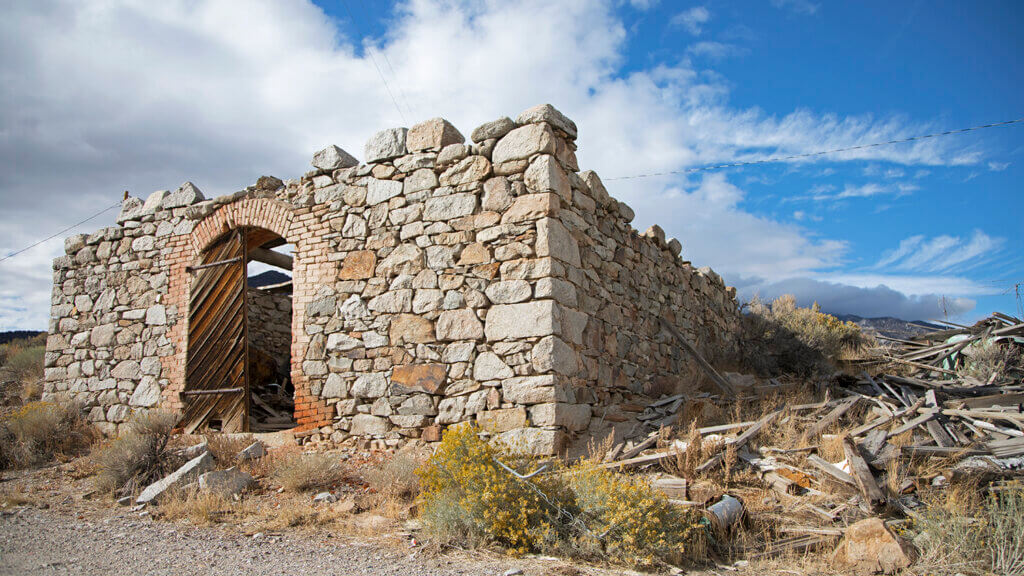 Search For Spirited Ruins
If you're gaga for ghost towns, all you've gotta do is essentially pick a direction from town and enjoy massively satisfying photo opps. Go about 50 miles north of Ely (another chance to scope out McGill) and you'll find Cherry Creek, home to a still-standing one-room schoolhouse (now an appointment-only museum) that was built back in 1872 and ruins that are as impressively intact as they are substantial. In the other direction is Osceola, about 40 miles southeast of Ely. The mix of metal and wood structures will keep your camera roll busy, as will the cemetery – its stone masonry work will wow you, especially when you factor in the former mining town's remoteness.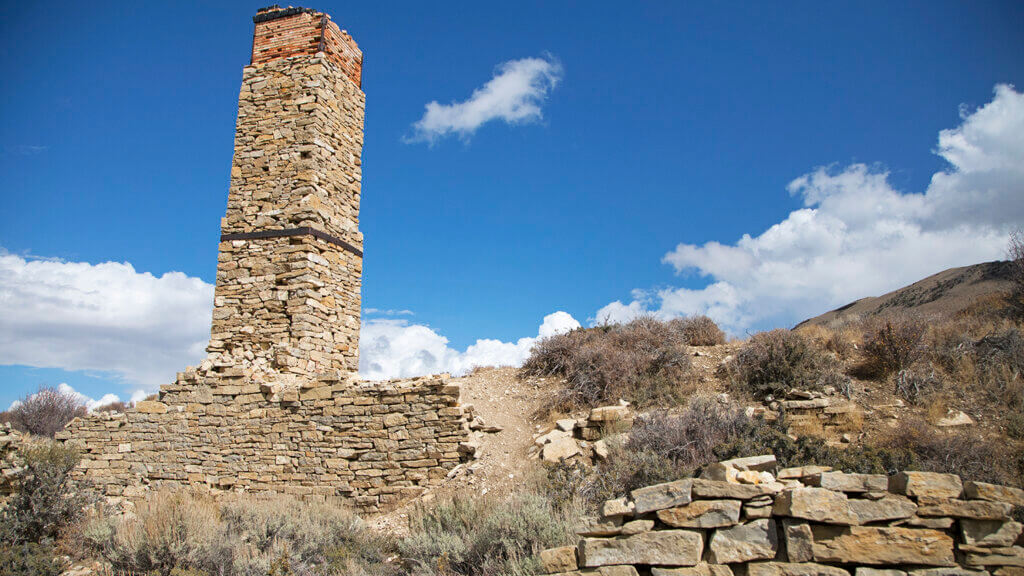 Hamilton and Treasure City are neighboring ghost towns just under 50 miles west of Ely. You'll come across an arched brick building that was once the Wells Fargo bank, along with ruins that have metal roofs made from flattened tin cans. Watch your step as you weave your way through Treasure City, too – most of the debris is a testament to the wealth and lifestyle of this place in its heyday. (Hint: those swanky shards are shorn from oyster tins and champagne bottles.)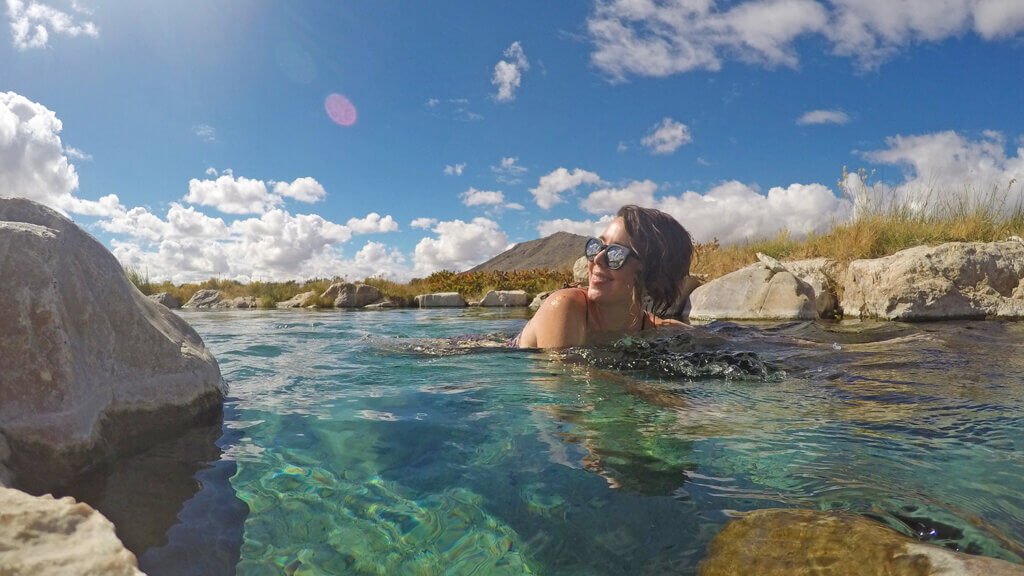 Get In Hot Water With A Whopper
Get stoked to soak at the Wayne E. Kirch Wildlife Management Area, 75 miles south of Ely. It's here you'll find absolutely pristine natural hot springs, with waters so crystal blue that even Lake Tahoe gets a little jealous. And of course, it wouldn't be a wildlife management area without some wildlife. Pack a swimsuit and a pair of binoculars to see mule deer, bobcats, coyotes, sage grouse, endemic fish, and many other critters. On your way back toward Ely, pull over in Lund at the Whipple Family Country Store. Simply put, their Whipple Whopper is one of the best burgers you'll find in the Silver State (and the piccadilly chips are pretty damn good, too).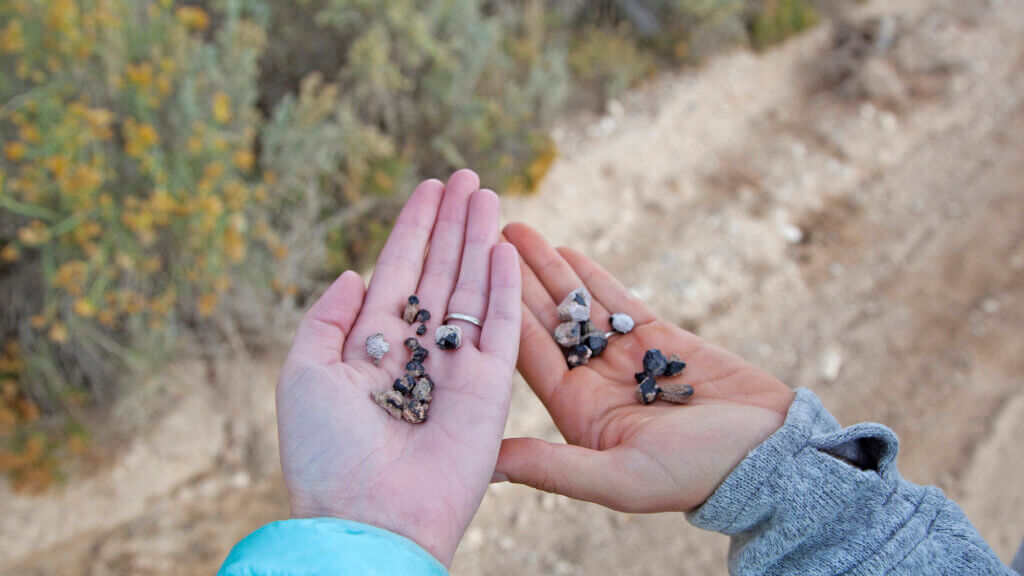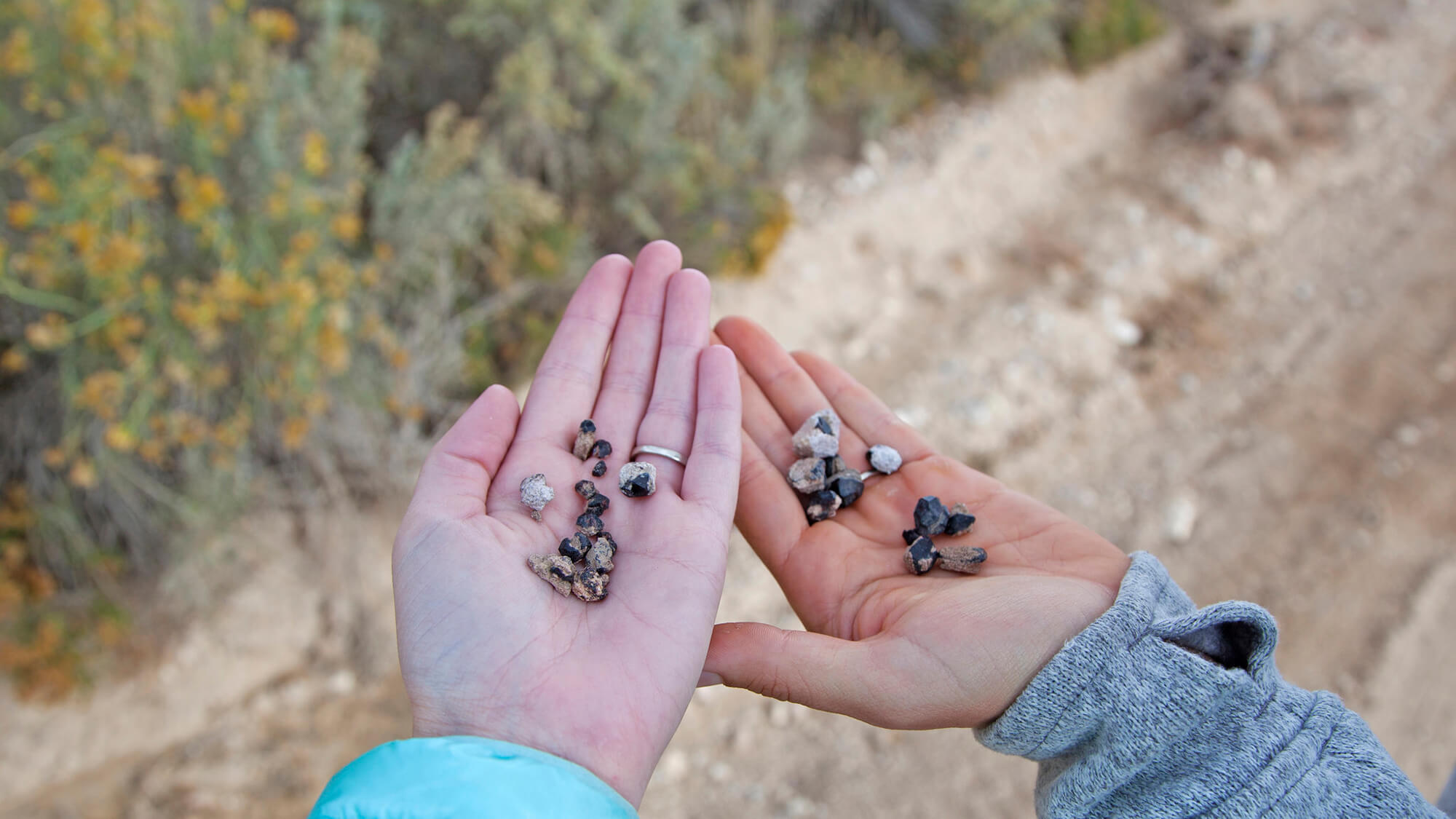 Garnets Galore
Whether you choose to bike, boo, or burger it up, one thing's for certain – you gotta swing by Garnet Hill on your way back into town. On the edge of Ely, garnets can be picked up just straight-up off the ground here, or you can rockhound in search of bigger gems. If you wield a credit card more handily than a pickaxe, the Garnet Mercantile won't let you down.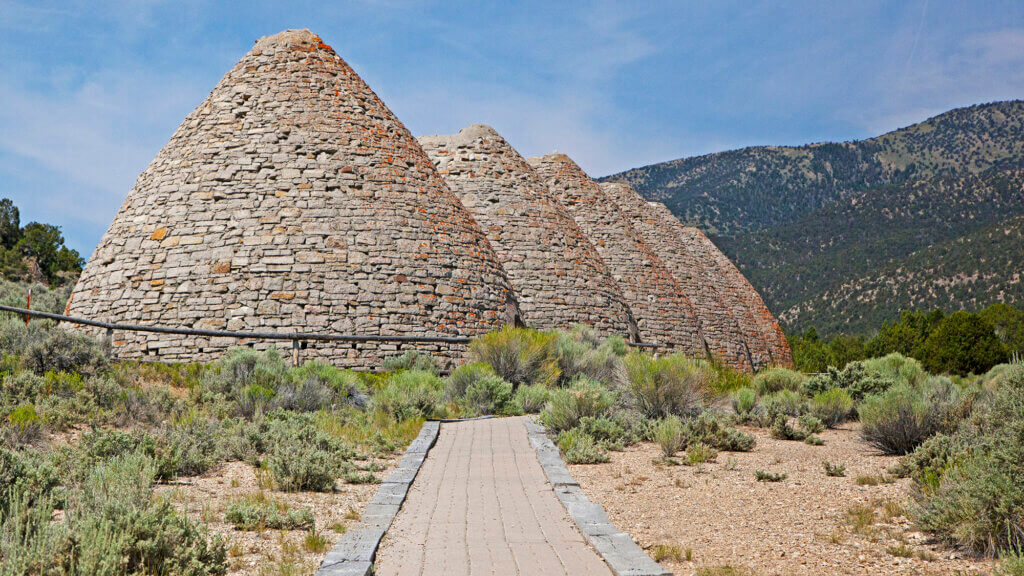 Charc These Ovens Out
Four words are all we need to sell you on stopping by Ward Charcoal Ovens State Historic Park – six beehive-shaped ovens. But since we have more than four words, we'll also tell you that these 30-foot-tall structures were built in the late 1870s to produce charcoal for the region's mining smelters. Rumor has it that they later moonlighted as hideouts for stagecoach bandits, too. The park is always open, so you can visit these otherworldly babes any time of day or night.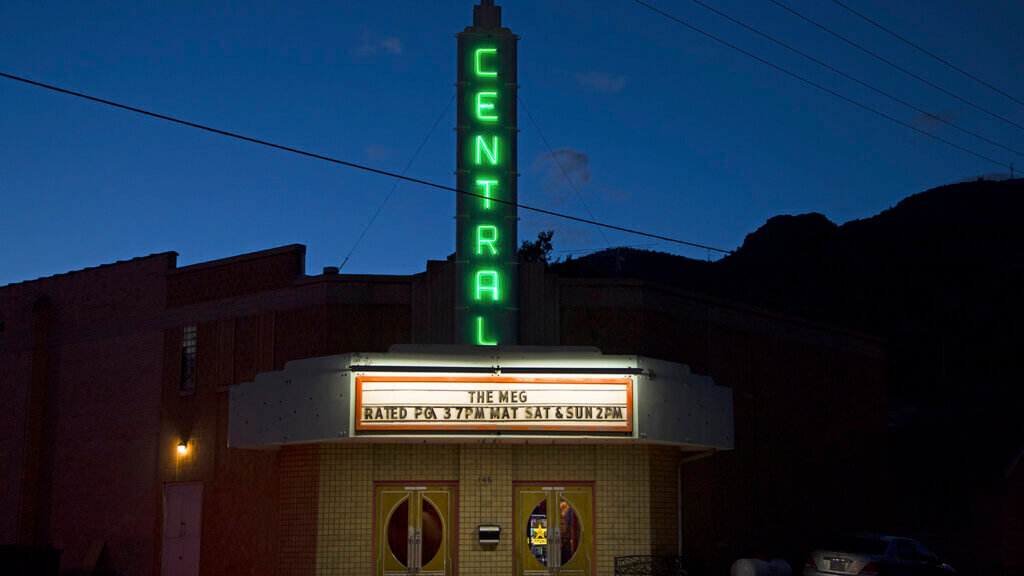 Popcorn Or Junior Mints?
Sno-Cap your night off at the Central Theater, an Art Deco-styled, old-school cinema on the National Register of Historic Places. A single movie (typically rotating in weekly) is shown nightly at 7pm, with 2pm matinees on Saturdays and Sundays. And the uber-affordable concessions stand means you can stock up on all your favorites without breaking the bank. Kick back with a flick and revel in the small-town charm. And don't forget to ooh and ahh over the neon sign outside!
Got An Extra Day? You're Gonna Want One.
An hour east of Ely, Great Basin National Park is one of the least visited national parks in the country, which is ASTONISHING for so many reasons. All 77,180 acres of this place are breathtakingly beautiful, including at night – Great Basin proudly (and rightfully) boasts that "half the park is after dark" due to the A++ stargazing you can do beneath its International Dark Sky Association-recognized skies.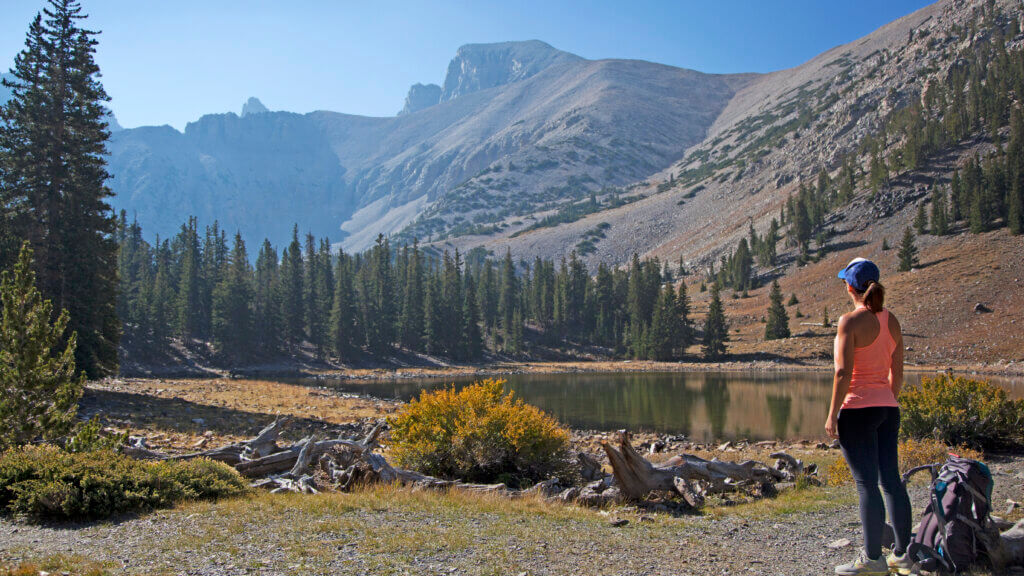 Before you break out the telescopes, the gnarly Bristlecone pines will dazzle you by day, as they've thrived in harsh growing conditions for 3,000 to 5,000 years. If you're a pro peak bagger, conquer the second tallest peak in the Silver State and gain 2,900 feet in elevation on Wheeler Peak. And while Lehman Cave tours are closed right now, a virtual tour will give you a glimpse of just how extraordinary Great Basin National Park will be. And did we mention all the hiking, fishing, camping, and wildlife viewing, too?
Travel Nevada Pro Tip
About those ancient Bristlecones? The Wheeler Peak Grove is the most accessible way to see 'em. Follow a 1.5 mile (3 miles round trip) trail from Wheeler Peak Campground to get up close with living history.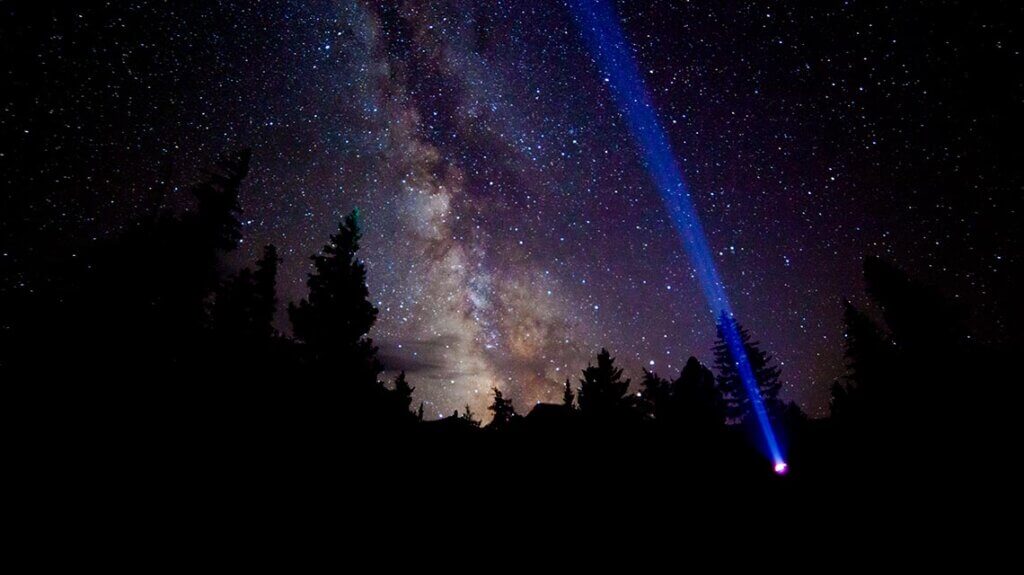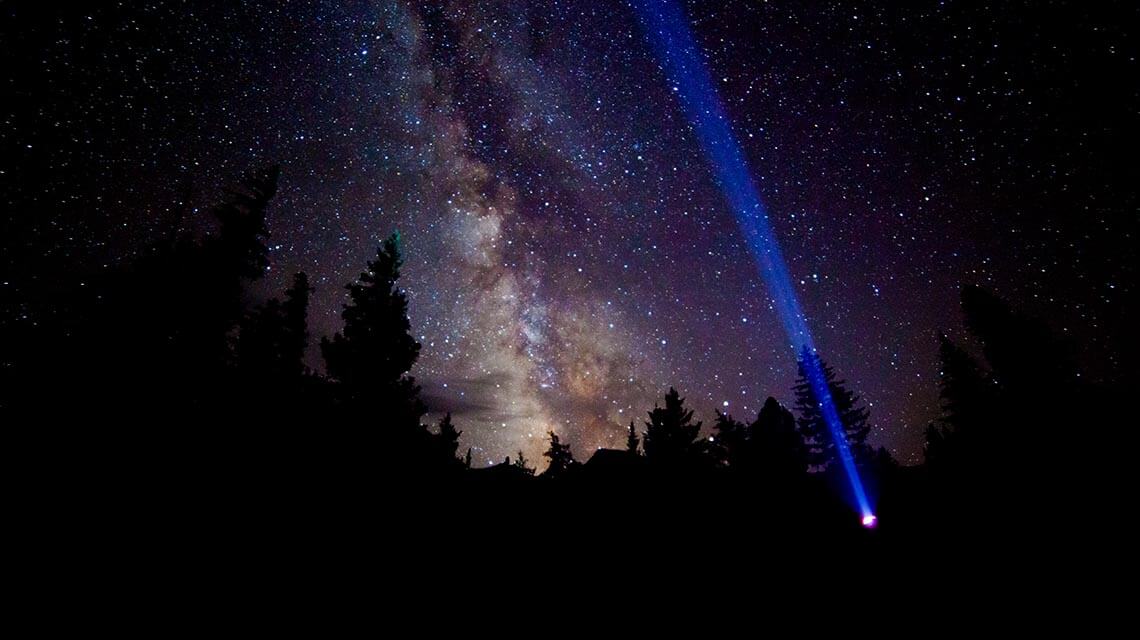 Ely is home to some of the best annual events in Nevada – Fears, Tears and Beers, Fire & Ice Winter Festival, Great Basin Astronomy Festival, specialty Nevada Northern Railway train rides, and a whole lot more. Keep your eyes peeled for 2021 and 2022 dates, and get them on the calendar ASAP for your well-worth-it return.
Already eager to hit the highway again? Party with half a dozen state parks on the Great Basin Highway or get the rest of those HWY 50 Survival Guide stamps on the Loneliest Road in America.
Get Inspired
Related Stories