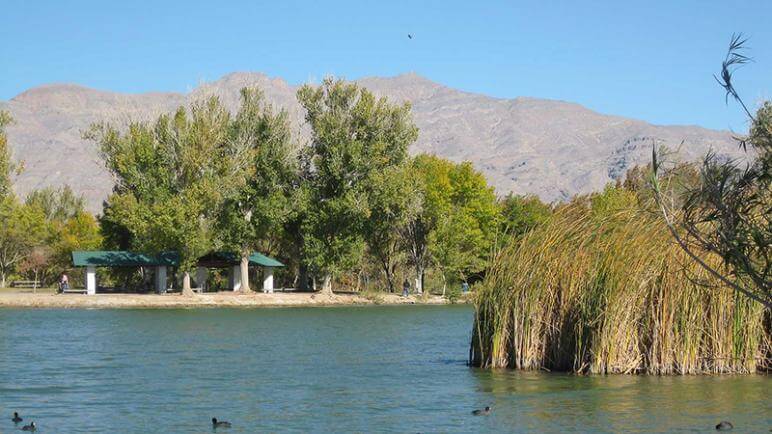 Floyd Lamb Park at Tule Springs
Floyd Lamb Park at Tule Springs in Las Vegas
One of the most incredible parts of fabulous Las Vegas has nothing to do with gaming or glittering lights. Floyd Lamb Park at Tule Springs (formerly Floyd Lamb State Park) tucked away in northwest Las Vegas, is a breathtaking oasis of lush vegetation, scenic views, serene lakes and bountiful wildlife—it more than holds its own among the city's more urban experiences.
How to Get the Most Out of Floyd Lamb Park
Visitors wandering the sprawling expanse of Floyd Lamb Park,  operated by the City of Las Vegas for more than three decades, can explore four beautiful ponds stocked with rainbow trout, family-friendly picnic areas, barbeque pits, scenic paths perfect for leisurely strolls, and even hit the volleyball courts or horseshoe pits to scratch your competitive itch.
The park also offers a number of different educational programs and special event spaces.
Travel Nevada Pro-Tip: There is a $6 per vehicle entrance fee.
Hours of operation are:
Summer (April – September) 8 a.m. to 8 p.m.
Winter (October – March) 9 a.m. to 5 p.m.
Fishing at Floyd Lamb Park, Las Vegas
Those with valid Nevada fishing licenses are welcome to cast in the ponds, but the park does limit catches to three fish per person. Floyd Lamb Park Pond (located within Floyd Lamb Park) is frequently referred to as Tule Springs or Tule Springs Pond. The entire shoreline of the upper most part of this pond is accessible for fishing. The park has four public fishing ponds, one of which is stocked throughout the year. This pond, known as Tule Springs Lake, is stocked by the Nevada Department of Wildlife, but all four of the ponds located in the park (Tule Springs Lake, Cottonwood Lake, Mulberry Lake and Desert Willow Lake) have fish.
With a number of different species in each pond like the bluegill, redear sunfish, green sunfish, crappie, carp, and largemouth bass are there for taking. It's also seasonally stocked with rainbow trout and channel catfish.
Tule Springs Park
Floyd Lamb Park at Tule Springs Las Vegas, NV is also home to the historic Tule Springs Ranch, which offers visitors a unique look at early ranch life in the region. Fossilized remains of animals including the extinct mammoth, horses, giant sloths, camels and bison (all of which have been found in the park). This area has been touted as one of western North America's best examples of Pleistocene paleontological sites.
Tule Springs Fossil Beds represents a period of time that ranges from 200,000 to 3,000 years ago. The area had such an abundance of mammoths that it has been referred to as "mammoth central." These remains now fuel research about paleontology, geology, and prehistoric climate change. Tule Springs Fossil Beds is the first National Park Service monument to be specifically dedicated to the preservation, public education, and scientific study of Ice Age fossils.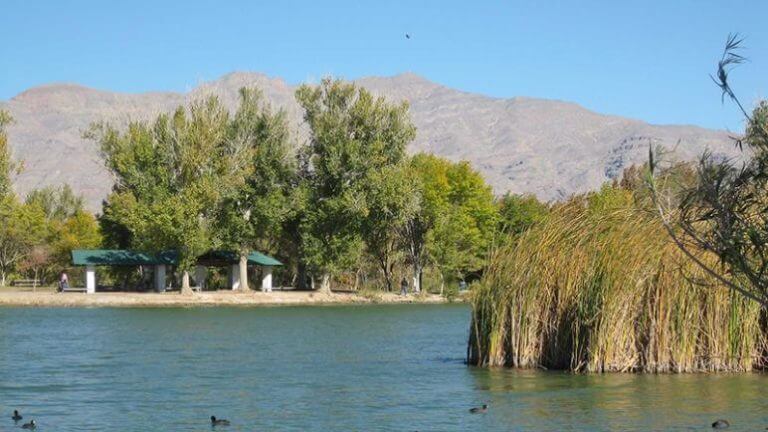 This Location: