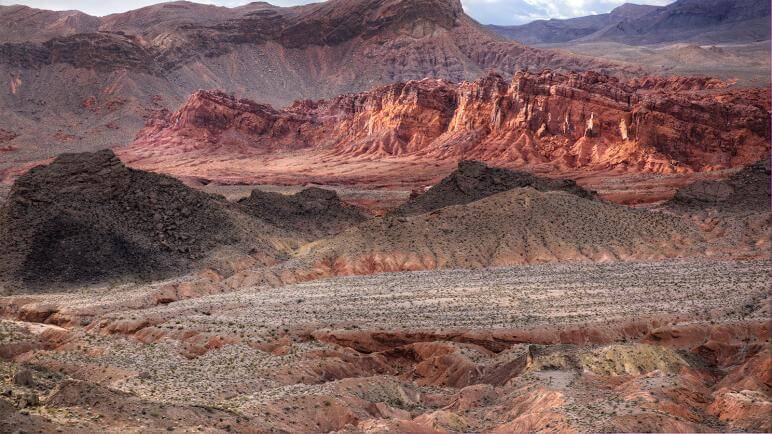 Muddy Mountains Wilderness
This region of shadowy slot canyons, mind-bending geological formations and expansive views of Lake Mead is unique because it is under the watchful eye of both the National Parks Service and the Bureau of Land Management. Solitude and silence are common throughout the 48,154 acres of narrow canyons and gravelly washes found inside Lake Mead National Recreation Area. Best yet, the Muddy Mountains WIlderness Area is part of the 100 million acre National Wilderness Preservation System, which provides clean air, water, habitat for rare and endangered plants and animals.
Located about an hour north of Las Vegas, the Muddy Mountains Wilderness is unlike any other place in the state. Here, the landscape features spectacularly striking geological formations among a thriving Mojave Desert habitat of creosote bush, black brush, yucca, Joshua trees, desert willow, and other rare plants like Las Vegas buckwheat, and bear poppy.. The Muddy Mountains Wilderness Area truly is a geologists paradise, featuring unique geological features incorporating limestone, Aztec sandstone, unusual erosion, and fossilized sand dunes that all work together to create a dramatic landscape. Some specific points of interest within the wilderness area can be found at  "Bowl of Fire", a limestone formation that towers over shades of red sandstone below, "Anniversary Narrows", which incorporates a 600-foot deep slot canyon, and "Hidden Valley", which exposes thousands of years of layers of limestone and Aztec sandstone. Ranging from 1,700 feet to 5,400 feet in elevation, this alluring Mojave Desert landscape is one spectacular panorama worth working into your next Nevada trip.
Though the landscapes are enough to keep anyone's attention and undoubtedly merit a visit, this unmatched Nevada Wilderness Area is a launchpad for any recreational enthusiast. No overcrowded trails here, or competitive campsites. This 45k+ acre wilderness area is yours for the taking, whether it's hiking, backpacking, climbing, kayaking, canoeing, rafting, horse packing, wildlife spotting, stargazing or just a serious dose of solitude. Watch for bighorn sheep, the banded Gila Monster, or the state reptile: the desert tortoise. Check with both the BLM and National Parks Service about updated rules and regulations to best enjoy this land, but camping and backpacking is allowed just about anywhere in the Wilderness Area, so long as you don't camp right on the trail or water sources, and leave the landscape better than you found it. For a most up to date list of information, check out  the websites for both Lake Mead and the BLM (who also has a great area map) before hitting the trail!
GETTING THERE
Hidden valley may be accessed by driving the Bitter Springs Backcountry Byway about 3 miles east on the Valley of Fire Highway from Interstate 15. About four miles south of the Valley of Fire Highway on this rough dirt road, turn right at the sign for Color Rock Quarry. About 3 miles further lies the trailhead for Hidden Valley. Four-wheel drive and high clearance vehicles are recommended.
The Bowl of Fire and Anniversary Narrows are accessible from the paved Northshore Road. Calville Road turns north at mile marker 16, so be on the lookout for that. Four-wheel drive is recommended here, too.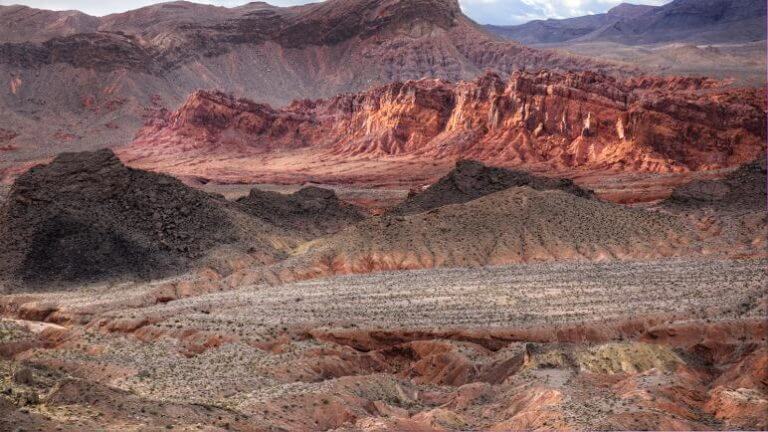 This Location: