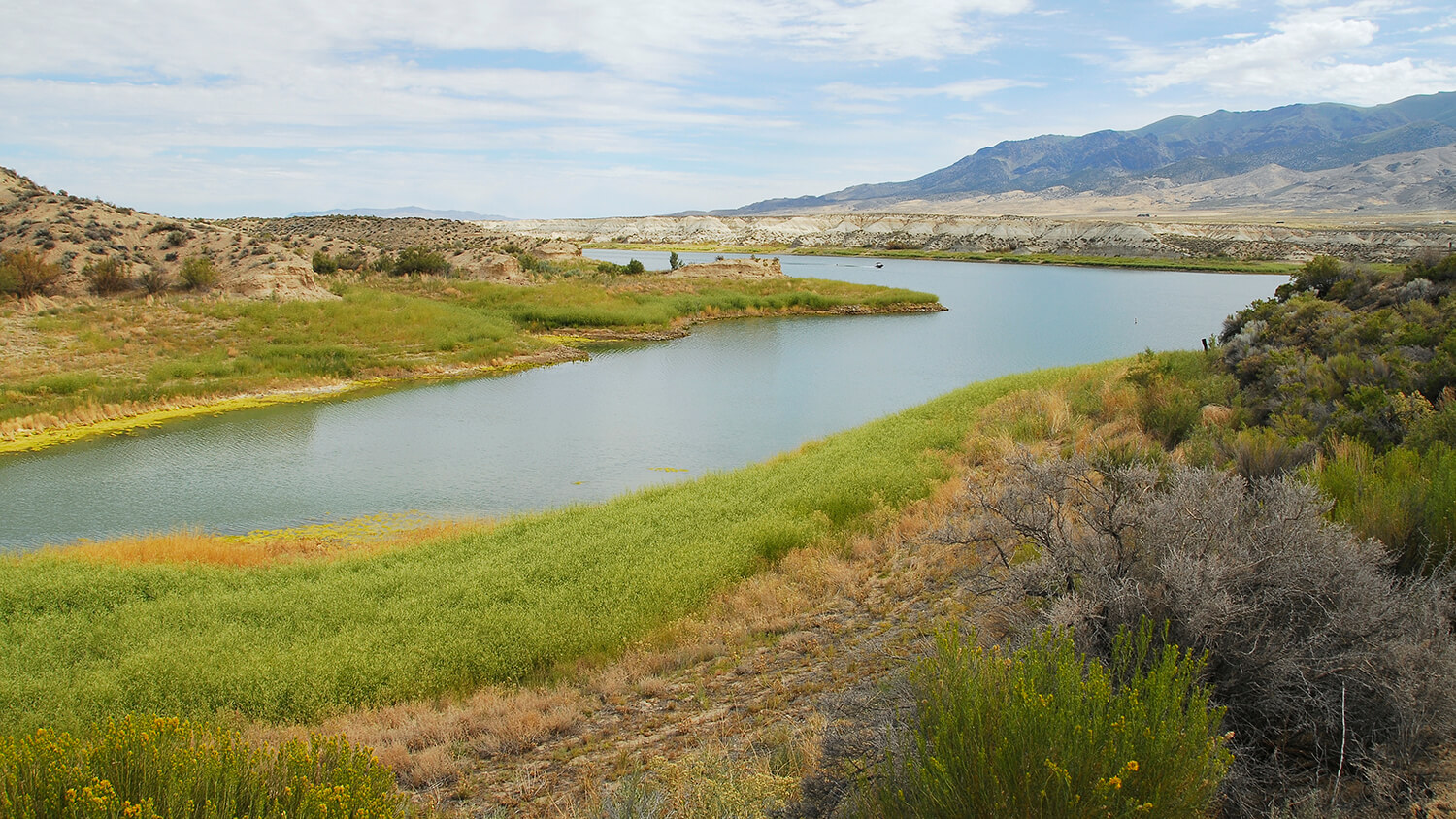 Rye Patch State Recreation Area
Perched on the edge of a 22-mile long, man made reservoir, Rye Patch State Recreation Area serves up 72 miles of shoreline and 11,000 acres of water surface, ideal for boating, swimming, fishing, and beach lounging.
EARLY DAYS IN THE LOVELOCK AREA
The Humboldt River stretches across most of northern Nevada, and is considered to be the largest river in the State of Nevada and The Great Basin entirely. But, thousands of years ago, this enormous river was even mightier, and fed prehistoric glacial Lake Lahontan. Nearly 23,000 years ago when the elevation of this enormous ancient lake was lower than the present reservoir, animals like camels, horses, mammoths and bison were drawn to the water as a drinking source. Some of the first evidence of people living in the area stretches back to 9,500 years ago, who also depended on the water supply found here as a life source. INterestingly enough, fossilized bones from these prehistoric animals and artifacts from human life in the area have been found all along Rye Patch's much lower, modern day shoreline.
Peter Skene Ogden was one of the first people to have moved through the region in 1829, while on a trapping expedition for the Hudson Bay Company. The California gold fields enticed thousands of more early pioneers, who traveled throughout the region in the 1850s, which led to a massive silver boom in the 1860s. During this time, like Unionville, Rochester, Star City, Humboldt City and Rye Patch sprang to life out of a sea of sage. Rye Patch was named for a patch of wild rye grass growing alongside the railroad, had a post office, school, boarding house and even a Central Pacific Railroad station after the completion of the Transcontinental Railroad in 1869.
During the 1930s, the Civilian Conservation Corps helped build a dam here to funnel water to farmers in the Lovelock area. The 75-foot high, earth-filled dam is designed to hold more than 200,000 acre-feet of water, and became a Nevada State Recreation Area in 1971.
VISITING RYE PATCH TODAY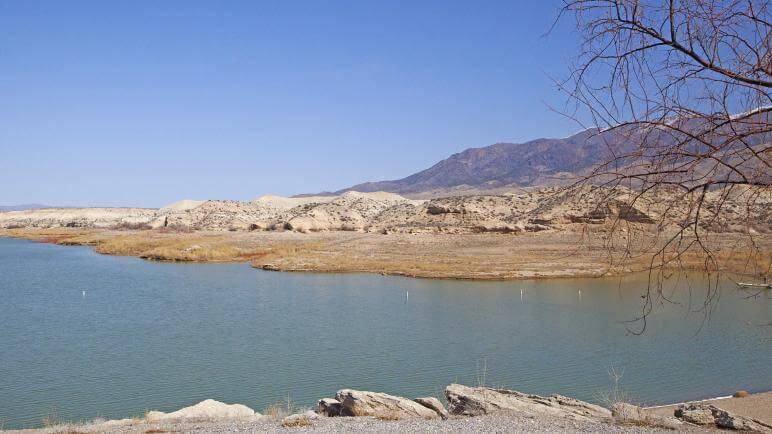 Positioned 22 miles north of Lovelock and 50 miles south of Winnemucca, Rye Patch State Recreation Area is a recreationalist's paradise. Known for trophy-class fishing ops and sunny afternoons spent boating, this 11,000 acre State Recreation Area is a perfect way to relax, without fighting crowds. Visitors and locals alike can bask in swimming, waterskiing, hiking, camping and picnicking, or try their luck at reeling in crappie, wipers, white bass, channel catfish, black bass and walleye. Take advantage of some shade from the original CCC-built shade ramadas found throughout the park, along with some signature stone-masoned barbeques the CCC is known for. If you're interested in taking in Rye Patch's beauty from the leisure of your vehicle, we've gotcha covered there too. With more than 72 miles of shoreline, some great afternoon drive possibilities await.
ADMISSION AND FEES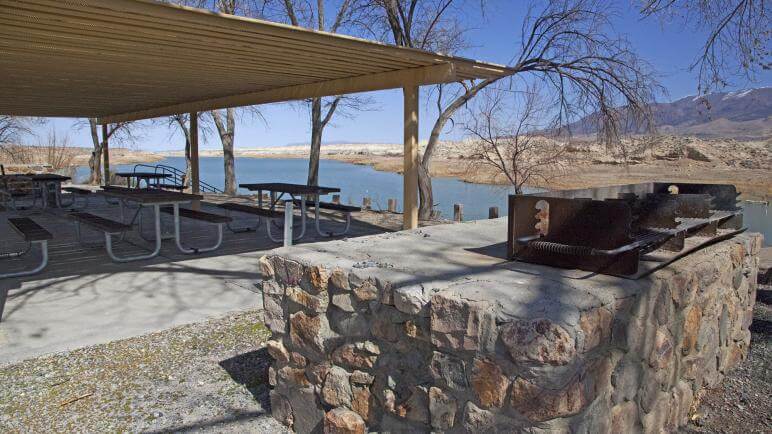 Admission to Rye Patch State Recreation Area is $5.00. Camping is $15.00 per night and offered on a first-come, first-served basis—sites may not be reserved. The river campground below Rye Patch Dam has 22 units, a restroom with flush toilets and hot showers. The campground on the reservoir's west side has 25 units, as well. Fees to access the boat launch is $10.00, or if you're planning to camp and boat at Rye Patch, the combined total fee is $20.00 per night. For the most up to date information on hours, campsite availability and entry fees, please click here.
GETTING THERE
From downtown Lovelock, head north approximately 22 miles on Interstate 80 until reaching exit 129. Exit the interstate and make a left hand turn, going underneath the interstate. Proceed approximately 2 miles before entering Rye Patch State Recreation grounds. A ranger station will be on the left hand side of the road.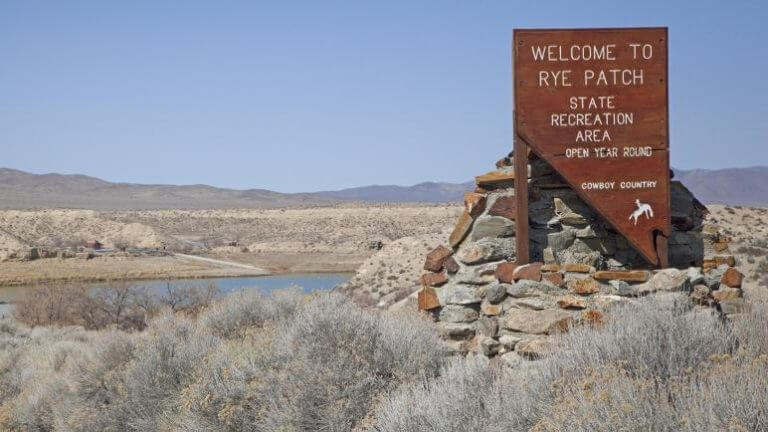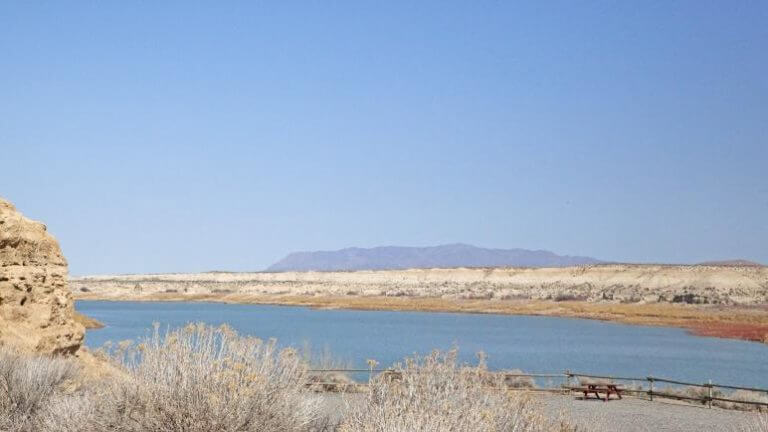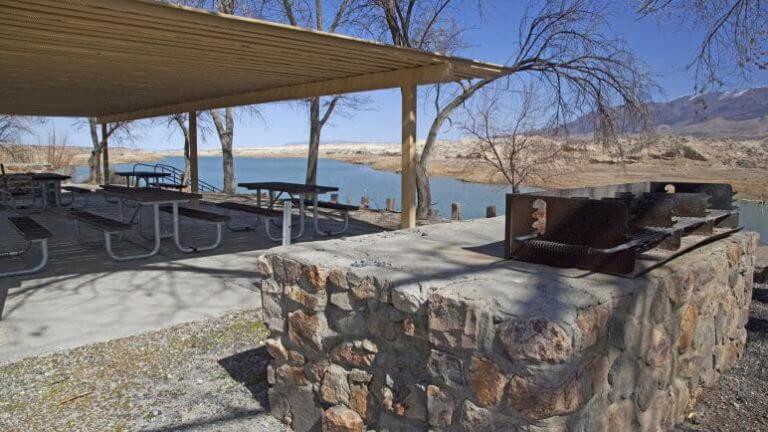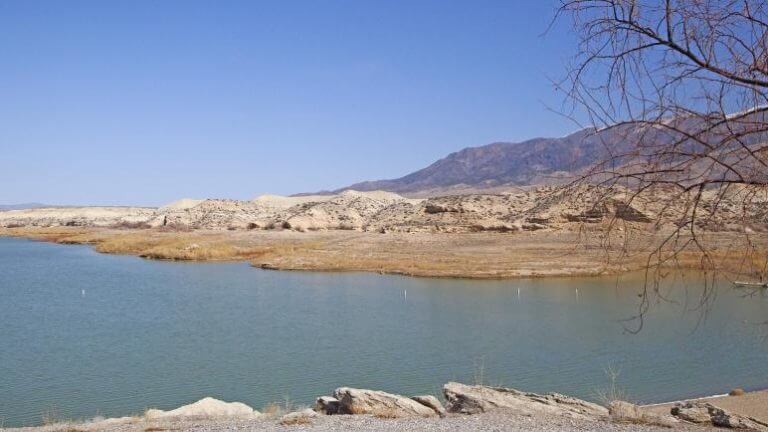 This Location: