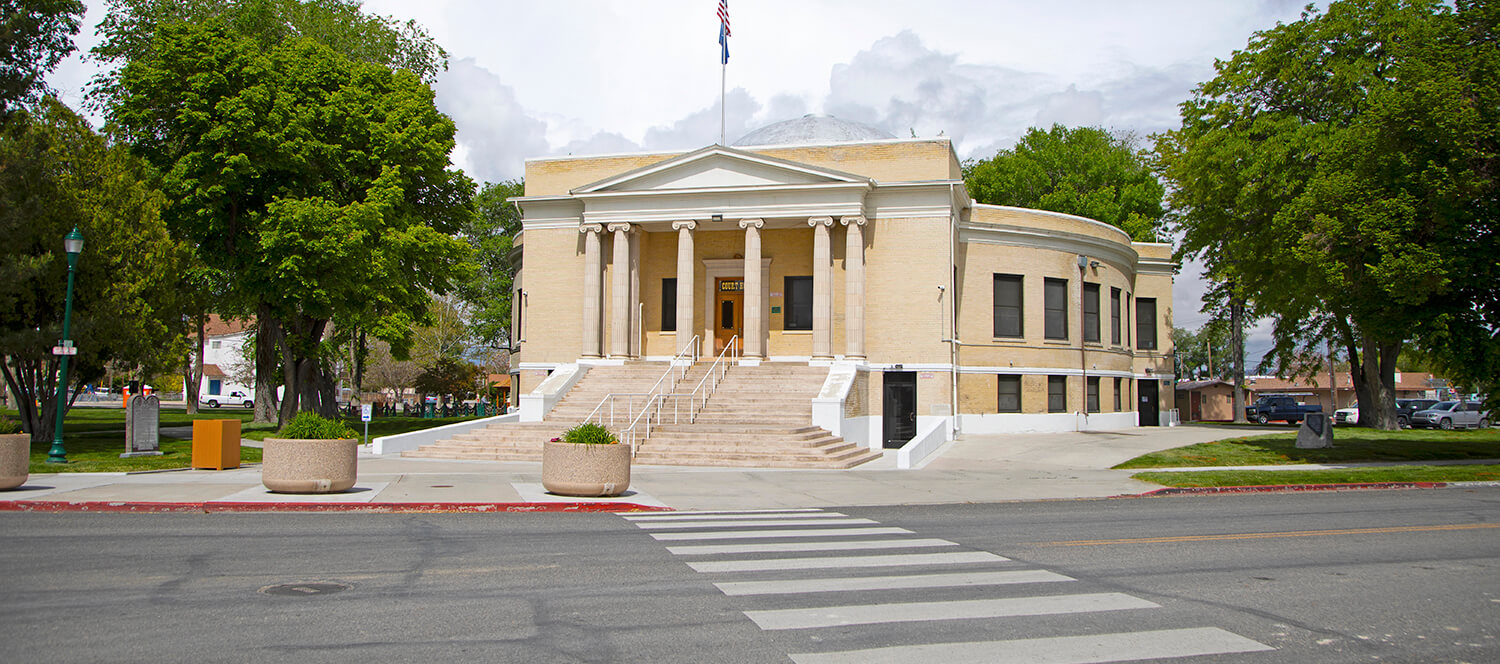 Lovelock
You're gonna love your visit to Lovelock. A bold claim, sure, but one this small-but-mighty town can deliver. Enjoy a slice of the simpler life in this history-packed community where you can literally lock your love for all eternity, or consider it your launch pad into some truly wild western adventures.
You'll Love It Here
Welcome to Lovelock, Nevada, a town steeped in history and brimming with outdoor opportunities. And when we say "outdoor opportunities," we're talkin' everything from ghost towns and river-centric recreation areas to an exotic wildlife sanctuary and one storied cave. Of course, no trip would be complete without locking your love in the must-see plaza nestled in the heart of the community, too. Our advice? Do it all and come back for more, because your first trip to Lovelock almost certainly won't be your last.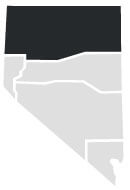 Season
All Seasons
Region
Northern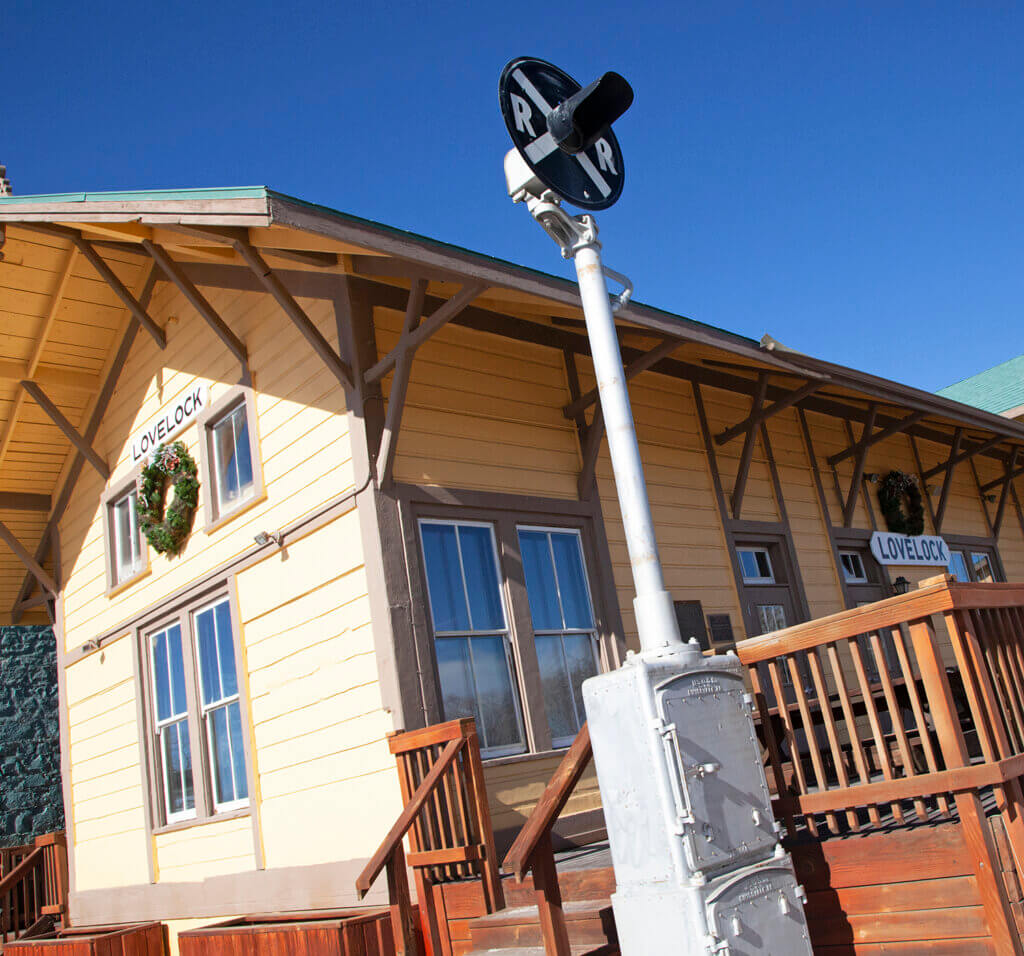 So, Where Is Lovelock, Nevada?
You'll find Lovelock smack dab in the center of so much good stuff. It's the perfect pit stop or overnighter as you're cruising Interstate 80, also known as the Cowboy Corridor due to the entire route's abundance of western heritage and culture. Located halfway between the equally interesting burgs of Reno and Winnemucca, too, you can't beat good ol' Lovelock, Nevada, for an A++ day trip or weekend excursion. No matter which direction you're traveling on I-80, make sure you slow down for this small town chock-full of character.
Lovelock History
More than 22,000 years ago, the town we now call Lovelock was underneath the water of Glacial Lake Lahontan in the Humboldt Sink. As time passed and water levels receded, the region became home to the Northern Paiute people who consider Lovelock Cave to be a sacred place. In 1911, guano miners inadvertently found what would turn out to be thousands of artifacts stored inside the cave between 2000 B.C. and 1000 A.D. Archeological digs began in 1912, continuing on and off for almost 60 years with teams from prestigious organizations like the National Museum of the American Indian and the American Museum of Natural History. Most notably, eleven tule duck decoys were recovered from Lovelock Cave, still considered the oldest of their kind found anywhere on Earth and the state artifact for Nevada since 1995.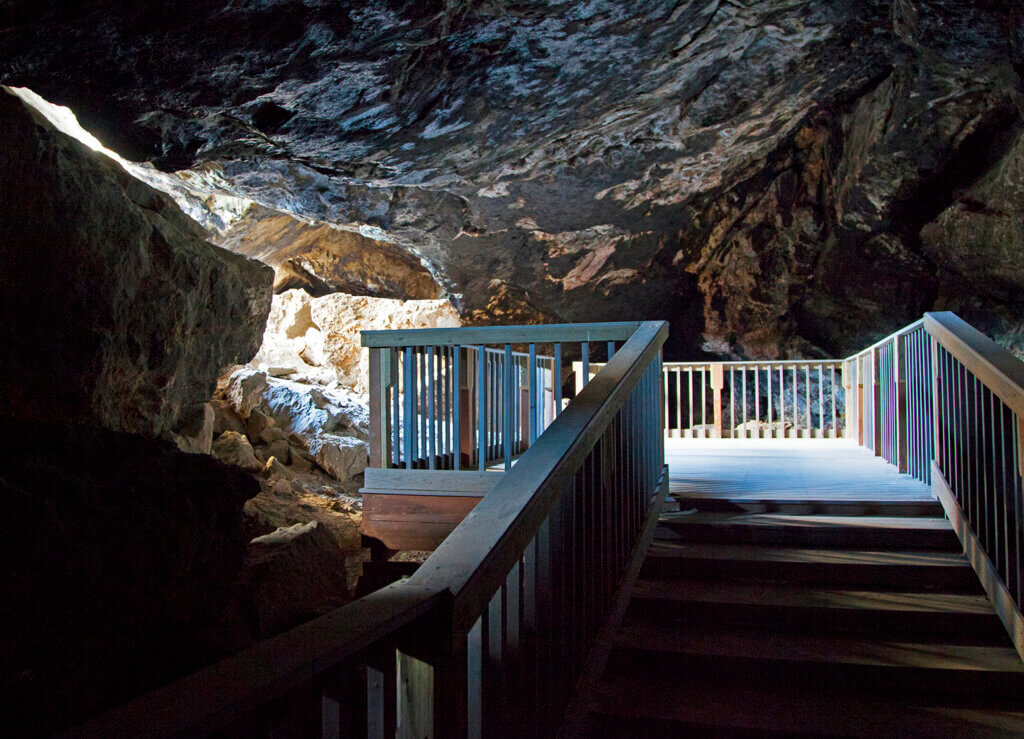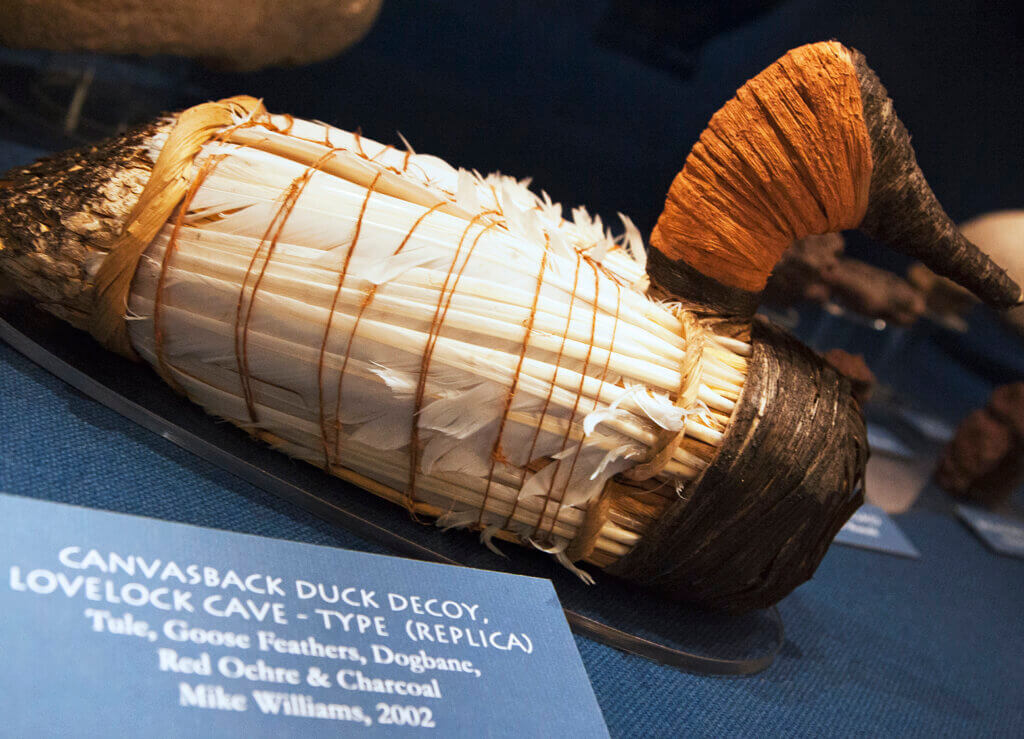 Nevada's Tule Duck Decoy is in a class of its own, because it is representative of the American Indians of Nevada's Great Basin in specific, and nowhere else. Made from bundles of tule stems, shaped to resemble canvasback ducks, the eleven recovered Tule Duck Decoys were untouched for more than 2,000 years and the oldest duck decoys of their kind found anywhere on Earth.
Lovelock, NV was also a popular stop for those traveling the Humboldt Trail to California back in the 1840s. An English settler by the name of George Lovelock purchased 320 acres of land here in 1866, providing 85 of them to the Transcontinental Railroad when a depot was built in 1868. You can see this still-standing historic building in the hub of town, and also swing by the nearby Marzen House Museum while you're at it. Here, you can peruse an array of artifacts from Lovelock's early days, including antique mining equipment, pioneer home relics, and a selection of personal items that belonged to silent film actress and former resident Edna Purviance.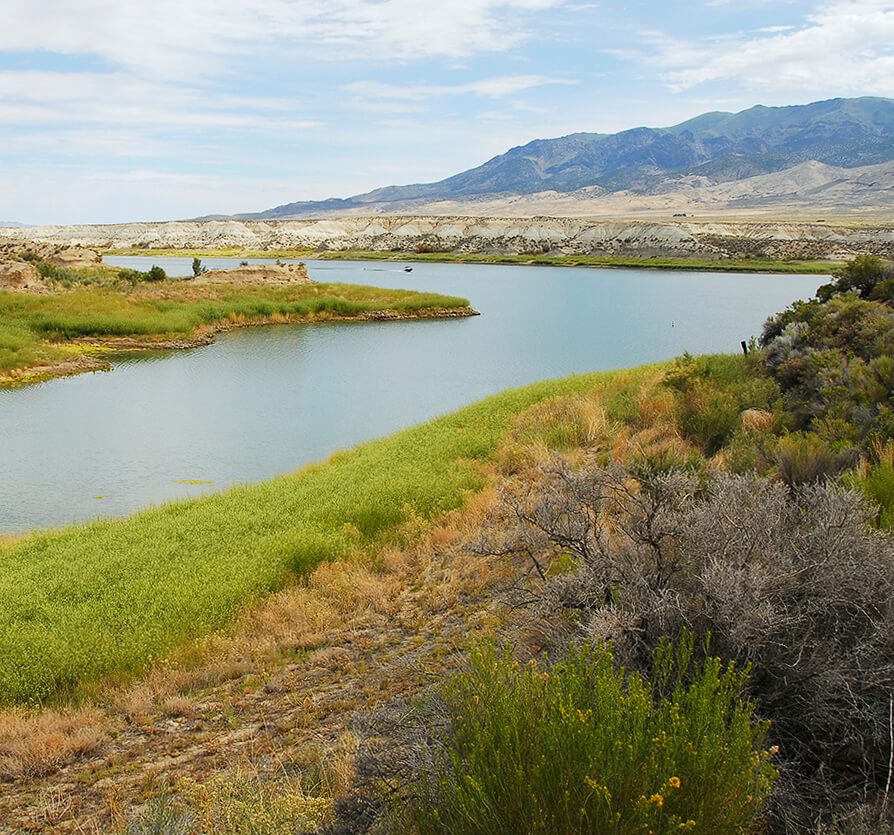 Things to Do in Lovelock
Ring, ring – that's the great outdoors calling your name in Lovelock. Our favorite place to start is the Lovelock Cave & Backcountry Byway driving tour, a 40-mile-roundtrip drive that starts at the Marzen House Museum and takes you past historic sites like Big Five Dam, the Humboldt River, ancient Lake Lahontan, and more before arriving at Lovelock Cave. For even more Humboldt River fun, head to Rye Patch State Recreation Area – with 72 miles of shoreline, visitors enjoy camping, picnicking, swimming, hiking, and fishing (for walleye, catfish, and both white and black bass) at this Great Basin gem.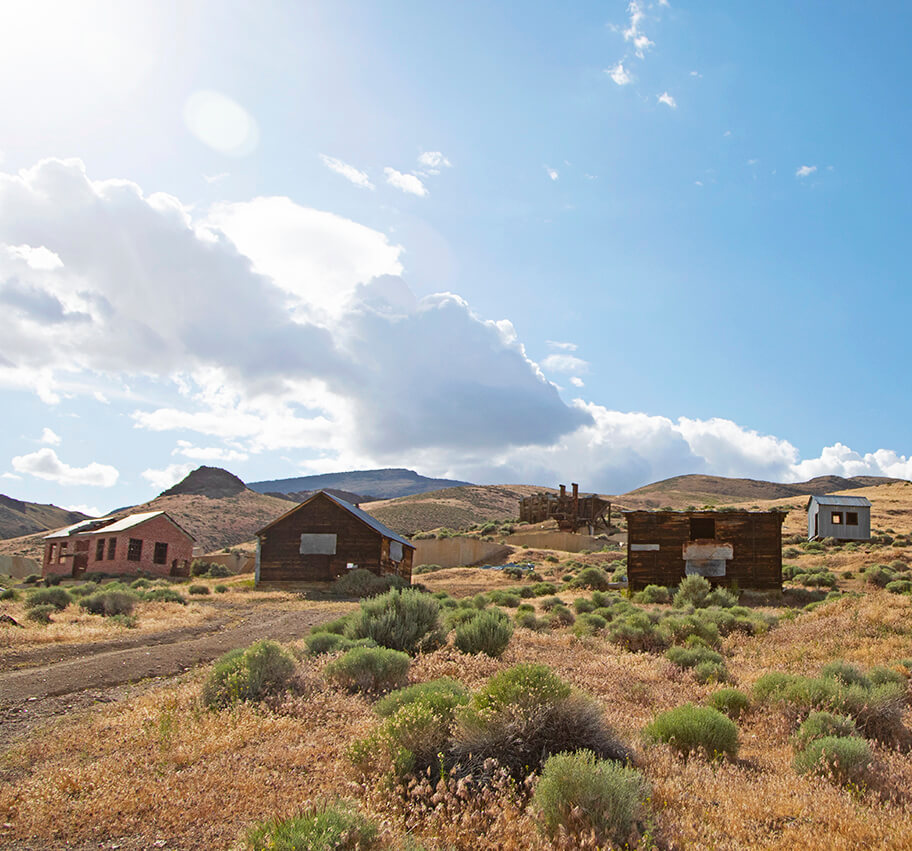 Latch onto even more adventure with some unbelievable day trips outside of Lovelock, NV. Ghost town enthusiasts can cross Seven Troughs off their lists by going about an hour northwest of town to see ruins of a stamp mill and a handful of miner cabins and old cars. Go an hour northwest of Lovelock, too, to visit Unionville, where a cabin once inhabited by Mark Twain (when he was trying his hand at prospecting) still stands.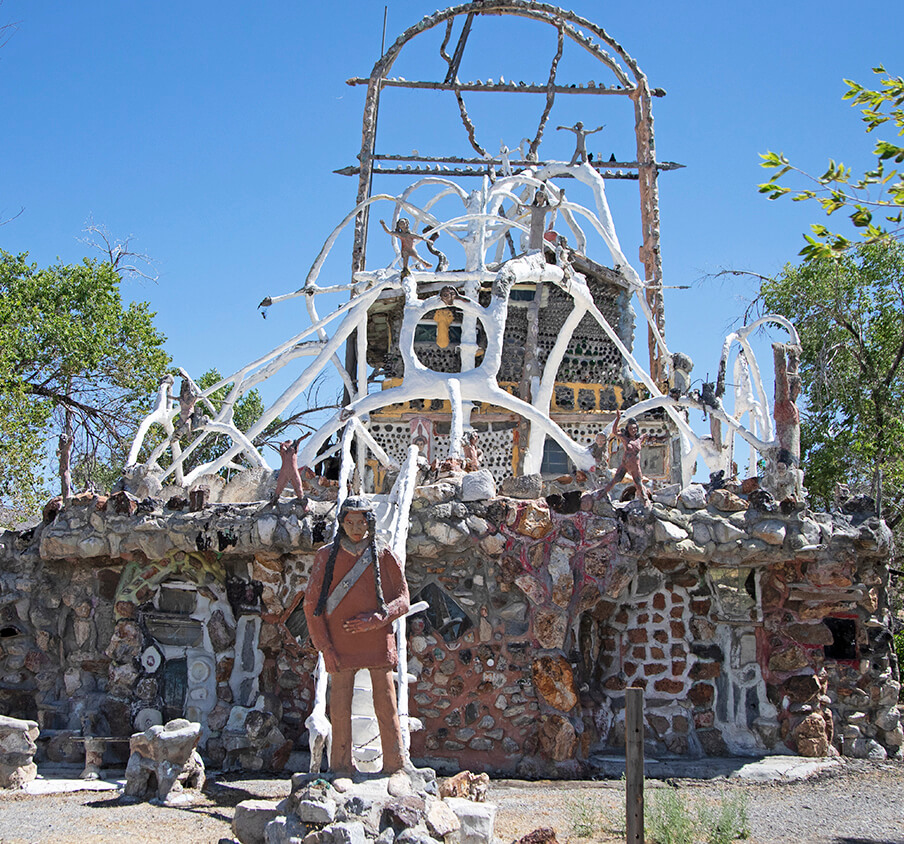 On your way to or from Unionville, plan to pull over in Imlay for a few hours. You won't be able to miss the towering Thunder Mountain Monument from the highway, and this folk art array of buildings and sculptures made from found items is the perfect spot for stretching your legs (and camera). Only 15 minutes away from here is Safe Haven Wildlife Sanctuary, a nationally accredited, non-profit sanctuary that's home to tigers, lions, bears, servals, and a host of other creatures. Working with the USDA, state and local authorities, and animal welfare organizations, Safe Haven provides permanent housing and care for these orphaned, injured, or confiscated wild animals that aren't able to be rehabilitated and released back into natural habitats.
Before you bid adieu to Lovelock, go treasure hunting at Nanny Jo's Antiques, Retro & Vintage, housed in the building of the town's original mercantile company. Just make sure you have room in the trunk for everything from cowboy boots and unique home and kitchen furnishings to clothing and jewelry.
Lovers Lock Plaza & Lovelock Events
Join thousands of sweethearts, families, and friends in literally locking your love when you're in Lovelock. Following the ancient Chinese custom, it's believed that as long as your lock remains on the chain, your love will endure. Pick up a heart-shaped padlock at participating businesses in town (or bring your own), then head for Lovers Lock Plaza to add your adornment. You can throw the key into your favorite body of water – which could be the nearby Humboldt River – to seal your affection, or save it as a special memento.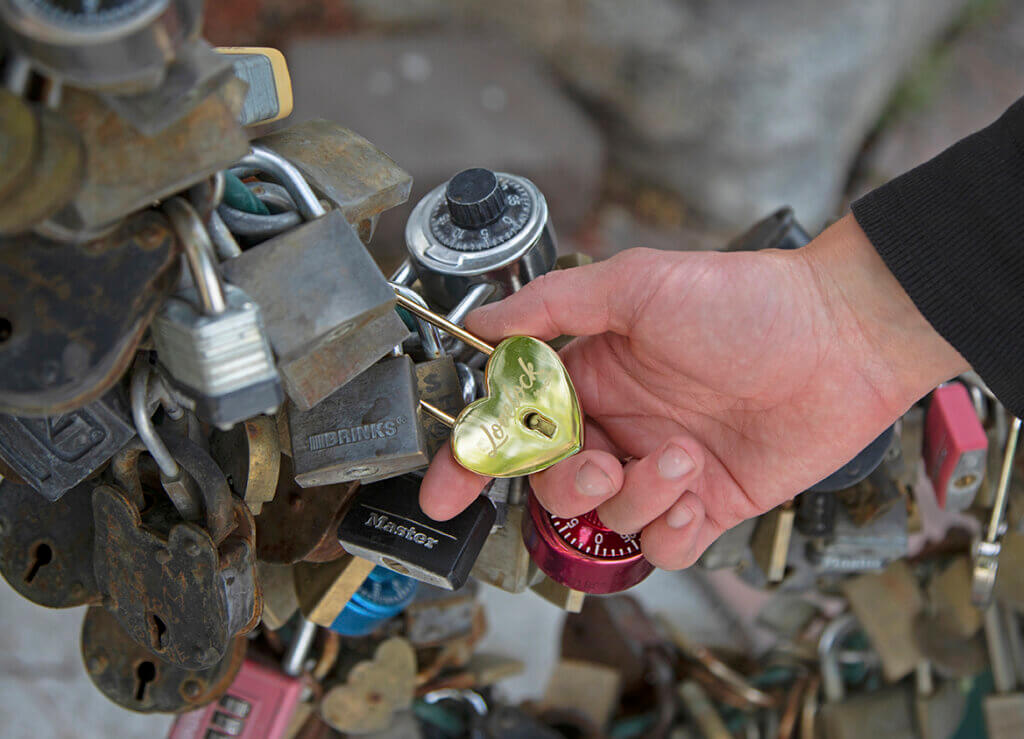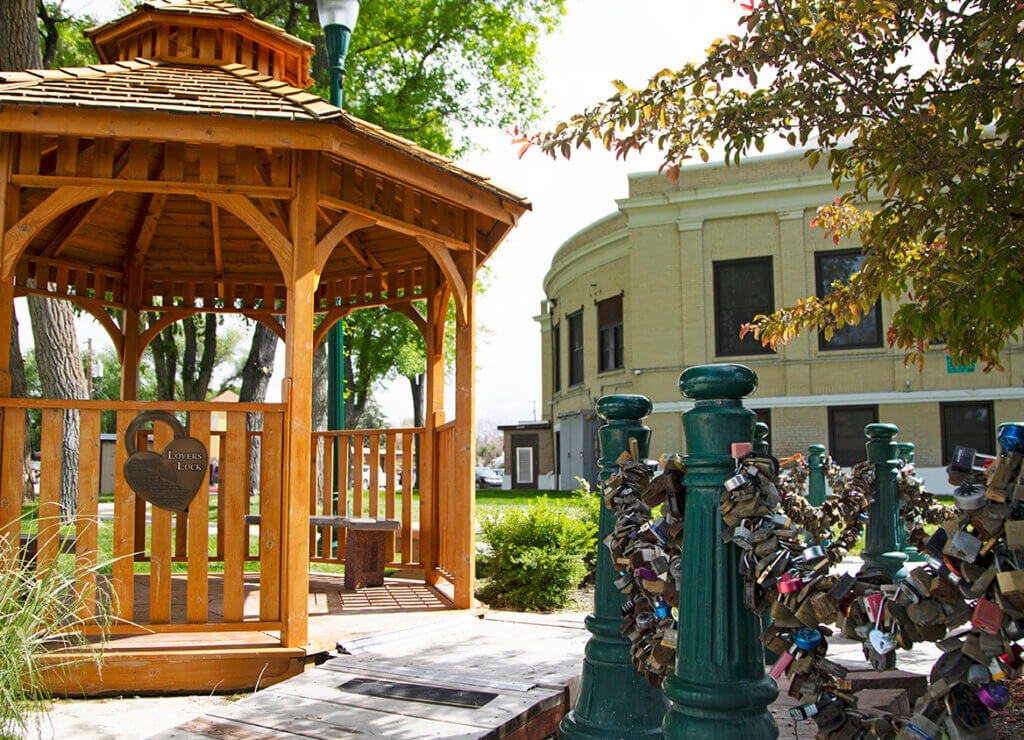 Travel Nevada Pro Tip
On your way to Lovers Lock Plaza, take an extra long gander at the Pershing County Courthouse in front of it. Built in 1919 and designed by famed Nevada architect Frederic DeLongchamps, it's the only round courthouse in the Silver State.
And speaking of love, we can't forget about Lovelock's special events. The Lovers Aloft Balloon Festival is held every February, featuring dozens of hot air balloons filling the skies while attendees enjoy tethered rides, themed dinners, and more on the ground. Lovelock Frontier Days are a blast with the past, too. Be here in August for tractor pulls, horseshoe and arm wrestling competitions, parades, dog shows, concerts, and a whole lot more.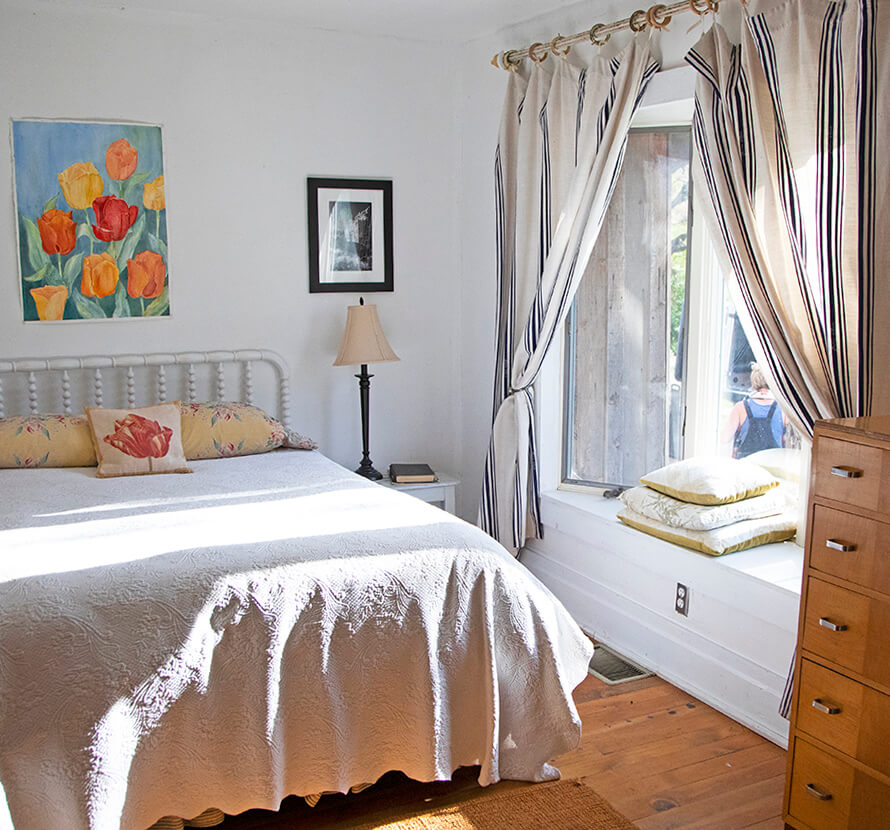 Hotels in Lovelock, Nevada
Embrace those wild west vibes with a stay at the C Punch Inn & Casino, situated on a fully operational cattle ranch and alfalfa farm. Relax in the nicely appointed rooms, grab a bite at the Black Rock Grill, or entertain the family inside the game room. The Cadillac Inn is budget friendly and plenty comfortable, too. If you're looking for a more off-the-grid getaway, consider the Old Pioneer Garden Country Inn in Unionville, just a half mile away from Mark Twain's former mining residence. You'll feel like you traveled back to a simpler time that serves up a killer farm-fresh breakfast and all-to-yourself views.
Lovelock Restaurants
Dig into deliciousness at Temptations, where you won't be able to resist coffee drinks like the Snickers, Maui Mocha, or Red Hot Latte. Fresh sandwiches, paninis, and soups are available as well, along with 18 flavors of ice cream. Over at the Cowpoke Café, hearty American comfort food is the name of the game – think steak and eggs, juicy burgers, and homemade dessert.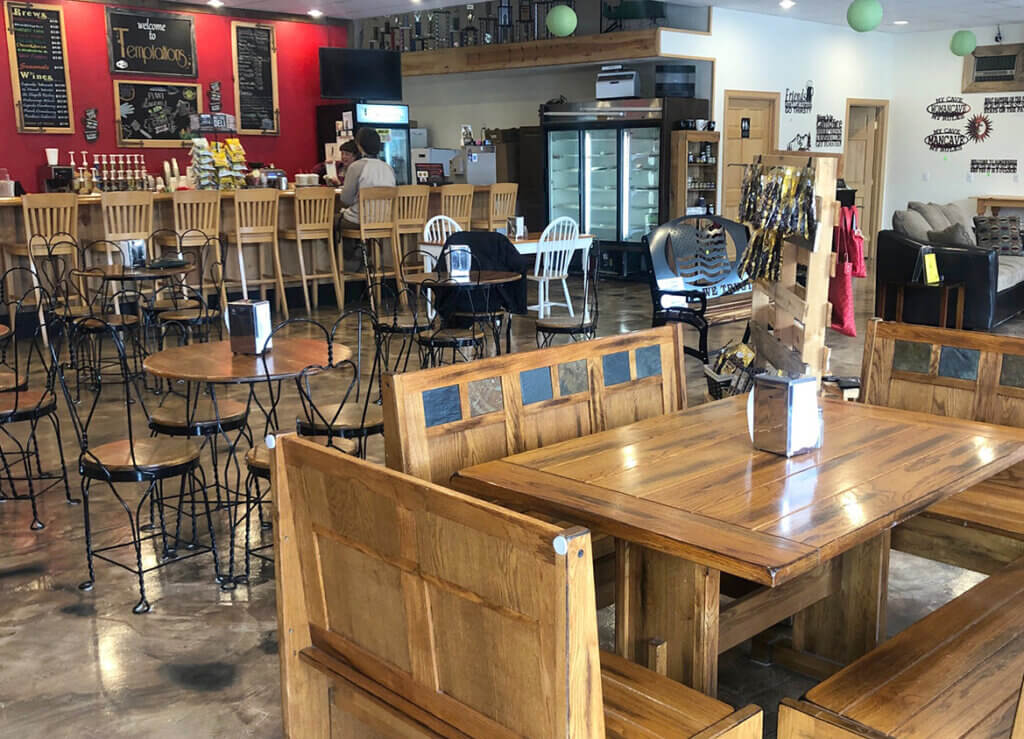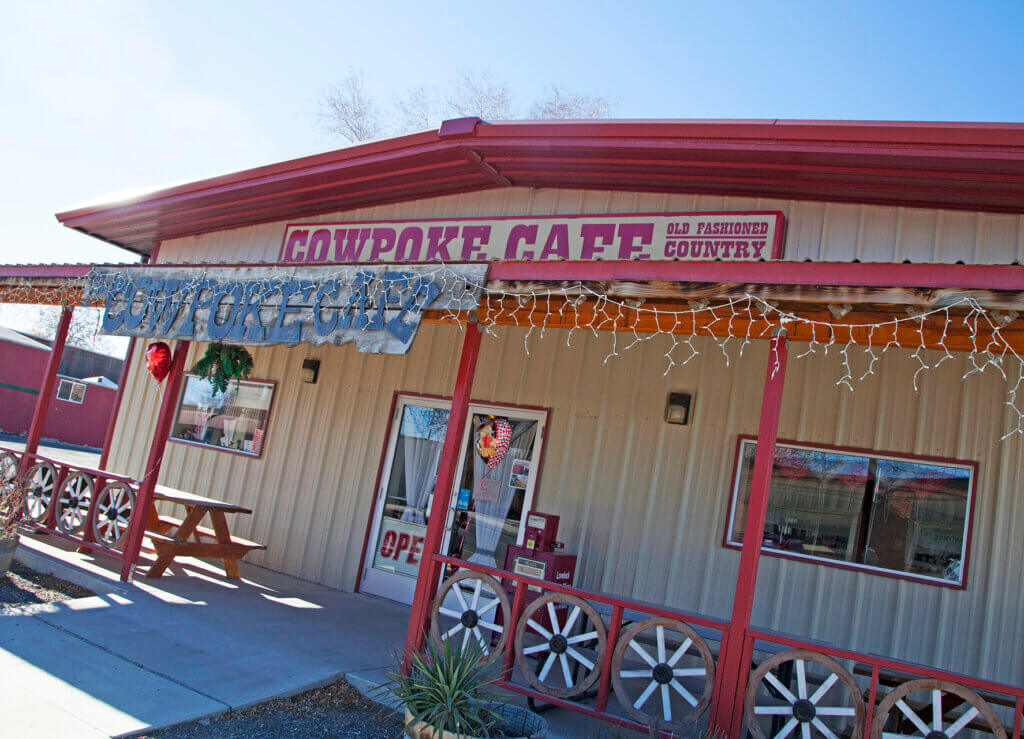 Gold Diggers Saloon & Grubhouse is "open most days most of the time" near Rye Patch State Recreation Area, offering deli eats and pizza in addition to whole pig roasts on select dates. And if you're closer to Imlay or Unionville, Star Point Trading Post & RV Park serves breakfast, lunch, and early dinner (think create-your-own omelets and chicken fried steak), along with a convenience store and playground.
#TravelNevada
Whether you're locking your love, recreating along the Humboldt River, or seeing the nearby historical sights, tag #TravelNevada so we can show some love for your Lovelock adventures.