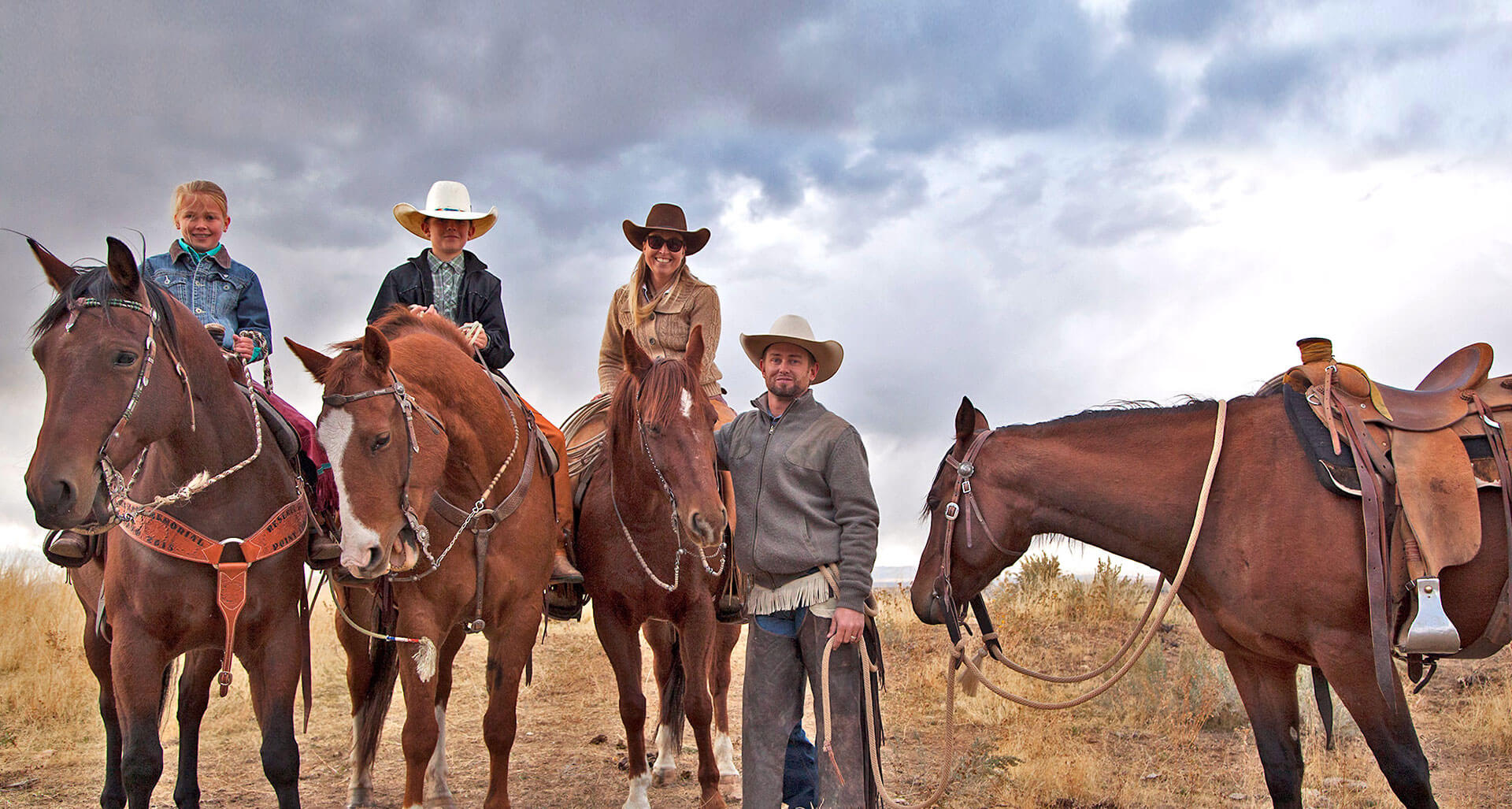 GEAR UP FOR THE RIDE OF YOUR LIFE
Interstate 80 Nevada, Reno to Wendover
Northern Nevada's ribbon of Interstate 80 is steeped in heritage.
Let's face it: Interstate 80 Nevada is a stretch of highway most motorists expect to blast down, pedal-to-the-metal, on their way to somewhere, well… else.
Those folks are missing out. Next time you're cruising Reno to West Wendover on Nevada's Interstate 80, the speed limit may hit 80 mph. But when you hit a town, slow down. Because just down that offramp you'll discover lively, welcoming communities inviting you to explore Nevada's history and plenty of exciting present-day attractions at the same time.
In fact — with museums, art galleries, poetry festivals, guest ranches, and even beers highlighting our hodgepodge of buckaroo, Basque, American Indian, and other traditions — few routes brim with as much western heritage like the one we call the Cowboy Corridor.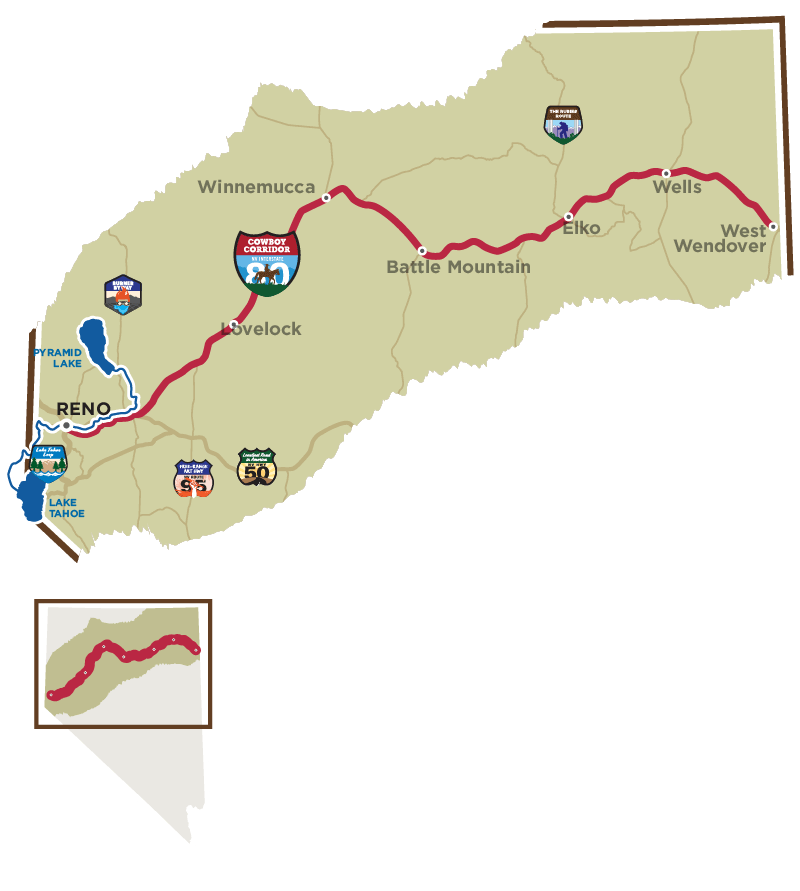 How's that aim of yours? Share your best shots along the #CowboyCorridor.
Reno to Winnemucca
Travel Nevada PRO TIP: Crank up Johnny Cash's "I've Been Everywhere" (and your trivia skills) for this leg. The very first two towns he mentions are Winnemucca and Reno. (We've also got a Charleston and a Dayton, but we won't take credit for those.)
With a population of around 250,000, Reno is Nevada's second-largest metropolitan area. However, despite being one of the western U.S's increasingly hippest, artsiest cities—not to mention the modern gold rush here for tech companies like Tesla and Apple–Reno's Wild West legacy still lives on though events such as the annual Reno Rodeo in June (2019 marked its 100th anniversary) as well as with hearty, traditional Basque cuisine at Louis' Basque Corner restaurant available for indulgence all year long.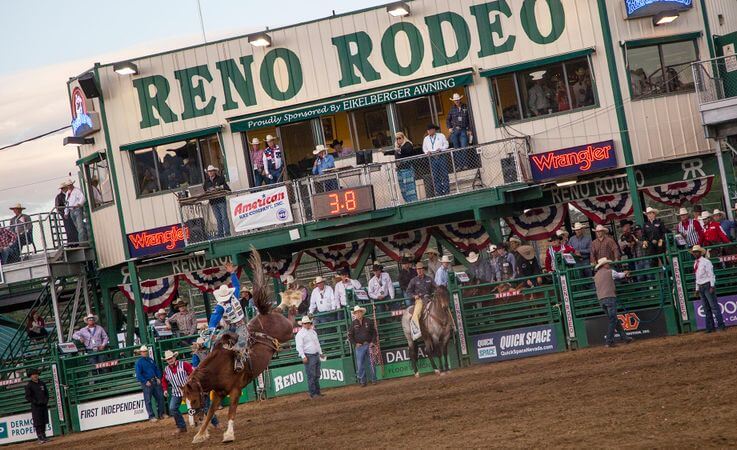 From Reno, it's off to Fernley, about a 30-minute drive east, where stunning views of the picturesque Truckee River Canyon meandering below Interstate 80 Nevada are offered. Refresh yourself with a variety of tasty milkshakes at Mary and Moe's Wigwam (you can't go wrong with butterscotch) and check out its collection of American Indian artifacts. Keep your eyes peeled for the Main Street Art Park, a sculpture garden that houses some of the artwork from the annual Burning Man gathering, which takes place just north of Fernley in the Black Rock Desert. (Intrigued? Road trip the Burner Byway for a different kind of culture kick.)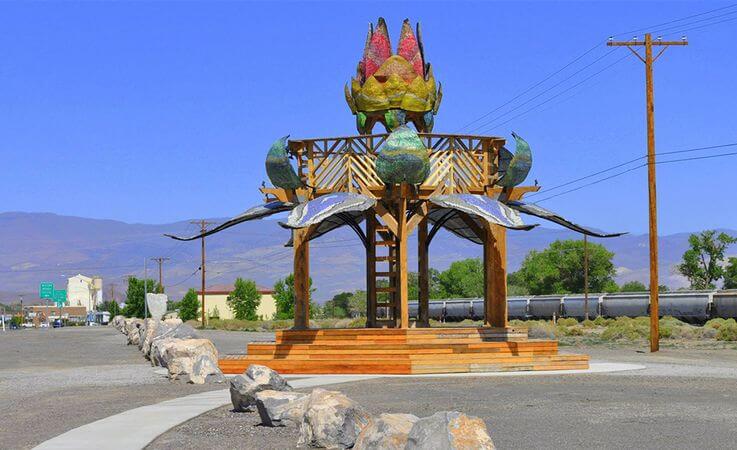 Who Are You Sweet On?
Continue east about an hour to reach Lovelock, population 1,900. Lovelock was once a stop for pioneers traveling to California for the Gold Rush of 1848. The section of Interstate 80 from Elko to Lovelock roughly follows the California Trail, which followed the path of the Humboldt River, the longest river in the state. (More on that wild journey below…)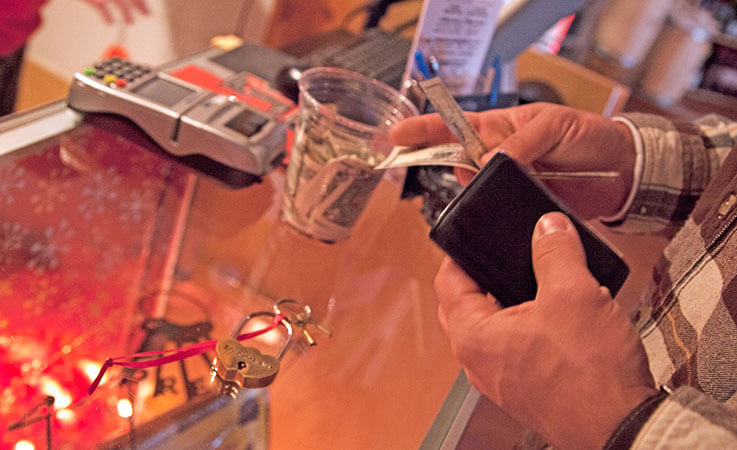 Lovelock is anchored by Lovers Lock Plaza, where couples help Lovelock live up to its name by "locking their love" to a never-ending chain, symbolizing (you guessed it) eternal love. Standing here, you can't miss the nation's last circular courthouse, designed by locally renowned architect, Frederic DeLongchamps. Also in town: check out the Cowpoke Café for a tasty bite to eat and Nanny Jo's for some amazing antique shopping.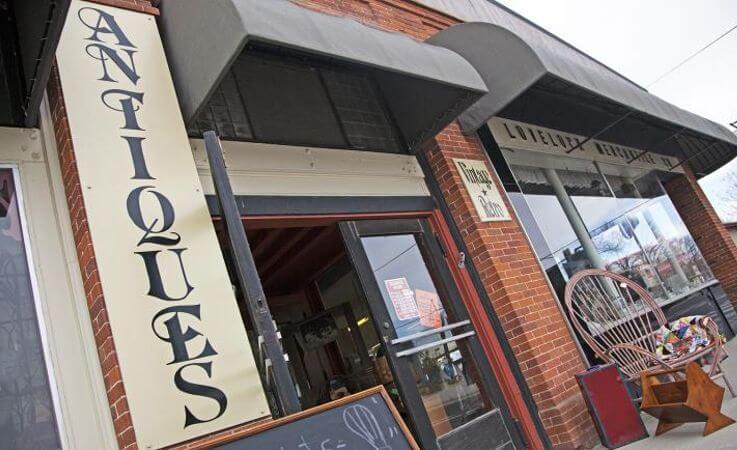 Duck, Duck… CAVE
From here, an 11-site Backcountry Byway carries you to Lovelock Cave, an ancient Shoshone shelter that housed nearly 10,000 artifacts, including the world's oldest tule duck decoys (c. 400 BC)—named Nevada's Official State Artifact. Travel Nevada PRO TIP: Visit the BLM office in Reno, Winnemucca, or Elko for a copy of the "Lovelock Cave Back Country Byway" brochure, which includes a map and more information about the area.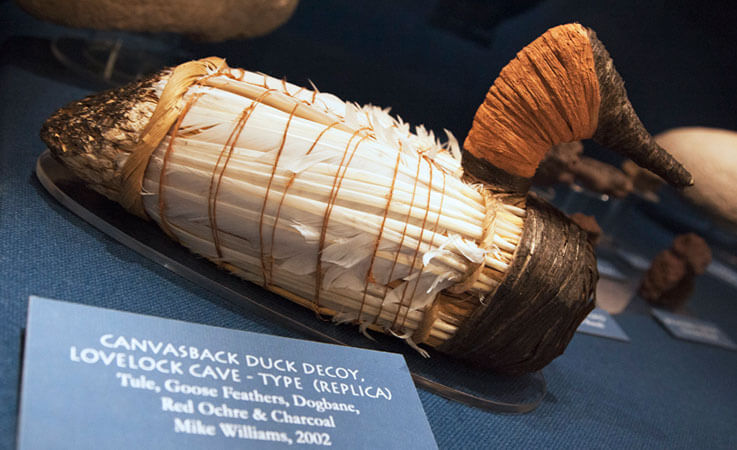 Roadside Americana: Thunder Mountain Monument
Look left about 24 miles down Interstate 80 and you'll spot Rye Patch State Recreation Area, a 22-mile-long reservoir with hiking trails and campsites. Ready for something on the more unique side? About 20 minutes past that is a delightfully offbeat roadside attraction called Thunder Mountain, a colorful, imaginative folk-art array of sculptures and buildings constructed almost entirely from items found along the highway decades ago. Watch for the Imlay exit, then follow your camera lens around this special addition to the Nevada State Register of Historic Places.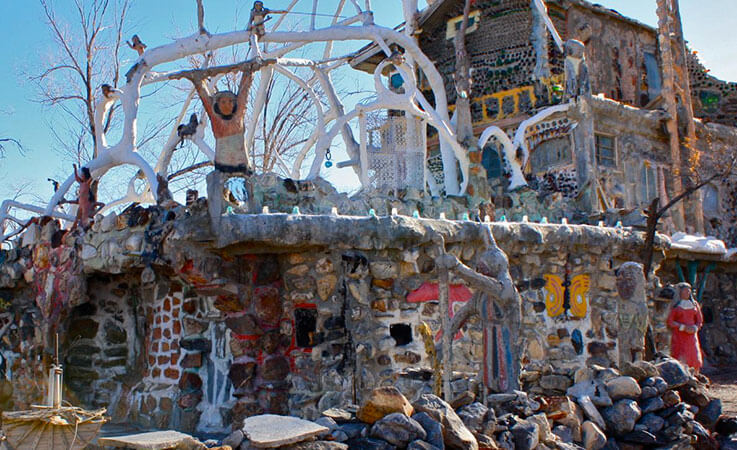 Side-Trips Off Interstate 80 Through Nevada: Unionville & Paradise Valley
Fancy a detour? Although you probably won't be Roughing It the way Mark Twain did, opt for a short jaunt to Unionville Ghost Town, a 19th-century mining community where the famous author once tried (and miserably failed at) mining. It is just a half hour south of Interstate 80 on Nevada state Route 400. Keep an eye out for Mark Twain's original cabin and consider an overnight at the lovely Old Pioneer Garden Country Inn, where many historical buildings (like the town's original blacksmith shop) have been repurposed into guest rooms.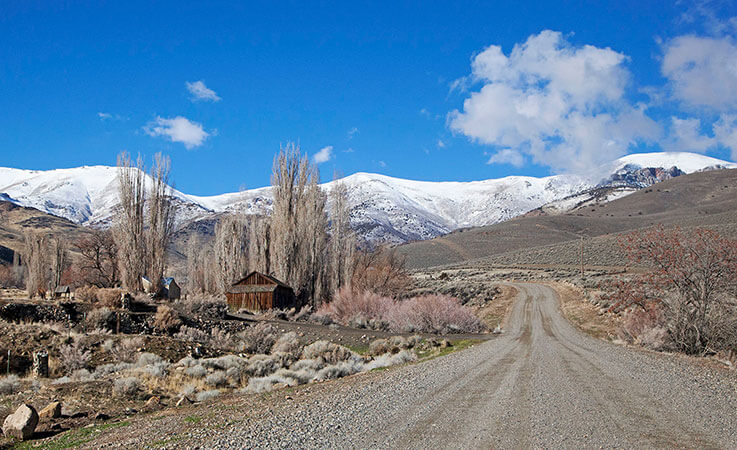 SR-400 also passes Safe Haven Wildlife Sanctuary, home to a refuge for rescued lions, tigers, and other orphaned, injured, or confiscated big cats and wild animals.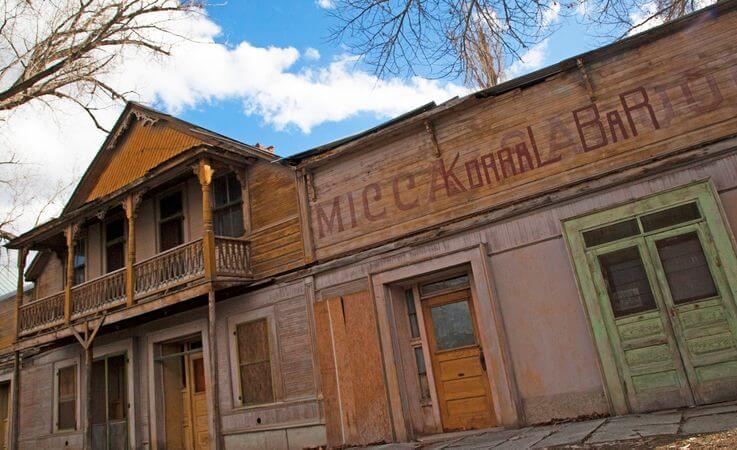 From the turnoff to Unionville, it's less than 30 minutes to Winnemucca. However, if you're still in the "living ghost town" mood, shoot the extra 40 miles north on US-95 and then east on SR-190 to Paradise Valley. About 100 or so people still live in the area which was aptly named by settlers who were under the impression they'd actually found Heaven on Earth. Aside from the historic Micca House and other fascinating original structures, be sure to pop into the Paradise Valley Saloon & Bar G, home to one of the best Saturday night ribeye steak dinner parties in the state, and quite the selection of whiskey to boot!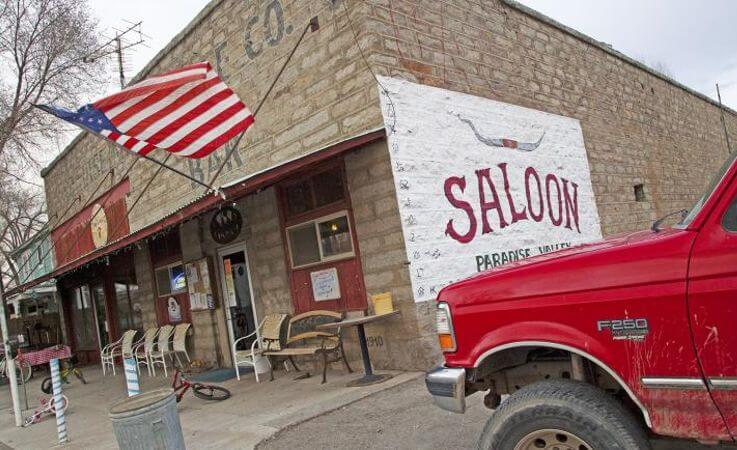 Welcome to Winnemucca
Winnemucca is one of the state's oldest settlements due to its location near the Humboldt River. Named after the famous Paiute Indian chief, Winnemucca is home to the artifact-packed Humboldt Museum, as well as the Buckaroo Hall of Fame & Heritage Museum—equal parts museum and shrine—honoring the Great Basin's "Legendary Buckaroos."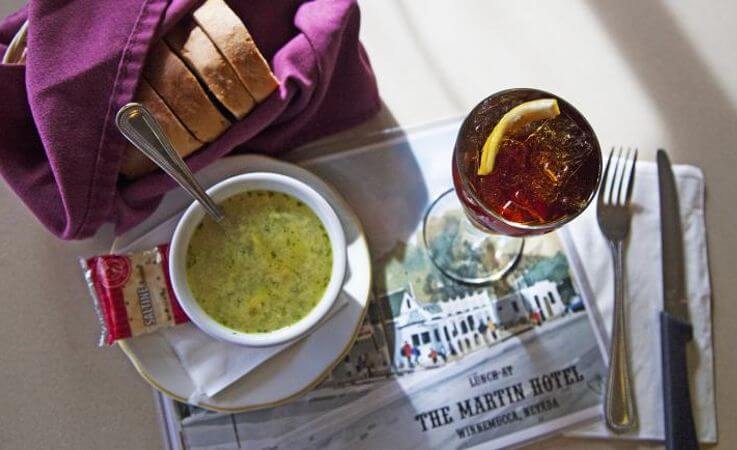 Eating in Winnemucca: If your appetite finds itself in Winnemucca, grab a steak at what many locals still call Ormachea's (now officially called Bakarra Basque Bistro), or opt for a full-on Basque family dinner at the Martin Hotel–even if you're not that hungry, we beg you, try at least a steak sandwich or some fall-off-the-bone lamb shanks and a Picon, or at least one of Lori's scrumptious fresh jalapeno margaritas, before you go. Another local favorite: The Griddle, a mom-and-pop breakfast-and-lunch cafe classic.
Where to Stay in Winnemucca
Winnemucca to Elko
From Winnemucca, continue east on Interstate 80 for about 45 minutes and you'll hit the cryptically named Battle Mountain, a community of 3,635 people situated neither atop a mountain nor near the site of a battle. Fuel up the car and then yourself at Bakker's Brew for nice espresso drinks or Mama's Pizza for tasty homestyle pies (even gluten-free ones) with a side of pinball. Learn about the area's history at the Battle Mountain Cookhouse Museum before hitting the trail.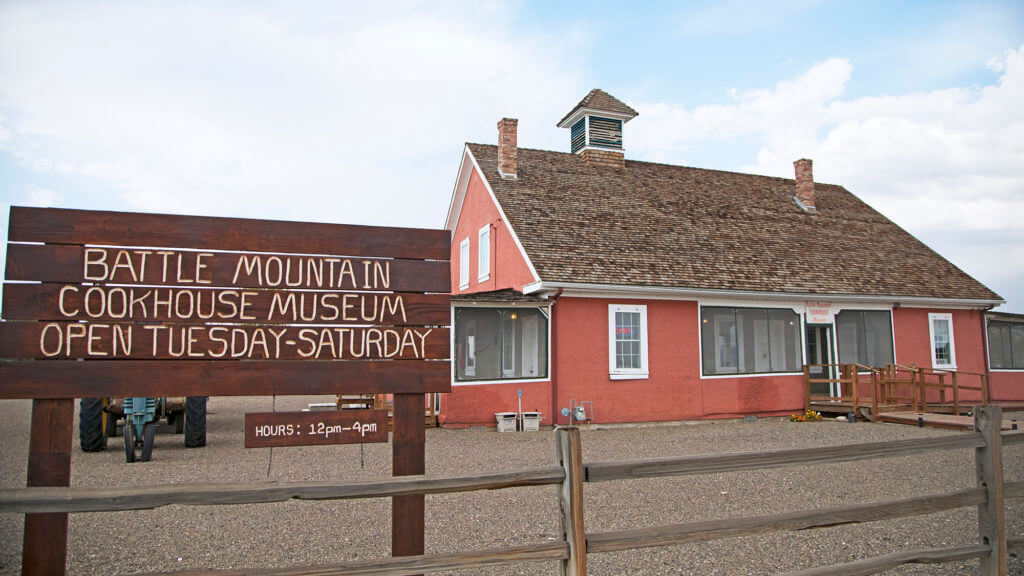 Elko: Legacy of the Real-Deal West
Founded in 1869 as a railroad town, Elko quickly assumed its role as the center of the state's cattle industry. Today, mining is Elko's major enterprise, but cattle ranches and other legacies of the region's cowboy and ranching past remain strong. Visit J.M. Capriola Co. to shop for (or simply admire) custom saddles, bridles, silver, leatherwork, and other exquisitely handmade gear. Then head a couple doors down to the newly opened Cowboy Arts and Gear Museum, where you can learn the Garcia Bit & Spur story, as well as appreciate the kind of top-notch handiwork that's been sought over, worldwide, by working cowboys, Hollywood stars, and collectors for over a century.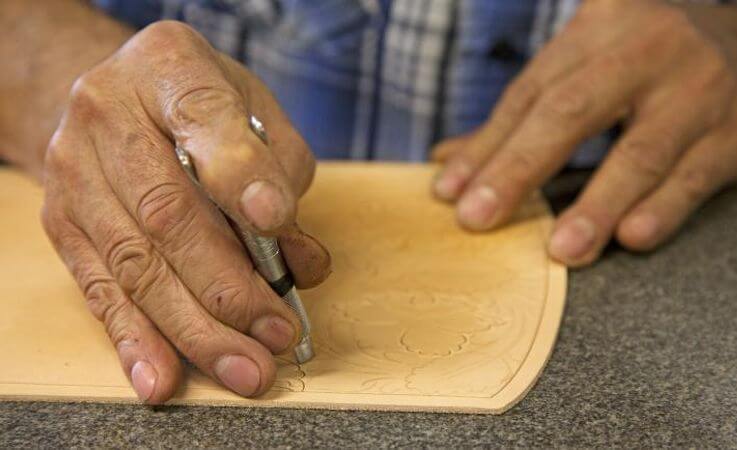 Cross the street and head into the Western Folklife Center, hosts of the National Cowboy Poetry Gathering each January, but also home to a gallery with international exhibits celebrating horseman and ranching cultures from around the world, a gift shop, the Pioneer Saloon, and year-round western arts and cultural events, all located in the restored Pioneer Hotel.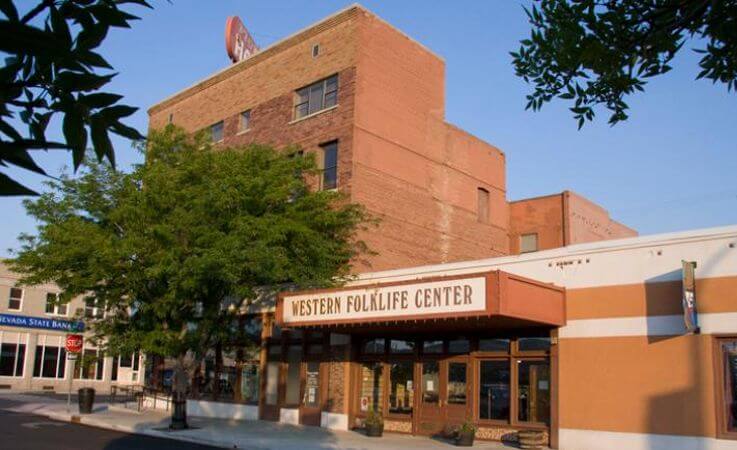 As you explore this still-plenty-western town—arguably the centerpiece of your journey from Reno to West Wendover—be sure to stop by the Northeastern Nevada Museum to discover the area's local and natural history, as well as collections by famed photographer Ansel Adams and Western artist and author Will James.
From the Northeastern Nevada Museum, travel about eight miles west of town on Interstate 80 for FREE admission to the California Trail Interpretive Center and get your fill of the stories of the quarter-million pioneers who endured the 2,000-mile trek from Missouri to California between 1841 to 1869—and the route that still defines Nevada's history—in a series of hands-on exhibits.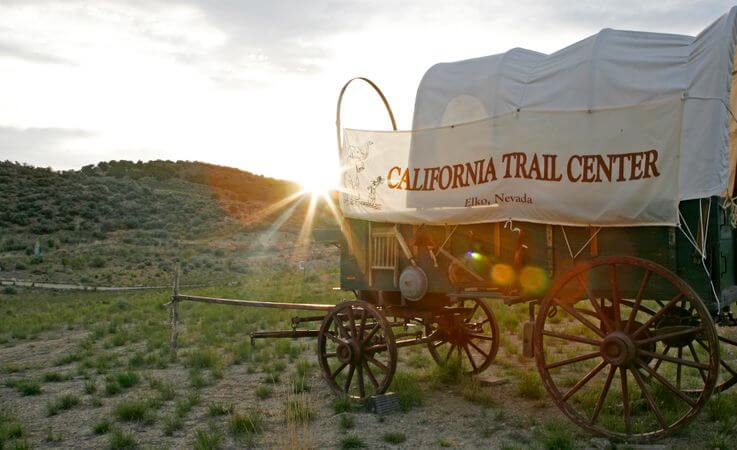 "Basque" In Some Northern Nevada Culture
Thanks to 19th-century Basque immigrants from Spain and France—many who took up sheepherding—Elko is still a major stomping grounds for Basque culture and traditions. You can find plenty of them at the National Basque Festival in the form of music, dancing, woodchopping competitions, and savory Basque food waiting to be sampled and washed down with a Picon punch or three. But wait… "pecan," did we say? Hardly…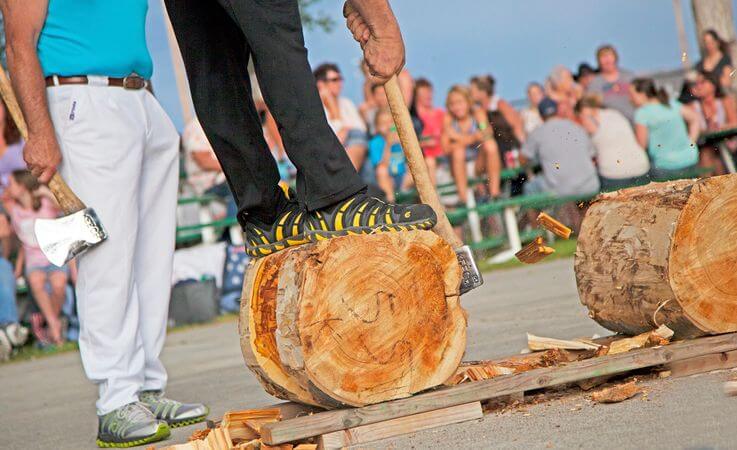 Learn How to Take a (Picon) Punch
"The first two are the picon, the third is the punch!"… "One's plenty, two's too much, and three's not enough!"… These and plenty of other more, shall we say, "colorful" sayings (ask a local…) tell you a lot about this boozy-then-bitter-then-sweet liqueur-based cocktail. The small-but-mighty picon punch (PEE-khan), Nevada's "unofficial state drink," is a sippable rite of passage you have to love… whether you like it or not!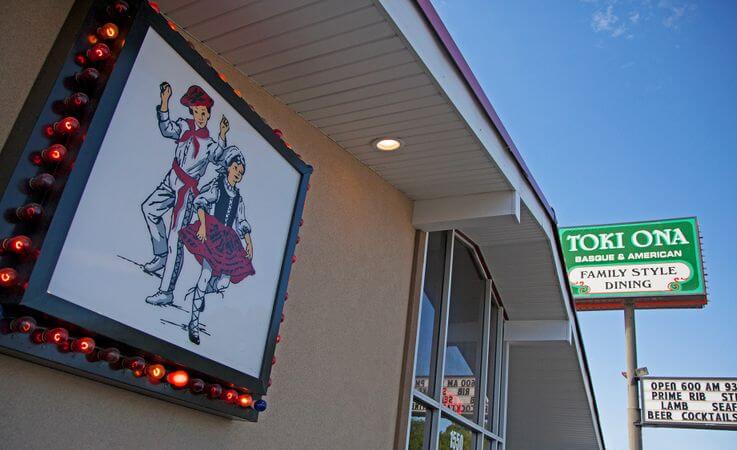 A great place to try it is at Toki Ona. You can find this infamous concoction in Basque restaurants and Sagebrush Saloons around northern Nevada, but they are particularly potent here. "Toki," as the locals call it, is home to hearty, Basque-tinged breakfast, lunch, and dinner fare (think chorizo everything) and one of Nevada's absolute best Basque steak sandwiches. (Travel Nevada PRO TIP: Even if Toki Ona is just serving full dinner in the dining room, cruise to the bar in back and order that sammy all the way 'til the time they shut that place down. And take it from us: when they ask "Add garlic?" You say "Definitely.")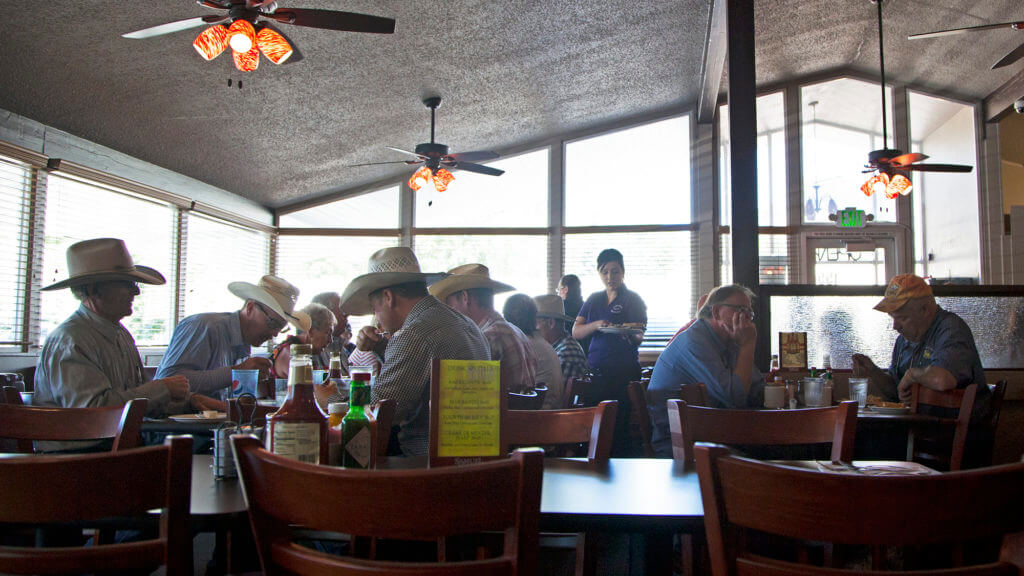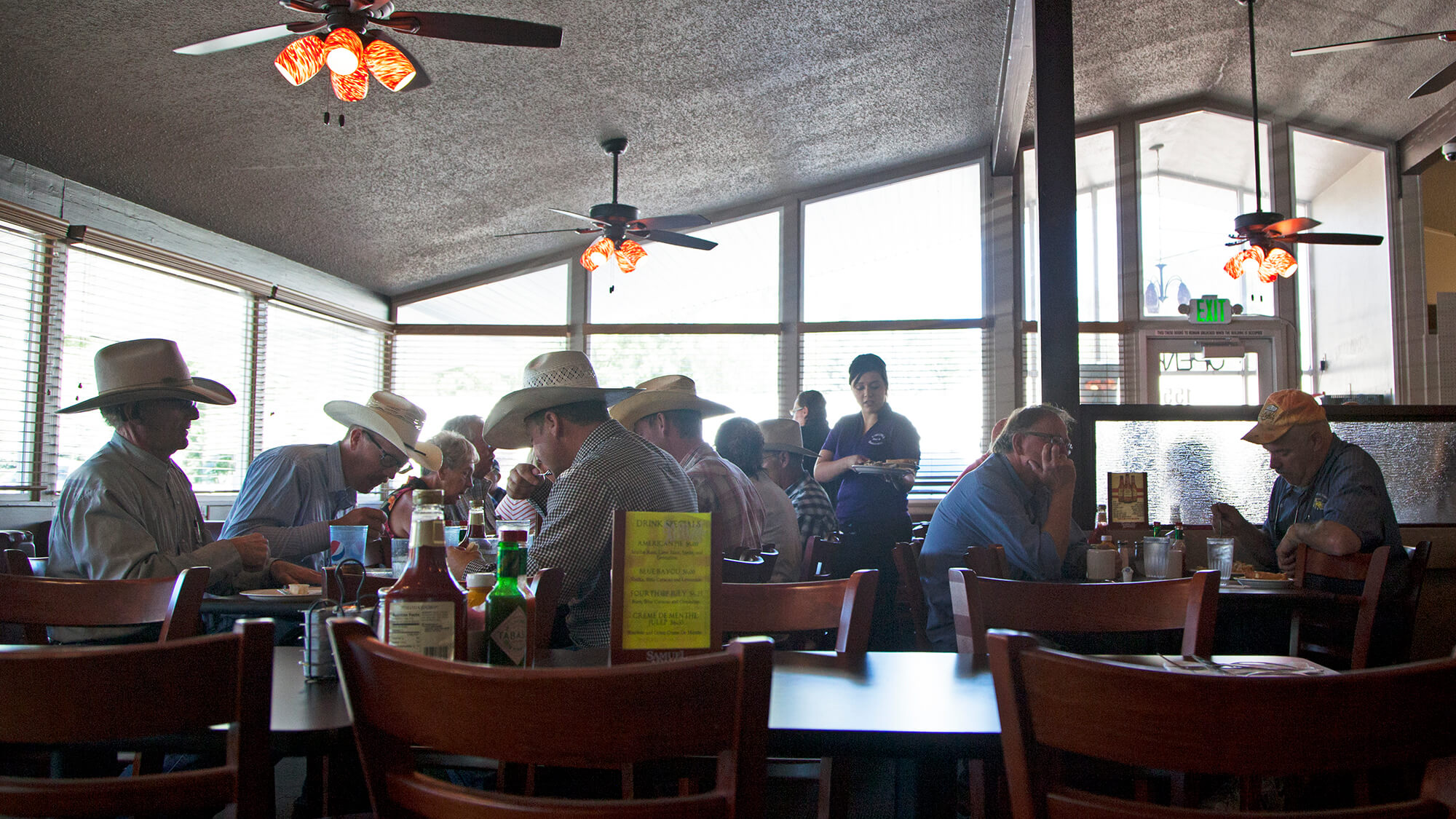 The Ruby Mountains and Beyond
Depending on the season, take in the beauty of the nearby Ruby Mountains by driving the Lamoille Canyon Scenic Byway into a glacier-carved canyon known for its beautiful fall foliage and spring waterfalls. The Ruby Mountains are commonly referred to as the Alps of Nevada, widely known for its recreational opportunities like hiking, fishing, and even heli-skiing. It's a 30-minute drive from Elko to the Ruby Mountains and the entrance of Lamoille Canyon, but many visitors opt to turn their exploration of this country into its own adventure. (Learn more about road tripping The Rubies Route.)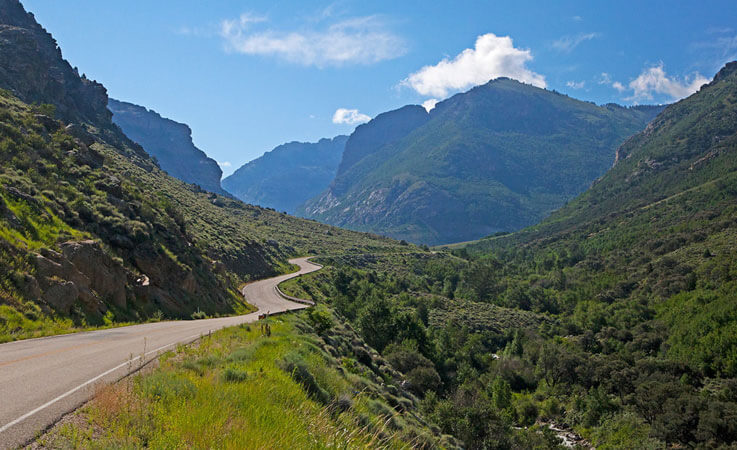 Elko to West Wendover
Keep your eyes peeled for mule deer and mountain goats as you fish or explore the trails around Angel Lake, an alpine lake in the East Humboldt Range and an extension of the Ruby Mountains. It's about an hour's drive from Elko, and when visiting the region, be sure to plan ahead to include a trip to Ruby Mountain Brewing Co., located on Steve Safford's Angel Creek Ranch. But we mean plan ahead, it's only open by appointment. The brewery is about a 20-minute drive from Angel Lake or a 30-minute drive south of Wells. Stop at the city of Wells for a bite to eat at Bella's Restaurant and Espresso or Luther's Sports Bar & Grill.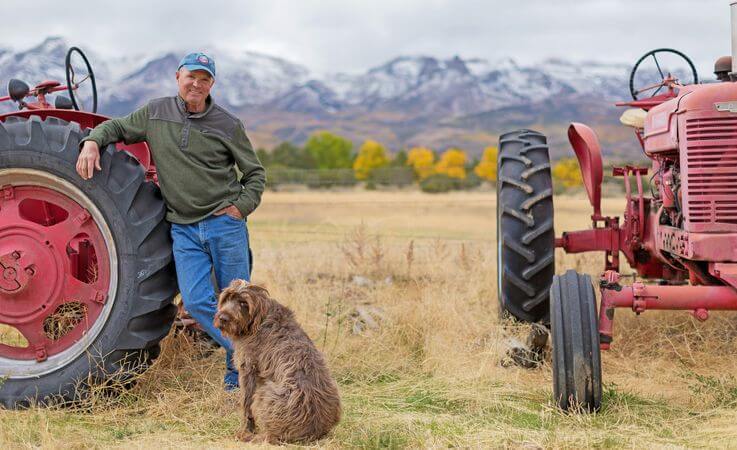 Wendover and West Wendover Are Two Completely Different Places, Pal
Continue east on Interstate 80 for about one hour to get to West Wendover, which flows seamlessly into neighboring Wendover, Utah—the community is split by the state border. Although West Wendover is in Nevada, locals opt to observe Mountain Time (one hour ahead of Nevada) to minimize confusion.
West Wendover is a great base camp while visiting other regional gems, including the Historic Wendover Airfield, a repository of World War II Army Air Force history. There's also Blue Lake, a hot springs-fed lake that is popular with scuba divers and is about a 30-minute drive from West Wendover. If your journey continues east on Interstate 80, you'll come upon the Bonneville Salt Flats, formed when ancient Lake Bonneville dried up. The flat landscape, covered with a crust of salty soil, is home to the Bonneville Speedway, where numerous land speed records have been set during Bonneville Speed Week. If you're looking for some real excitement, plan your trip around this six-day event, but don't forget to bring your sunscreen!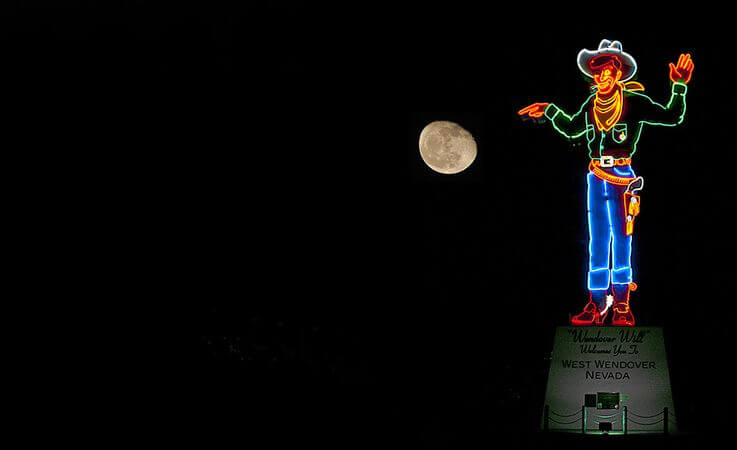 Be Sure to Wave Back to Wendover Will
Snap a photo with the beloved Wendover Will on Wendover Boulevard. You can't miss him—he's a 63-foot tall neon sign that got his start in 1952, welcoming guests to one of the area's casinos. If scheduling allows, catch a show at the Peppermill Concert Hall or venture to the Goshute Mountains, where Hawkwatch International operates a migration monitoring station to study raptors as they migrate through the Intermountain Flyway.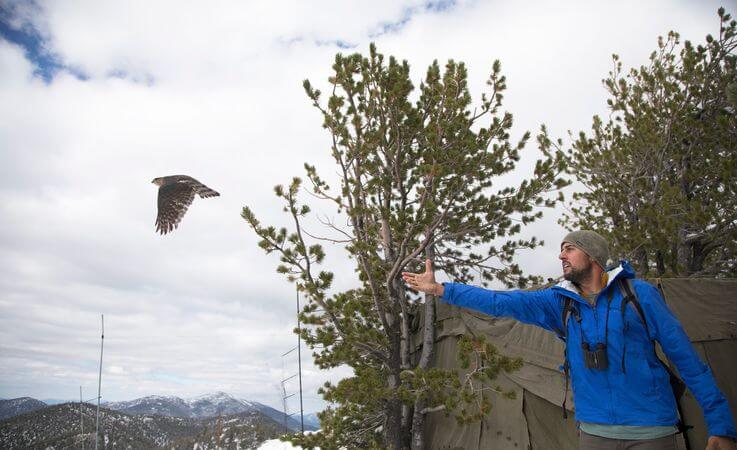 Where to Stay in West Wendover