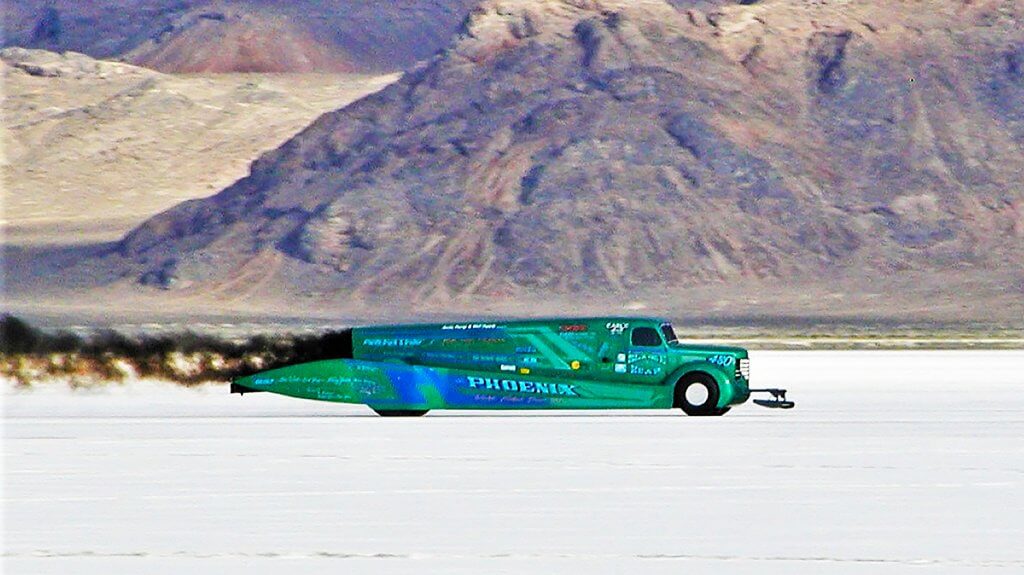 Incomparable to any other racing venue around the globe, the storied Bonneville Salt Flats is home to all kinds of speed-shattering records that are usually set at a myriad of racing events here: the Bonneville Motorcycle Speed Trials (August), World of Speed (September), the Bonneville World Finals (October) and Bonneville Speed Week (August)—the largest meet of the year, attracting hundreds of drivers in all racing classes who compete to set new land speed records in all kinds of racing categories.
Racing happened on the legendary Bonneville Speedway before it even became a real track, back in 1912, with the first ever land speed racing record set here just two years later in 1914. Even though Pierce-Arrows and other early vehicles drove test these otherworldly, public lands salt flats and other racing events continued to happen here, the Bonneville Salt Flats didn't gain world-renowned popularity until the 1930s when land speed racing pioneers Ab Jenkins and Sir Malcom Campbell set new land speed records of 301 miles per hour. In every decade since, at least one new record was set by racers from all different countries among all different racing classes, from fastest motorcycles, to electric cars, to diesels, supercharged lakesters, modified sportsters, and beyond. The fastest speed recorded at Bonneville was set by American Gary Gabelich with the rocket car Blue Flame, topping out at 622 miles per hour in October of 1970.
Even though all kinds of speed records have been set on many dry lake beds—or Playas—found through Nevada's Great Basin Desert, it's no coincidence high-speed adrenaline junkies from all over the country and world come to Bonneville to race. These famous salt flats on the outskirts of the Great Salt Lake are a racer's dream because they're so dry and hard packed, and also because the very salty texture means no dust, unlike other Playas around Nevada.
While Bonneville Speedway hosts many racing events throughout the year, Bonneville Salt Flats Speed Week is the most popular main event for racers and spectators out of all events that happen here. Organized by the Southern California Timing Association and the Bonneville Nationals Inc., this six-day event begins on a Saturday, then ends the following Friday. Whether or not you're part of the races or stopping by on your way into Nevada, all spectators can walk through the pits, zero in the variety of racing classes, and interact with drivers and crews between racing heats, which happen on two different official tracks. One is a 10-mile straightaway for speed trials, and the other is an oval track for distance runs.
If you're unsure about which Bonneville Salt Flats racing event to attend—this is a good one to start with, thanks to its size, number of daily ongoing races, and diverse competing classes. While you're here, peruse tons of great vendors, food and refreshments, along with unforgettable interaction with racers and racing fans from around the world. Remember your camera, and don't forget to bring sunglasses, sunscreen, a hat, and plenty of water.
More Details
Show More Details