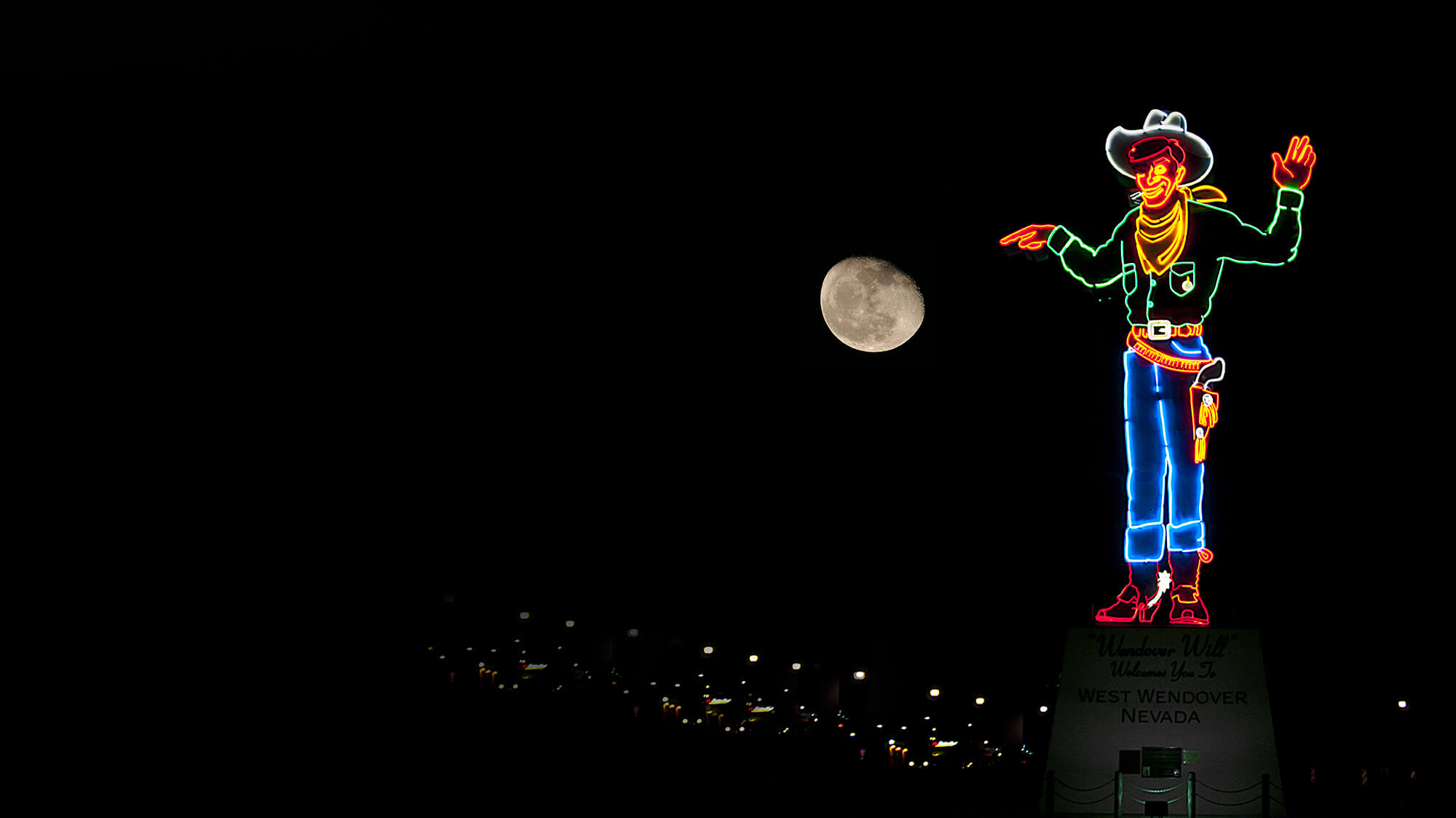 Who better to welcome you to the Silver State than a towering 63-feet-tall mechanical neon cowboy? Nobody better than THE legendary Wendover Will—that much we know to be true. Straddling the Utah-Nevada state line in the border town of West Wendover, a six story cowboy decked out in 1,184 feet of neon tubing waves road trippers over the border and into Nevada.
If you can believe it, this Silver State icon has been a longstanding fixture of the West Wendover skyline, ushering travelers into the Silver State since 1952. Before Wendover Will became electrified with the Nevada state icon all those years ago, a single lightbulb signaled great roadside diners, a place to fuel up, casino nightlife, and a relaxing place to kick back for the night to travelers along Interstate 80. The same remains true today in West Wendover, but with an upgraded welcoming committee.
Wendover Will's smaller, southern counterpart—Vegas Vic—was designed by artist Pat Denner during the same time, and greets southern Nevada visitors on Fremont Street in downtown Las Vegas. Vegas Vic is another gleaming example of animated neon in Nevada, winking and flicking a cigarette, while Wendover Will waves travelers off the highway and into the desert oasis of West Wendover.
Hours:
Wendover Will Nevada illuminates every night around sunset and remains lit until sunrise the following morning. Despite what time of day you're passing through, his brightly painted color scheme and neon piping promises a friendly welcome to town and some awesome Cowboy Corridor Road Trip photo ops, too.
Admission:
The Wendover Will Neon Cowboy is situated west of the downtown casino Strip along Wendover Boulevard and requires no admission or fees to access. There are no immediate parking places beneath Wendover Will, but you can temporarily park on either side of Wendover Will and jump out for a quick pic.
This Location: