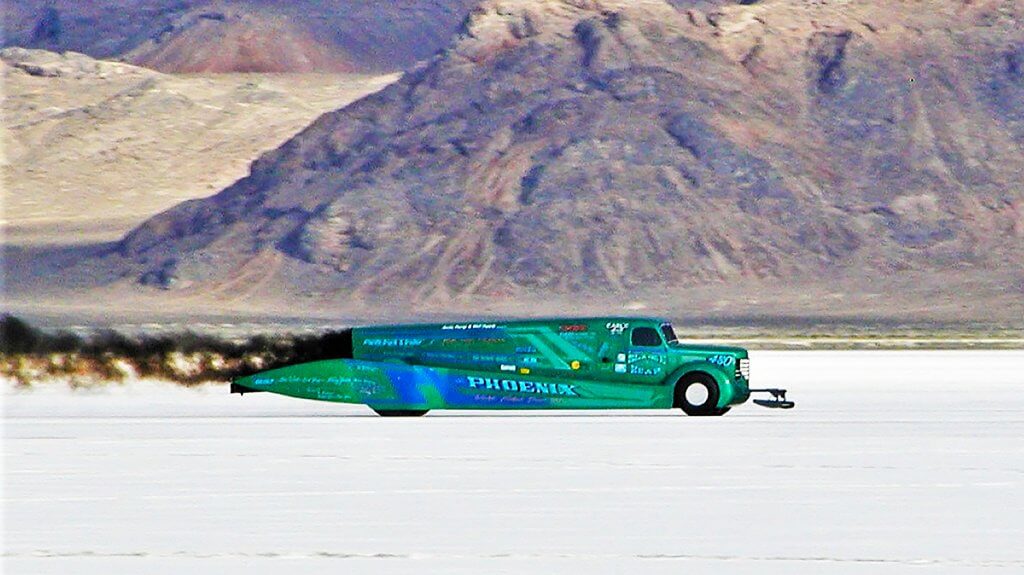 There's no better way to get acquainted with the fastest racing venue on Planet Earth than one suped up, custom built speed machine at a time. In good company with even more record-shattering speed events like the Bonneville Motorcycle Speed Trials (August), Bonneville Speed Week (August), and the Bonneville World Finals (October), the World of Speed is held at Bonneville Raceway each September and as the most laid back of the series racing events held here, beckons pro racing teams to amateur racing enthusiasts from all classes to this one-of-a-kind motorsports complex.
Racing has been the name of the game at the Bonneville Salt Flats since 1912. The first ever land speed record was set here just two years later in 1914, and the rest is history, thanks to the supremely unflawed natural racing surface within. Even though Nevada and the Great Basin has plenty of other dry lake beds (or playas), the Bonneville Salt Flats are in their own separate pristine class not only because of the dry, hard-packed surface, but also because the salty texture means no dust kickup, unlike just about every other dry lakebed out there. Organized by the Utah Salt Flats Racing Association, the World of Speed is a racing event that's organized by racers, for racers, uniting 350 racing teams pushing their supercharged, experimental vehicles and motorcycles to the limit, soaring well beyond 500 miles per hour. Throughout the years, some land speed records set at the World of Speed include the Turbinator clocking in at 427 mph, and the Autopower Special timed at 442 mph.
Visiting the Bonneville Salt Flats in mid-September means hot, dry conditions. Read up on a full list of recommended spectating tips to make your time as comfortable as possible here. A water bottle, chapstick, sunscreen, and binoculars are must-brings, and don't forget to bring your own chair—there are no grandstands or stadium seats at Bonneville Speedway. Once the races are over, head back to West Wendover, NV for a fun-filled evening of luxury accommodations, world-renowned performers in one of Nevada's best concert venues, all kinds of great grub, and much more.
For more information on planning your trip to the World of Speed, get in touch with event organizers directly at (811) 652-1988.
More Details
Show More Details