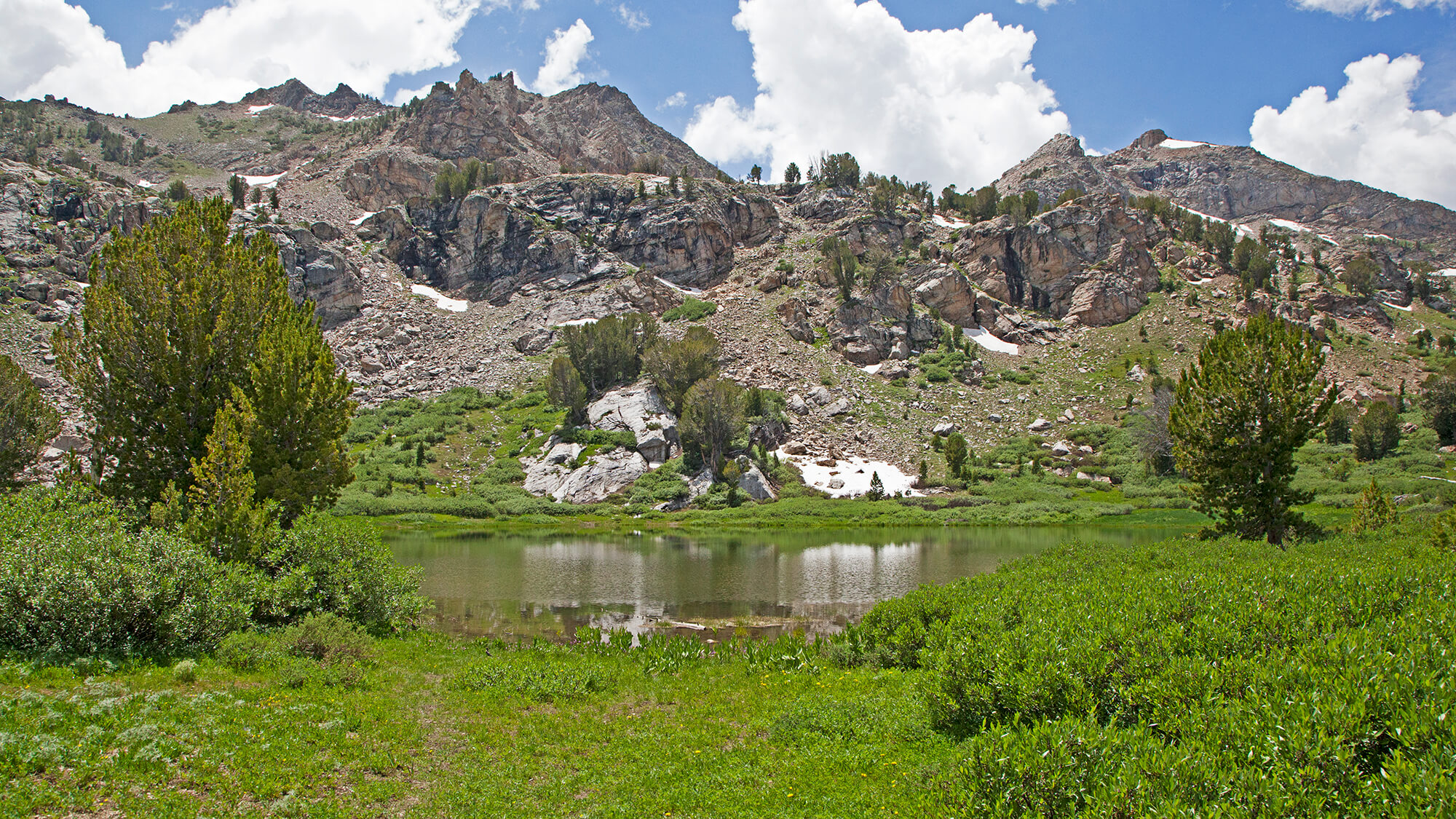 The Ruby Mountains are flush with wildlife, mountain scenery, lakes, streams and valleys. The Ruby Crest National Recreation Trail on the spine of the Ruby Mountains is well-maintained for backpackers and horseback riders. The Ruby National Wildlife Refuge offers fine fishing and bird watching. The Ruby Mountains Wilderness sits astride a high ridgeline of mountains and totals more than 90,000 acres.
The wilderness runs from Secret Pass south for 90 miles in the Ruby Mountains range. Known to locals as the Rubies, the range includes ten peaks above 10,000 feet (Ruby Dome, 11,387 feet is the highest) and more than two dozen alpine lakes. Around 300 miles of trail can be accessed from several trailheads.
The main trailheads are Roads End in Lamoille Canyon, Harrison Pass, Soldier Canyon, and Overland Lake. Access is mainly on improved dirt roads, except for Lamoille Canyon, which is a 12-mile paved route ending at Roads End. Ruby Crest National Recreation Trail runs along the wilderness for 40 miles.
Getting There:
From Elko, take SR 227 south for approximately 25 miles. Turn south on FR 660 (Lamoille Canyon Scenic Byway) and continue for 12 miles to Roads End trailhead and access to Ruby Crest National Recreation Trail.
Climate:
Snowfall averages about 8-10 feet with winter average lows of 15°F in January. Summer temperatures range from average lows of 45°F to highs of 80°F. Thunderstorms often occur during late summer and fall months.
Lodging:
Elko and Lamoille Area
Managed by: Ruby Mountains Ranger District
140 Pacific Avenue Wells, NV 89835
(775) 752-3357
(775) 752-3357
Monday – Friday, 7:30am – 4:30pm
Fee: No
Summer Activities (Season Mid-June to October):
• Camping
• Climbing
• Fishing
• Hiking/Backpacking
• Horseback Riding
• Hunting
• Mountain Biking (outside the wilderness area)
• Scenic Driving
• Wildlife Viewing
• 4-Wheeling (outside the wilderness area)
Winter Activities (Season late October to April):
• Cross-country skiing
• Snowmobiling (Snowmobile routes are open when there is sufficient snow, approximately eight inches in most places. Snowmobiling is not allowed inside wilderness areas)
Hiking:
Considered by many to be the preeminent Nevada trail, the Ruby Crest gives hikers, backpackers and equestrians some of the best wilderness experience in the state. The trails winds through the Ruby Mountains near Elko for a 38-mile stretch, revealing glacial lakes and a series of rugged peaks and valleys. Experts recommend a backpacking trip of four to seven days to discover such high-elevation gems as the 10,893-foot Wines Peak.
Distance: Over 200 miles of designated trails Elevation: 7,247′ to 10,893′
Getting There: Located 32 miles southeast of Elko. From Elko, head south on State Route 228 and turn left on State Route 227. Just before Lamoille, turn right on the paved Lamoille Canyon Rd. and park at the end of the road.
Day Hiking Options:
Overland Lake Loop
Distance: 14-mile loop
Difficulty: Intermediate
Thomas Creek Trail
Distance: 4 miles round trip
Difficulty: Beginner
Liberty Lake
Distance: 7 miles round trip
Difficulty: Intermediate to advanced
Favre/Castle Lakes
Distance: 10.1 miles round trip
Difficulty: Advanced
Insider Favorite:
Soldier Basin Trail accesses a beautiful high-elevation basin with several lakes and spectacular scenery. Trout fishing is available at several pristine alpine lakes – Robinson, Hidden and Soldier – and streams along the trail. This trail can be accessed from two sides of the Ruby Mountains.
Difficulty: Intermediate
Getting There: From Elko take State Route 227 – 26 miles.
Horseback Riding
The remote trails and spectacular scenery make northeastern Nevada an oasis for horseback riders. The entire 38-mile-long Ruby Crest Trail is open to horses. The National Forest around Angel Lake and Wells in the East Humboldt Range also offers numerous trails and backcountry riding opportunities.
Getting There: The Ruby Mountains and the Ruby Crest trailhead are 32 miles southeast of Elko on State Route 227. From there turn right onto the U.S. Forest Service road that leads to Lamoille Canyon. Angel Lake is located 10 miles south of Wells on State Route 231.
Skiing, Boarding & Snowshoeing
The Ruby Crest National Recreation Trail and the numerous roads, peaks and passes in the Ruby Mountains are spectacular terrain for skiers. Lamoille Canyon Rd. offers several winter recreation opportunities including snowplay, snowshoeing, cross-country skiing and snowmobiling.
Getting There: From Elko take State Route 227 – 26 miles to Lamoille Canyon.
Heli-skiing
Ruby Mountain Helicopter Skiing, based in Lamoille, gives new meaning to the phrase "fresh tracks." Thrill-seeking skiers are transported via helicopter to the Ruby Mountains' powdery slopes and dropped off at peaks approaching 11,000 feet. The fall lines — and views — are heart-stopping.
Getting There: From Elko take State Route 227 – 20 miles to Lamoille.
WARNING: Nevada's backcountry areas are prone to avalanches. Be sure to check with the U.S. Forest service or other governing agencies for specifics. In most cases, permits are not required, but it is highly recommended that you notify someone of your backcountry plans.
Helpful Web sites:
Public Lands Visitors Center: http://www.publiclands.org/visitorcenter/
US Forest Service: http://www.fs.fed.us/r4/htnf/districts/ruby_mountain.shtml
Elko Convention & Visitors Authority: http://www.elkocva.com/
The Elko Area Chamber of Commerce: http://www.elkonevada.com/
Call
Send SMS
Add to Skype
You'll need Skype CreditFree via Skype