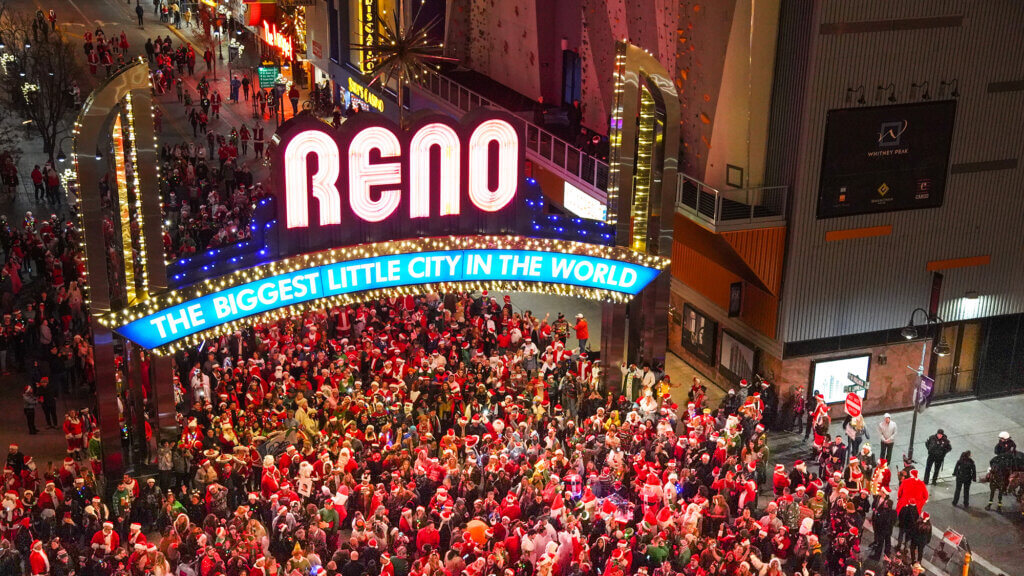 Eat, drink and be merry with 15,000 holiday revelers in downtown Reno for the wildest—and definitely most spirited—charity fundraising event in the BLC. As the largest gathering for Santas in the country, your $10 pass gets you an official Santa Pub Crawl cup, along with discounted drinks and free cover to the best bars, breweries, and distilleries in all corners of downtown Reno.
Your $10 pass means you're officially Supporting the Clause, with all proceeds going to local schools and more than 300 projects funded to date. Pick up your official pass ahead of the event at participating shops throughout Reno, including the Chocolate Walrus, Prism Magic, Junkee Reno, and many more. Otherwise, the Santa Pub Crawl is a totally free event, with no tickets required to participate.
Official Reno Santa Crawl maps are available at all 40+ participating bars, some of which include The Depot, Louis Basque Corner, The Alpine, Brew Brothers inside the Eldorado, Black Rabbit Meads, and many more. And remember: rockin' a full-blown Santa Claus suit, elf costume, snowman, or whatever other costume creation you come up with is part of the deal. Plus, it will get you in free to official crawl bars. Build your costume at local Reno shops like Junkee Clothing Exchange in Midtown Reno, Chocolate Walrus Midtown & South Reno, and the Melting Pot World Emporium, to name a few.
For more information on the Reno Santa Pub Crawl, including where to purchase official cups, participating bars, and deals on hotels and local shops, click here.
More Details
Show More Details