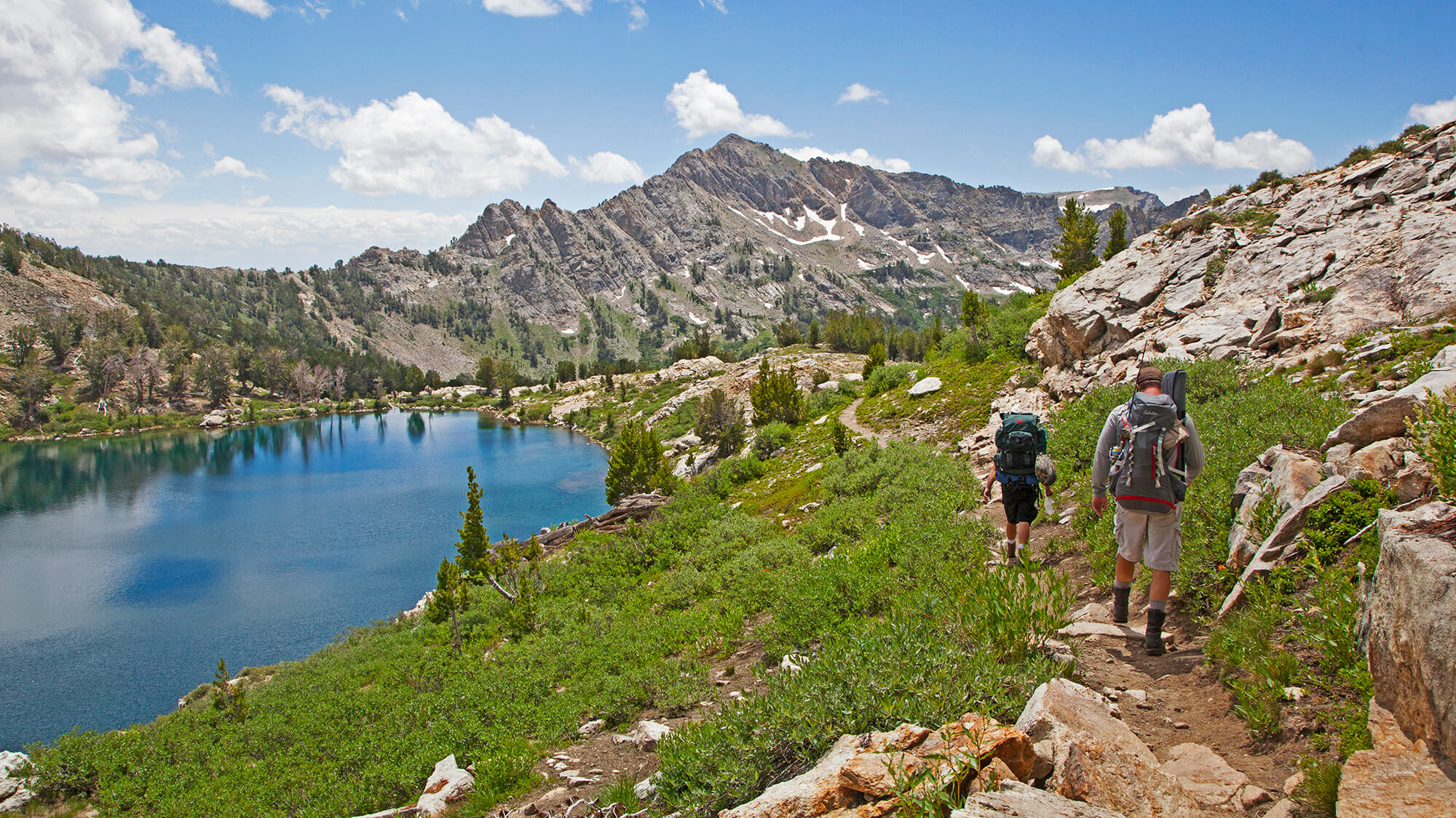 Ruby Crest National Recreation Trail
Among the 300+ mountain ranges connecting every corner of the Silver State, the Ruby Mountains manage to stand out, thanks to a stunningly beautiful ridgeline towering high above dozens of brilliantly blue alpine lakes that attracts a handful of creatures that live here, and only here. Discover Lamoille Canyon and the Ruby Mountains by way of great day hikes, or backpack the Ruby ridgeline along the spectacular Ruby Crest National Recreation Trail from Harrison Pass to Lamoille Canyon.
Situated outside Elko nearest the quiet community of Lamoille (pronounced like luh-MOYL), the Ruby Mountains are practically hidden in plain sight from Interstate 80. Once you head southeast toward Lamoille, there's no mistaking this magnificent range—and whether you find yourself in the area for a week, a couple of days, or even a few hours, make time to see these mountains. You'll be glad you did. The Ruby Crest Trail is a multi-day, 43-mile hike, though there are plenty of incredible day hikes and other ways to get in on one of the best ranges in Nevada. Ruby Dome lies within, and at 11,388 feet elevation, is Nevada's 10th tallest peak and the highest mountain for more than 90 miles in all directions.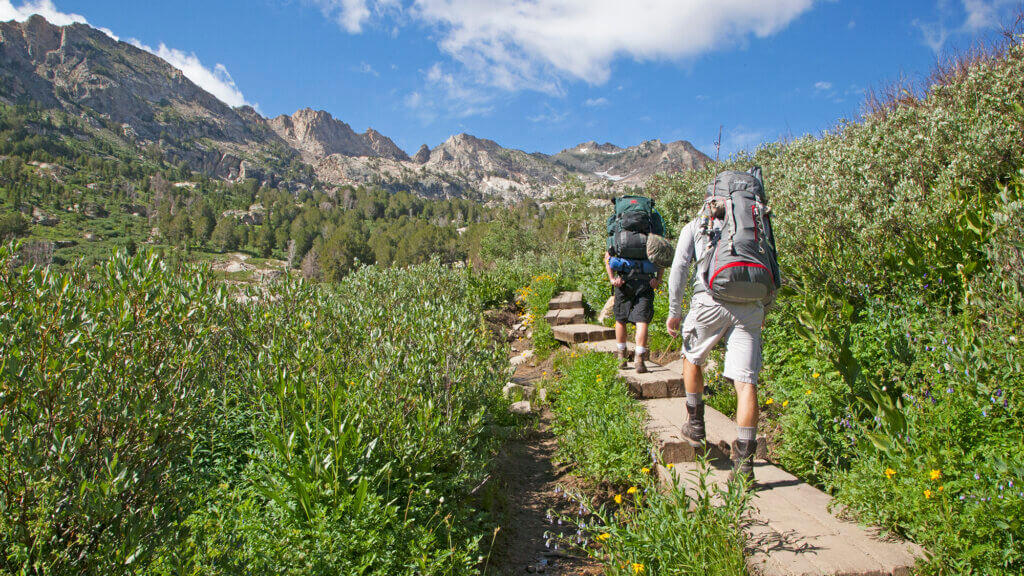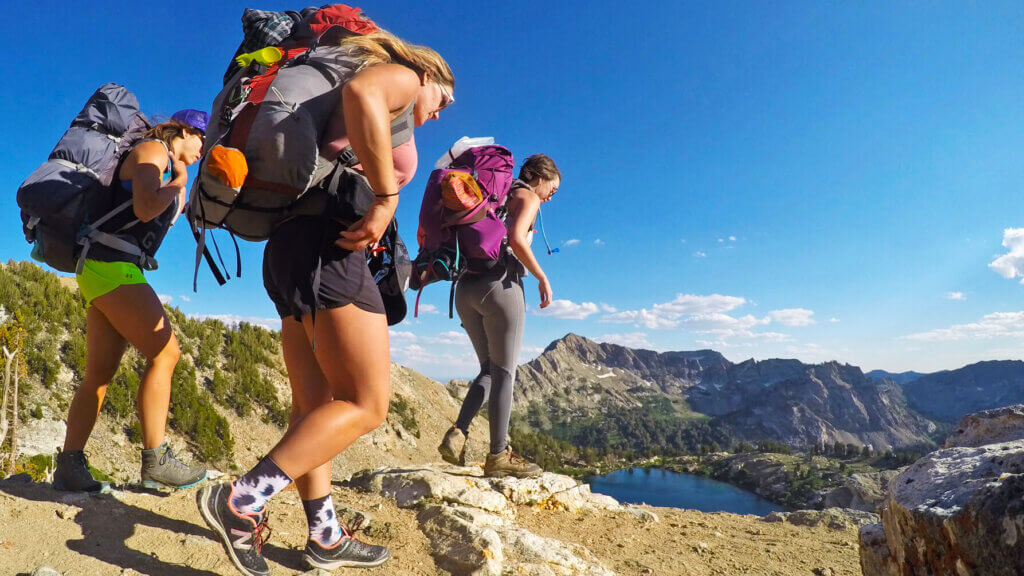 Ruby Crest Trail Hiking & Camping
Thru Hiking the Ruby Crest Trail
The Ruby Crest Trail stretches 43 miles along the Ruby Mountain range from Harrison Pass to Lamoille Canyon. If you're interested in thru hiking the trail, the most common approach is hiking south to north, starting at Harrison Pass and finishing at Lamoille Canyon. Once you hit the trail at Harrison Pass, you'll have to walk several miles on a forest service road before reaching the true trailhead which adds to some confusion and varying information on total trail length. This forest service road is a flat easy walk, but does have large ruts and other obstacles not suitable for most cars—your best bet is to commit to walking the extra couple of miles along this forest service road before the true RCT trailhead begins. Coordinates for the start of the trail at Harrison Pass are: 40.3302576, -115.5143611.
Travel Nevada Pro Tip
Park your car at the Lamoille Canyon Scenic Drive terminus, then catch a ride to Harrison Pass. That way when you're finished bagging the RCT from tip to tail, you can hop in your vehicle and cruise into Elko for the proper Star Hotel Picon Punch and steak dinner that's been calling your name the past few days.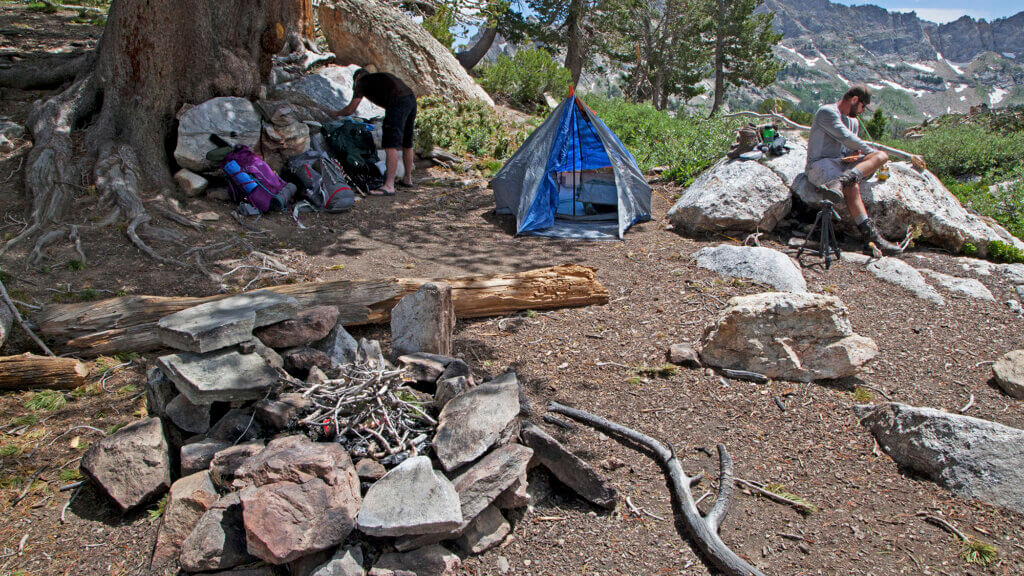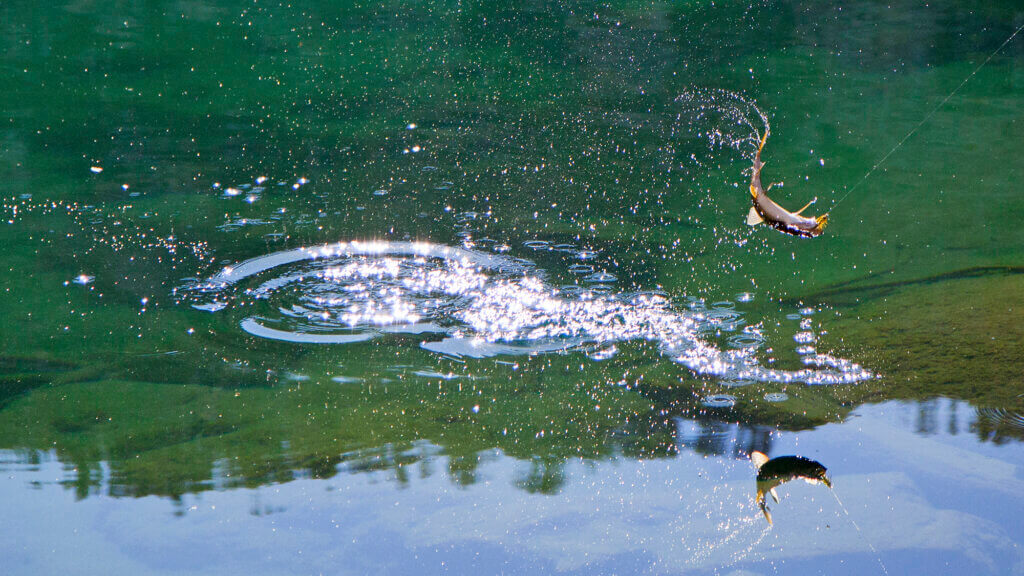 Elevations range from 7,200 to 10,893 feet along the Ruby Crest Trail, following the ridgeline leading to numerous summits along the way, all the while skirting a half-dozen glimmering alpine lakes. Thru hiking the RCT requires intermediate to advanced hiking skill depending on how many days you plan to spend in the backcountry—even avid hikers need a few days to complete the trek in its entirety, which makes the experience that much better anyhow.
Recommended Thru Hiking Itinerary:
Day 1: Harrison Pass to South Fork of the Smith Creek, 12 to 13 miles of hiking across 5,600' elevation gain.
Day 2: South Fork of the Smith Creek to Overland Lake, 7 miles across 4,700' elevation gain.
Day 3: Overland Lake to North Furlong Spring, 14 miles across 6,500' elevation gain. This would be a natural day to break up into two separate days, but there are no water sources or areas to take cover along this extremely exposed stretch of the Ruby Crest ridgeline. Prepare to plan enough water for an entire day without any opportunity to refuel, and plan to carry extra water if hiking with dogs. Throughout the day you'll summit at least 6 peaks—this is for certain the most difficult yet most rewarding stretch of the crest trail with 360 degree views of Ruby Lake National Wildlife Refuge, Elko, South Fork State Recreation Area. On a clear day, you can see for 100 miles with Great Basin National Park and Wheeler Peak to the south.
Day 4: North Furlong Spring to Lamoille Canyon, 9 miles across 2,600' elevation gain.
Day Hikes Along the Ruby Crest Trail National Recreation Area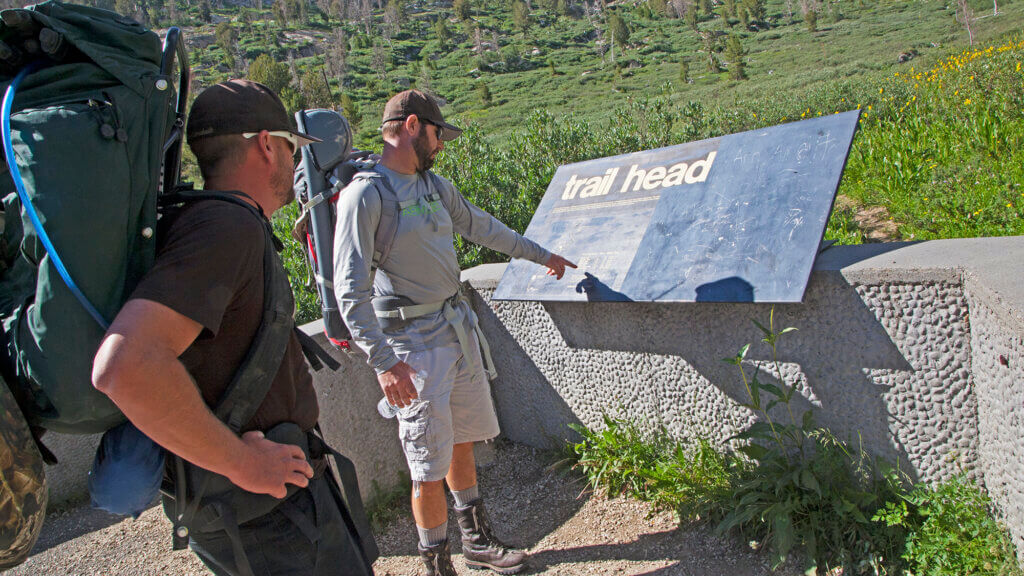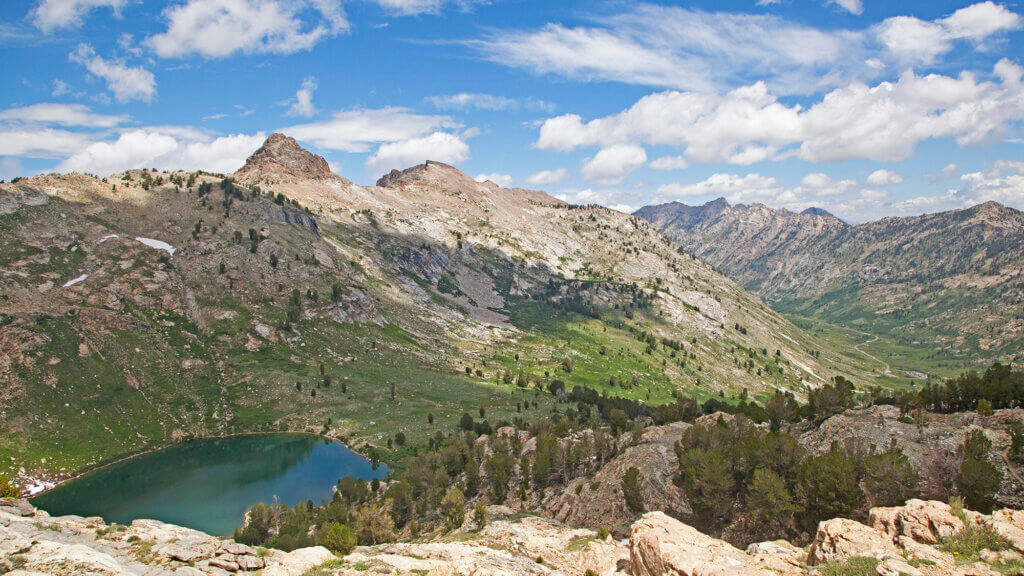 If you're not up for a 43 mile hike, get into plenty of shorter (and equally spectacular) day hikes that follow segments the Ruby Crest Trail. Wildflowers abound during the spring and early summer months, and you'll more than likely have big stretches to yourself. A natural starting point for great day hikes is at the Lamoille Canyon Scenic Drive terminus. Park your car for the day (or couple of days) then set off on a handful of trails leading into various parts of the Ruby Mountains. Best yet, most of these out-and-back day hikes lead to one or several alpine lakes the Rubies are known for—think totally pristine, mini Lake Tahoe's—making for an unforgettable picnic lunch, fishing trip, or overnight campout.
Easy Day Hikes
Nature Trail: Short walk for all ages, less than 1 mile
Lamoille Lake: 4 miles round trip
Island Lake: 2.9 miles round trip
Liberty Pass: 3.5 miles to summit, 4.5 miles to lakeshore
Intermediate Day Hikes
Griswold Lake: 7 miles round trip
Favre Lake: 10 miles round trip (Pro Tip: If you plan to swim, be aware there are leeches in Farve Lake)
Overnighters
Ruby Dome: 12 miles round trip
Echo Lake: 13 miles round trip
Ruby Crest Trail Wildlife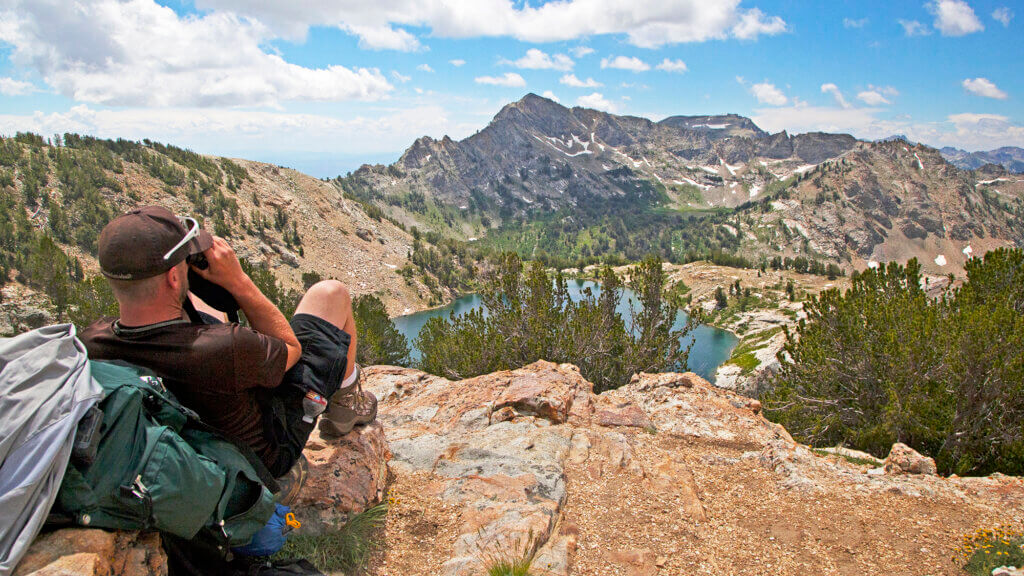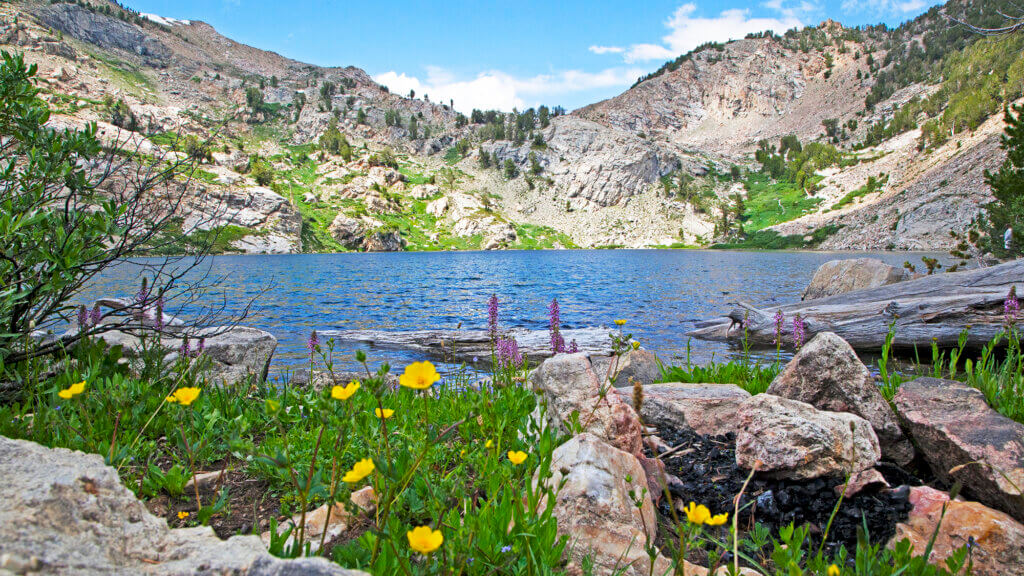 The Ruby Mountains are home to an incredible array of wildlife—some found in other parts of Nevada and the American West, and others who live here, and only here. Be sure to bring binoculars or spotting scopes—along with a bit of good fortune—and keep an eye out for mule deer, bighorn sheep, mountain goats, mountain lions, marmots, and beaver. The American pika also lives in the Rubies, along with the storied Himalayan snowcock, native mackinaw trout, and beyond.
Fees, Permits & Other Info to Know Before You Go
No permits are required to access the Ruby Crest Trail, and dogs are welcome on the trail but must be on-leash. When accessing backcountry wilderness areas, visitors are required to take advantage of preexisting fire rings, and to bury human waste, pack out all garbage, and practice Leave No Trace Methods.
Whether you're diving into the Ruby Crest Trail for a quick out-and-back day hike or are thru hiking the entire trail, be sure to be prepared with plenty of snacks and food, water, sunscreen and many layers from a lightweight tank all the way to a down puffy—no matter the season. Nevada's reputation is a wild one, and so is its weather so be sure to check forecasts ahead of time, and be ready to layer up, and down. There is no cell phone service within the canyon, or throughout the Ruby Crest Trails entirety so be sure to let someone know where you're headed and when you plan to return.
For more info on the Ruby Mountains and the diversity of things to see and do within this spectacular wilderness are, get in touch with the U.S. Forest Service Ruby Mountain Ranger Office at (775) 782-3357.
Hours:
The Ruby Crest Trail in Nevada is open 24hours a day, 7 days a week. The only thing from preventing you from accessing Lamoille Canyon and all trailheads within would be related to a seasonal, weather-related closure. The roads within the canyon are not maintained within the summer months, and typically open for the season starting Memorial Day weekend (late May) each year and remain accessible through October. To check conditions before your trip or venturing into Nevada's backcountry, get in touch with the Ruby Mountains U.S. Forest Service Ranger Office at (775) 752-3357.
Admission:
No admission or permits are required to access Lamoille Canyon, the Ruby Mountains Wilderness Area or the Ruby Crest National Recreation Trail.
This Location: