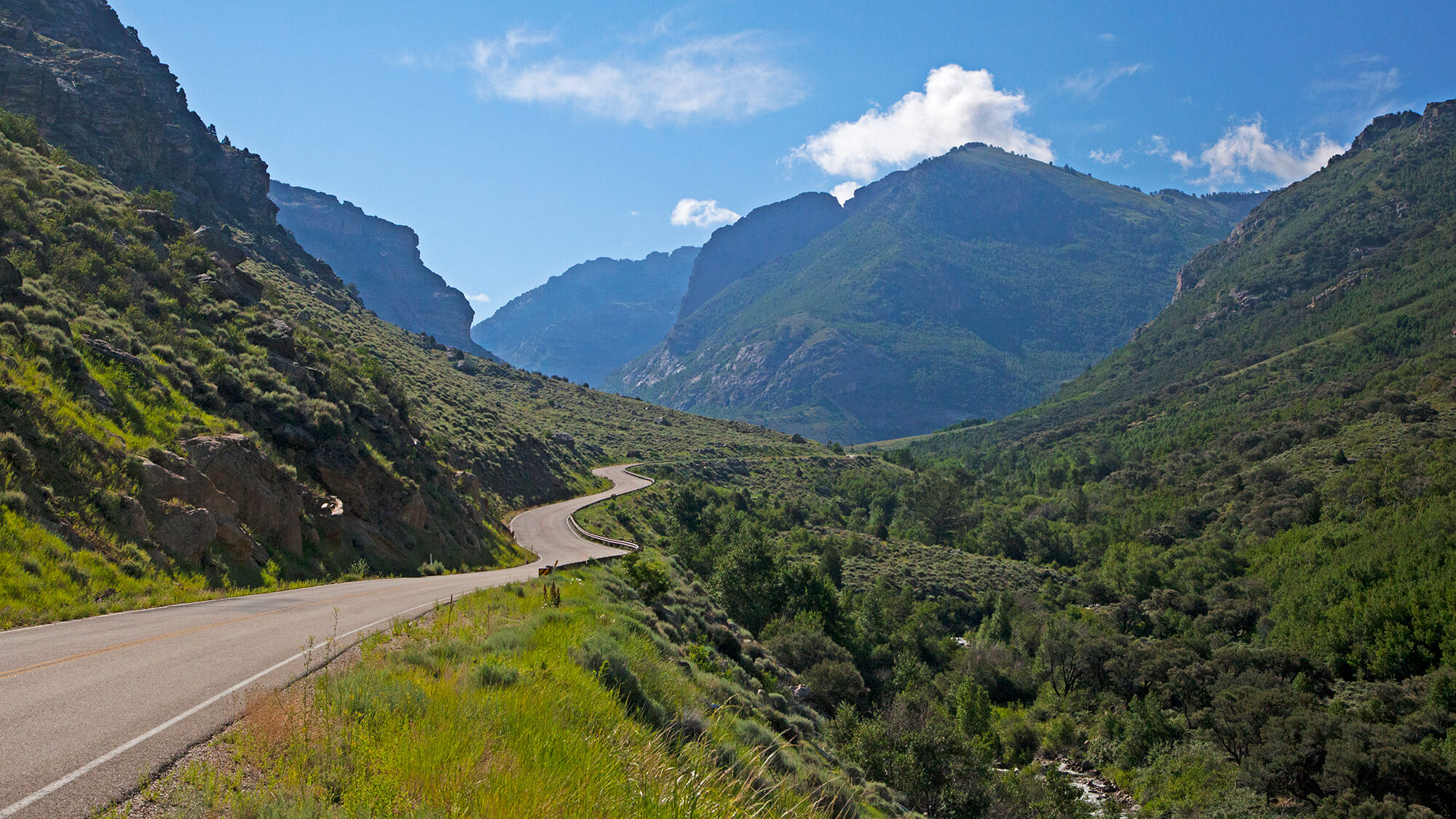 No visit to the Lamoille area is complete without an expedition up the unbelievably beautiful Lamoille Canyon Scenic Byway. This two-lane, 12-mile drive up the canyon whisks you away to 8,800 feet, following a U-shaped canyon flush with summer wildflowers and spectacular colors in the fall.
On the way to the top, be sure to check out the Lamoille Glacier Overlook, where you can see the result of two, 1,000-foot-thick glaciers that carved out this U-shaped canyon more than 250,000 years ago. Here, you'll get a prime example of rugged glaciated peaks that tower overhead at a whopping 11,000 feet in elevation. Ruby Dome, the highest of the peaks, rises above at 11,249 which is nearly 5,500 feet above the valley floor.
The Ruby Mountains are Nevada's wettest, providing a verdant and lush landscape…a breath of fresh air compared to the contrasting surround area's desert ecosystem. The Ruby Crest Trail, a 40-mile route across the Ruby Mountain Ridge, is known worldwide for it's spectacular views. Lamoille Canyon hosts the northern trailhead, ending south in Harrison Pass.
Additionally, a number of other recreational opportunities await you, including camping, picnicking, mountain biking, backpacking and more. Truly a hiker's paradise, the area boasts more than 100 miles of hiking trails. Island Lake is an easy two-mile hike, and numerous alpine lakes can be found in the area. Although Lamoille Canyon Scenic Byway is not entirely open during winter months, the canyon is alive with snowmobiles and cross-country skiers who access the area from the parking lot at the entrance.
Along the byway, you'll find a developed, self-guided car tour with interpretive signs describing the geology of this canyon. Near the end of the paved road at the end of the canyon, visitors will find a parking area to leave vehicles while exploring the area. Public restrooms are also available.
If you're looking for one of the most beautiful places in Nevada to host your backcountry getaway, Lamoille Canyon should be at the top of the list. Beautiful and unwaveringly enjoyable in all seasons, make sure to add this jewel to your next Nevada adventure!
FISHING
Lamoille Creek winds throughout this scenic glaciated canyon and includes several beaver ponds and open, winding stretches of water. Fly fishing for trout is available in abundance. Anglers will also take pleasure in fishing a surprising amount of untouched alpine lakes, buried in several ranges of the Rubies. Fishing enthusiasts will be delighted to reel in a variety of fish, including a few native species. Fish the creeks just off the road, or backpack into the canyon to get your hands on Brook, Tiger, Golden and Mackinaw Trout in Lamoille Canyon. Easy access is provided on this paved road. Getting There: From Elko, take State Route 227 south to experience the Lamoille Canyon Scenic Byway.
BIKING
One of Nevada's most scenic bike tours is on this little spur that begins in Elko. Bikers slowly ascend to Spring Creek and Lamoille, a rural community populated by ranches, bed-and-breakfast inns and pine-covered views of the Rubies. The road slowly climbs as it enters the Ruby Mountains, ending at a scenic picnic area. The ride back downhill is the reward. Begin in Elko on State Route 227 and head south toward the Lamoille Canyon Scenic Byway. Type: Road biking Distance: About 97 miles Elevation Gain: Moderate Difficulty: Advanced
SNOWMOBILING
Enjoy gorgeous scenery through this rugged glaciated canyon on a paved road that winds to an unloading spot at snow line. Remember snowmobiling is permitted only in designated areas. Getting There: Begin in Elko on State Route 227 and head south toward the Lamoille Canyon Scenic Byway.
ROCK CLIMBING
Easy access and approach on paved, maintained road with glaciated granite formations. Top roping/rappelling and occasional hardware from earlier climbing pioneers. This climbing has all types of rock and slopes leaving the route selection to the individual and their skill level.
GETTING THERE
Follow SR 227 southeast from Elko toward Lamoille. Before Lamoille, turn right on Lamoille Canyon Road. This is the state byway, which proceeds southeast into the Humboldt-Toiyabe National Forest and ends at aptly named Road's End Picnic Area near the Ruby Mountain Scenic Area. The route state byway is a 13-mile route. The route makes its way through Lamoille Canyon, formed by glaciers, and heads toward the base of the 11,249-foot Ruby Dome.