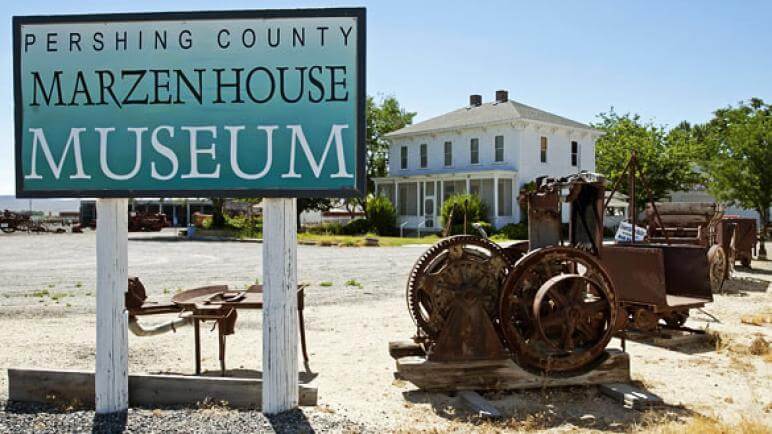 The charming community of Lovelock is home to an array of small town wonders and historical sites, and the Marzen House Museum most certainly doesn't fall short of that. The history doesn't stop with the fascinating mementos inside, as the building itself is a piece of Silver State history. Originally constructed in 1875 as the showplace home of a wealthy local rancher by the name of Colonel Joseph Marzen, visitors can enjoy the fully restored building and be pleasantly surprised with the wonderful array of artifacts from Lovelock's early days. The home was originally erected on the Big Meadows Ranch, located just 1.5 miles south of its present location.
The Marzen House museum features antique mining equipment, including several large-scale pieces that can be found on the museum grounds, vintage home fixtures and other antiquities from pioneer homes, relics and artifacts dating back to the region's earliest American Indian inhabitants, and a display dedicated to the Immigrant Trail. The Museum also features a selection of personal items from the town's most famous person, former Lovelock resident Edna Purviance. This silent-movie actress appeared in many early movies alongside the famed Charlie Chaplin.
One of the museum's most interesting displays is a representation of legendary Lovelock Cave. Best yet, the Marzen House Museum the starting point and resource for information when traveling the Lovelock Cave Backcountry Byway to the cave itself. For more information about current exhibits and planning your visit to the Marzen House Museum, get in touch with the museum directly at (775) 442-0010.
Hours:
The Marzen House Lovelock is open from 12:00 PM to 4:00 PM Wednesday through Saturday. Closed Sunday through Tuesday.
This Location: