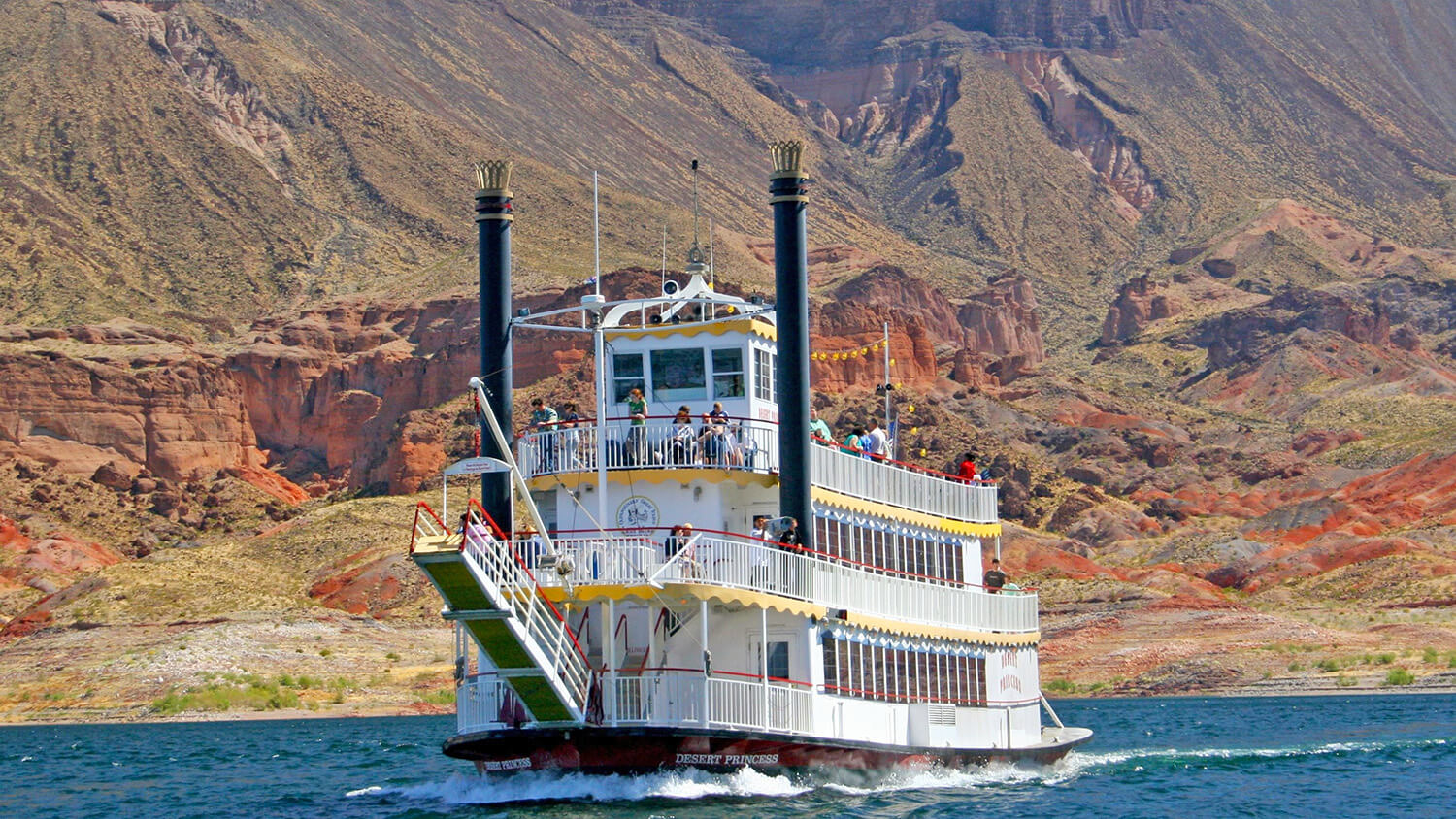 What better way to experience the beauty of the nation's most diverse National Recreation Area and absorb the mightiness of Hoover Dam than a climate-controlled, Mississippi-style paddlewheeler? Headquartered on the shores of Lake Mead nearest Boulder City, Lake Mead Cruises has been catering to locals and visitors alike for years, offering a variety of touring options throughout the year.
Lake Mead Cruises offers three different touring options, all of which are uniquely satisfying in their own way. Choose from the Mid-Day Sightseeing Cruise, Champagne Brunch Cruise or Dinner Cruise, and be sure to check into specials, add-ons, and package to add a little extra to your voyage. Plan on each tour lasting between 90 to 120 minutes. If it's a special event you're after, Lake Mead Cruises has you covered there as well, with the capability of chartering up to 200 guests for your next wedding or family reunion.
No matter the cruise option that makes the most sense for you, one thing's for sure: you'll be a passenger aboard the Desert Princess, a gorgeous three-level paddle-wheeler certified for 275 passengers. The Desert Princess is equipped with two climate-controlled decks and one open promenade deck, which is an ideal way to take in the clean, cool air and magnificent Mojave Desert sights. Each deck is spacious, making it easy to get around, and serving up lots of space for photographers, or those who just want to admire the scenery.
Professional photographers are ready to take your photo prior to the excursion, and the finished product will be made available to you for purchase when your cruise concludes. No obligation to purchase, but if interested, keepsake will run you $20 and makes for a great souvenir to commemorate your trip. #LakeMeadCruises
PRICING
For the most up to date information on pricing and how to secure your reservation at Lake Mead Cruises, dial (866) 292-9191 or visit LakeMeadCruises.com.
GETTING THERE
Lake Mead Cruises is located inside the Lake Mead National Recreation Area. Be aware that the National Park Service charges a fee to enter the area. For details about the area, including rates, visit www.nps.gov/lake.
From Las Vegas, take Highway 93/95 (Interstate 515) south from any major access road, en route to Historic Boulder City. Make a left at the second stoplight in Boulder City, following signs to Hoover Dam and Lake Mead. From here, continue for approximately four miles on Highway 93 toward Hoover Dam. turn left at the brown road sign indicating "Lake Mead National Recreation Area," onto Lakeshore Road. After entering the park through the first National Park Entrance Station, take the first (heading toward the Lake) at the sign for Hemenway Harbor. Follow the signage for Desert Princess or Lake Mead Cruises Boat Tours. The boat landing for Lake Mead Cruises is at the water's edge between the two large marinas.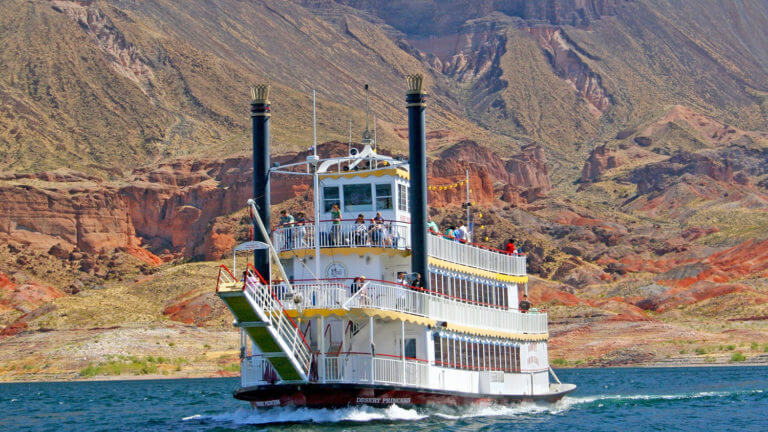 This Location: