At the Northern end of the Lake Tahoe National Scenic Byway, you can pick up one of the state byways, which takes you from the pine forest of Mt. Rose to the desert sagebrush of Reno all in a half-hour's time – 45 minutes if you take it slowly. It's a lesson in Nevada's elevation changes, but well worth the 4,000-foot plunge.
From SR 28 in Incline Village, go north on SR 431 to wind along 25 miles of ponderosa pines and through Tahoe Meadows, but catch a glimpse and snap a few photos of beautiful Lake Tahoe before you leave her behind.
At Tahoe Meadows, at the top of the pass, you have access to the hiker-popular Tahoe Rim Trail, the mountain-bike friendly Flume Trail, and cross-country skiing, snowmobiling, snowshoeing and snow-tubing. A few local favorites are Ophir Creek and Lower Price Creek. On the southeast corner of the meadows, you'll find a 1.3-mile handicap-accessible trail with 11 bridges.
Along SR 431, you'll pass Mt. Rose-Ski Tahoe, at Tahoe's highest base, elevation 8,260 feet. Skiers and snowboarders flock to the resort, which has panoramic views of Lake Tahoe and the Nevada terrain during the winter months. Shortly before you arrive in Reno, you can check out the hiking, sledding or cross-country skiing spots along Jones and White creeks in Galena Creek Park.
Toward the end of the byway, where SR 431 intersects US 395 in south Reno, have a look to your right at the mountain-style homes surrounding Montreux Golf & Country Club, site of the PGA's annual Reno-Tahoe Open.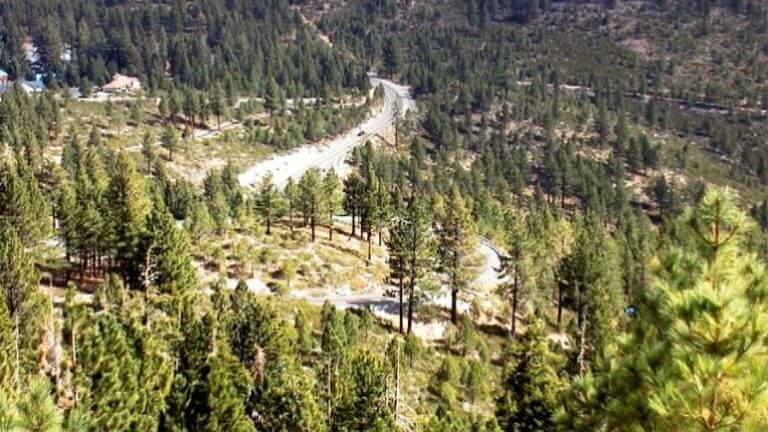 This Location: