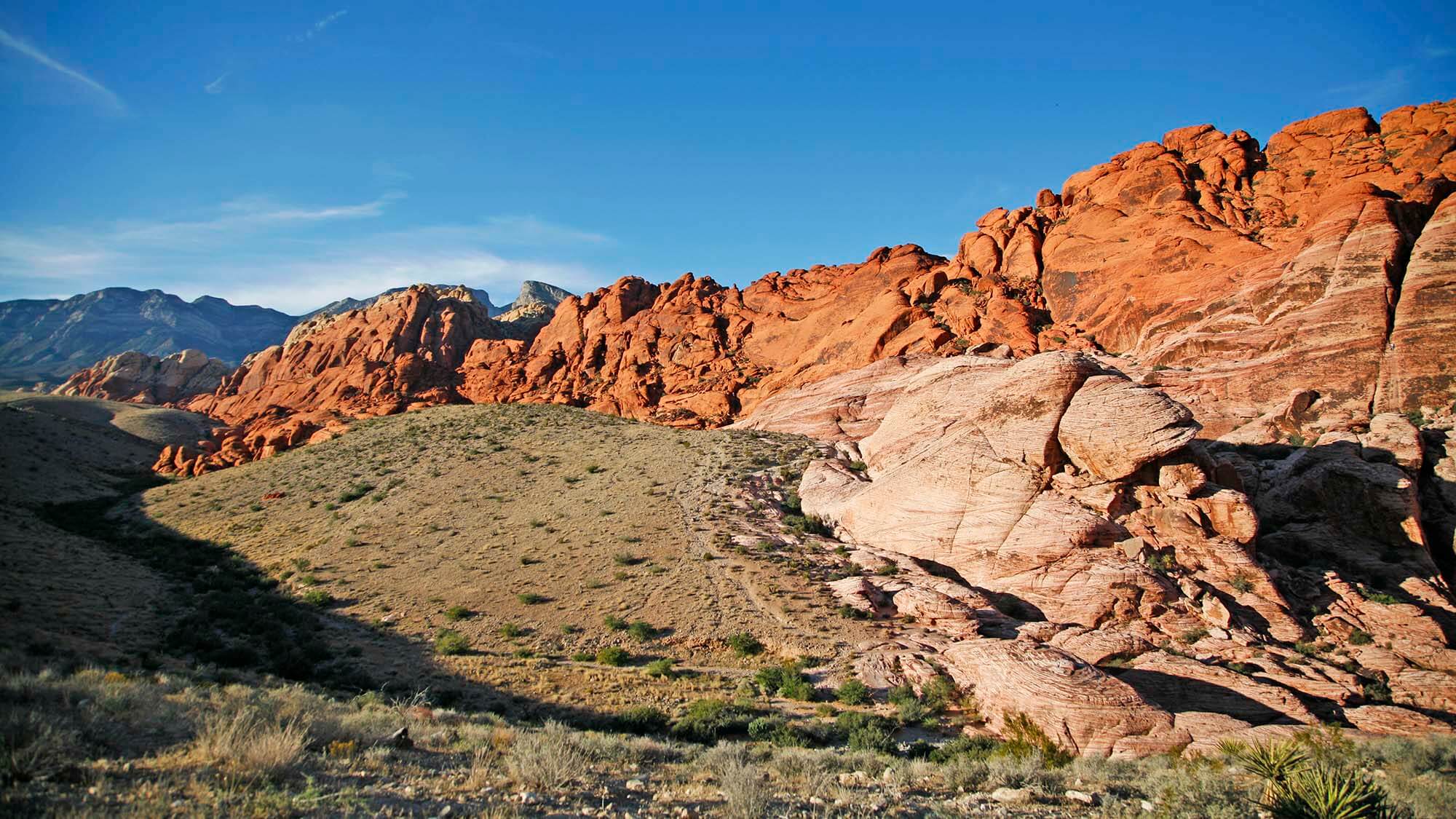 Red Rock Canyon Scenic Drive
Red Rock Canyon's 13-Mile Scenic Drive doubles as a back country byway. It is a 13-mile, paved, one-way scenic drive that passes through arid desert landscapes, red and buff colored rock formations, beautiful sandstone and limestone cliffs that reach elevations of 7,000 feet.
Not only is the scenic drive beautiful for visitors in motorized vehicles it is also very popular for bicyclists, photographers, joggers and walkers. The road allows for safe travel as it is very wide and traffic is required to travel one-way. Many pull outs provide parking so you can explore the desert on one of the many trails Red Rock has to offer. You may also see visitors getting ready to backpack into the back country, go horseback riding, or traversing the many rock formations by rock climbing. Watching the rock climbers has enthused and entertained many visitors over the years.
The scenic drive opens at 6 a.m. every day of the year unless Mother Nature provides a flash flood from seasonal rainstorms or the occasional snow storm. The scenic drive closes around sunset – 5 p.m. November through February; 7 p.m. March and October and 8 p.m. April through September 30.
Follow posted speed limits so you can be safe as well as protect other visitors and wildlife. If parking lots are full please do not create your own parking spot by parking off the road and onto vegetation. These plants are native to the arid Mojave Desert of Red Rock and can take decades to regrow. We recommend that you continue to a new parking area or enjoy the drive in its entirety and enter later in the day as your amenity fee receipts are good for the entire day.
Admission
Admission to Red Rock Canyon National Conservation Area is $15 per vehicle.
Due to this byway's (well-deserved) popularity, Nevada BLM will require online timed entry reservations and purchase of daily entry passes for Red Rock Canyon National Conservation Area Scenic Drive, beginning October 1, 2021. Daily passes and timed entry reservations will be available through Recreation.gov and will vary in price depending on day of week and time of day. For reservations and more information, please click here.
This Location: